5 Simple Steps to Plan a Costa Rica Family Vacation
Costa Rica has really come onto the radar for a lot of people in recent years. And why wouldn't it? It's a beautiful country filled with adventure, relaxation, jungle, beach… just about anything you could want.
Let's Jet, Kids! uses affiliate links.  As an Amazon (and other networks) Associate, I earn from qualifying purchases.  It is no extra cost to you.  
Really, it has everything. And that can make it overwhelming to plan a Costa Rica Family Vacation.
So here are some step-by-step actions to make planning your trip to the land of Pura Vida as simple as possible.
First, before you do anything, make sure everyone traveling has a passport. The passport must still be good for 3 months beyond your travel date and you must have a return ticket (sorry, no one-way tickets to paradise!)
How to Plan a Costa Rica Family Vacation
1. Determine Where to Visit in Costa Rica
Before you book anything, you need to figure out where you'd like to visit in Costa Rica. This will decide which airport you fly into (or if you don't mind driving a while, then price may determine where you fly into.)
If it's your first time in Costa Rica, you may want to do the traditional jungle/beach tour. This means heading to Arenal for a few nights to enjoy the jungle, and then heading to the beaches of Guanacaste or the beaches in Puntarenas for some gorgeous sand-time.
Example Itinerary for Determining which Airport
A simple itinerary may be 3 nights in La Fortuna and 3 nights in Playas del Coco (or another nearby beach town.) This will get you both jungle experiences and beach fun. You could fly into either airport (San Jose or Liberia) for this schedule.
La Fortuna is about 2-1/2 to 3 hours from San Jose Airport. Playas del Coco is about 3 hours from La Fortuna. And then Playas del Coco back to the airport is around 4 hours.
(Yes, there is a lot of driving if you go to multiple locations in Costa Rica.)
Liberia airport is closer to the beach region. Flying into this airport and driving to La Fortuna would be around 2-1/2 hours. The Liberia airport to Playas del Coco is around 40 minutes driving. So Liberia will give you a little less driving, but it is typically more expensive to fly into than San Jose.
Different Areas of Costa Rica
Having a hard time deciding where to go in Costa Rica? Here is a quick version of a few great destinations:
Jungle Areas of Costa Rica
La Fortuna– a very classic place to visit, and for good reason. This is the heart of the jungle, with the popular Arenal Volcano in every backdrop.
This is perfect for the adventurous family with activities like hanging bridges, safari floats, ziplining, volcano hiking, hot springs, night walks with creepy crawlers, jungle tours, ATV rides, waterfalls, and so much more.
I highly suggest La Fortuna makes it on your itinerary. This is what Costa Rica is all about!
Monteverde- Known as the Cloud Forest of Costa Rica, Monte Verde is just that. You'll have a stressful drive up the mountain to get your reward at the top.
Walk through jungles and hanging bridges as though you are in the sky. The thick cloud coverage is ethereal and definitely bucket-list worthy.
Liberia– not quite a main attraction of Costa Rica, but if you'd like to see some boiling mud pots next to a volcano, Rincón de la Vieja National Park is nearby.
You can also hit the beautiful hot springs at Guachipelin resort that blend beautifully into nature and take a mud bath for extra fun. Liberia is also home to the only African Safari in Costa Rica.
Playa Hermosa in Guanacaste
Beach Areas of Costa Rica
Beaches of Guanacaste– this is the next most popular place to visit in Costa Rica. Enjoy golden sand beaches (and all-inclusive resorts if you choose.)
Take a fishing trip, dinner cruise, snorkel, take a boat out to see dolphins, soak up some sun, boogie board, or learn to surf. Playas del Coco is a town with many nearby conveniences; the hub for restaurants, shops, grocery, and more.
Samara– also part of Guanacaste, but farther south and out of the main tourist hub. This family-friendly town greets you with big, beautiful beaches, lots of yoga, beginner surfing lessons, a local vibe, horseback rides on the beach, and all the marine activities you would expect. Samara was one of our favorite towns to visit.
Jaco– home to beaches and adventure and about the closest beach there is to San Jose. But be warned, it's a bit of a party town and a hot scene for nightlife, and not the kind I would want my kids at!
Good Jungle/Beach Mix
Manuel Antonio– This beautiful area is known for Manuel Antonio National Park. It's famous for its white sand beaches, monkey thieves, and animal tours through the jungle. There is plenty to do in this town and home to many beautiful beach front properties and resorts.
East Side of Costa Rica
Tortuguero– on the east side of Costa Rica, and accessible only by boat or jumping onto a small plane. There are beaches, but the main attraction here is the turtle migrations. Check the migration schedules to make sure you go at a good time (typically July-August).
Check out more towns that are great for beach AND jungle!
Arenal Volcano
2. Choose Your Dates and book your tickets.
Next, choose your dates.
Do you care if it's rainy season? (It'll be less crowded)
Or do you want less rain, traded with more heat.
Or maybe you don't have a choice and you go when you get to go.
We went at the beginning of rainy season, and yes, it rained everyday. But mainly just in the late afternoon and evenings. So we got going right when we woke up and played hard, then relaxed in the evenings.
So step two to planning your Costa Rica vacation is to pick your dates and then get those airplane tickets booked.
Our awesome resort in La Fortuna
3. Book Your Hotels
I prefer to book through hotels.com because you can compare lots of hotels at a time with their ratings, prices, locations, and amenities. Plus, you can earn free nights at almost any hotel you book, no matter if it's a chain or not.
And lastly, if something comes up and plans change, most hotels have a free cancellation policy (timeframe for cancelling differs with each hotel.) You can then cancel with the click of a button, no need to sit on hold on the phone.
If you are looking for high-demand hotels like Tabacón in La Fortuna or Tulemar (treehouses and villas) in Manuel Antonio, then you definitely need to book early as these hotels sell out quickly.
Or maybe you'd like a rental instead. There is no shortage of rentals in Costa Rica. Make sure to get one with good ratings so you don't get last minute cancellations from unreliable hosts.
We stayed in a bunch of different areas, so if you're interested, here are some reviews and info on the places we stayed.
La Fortuna- Los Lagos (incredible, much more affordable, and the kids loved it)
Liberia- Las Espuelas (it was a quick overnight at a cheap price!)
Playas del Coco- This awesome Condo neighborhood
Samara– This awesome rental in the heart of town
Bejuco- This beautiful rental, walking distance to the beach, tons of space, and a private pool!
You may like:
Cool Places to Stay in Manuel Antonio for Every Budget
Why Your Family will Love Bejuco
Samara Costa Rica, why it was one of our favorites!
Cool Costa Rica Coloring Pages
4. Book a Rental Car
When you plan a Costa Rica family vacation, you'll have to decide if you want a rental car.
Please, book a rental car! This will give you so much freedom to see lots of things in Costa Rica.
We still did a few tours, but for the most part, we drove everywhere according to our own schedule.
And please use a reliable rental company. Costa Rica rental car companies are not the same as the US, even if they bear the same name. (Check out ratings for yourself!)
We used Adobe Rental Car after some research and loved that they are local, have many locations, roadside assistance, and put their whole price up front. Plus they use newer, more reliable cars than other companies.
I recommend reading driving and other things to know about Costa Rica so you are not surprised about driving habits in Costa Rica or surprise-costs when you pick up your rental.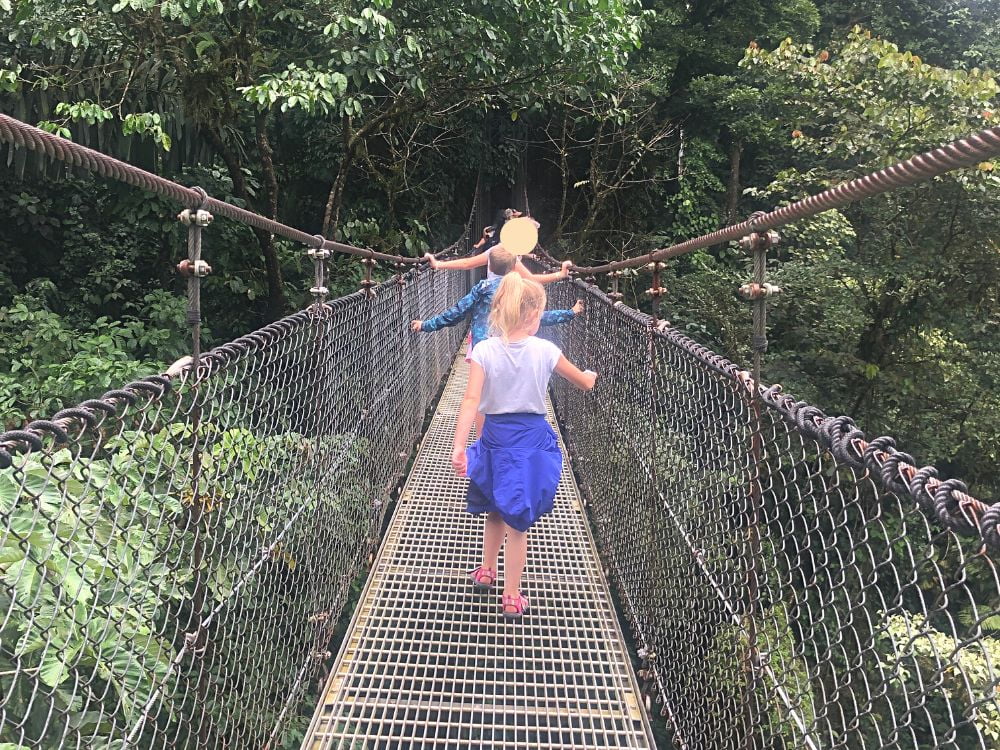 5. Book Your Activities in Costa Rica
This is the hard part, and the fun part when starting to plan a Costa Rica family vacation. Hard because there is so much to choose from. Fun because there are so many awesome activities.
While you are in the jungle, zip lining is a pretty common bucket list item in Costa Rica.
If your kids are a bit smaller, try the hanging bridges instead! You can walk among the trees, but still be grounded on the floor.
>>Make sure to make reservations at any national park you'd like to visit. Many, but not all, require a reservation made and paid in advance, (like Poas Volcano and National Park Manuel Antonio.) See the official website for a list of parks requiring reservations and create your account.
If you book a tour, those will typically come with park entrance included. Make sure to read up the details.
We book our tours through Viator because, well, it's easy. You can read reviews right there and get your price and tickets with a few clicks. And all tours we've ever done have a 24-hour free cancellation window, so if plans change (like, it's calling for a downpour for your hike in two days), you can cancel with the click of a button.
Of course, read details to make sure your tour has this option.
---
Here are a few fun, popular activities in La Fortuna:
And in the Guanacaste Area:
---
Food in Costa Rica
You may not necessarily be planning out your food in Costa Rica. There are plenty of restaurants all around wherever you go.
We loved eating at sodas as often as we could to help keep costs down. If we were in a rental, we scoured the grocery stores and found meals to make while in Costa Rica.
Planning a Family Vacation to Costa Rica
Hopefully this has been helpful to plan your Costa Rica family vacation. It's nice to know a little bit about each place so you can decide more easily where you'd like to visit.
We spent 3 weeks in Costa Rica, so I'd be happy to help answer any questions I can. Contact me on the About Us Tab above or message me on Facebook
Debating where to go for your next family vacation? See my comparison of Riviera Maya Mexico vs Costa Rica