Fun Activities for Families in Samara Costa Rica
On our family vacation to Costa Rica, we stopped a few days in Samara. Samara quickly became one of our favorite places to visit in Costa Rica. This family-friendly town is full of fun, conveniences, and culture. But it's not quite on the hot-spot radar for tourists yet. Here is what to know about Samara, as well as a few of the amazing things to do in Samara Costa Rica that your whole family will love!
Let's Jet, Kids! uses affiliate links.  As an Amazon (and other networks) Associate, I earn from qualifying purchases.  It is no extra cost to you.  
Is Samara Costa Rica Worth Visiting?
Without a second thought, YES!
I almost want to say no though, simply because Samara is not a big, built up tourist spot like Tamarindo or Jaco. It's kind of a little secret, though it's starting to get on the radar for travelers.
It is a quaint, charming beach town on the southern part of Guanacaste providence.
Most of the beach towns you've probably heard of are farther north.
For example, from Tamarindo, Samara is about 2 hours south.
Samara has a beautiful beach, plenty of small-town vibes, lots of hostels, restaurants and markets.
Yes, Samara does get plenty of travelers. Hostels are plentiful, there are a few hotels, and there is even a Spanish immersion school people come for.
It just doesn't feel like a touristy, built up city.
What made me choose and really yearn to go there was hearing about how family-friendly it was. Samara is a very safe town (take obvious precautions no matter where you travel to though!) with kids and there are plenty of things to do in Samara with kids.
How Many Days Do You Need in Samara?
We stayed in Samara for 3 nights and that seemed perfect for a vacation stop. But I could have easily stayed longer because it was so wonderful.
Three nights is a great amount of time if your goal is to explore a little and get a feel for Samara. We were able to do quite a few activities and have some great beach time.
That said, take a look at the list of activities in Samara in this post and decide how many days would be right for you.
(If you are planning any day trips from Samara, then you'll want even longer!)
Can You Drink the Water in Samara Costa Rica?
Yep! We drank tap water our entire trip in Costa Rica. I've been warned that if you go somewhere pretty rural, you'll want to stick to bottled water. But in Samara, we drank tap both at our rental and out and about and we were fine.
If you do drink tap water and your stomach starts to feel off, it's always a good idea to switch to bottled. Some people with sensitive stomachs do feel it a little.
What to Know about Samara
Samara is a small, friendly town on the west coast of Costa Rica. It's a great little beach town, with a great big beach.
There are so many hostels, small hotels, and rentals in Samara. I didn't notice any chain hotels or restaurants, which helped keep its charm.
There are plenty of restaurants, grocery markets, and little fruit & vegetable shops.
While there are some sidewalks in Samara, they are not great. You can definitely walk on the sidewalks down to the beach, but they may have obstacles and such. You'll end up walking in the road. We felt safe while doing so. The town is so small that no one is flying through at high speeds.
There are lots of people walking, on bikes, motorcycles, and cars. It's a bustling little town!
If you need a taxi, take the main road down to the beach. As you get closer to the beach, there will be a taxi area on the left side. It is well marked.
If you realize you'd like a rental car while in Samara, there is an Alamo right in town.
Don't miss the opportunity to snap a picture with the "SAMARA" destination sign near the beach!
There is a pharmacy in town if you realize you need anything!
You'll probably see a guy selling "pipa fria", coconut water. This is fresh from the source and it's delicious! Carry some cash on you to make sure and get one. He'll chop the top off right in front of you so you know it's fresh! Bonus: Coconut water is a great way to stay hydrated in the hot sun.
Also Check out
The Coolest, Convenient Rental in Samara
Hotels in Samara Your Family will Love
Grocery Stores in Samara
While there are a lot of grocery markets, there are one or two that really are the bigger ones. These are located on highway 160 heading west.
First there is Palí which is stocked in all the essentials. It's a decent size grocer for the area, though the produce area was quite small.
There is a Super Samara near the beach, but it is smaller than Palí. I would compare it to a large convenience store. If you are staying on the beach and just forgot your toothbrush or need a quick snack, Super Samara will work.
China Market
But the largest grocery market is China Market, also located on the same road as Palí, but down a little farther. China market is the closest to a grocery store you might be used to. They stocked diapers (Huggies and Pampers included!), wipes, and a little bit of everything when it came to food. Their produce section was small but had a nice variety.
Now to the fun part of fun things to do in Samara with kids!
Fun Things to do in Samara with Kids
Go Horseback Riding on the Beach
One of my daughters saw a horse in Costa Rica and that became her top thing she wanted to do.
At some of the bigger establishments (like Ponderosa Adventure Park), you had to be 10 to ride the horse. Perhaps that was because of the terrain the tour took you through.
But here in Samara, the guys on the beach with the horses said they would take down to 3-years-old.
Sold!
We paid somewhere around $100 for us 4 girls to ride an hour on the beach on horseback, and it was so awesome.
My daughters especially thought this was such a great experience, to be able to horseback ride in Samara on the beach.
My youngest was 5 and did great on the horse. The man set her up on the most gentle horse he has and rode alongside her holding the rope.
It took about a half hour to get to a shallow water crossing where we got to ride the horses through. Then we turned around and came back. Our guide even took the rope off he was holding, and my daughter still had no problems with her horse.
If you get the chance to take a horseback ride on the beach in Samara, do it. The beach is nice and flat, making it a smooth, gentle ride for kids.
Here's a few tours you can book ahead:
Jungle and Beach Horseback Riding Tour – ages 3 and up
Horseback Beach and Jungle From Carrillo – neighboring beach to Samara, ages 4 and up
The tour we used was Nixon Tours Samara. You can WhatsApp Javier at 0056-8328-4843 to line up a horseback ride. They also offer cave, kayak and boat tours to see fish and dolphins. We first saw them on the beach with their horses and they said they only accepted cash. So have that in mind as well. Our guide did not speak any English. We could get by fine with our Spanish, but if you don't speak Spanish it might be tricky. Others at the company may speak some English though!
Head to Belén Waterfall – fun Samara activity with kids
Belén waterfall is a beautiful activity in Samara. It is a little bit of a drive (roughly 30 minutes or so) to get to. What's great is that it's a little lesser known; a bit of a local favorite.
To access it, get on the main road out of Samara. Turn left on the dirt road just in front of Pilsen liqorera/mini market. You'll pass a bridge and a few houses. When the road forks, go right. Continue down more dirt road. At the next fork, stay right. You'll drive down the hill to the parking area.
These directions are from July 2022. When we went, I was following other directions I read prior that must have led to an old parking lot. We ended up passing the parking area and it landed us in a tight spot to try and turn around. So remember: keep right at the forks! If you've started to incline up a hill and see a metal gate, you've gone too far.
The dirt road driving to Belen Waterfall can get rough, and would be more so in a sedan. If you want to really be able to see all the little hidden, local gems in Costa Rica, I highly suggest renting a 4×4 car.
At the parking lot, there will be a parking attendant. He charges 1,000 colones OR $2 per person to access the waterfall (again, as of July 2022).
The hike begins on the right side of the parking lot. You'll see a sign for it.
To get to Belen waterfall, you'll hike down a short bit and you'll be there! The hike down is fairly easy, and very buggy, so don't forget bug spray. Once you are at the bottom, the rocks to climb around on are very very slippery, so use caution. You definitely don't want to be in flip flops, but in closed-toed sandals with a little more grip. (Still slippery though!)
The waterfall was impressive when we went. It stretched across the river and was very powerful, as it had stormed hard the night before. And since it had stormed so hard, the water looked a bit on the brown side.
Hang Out on the Beautiful Samara Beach with the kids
Samara Beach is a perfect beach for families. The beach are is wide, smooth, and there's plenty of room to spread out.
The tide is low in the morning and moves up quite a ways during the day. There was probably about 50 feet between our beach towels and the water when we arrived in the morning. By lunchtime, we had moved our towels back 3 times so they didn't get wet.
There is a huge, shallow depth of water for a while, making it safe for little ones to play in the ocean.
The waves are also great for playing in and boogie boarding. They are decent, but not too intense.
While the girls and I went horseback riding for an hour, my son spent the entire time boogie boarding. And then 2 more hours. It's the perfect setting!
Samara Beach is right in town, so it's easy to get anywhere from there. But you don't have to go far, as there are souvenir vendors and a restaurant right at the beach.
When I say Samara is a family town, you can really see it for yourself at the beach. There are lots of families playing here, lots of people in the water, and plenty of people walking or running along the beach.
See The Beautiful Playa Carrillo with kids
Playa Carrillo is the neighboring beach and is just a few kilometers past Samara. The beach is kind of similar to Samara in that it's nice and wide with similar tides and waves.
The different is Carrillo Beach doesn't back right to a town, so it seemed much more open. The beach area itself is flat, wide, soft, and beautiful.
You can see the beach from the road, and parking was just right along the road. There were plenty of spots, but if you don't see any, keep driving. The beach is very long and the road runs right along behind it.
Grab Some Ice Cream to End the Day
End the day, or middle of the day. Either way, there are so many ice cream shops in Samara. I think I counted 3 or 4 just on the street we were staying.
The shops have a wide variety of flavors, from basic vanilla and chocolate to tropical mango and passion fruit.
It's a nice, refreshing way to end the day. And during vacation, we all scream for ice cream.
Eat at some GREAT Restaurants in Samara
We only ate out a few times as we had a rental where we prepared most of our food.
But the couple times we ate out were so great!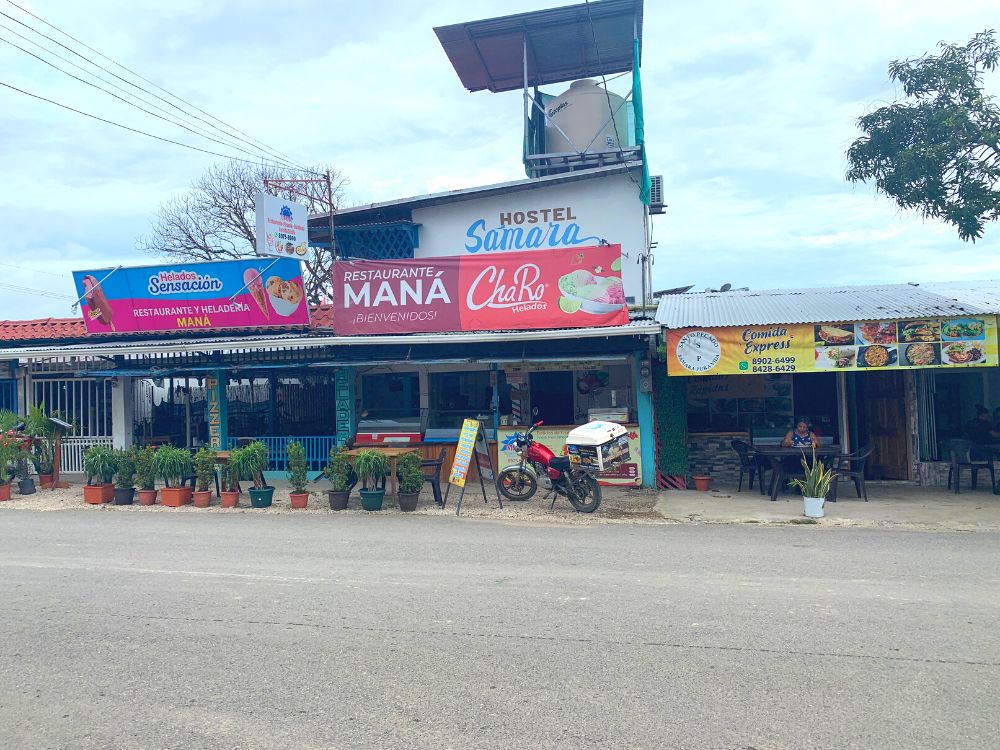 >>Mana was located right across from our rental. It was really good food with a great variety.
The younger kids loved being able to order pizza and pasta. I got a casado that was very flavorful. The server here spoke great English and was so kind when my kid accidentally knocked and shattered her glass of water onto the floor. 🤦‍♀️
Mana also is a little ice cream shop. You can order at the table or you can walk up and order if you're just out on the town.
>>Roots Bakery was everything you would imagine in a yoga town. Fresh baked breads were displayed in a case and a menu full of fresh foods.
Roots is located right as you pull into town and the intersection that you would turn at to go to Carrillo.
There are plenty of signs, decor, and even a menu in English you can ask for. They have a few employees that speak great English as well, if needed.
The blackboard has a menu on it, but make sure to ask for a menu to hold in your hand as this is the FULL menu.
Roots serves breakfast (omelettes, pastries, etc.), fresh loaves of bread, wraps, sandwiches, salads, and coffee. They also sere ice cream.
I ordered a chicken caprese salad which sounded basic, but it was anything but! The dressing on the side was filled with herbs, giving it a strong, delicious flavor.
My daughter got a grilled cheese, panini-style.
Roots has indoor seating, but no A/C (though there are ceiling fans.) There is also some outdoor seating.
See more of their offerings on their IG account
More Activities in Samara (that we didn't have time for…)
Yoga in Samara Costa Rica
If you are a yogi, or just someone who would like a cool yoga experience in Costa Rica, Samara is the place!
While this isn't a family activity, I have to mention it because Samara is known as a yoga town.
And it's obvious when you get there that the community is committed to Namaste. Every time I went for lunch or walking around town, there were plenty of people walking with their mats rolled up either on their way TO or FROM a yoga class.
If you want to divide and conquer parenting tasks for an hour, try one of the many yoga classes in Samara:
Dynamic Yoga at Casa Coba- stay up to date on classes here
Alma Tranquila also hosts classes. Currently (Aug 2022) undergoing renovations, but should be back at it when the are done!
Mandala offers morning Vinyasa classes, as well as massage and lightwork.
Playa Barrigona
Another beautiful beach we would have loved to visit. Here's why:
Playa Barrigona is just two beach coves over from Playa Samara. It takes about a half-hour to get there, but once you do, it's supposed to be quite a treat!
Playa Barrigona is a lesser-known and therefore lesser-visited beach. There are no services there, so bring everything you need including a lot of water and snack.
The sands are white and the crowds are minimal.
---
Book your airport transportation or Samara activities ahead of time with Viator below ⬇️
>>Why do I book with Viator? Because if plans change, most tours can be canceled 24 hours ahead with a click of a button!<<
---
Werner Sauter Biological Reserve in Samara Costa Rica
The Werner Sauter Reserve is the only private reserve in Guanacaste.
You'll take a 2.5-hour guided tour through the tropical dry forest and teach you about local traditions, the forest, and animals and how they have adapted to deforestation and climate.
You can book and early morning or afternoon tour and includes water and a snack. Get your tickets to the Werner Sauter Biological Reserve in Samara.
Take Surfing Lessons in Samara
Samara is supposed to be one of the best places for beginners and newbies to take surfing lessons. The waves aren't too intense, making them very family-friendly.
We actually really wanted to try out surfing but ended up staying with our boogie boards all day.
But if you'd like to give it a try, there are a couple surf schools you can choose from.
Tico Surf School or Choco's Surf School are probably the most convenient as they are right on the main beach entrance. Tico is pretty popular. Choco's offers specific children's classes.
We saw so many people go out in groups and give it a try, and it looked like so much fun. So even if you don't want to give it a try yourself, you can sit on the beach and enjoy watching other ride the waves. There are lots of beginners, and a few that look like they really know what they're doing!
And YES, this is a family-friendly activity in Samara as kids are allowed to join the fun.
Visiting Samara Costa Rica with Kids
Samara is the perfect little town to visit when you are on a family vacation in Costa Rica. It's a bit out of the way of the typical tourist destinations, making it a little more on the chill side.
Samara has everything you need and nothing you don't. So head to Samara and enjoy this little piece of paradise in Costa Rica.
Pura Vida!
Check out this short video of things to do in Samara with kids!
You may also like:
Why La Fortuna Waterfall is a must-see
Take a Safari at Ponderosa Adventure Park
The Awesome Rental we used in Samara
---
Check out these fun coloring pages around Costa Rica! (One features riding horses in Samara!)