The Perfect Costa Rica 3 Week Itinerary for Families
Is 3 weeks in Costa Rica too long? No! We actually spent 3 weeks in Costa Rica and felt it was a perfect amount of time to both have some great adventures and relax and just enjoy. So I've created the perfect Costa Rica 3 week itinerary for families below. You'll get a bit of adventure and a bit of relaxation. This itinerary is very similar to what we personally did in Costa Rica.
Let's Jet, Kids! uses affiliate links.  As an Amazon (and other networks) Associate, I earn from qualifying purchases.  It is no extra cost to you.  
Table of Contents
Can you do 3 Weeks in Costa Rica on a budget?
While the word "budget" is different for everyone, if you follow the 3 week Costa Rica itinerary below, you won't be going bankrupt after 3 weeks.
The suggestions I make are based off things we did and places we stayed. While there were cheaper hotels to stay at, we wanted somewhere that would be big enough for our family, clean, and fun.
Note that in each place we stayed, there were definitely plenty of more expensive places to stay. Sometimes we choose the cheapest (as long as it fits the criteria mentioned above) and sometimes we choose mid-range if we think we'll actually spend time at the hotel.
This is why I don't choose all-inclusives for this 3 week Costa Rica itinerary. We really didn't just "hang out" at the hotel all day. So, I didn't want to pay the price tag of an all-inclusive if we weren't going to be taking advantage of all the onsite activities and meals.
What to do for 3 weeks in Costa Rica

with Kids!
There are a lot of high-adventure type activities in Costa Rica.
Some are probably not ideal for bringing kids along.
But don't worry, everything in this 3 week Costa Rica itinerary is family-friendly. And nearly everything can even be done with the tiniest humans in a carry-pack/back pack carrier.
Costa Rica is a very family-friendly place. Even if you don't get to do the high-adrenaline stuff, there is still plenty to do with kids.
Consider the Weather in Costa Rica when Planning
You might look at the itinerary below and think "wait, we could do way more in a day than what is listed."
Yes, you could.
But chances are high that by late afternoon it is going to be raining. Especially if you are visiting during the summer months.
We went at the beginning of rainy season and it rained every. single. day. except our last night there. When I looked at the weather a few days before we went, I felt pretty nervous about that.
But it was totally fine.
While in Costa Rica, get up as early as is comfortable (no alarms. It's still vacation, after all. We only set an alarm the day of our River Safari since we were getting picked up from the hotel.)
When you wake up, get going. You'll have plenty of time to get some great adventures in before the rain comes in.
In fact, it was sunny most of the time in the morning and afternoon. By late afternoon, the clouds came in and the rain poured.
So again, don't plan too much in your day. One or two solid activities will suffice. And plus, if you have 3 weeks in Costa Rica, you'll have plenty of time to take it a little slower and really enjoy each and every experience.
Considering a shorter time? Check out the 7, 10, and 14 day Costa Rica itineraries!
What you MUST bring for 3 weeks in Costa Rica:
here are my top picks for items you must bring to Costa Rica
Sunscreen – Babyganics is a less-toxic brand that still kept us very protected! I tried other recommended brands and we burned. So we stick to this. Yes, even us adults wear Babyganics 🙂
We also really like Badger Sunscreen as it is rated very high by the EWG. It works really well but has a light greasy feel to it. However, it's good quality and effective.
Rain Poncho- we read to bring a rain jacket, so we did. And we were so jealous of the people who only had ponchos on. The jackets were kinda heavy, soaked through, and just kinda unnecessary.
Make sure to get a poncho that is long, as you will be kicking up water on a rainy day. The outing we went on where it rained the most (and by that, I mean it was pouring) we were soaked. Everyone else had ponchos and seemed fine.
Bug Spray– Babyganics to the rescue again. This spray is made with oils rather than Deet. So it worked well if we were just out and about. However, I wouldn't use it deep in the jungle (or, I just kept reapplying often while in the jungle. But I'm one of those people that gets bit even if I were to bathe in Deet.)
For places that are a little more buggy (jungle, jungle by the beach, basically if you are anywhere except just out at dinner), then get something a little heavier like Deep Woods Off.
Hiking Sandals– Most hiking you do will end with a waterfall or beach. So you want to be able to get wet, yet not be annoyed if you're not dry. But you also want good tread.
Keen is the best hiking sandal you can get. We opted for a more budget friendly hiking sandal and both the kids and I were plenty happy with them.
Cards, small games, other things to entertain. For 3 weeks in Costa Rica, there will be plenty of rainy evenings where you play inside.
Beyond those things, you should also bring a hiking pack, hat, sunglasses, and quick dry towels.
The Detailed 3 week Costa Rica Itinerary for Families!
Day 1 of your 3 week Costa Rica itinerary: San Jose
Fly into San Jose and stay the night. There's a good chance you'll arrive later in the day or evening anyway, and you don't want to be driving around Costa Rica in the dark.
Pick up your rental car after you've gathered your luggage. We used Adobe Rental cars and they picked us up at the airport.
You can compare other companies here as well.
Then head to your hotel.
We stayed at the Country Inn & Suites because it was cheap and we just needed a place to sleep for the night. Our room actually had multiple bedrooms and bathrooms and a little living room.
Breakfast was included, too. So it ended up being a comfortable place! And if you arrive before nighttime, you can take advantage of the outdoor pool.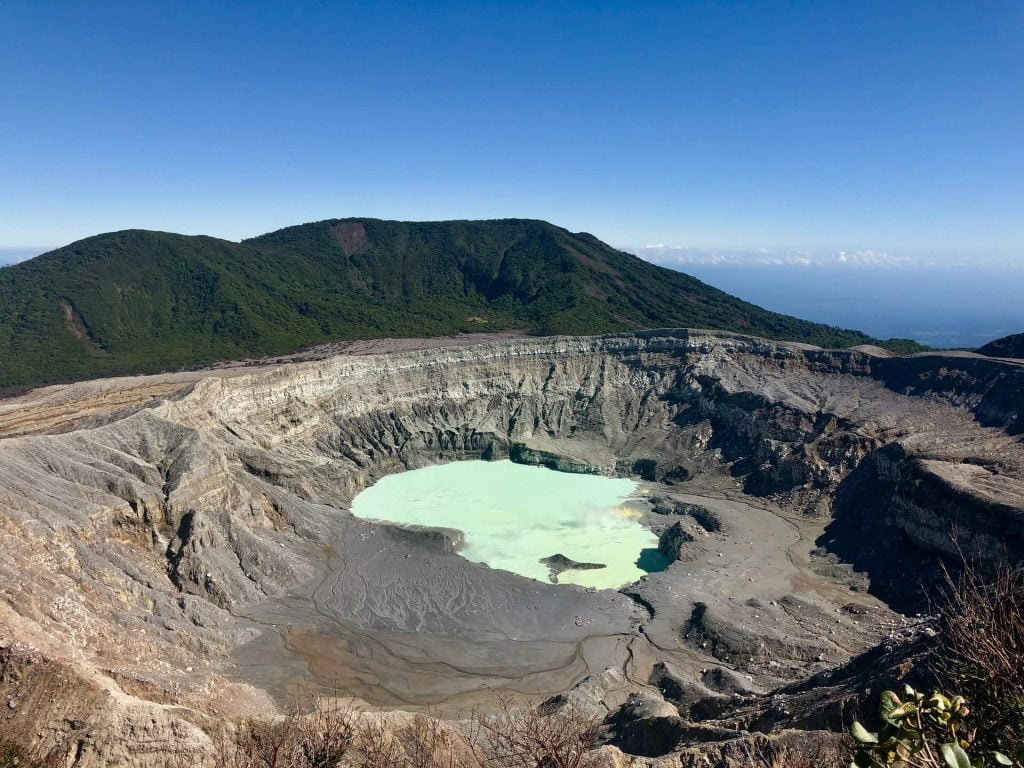 Day 2 – Poas Volcano and La Fortuna
On the second day, stop for some breakfast at your hotel (it's provided at the one linked above). Then pack up and head out. Make your way to La Fortuna.
On the way, stop at Poas Volcano National Park. This is a cool volcano with a deep crater. It's easy to walk to once you are arrive.
Make sure to read this guide on Poas Volcano National Park so you are prepared! (For example, you can't buy tickets there, you have to pre-purchase them. And internet doesn't work for most people once you arrive!)
Hop back in the car and carry on to La Fortuna. By this time (including the Poas Volcano stop), it's probably closer to evening.
Stop by one of the local sodas in La Fortuna for a budget-friendly dinner and local cuisine.
Check into Los Lagos Hotel in La Fortuna. This amazing resort has hot springs on site, plus waterslides for the kids to enjoy. So if it's not bedtime, put on your swimsuits an enjoy an evening at the pools.
Day 3- La Fortuna
Safari Float
This morning you'll get picked up and head out on a Safari Float ride. On your Costa Rica 3 week itinerary, this will be one of the most fun and unique things you do, plus it's a very kid-friendly, gentle float down the river. You'll see plenty of animals, plus get a snack/light meal at the end.
Read more about the Safari Float
La Fortuna Waterfall
After you are dropped back off at your hotel, make the short drive up to La Fortuna Waterfall.
La Fortuna waterfall is a classic stop in La Fortuna. The amazing waterfall plummets down into beautiful waters that you and the kids can wade in, so bring a suit and water shoes, as it is a bit rocky.
Head back to the hotel to eat at the onsite restaurant, or to a local restaurant or soda for dinner.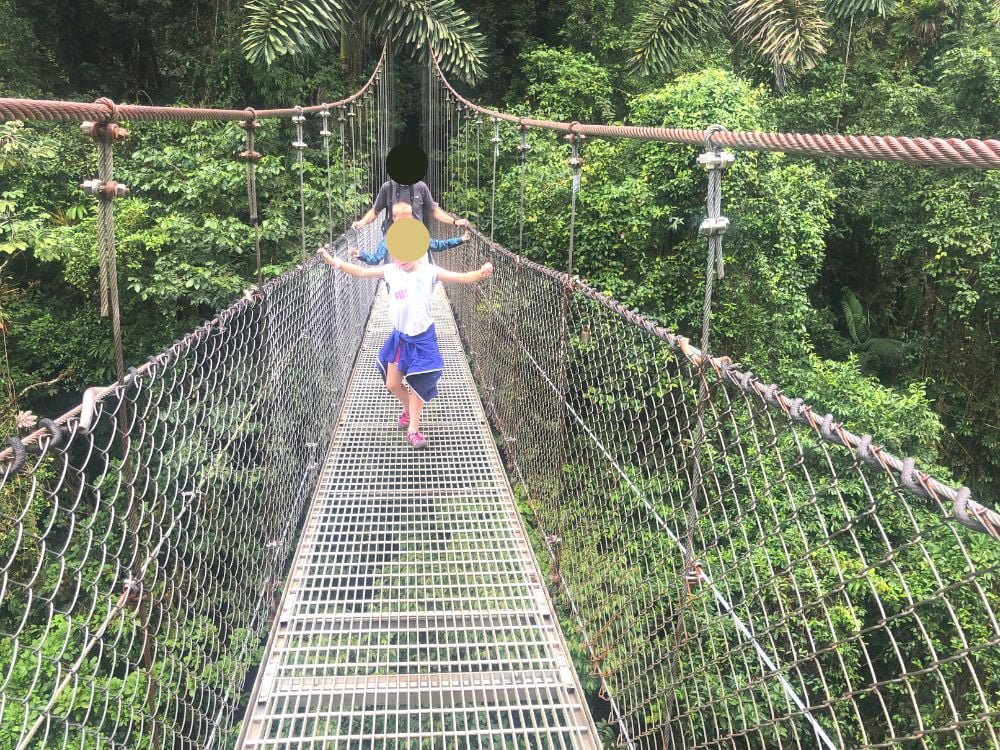 Day 4- La Fortuna
Nature Walk
If you are staying at Los Lagos (and you should), then make sure to check out the nature trail on site. The entrance is right outside of the restaurant, and it's actually quite impressive.
You'll see turtles, butterflies, and all sorts of flowers and flora.
It's free to walk through this beautiful trail.
Mistico Hanging Bridges
I realize many people want to zipline. But if you are in Costa Rica with kids (especially young kids), that may not be ideal, or they just may not want to.
My kids weren't too excited about ziplining, so we opted for hanging bridges instead.
Mistico Hanging Bridges takes you through the jungle and across steel-cable bridges up in the canopy. You may see an animal or two, but you'll see even more if you hire a guide.
(Trust me on that one. We didn't get a guide and hardly saw anything. Meanwhile we overheard others talking about how many things they say with their guide. We didn't make that mistake again later!)
FREE Hot Springs
In all of your Costa Rica 3 week itinerary, this is one of the few things that is free. Visiting the natural hot springs in La Fortuna is an authentic way of visiting, as it's a popular local hang out. It is especially crowded on the weekends.
While the hot springs are free, there is a requested charge to park. This is typical in Costa Rica and a great way to make sure your car and belongings are looked after.
Find the Free Hot Springs in La Fortuna along the main road near the Tabacon resort. You'll see cars parked and parking attendants waving you down.
Day 5 of your 3 weeks in Costa Rica- La Fortuna to Liberia
Pack up and say goodbye to the beautiful Los Lagos resort.
Arenal Volcano National Park
On your way out of La Fortuna, stop at Arenal Volcano National Park. There are a few trails you can hike with kids here, but we loved the Lava trail, or Sendero Coladas.
This gave great views of both Arenal Volcano and Lake Arenal. Plus, the kids loved hiking up the hard lava at the top.
**Tip** This is where the bug spray really counts! Don't forget it 🙂
Drive to Liberia
The drive from La Fortuna to Liberia takes a while (2-1/2 to 3 hours). If that's too long to stay in one place, you can check out some stops on the way from La Fortuna to Liberia.
Llanos de Cortez Waterfall
Make sure you do make this stop on the way to Liberia. Llanos de Cortez waterfall is not far out of the way from the highway and not far outside of Liberia. It's an awesome waterfall and swim area and great for the whole family.
There is a bathroom area to change into your swimsuit if you need. Then it's a quick walk down to the waterfall.
Make sure to read the details about Llanos de Cortez to make the most of it. (You don't want to go to the wrong entrance, like we did).
Check in to Your Hotel in Liberia
Liberia is a great place to fly into for easier access to the Guanacaste regions. It's not one of the top spots for tourists though, so you won't find too many fancy hotels.
We stayed at Las Espuelas. It was simple (very simple rooms), but cheap, and it had a pool, playground, and great food.
Day 6 – Liberia
Ponderosa Adventure Park
Some say there's nothing to do in Liberia. We actually had a few things we wanted to do, but as we only stayed overnight, we had to just choose one.
We chose the Ponderosa Adventure Park. This is a cool, safari place where you and the kids can drive around the open spaces and feed zebras, giraffes, and other cool animals.
There's also adventure sports, waterfall hike (quick walk), lunch buffet, and more. It's a great place to spend a few hours.
Drive to Playas del Coco
The drive to Playas del Coco isn't too bad at roughly an hour. Playas del Coco is a great central place to stay in the northern Guanacaste region.
Now, if you want an all-inclusive experience, you'll want to go farther south.
But we didn't want all-inclusive as we spent all day everyday out exploring, not at the accommodations.
Check into an awesome property
We stayed in this community while in Playas del Coco. These cool condos were a great location and a beautiful, well kept property (inside and out).
My kids especially like the two large pools (also beautiful).
Us parents liked that we could easily walk to a large grocery store without having to cross any big roads.
Once you check in, you can play at the nice pools outside for the evening.
There are plenty of restaurants in the Playas del Coco area, but when we stayed at rentals, we tended to cook our meals in Costa Rica.
The darker sand of Ocotal Beach
Day 7 and 8 – Playas del Coco
Beach Hopping
Day 7 of this Costa Rica 3 week itinerary brings a lot of beach hopping. There were so many beaches we really wanted to see that we dedicated two days to seeing many of them.
You can start at Playa del Coco, but I wouldn't go here just for the beach. There's a cool boardwalk area, playground, shops, etc in the area. But the beach itself isn't the best.
Besides Playa del Coco, there are so many other great beaches near Playas del Coco. We loved Playa Penca (a local gem) and Ocotal (a dark sand/rock beach).
Day 9 – Drive to Sámara
Playa Conchal
I listed Playa Conchal in my post about beaches near Playas del Coco (linked above). It's not super close to Playas del Coco, but it's a great stop on the way out if you're heading south.
Playa Conchal is Spanish for "shell beach." This beach is made of finely crushed up shells. The beach itself is gorgeous and it is definitely worth a stop.
Interior of suggested Samara rental
Check-in in Samara
Samara was one of our favorite towns to visit in Costa Rica. With 3 weeks in Costa Rica, you can definitely stay here a while to enjoy.
There are many great places to stay in Samara.
We, however, absolutely loved the in-town rental in Samara we chose. I'd highly recommend checking it out.
Walk on Playa Samara
If you do choose to stay in the rental noted above, then you'll have just a quick 5 minute walk through town to get to Samara Beach. Stretch your legs and relax a little. Then head into town for some great food.
It had been a downpour the night before, so Belen Waterfall is a bit full and a bit brown
Day 10 of the 3 week Costa Rica itinerary- Samara
Belen Waterfall
About 20 minutes away from Samara is a cool waterfall you can access. There is a per-person fee to enter that you pay to the guy manning the parking lot. It's a minimal fee.
Then, walk down to Belen waterfall, a popular local hangout.
Playa Carrillo
Playa Carrillo is the neighboring beach to Playa Samara. It's just a short drive away from Samara, and it is just incredible.
Playa Carrillo is huge. It's definitely one of the largest beaches we saw during our 3 weeks in Costa Rica.
Bring the bodyboard, some towels, and some snacks and enjoy your time on Playa Carrillo.
Day 11- Samara
Playa Samara
Today, just enjoy the day on the beach in Samara. Samara is a beautiful beach and we found the people so friendly. The beach was just as friendly and fun.
We enjoyed a horseback ride on the beach (we paid and booked it right there on the beach. Actually, I didn't have money, but our awesome rental was so close that I just ran back really quick to grab some cash).
We also used the bodyboards our rental provided and spent so long playing in these perfect waves.
Day 12- Samara
Learn to Surf
Samara is known as one of the best places for beginners to take a try at surfing. That's because the waves are great beginner level waves: nice and gentle, but powerful enough to get a start.
Check out one of the surf schools right along the beach in Samara.
Then spend the rest of the day hanging on the beach.
Day 13- Samara
You should be able to tell by now that Samara truly was one of our favorites.
Today, choose from one of the many day trips from Samara. Remember to start your day early as you will want to be back before the sun goes down.
Day 14- Drive to Bejuco
The drive from Samara to Bejuco is the longest drive you'll have to make in this 3 week Costa Rica itinerary.
Driving straight through will take about 4-1/2 hours. Ouch, I know.
One thing to keep in mind is that driving through Costa Rica takes longer as many of the roads are narrow, windy, jungle roads. So even though it's just under 150 miles, you'll never be going 60 miles per hour.
One stop you should make on the way to Bejuco is in Tarcoles at the Crocodile Bridge. You'll be able to look down over the bridge and see plenty of crocs down sunbathing! (Just look for a small strip of stores and restaurants all of a sudden on the road where many people are parked and walking around).
Check-in to your amazing Bejuco Rental
It's like our rentals just kept getting better.
We loved our rental in Samara because it was spacious and charming.
After two weeks in the jungle, we loved our rental in Bejuco because it was modern and spacious. And it had its own pool in addition to the great community pools.
>> Check out these Unique Costa Rica Coloring Pages <<
Day 15– Bejuco
Perhaps you've never heard of Bejuco. That's ok, a lot of people haven't.
Bejuco is a great little town south of Jaco and north of Manuel Antonio. There are quite a few expats and retirees living down in Bejuco, enjoying the peaceful, calm vibe.
We choose to spend the last week of our 3 weeks in Costa Rica in Bejuco. It was a great way to relax after all the adventure, but still be part of Costa Rica and see a little bit more before we went home.
Bejuco Beach
On your first day in Bejuco, talk the 10 minute, easy walk down to the beach from your rental (linked in day 14) and enjoy a beach day.
Playa Bejuco is large and beautiful. It was given the Blue Flag award, which is awarded to only the most clean and sustainable beaches.
Day 16 – Bejuco
Manuel Antonio National Park
You'll still be staying in Bejuco to sleep, but today you'll head to Manuel Antonio National Park during the day.
I highly recommend booking a guide for Manuel Antonio. Remember during the hanging bridges section above where I said we didn't get a guide at the bridges, but we didn't make that mistake twice? This is where we made a better choice 😉
We saw so many animals. Well, we didn't see them first. But our guide saw them and showed us where they were.
Manuel Antonio National Park is the most visited national park in Costa Rica. Perhaps it's because of the incredible jungle and wildlife (it's hard not to see a sloth here). Or maybe because it has Playa Manuel Antonio, frequently mentioned as the most beautiful beach in Costa Rica.
Or maybe it's because you can have both, in one place.
**Tip** While Bejuco has a grocery store, it is a smaller one and more expensive since it imports American brands hard to find elsewhere. If you need supplies, stop at the Maxi Pali on the way back to Bejuco after you are finished in Manuel Antonio.
Day 17– Bejuco
Catarata Salto de Gamalotillo
This was another of our favorite stops on our 3 week Costa Rica itinerary. It was just so relaxing, and yet so fun, too.
Salto de Gamalotillo is about 40 minutes away from Bejuco (though it's only about 13 miles away).
This waterfall is so much fun to take the kids to. After you park, it's an easy walk down to the falls. My kids loved swimming/wading in the swim area and swinging on the tire swing. They also loved relaxing in the hammocks.
Pack a picnic and spend the entire day hanging out here! The owner is super friendly and loves nothing more than when people are able to really spend time here.
Read more details about Salto de Gamalotillo.
Community pools in the suggested Bejuco Rental
Days 18-19– Bejuco
The next few days are to spend the final days at Bejuco Beach or the neighboring Estrillos beach.
If you chose to stay in the suggested rental (and you should!), you can also hang out at the community pools or at your own private pool.
We loved just hanging out in the local area, checking out the local shops/bakeries/restaurants at the small nearby shopping area (a quick 2 minute drive), and being beach bums for a few days!
Day 20 – San Jose
Since you don't want to be driving at night, you'll need this day to make your way back to San Jose the day before your departing flight.
Mix and Match Map
Want to choose your own locations? Here's a quick guide map to locations all around Costa Rica.
Costa Rica 3 Week Itinerary
I hope this 3 week Costa Rica itinerary has been helpful. It's almost exactly how we spent our 3 weeks in Costa Rica (except I added an extra day or two in Samara in this because I think it's totally worth more time that we gave it.)
If you're able to spend a while in Costa Rica, you are going to have an amazing time. Make sure to spend lots of time finding adventure, and lots of time finding relaxation and moments to just enjoy being in Costa Rica with your family.
So enjoy your 3 weeks in Costa Rica. That is a great amount of time to really take it in!
I hope this Costa Rica 3 week itinerary was helpful!
Find more info and specifics about Costa Rica here.
Surprise the kids with fun Costa Rica Coloring Pages!
FAQ about 3 Weeks in Costa Rica
Is 3 weeks too long in Costa Rica?
3 weeks in Costa Rica is a perfect amount of time. It allows you to really experience both the heart of the jungle and the beach, plus some other areas you wouldn't have time for on a shorter itinerary.
How should I spend 3 weeks in Costa Rica?
Start first with La Fortuna and the Guanacaste Beach area. Both of these areas are popular tourist spots for a reason. After that, pick a couple other areas you'd like to visit. You could go to Manuel Antonio, the most visited National Park in Costa Rica or over to Tortuguero on the Atlantic side.
How many days are ideal for Costa Rica
21 days are ideal in Costa Rica. That allows you to see the tourist areas, plus some of the lesser-known parts. You'll get all the great adventures, plus some beach time, waterfalls, and other beautiful areas of Costa Rica not seen as often.
Why is Costa Rica so Expensive?
Costa Rica is one of the most expensive central American countries to visit. National Parks, which in the USA is considered a more budget-friendly way to travel, are actually more expensive to visit as you pay per-person instead of per-vehicle. There are beautiful, nice hotels. But remember that there are also budget-friendly hotels and hostels and cheaper options for eating out.