Rocky Mountain National Park is located in Colorado, and nestled between Grand Lake and Estes Park, with entrances at either end. This place is awesome. And huge. Over four-and-a-half million people visited Rocky Mountain National Park in 2019, making it the 3rd most visited National Park. If you want to see ALL of Rocky Mountain National Park, well…you might need to move there. Our family has been up there a number of times and have barely made a dent in the park.
Let's Jet, Kids! uses affiliate links.  As an Amazon (and other networks) Associate, I earn from qualifying purchases.  It is no extra cost to you.  
Full of awesome hikes everywhere you look, there is plenty to do in Rocky Mountain National Park with Kids!
Here is some info you need to know, as well as great hikes for kids in Rocky Mountain National Park:
Denver to Rocky Mountain National Park
Rocky Mountain National Park- East Entrance is about 70 miles from downtown Denver. It takes a little over 1-1/2 hours to arrive at the Beaver Meadows Entrance on the East Side of the Park. To get there, take I-25 north to highway 66 and head west. Then you can follow the signs to Estes Park, the city which Rocky Mountain National Park is located. Be on the lookout for Elk and Moose roaming around Estes Park!
>> Flying into Denver? Don't forget the Rental Car! <<
Reservations into Rocky Mountain National Park – Timed Entry
Right now in Rocky Mountain National Park, you have to have reservations to enter. This is new ever since the emergence of Covid. Masks are required on the shuttles.
To make a reservation, go to the website https://www.nps.gov/romo/index.htm and hit "reserve".
2021: reservations begin on the 1st of the month before you'd like to go. A few more reservations are available exactly at 5:00pm the night before you plan to go. We have gotten lucky getting night-before reservations, but you have to grab them right as the clock turns 5:00)
Rocky Mountain National Park Weather
I really can't give you an idea of what to expect. So, it's best to go knowing you can't expect anything in particular. To visit Rocky Mountain National Park, bring layers and a hiking pack. Some days it is chilly, some hot. There may be snow at the top of where you're going.
The earlier in the day you can get in, the better due to weather changes in the afternoon. We went last year. We checked the weather upon arrival: sunny forecast. We began our hike with completely clear skies. Right as we got to the top (Bierstadt Lake), it began thunder storming. Expect the unexpected, and be prepared!
Try to reserve an early time in the morning to get the best weather before afternoon storms. But even if you get an afternoon slot, there are plenty of hikes that are shorter where you can quickly get to safety if needed.
Navigating Rocky Mountain National Park- Shuttle
Upon entering the park, you will be given a map with all the trails and roads to get there. Take note of where the Park-and-Ride is on the East Side, on the road to Bear Lake (just across from Glacier Basin Campground). There is a large parking lot there, along with restrooms (no-flush).
September 2022: Currently, masks are advised on the shuttle
Taking a little one? Make the day hiking easier and comfortable with these top rated hiking carriers!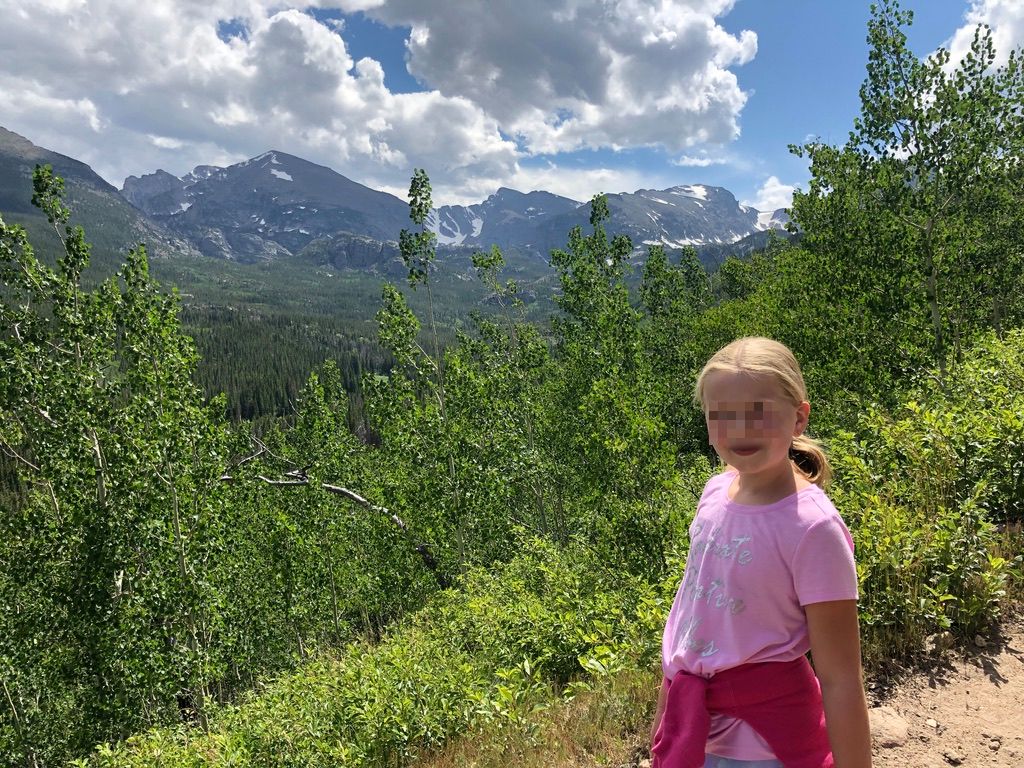 Best Hikes for Kids in Rocky Mountain National Park
Easy Lake Strolls
Of course with 4 kids, we aren't able to scale mountains and hike 10 miles at a time. But we are getting close! We have hit many of the easy, leisurely places to explore, such as Bear Lake, Sprague Lake, and Lily Lake. Each of these lakes are easily accessed as you can park right there. They also are great hikes for kids because they are easy and with minimal elevation. As a bonus, these lake trails are stroller-friendly, so baby can enjoy the views too 🙂
---
>>Make sure you have all the right stuff for a great hike!<<
---
Alluvial Fan
Distance: .5 mile from East lot; .3 mile from West Lot
Level: Easy (though there is a short steep section on East side)
How to get to the Alluvial Fan in Rocky Mountain National Park
Enter the Fall River Entrance Station. Shortly after you pass the Sheep Lakes on the left, take a Right (follow the signs to Alluvial Fan). A small parking lot will appear, or continue on to the second parking lot.
Alternatively, if you are already in the park and on Bear Lake Road, head back to highway 36 and turn left/west. You'll then take highway 34 east and then take a left to Fall River Road. The parking lot will be down the road and on your right.
What You Need to Know About Hiking to the Alluvial Fan with Kids
The Alluvial Fan is located on the northern side of RMNP (East Entrance). Reaching the water is just a short walk/hike from the parking lot. Note that there are two small parking lots; one of each side of the trail with the water feature right in the middle. If you come upon the first (east) lot and it is full, drive a little farther and try your luck at the west lot. The walk is short from either end.
Alluvial Fan Water Fall in fall (I imagine it's pretty awesome and full in spring!)
The east lot has a short section of 19% grade, so it's a little steep, but totally doable for kids. The trail is a groomed, packed pebble trail. It is accessible for chairs and strollers, though you may want to check the west lot first if you are worried about the steep grade.
Once you come upon the water, it's a beautiful sight! The kids can play across the large rocks in the stream or you can view the scene from a beautiful bridge. To get close to the main waterfall, you do have to scramble a bit over rocks, so just enjoy it from a distance if you'd like.
Bear Lake– Easy Hike for Kids in Rocky Mountain National Park
Distance: .5 miles
Level: Easy
How to Get to Bear Lake in Rocky Mountain National Park
Enter the park through the Beaver Meadows Entrance. Shortly after entering, turn left on Bear Lake Rd (2021: Requires reservation that includes this road!) Drive this road all the way to the end and it will put you in the Bear Lake Parking lot.
Note: The lot fills up quickly, so I suggest parking at the park and ride. You'll see a sign for it, and it is right across from Glacier Basin. Park here, (grab your mask!), and enjoy the ride to Bear Lake.
What to Know About Hiking Bear Lake With Kids
Bear Lake is one of the most popular spots on the east side of the park. Unless you decide to hike in from another location, you can park right at the lake (or take a shuttle from the park-and-ride if parking is full) and the lake is just steps away. It is accessible for chairs and strollers, and there are wooden benches all around the lake to stop and get some great pictures, relax and take in the view, or have a quick snack. The loop around the lake is just over a half-mile, so it can easily be done with little ones.
Nymph Lake at Rocky Mountain National Park
Distance: .5 Miles one way
Level: Easy
How to Get to Nymph Lake
The trailhead for Nymph Lake is the same place as Bear Lake. Either park at Bear Lake, or take the shuttle to Bear Lake.
What to Know About Hiking to Nymph Lake with Kids
Nymph Lake is a pretty easy trail, and it doesn't take long to get there. Once you arrive, you'll see a beautiful lake covered in lily pads. This cute lake is fun for kids to explore and there is plenty of space to walk around. If it's crowded right when you come upon it, keep walking and you'll find a better spot to enjoy Nymph Lake.
Nymph Lake Trail continues on to two more lakes (Dream Lake and Emerald Lake…highly recommended!), if you'd like. Going past Nymph Lake is not stroller-friendly. Check out the video below to see highlights of the entire trail!
Bierstadt Lake Trail
Distance: about 3 miles round-trip to the lake and back
Level: Moderate (has some incline the first half, but nothing too strenuous)
How to Get to the Bierdstadt Lake Trailhead
Getting to the Bierstadt Lake Trailhead is easy. Enter through the Beaver Meadows Entrance and head to Bear Lake Road. Park in the park-n-ride, (grab your mask!), and take the shuttle to the Bierstadt Lake stop. There is a parking lot for Bierstadt Lake Trailhead, but it only fits a couple cars, so I definitely recommend the shuttle.
Bierstadt Lake is less of a leisurely stroll, and more of an up-the-mountain, 566-foot elevation gain hike. This trail is not stroller friendly, but I would recommend setting the baby in a carrier (front or back) and taking baby along!
The bigger kids chat with each other or find cool rocks and don't even notice how it ascends. We've done this hike in the summer and gotten stuck in a storm, and we've done it in spring when the top was still snow-covered. That just made it all the more fun (the snow, not the thunderstorm) for the kids though and they didn't seem to mind at all. You'll have to decide your kid's attitude and experience hiking. We've done this a couple times, and ours did fine.
Make sure to bring a pack with snacks and water and other necessities. And of course, always carry out what you bring in. Here are some great packs to carry (the Samit [2nd one] is our favorite at a great price!)
Bierstadt Lake Trailhead to Bear Lake
Distance: 3 Miles
Level: Moderate
About 3 miles from Bierstadt trailhead to Bear Lake
One year, we decided to do a little longer of a hike. We went in July so that we didn't have snow at the top again (which was nice!), and we decided not to stop at Bierstadt lake, but to keep going to Bear Lake. Altogether, it is about a 3-mile hike (Bierstadt trailhead –> Bierstadt Lake –> Bear Lake). You can then take the shuttle from Bear Lake back to the park-n-ride (or Bierstadt Trailhead, if you were lucky to get a spot there).
It took us a few hours, but all the kids had a great time. We put the 3-year-old in a hiking backpack. The 5, 7, and 9-year old put on their walking shoes and did great, noticing the different flowers and searching for animals.
On the start of the trail, you overlook mountains and can see yourself get higher and higher off the road as you complete each switchback. Once you are at the top, the trees get much thicker. The terrain is flatter and the air smells like forest. It is very peaceful. Until…
Our feeling of peace was ruined by pretty scary thunderstorm once we reached the top. One thing to always keep in mind is that thunderstorms in the mountains roll in fast and unexpectedly, as was proven to us that day. The weather report was clear of rain. When we started the hike, it was nothing but blue skies. Right when we reached Bierstadt Lake (at the top) the storm rolled in quickly. It was a little scary and we did our best to distract the kids (and ourselves)! As soon as we heard the birds start chirping, we knew danger had passed. But it's always a good idea to do your high-elevation or long hikes early in the morning.
The rest of the hike was up and down terrain through the trees. It was a beautiful trail, filled with greenery and large boulders along the side. It ended at the Bear Lake loop.
Alberta Falls
Distance: 1.2 miles roundtrip OR 2 miles roundtrip
Level: Easy to Moderate
How to Get to the Alberta Falls Trailhead
The shortest hike for Alberta Falls can be accessed from Glacier Gorge Junction. You can take the shuttle here, and it's about .6 miles to the falls. While it is shorter, it is also an incline of over 150 feet in just over a half mile.
You can also access Alberta Falls from the Bear Lake Trailhead. The waterfall is about 1 mile from here, making a 2 mile roundtrip.
OR- you could begin at Bear Lake, hike to Alberta Falls, and then continue through to Glacier Gorge Junction, making a 1.6 mile hike. From there you can take the shuttle to wherever you need to go.
Copeland Falls – Easy Hike at Rocky Mountain National Park
Distance: .3 miles
Level: Easy
How to Get to Copeland Falls
Copeland Falls is located in the very southern part of Rocky Mountain National Park on the East Side. From Estes Park, head south on CO-7 for about 12 miles. Turn into the Wild Basin Entrance Station and head to the Wild Basin Trailhead / finch Lake Trailhead. Copeland falls is just over a quarter-mile from the ranger station, and has minimal incline.
Camping in Rocky Mountain National Park
If you are into camping, there are some great campgrounds in the Park. Moraine Park is a great campground, in somewhat of a meadow where you might hear the elk bugling in the morning. It is located just beyond the Beaver Meadows Entrance on the East side of the park and a short drive to tons of great hikes.
Best Hotel in Estes Park
If you aren't looking to camp, there are lots of places to stay in Estes Park (if you're exploring the east side of the park). We have stayed at the Estes Park Resort, theestesparkresort.com one of the only things built next to Lake Estes. It is a beautiful setting! It has a great fitness facility, a great pool, and great in-room amenities like a microwave, mini-fridge, and coffeemaker. The balcony/patio off our room looked right to the lake; a beautiful place for eating breakfast! If you need a nice, easy outing, you can just hop onto the path and stroll around the lake.
Visiting Rocky Mountain National Park with Kids
As I said, Rocky Mountain National Park is HUGE! We have taken an entire day just driving through the entire park in fall, just making quick side-of-the-road stops to admire the changing colors. Note that if you go late fall, Trail Ridge Road, the main road that connects the East and West side of the park, is closed down. It is closed every year from mid-October to Memorial Day as weather makes for some pretty unsafe conditions. So if you go in winter, you'll have to decide which side of the park you'd like to explore and stick with that side.
Which trails are you wanting to try with (or without) the kids? Comment below, I'd love to hear!
Coming in from the west entrance? Check out these awesome trails in RMNP from the west!
Fall in RMNP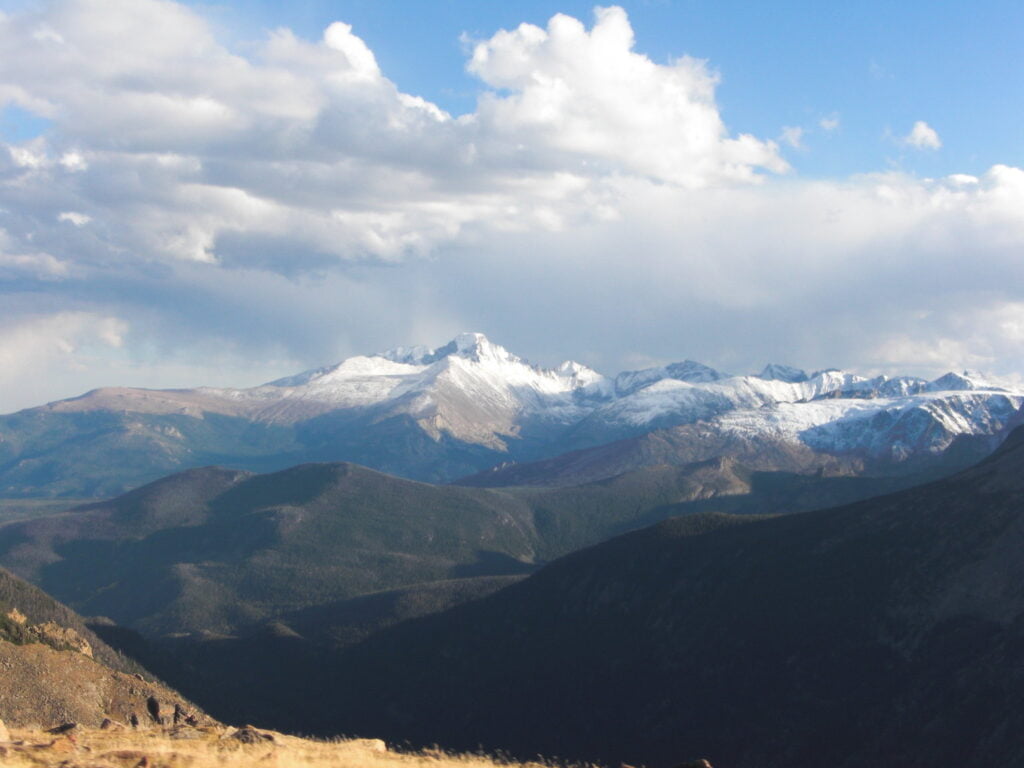 Passing the top of Trail Ridge Rd, closed mid-October through Memorial Day
Save this post to Pinterest!