When we took our family vacation to Costa Rica, we decided to stay a night in Liberia. As Liberia is one of the main airports in Costa Rica, there were plenty of places to choose from to stay. We decided to stay at Las Espuelas hotel in Liberia. Here is my complete review of Las Espuelas so you can decide if it's a good fit for your family vacation to Costa Rica.
Let's Jet, Kids! uses affiliate links.  As an Amazon (and other networks) Associate, I earn from qualifying purchases.  It is no extra cost to you.  
Budget Hotels in Liberia
We mainly chose Las Espuelas because it was very affordable. We are a family of 6, so we had to get 2 rooms, but even 2 rooms was more affordable than other hotels.
Where is Las Espuelas Hotel in Liberia Located?
Las Espuelas hotel is located right in Liberia off highway 1. It is just south of the main downtown area.
Check-in Experience at Las Espuelas
Check-in was very easy and quick. The girl at the desk was friendly as well.
At the check-in desk, there is a QR code for getting access to the internet. You can do this while checking in or at any other time if someone else in your party needs access. The property isn't huge, so it's easy to walk from your room to the front desk if you realize you need internet.
There is a lobby area for your kids to sit in while you check in.
I'll also note here that the whole staff at Las Espuelas was very kind and responsive. We had a few minor issues in our rooms (burnt out lightbulbs, etc.) and they were quick to respond and fix the issue.
The Rooms at Las Espuelas Hotel in Liberia
The rooms had exactly what we needed and nothing more (well, it had a TV too).
The rooms at Las Espuelas are small. We got a room with a double bed and a single bed. The front wall had a small desk/counter area, coffee, and a TV. There was even a little closet with hangers inside. Rooms also had A/C that worked great.
The bathroom was a typical but smaller bathroom. The shower had a soap dispenser, but no shampoo/conditioner.
I wouldn't call Las Espuelas a chic or fancy hotel. It definitely could use some basic upgrades. However, remember that is was a budget hotel, so we didn't feel disappointed by any lack of upgrades.
Extra Amenities at Las Espuelas Hotel in Liberia, Costa Rica
Once we stepped outside our rooms, we were pretty impressed at what Las Espuelas offered.
The Pool at Las Espuelas
The pool at Las Espuelas was pretty big. It was nice and clean and had a cool river-rock look on the bottom (it was not actually rock). There was a kiddie-pool and a shower to rinse off in before.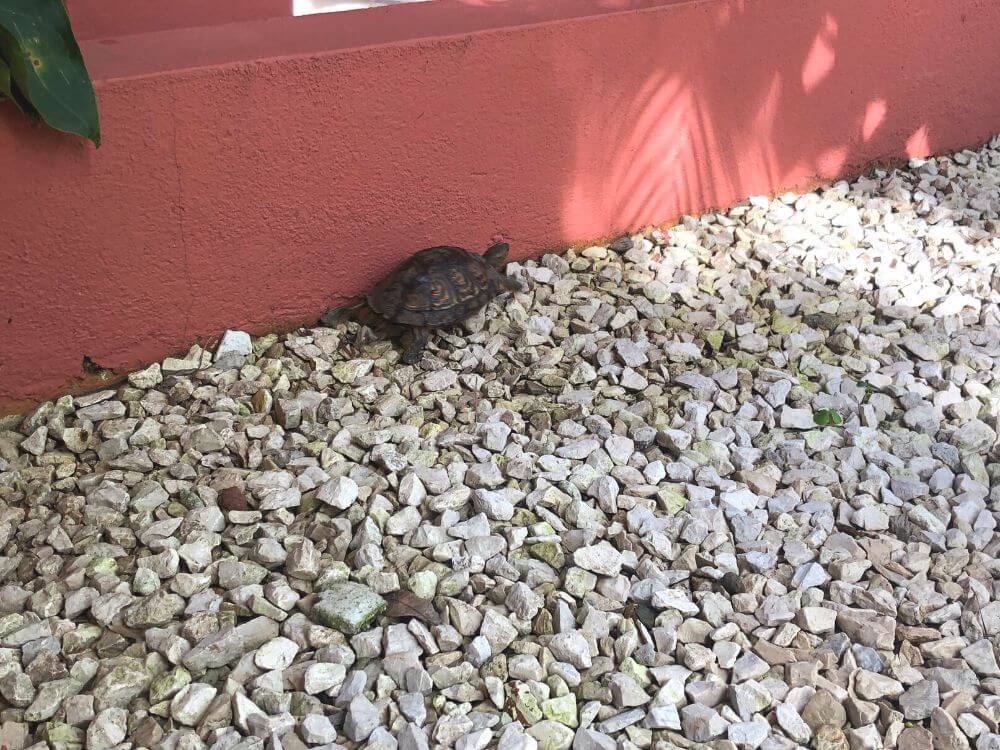 The Gardens at Las Espuelas
All throughout the interior of the hotel, which is open air, we found little gardens. It really made the hotel feel pretty and cared for. We even saw a garden area with turtles in it.
Kid's Play Area
Las Espuelas is located right off the road, so while outside you will hear a little traffic.
We thought it was really nice that trees were all around the outdoor area, though. There was even some swings and a great outdoor area for walking and running around. This is such a great space for kids to get some wiggles out.
The Restaurant at Las Espuelas
We didn't eat out at typical restaurants in Costa Rica (we usually just ate at Sodas). But when we drove over to Liberia, we didn't feel like going out again, so we chose to eat at the onsite restaurant.
We thought since it was a budget hotel, we would get budget-hotel food. But the restaurant was actually really good!
The menu had a great selection on it. You could eat inside or in the open air area.
Breakfast at Las Espuelas
I love finding hotels where breakfast is included. The day starts out so much easier and quicker…plus, it usually saves money.
The breakfast at Las Espuelas has two choices. You can go to the small buffet which offered breads and cereals. Or you can order the hot breakfast.
The hot breakfast (for us, anyway) included eggs, rice and beans, ham, and plantains.
We all ordered the hot breakfast, and then a couple of my kids went over to the buffet as well.
Should you stay at Las Espuelas in Liberia, Costa Rica?
If you are visiting Liberia and hoping to find a resort-style experience, Las Espuelas probably isn't for you.
But if you are visiting Liberia and planning to be out all day and use your hotel solely for sleeping, Las Espuelas fits the bill, literally. It's a great price-point for getting you what you need.
It's a great budget hotel in Liberia with extra amenities outside your room.
Is Las Espuelas hotel in Liberia a place you would stay?
>>>> Check out More info, pics, and pricing on Las Espuelas Hotel <<<<
>>> Make sure to Check out the Ponderosa Adventure Park while you're in Liberia! <<<
You May Also Like: