There are so many fun, family activities in La Fortuna, Costa Rica. Between rivers, lakes, waterfalls and jungle adventures, why not mix water and jungle? We took a safari float on the Peñas Blancas river near La Fortuna and it was one of my kids favorite things to do in La Fortuna. It's a great, family-friendly excursion in La Fortuna. Check out what you need to know about taking a safari float in Costa Rica!
Let's Jet, Kids! uses affiliate links.  As an Amazon (and other networks) Associate, I earn from qualifying purchases.  It is no extra cost to you.  
---
Where to Book a Safari Float in La Fortuna
**I'd like to note that though I may earn a small amount if you also book this excursion through the links I provide (thank you! 😘) this excursion was not given to us nor am I receiving anything for this review. We just really enjoyed it and I'd love to share for others to experience it.**
We came across many companies that offer a Safari Float on the Peñas Blancas river. We ended up using Canoa Aventura (through Viator) since they seemed to be a more affordable option than other companies.
We even accidentally booked the wrong date, and through Viator we were able to easily change the date with a quick (and immediate) online chat.
And if you book through Viator, you can easily cancel with the click of a button with at least 24 hour notice. Though, I really don't recommend canceling this excursion.
Is a Safari Float Good for Kids?
Yes! My kids had a blast on this safari float. This is a great activity for kids in La Fortuna. The river is gentle and the animals are abundant.
Older kids can sit on the edges of the raft just like the adults. Smaller kids will be seated inside the raft on the inflatable seats.
Will You Get Wet on the Peñas Blancas Safari Float?
Nope. The river is so gentle that if you fall in, it's probably cause you're doing something you shouldn't. I had no fear of my older kids sitting on the edges falling in.
And, again, it's so gentle that you don't get wet from raging rapids or anything.
Our guide took us over one little spot (on purpose, for our enjoyment) that was like a tiny tiny rapid. My kids got a kick out of it and got one or two drops on them (literally!). But I didn't see any other groups go over this tiny area.
The Safari Float Experience – La Fortuna, Costa Rica
Here are the details for the safari float. Again, we did it through Canoa Aventura, so using a different company might be different I imagine while you're on the river it would be similar though. But the following is our experience with Canoa Aventura.
Hotel Pickup was available to anyone within the main La Fortuna area. If you're staying in a rental or off the beaten path somewhere, hotel pickup may not be available. We stayed at Los Lagos just outside of the downtown area, but still on the main road, so pickup was included.
Pick up is set for 7:30 am, but depending on where else they are picking up, it may be slightly different. We had a message the day before noting they would be by closer to 8:00. So make sure to check your messages, it may earn you some extra sleep 🙂
*There is also an afternoon float excursion beginning at 1:00, though I recommend morning to avoid the rain!
The drive to Peñas Blancas was about 20 minutes in an air-conditioned vehicle.
Arriving at the Peñas Blancas
When you arrive, you'll step out of the van and be put into groups for the raft. Since we are a family of 6, we got a raft to ourselves (plus our guide).
You'll also each get a life vest to wear. They have many sizes for the whole family.
There is a bathroom available near the little building, which I'd recommend using since the float is about 1-1/2 to 2 hours long.
After you are put in groups, the guides will take the rafts down and you'll follow your guide down the stairs to the river.
Your guide will seat you where you need to be and hand the adults some oars. You are not paddling the entire way. The guide does most of the paddling, but may ask for your help here and there to get your raft to a specific spot to see wildlife. He'll go over some basic instructions for paddling.
Then your journey begins!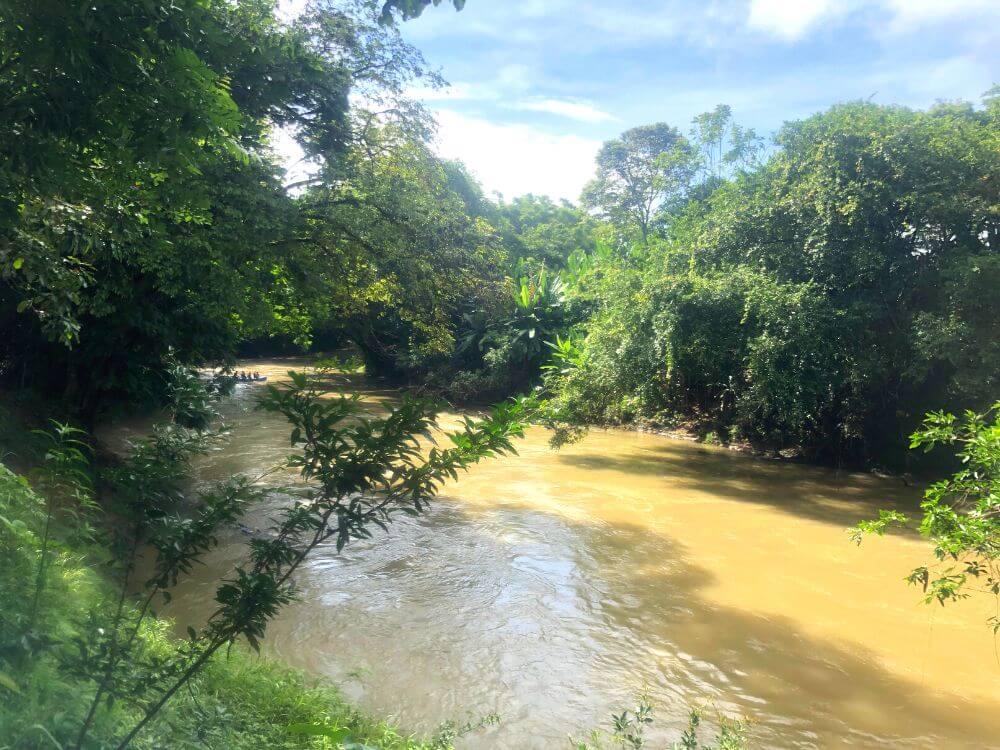 Floating on the Peñas Blancas River
Despite the water looking a little brown (it is the jungle, after all!), approaching and floating down the Peñas Blancas river was so beautiful.
It's quite peaceful sitting and allowing the current to slowly float you all down the river. You can hear sounds of the jungle and flow of the water.
And it's quite amazing the animals your guide can spot that you would never be able to pick out.
A few animals we saw were the Jesus Christ Lizard (named so because it can run on the water), toucan, Kingfisher, cranes, herons, vultures, bats, howler monkeys, a sloth, and crocodiles.
Can you spot the lizard above? Hint: It's bright green on the branch!
Monkey in the tree
Can you spot the crocodile in the picture above and below?
The monkeys gave us a great show as they crossed from overlapping trees over the river.
Luckily, the crocodiles did not give us a show.
That was quite an experience being able to see animals in their natural habitat that we would never have seen back in the US.
And to answer your next question, NO. The guide does not take you up close to the crocodiles! They were mainly basking in the sun and uninterested in our raft.
Chocolate, Sugar Cane, and Snacks After the Float
The excursion states that it provides snacks. I assumed this meant they gave us a bag of chips and some fruit or something.
It was so much better than that.
After you finish the float you'll come back up on the land to a little covered area with tables. There's a sink here to wash up (and a bathroom in the building).
One of the guides will give you a short presentation on cacao trees and the process it takes to make chocolate. This is a really interesting part, but they do keep it short as you are hot and hungry from the long float!
At this point, you get to make your own hot chocolate freshly made from cacao beans. You'll add a little chocolate powder, milk powder, and sugar as it can be a little bitter without.
You can also choose from water or tea for your beverage. Or, they offer something a little stronger for the adults 😉
You'll also get to go through where there are tortillas, cooked plantains, and fresh cheese. Put it all together on the tortilla and it's a delicious, hearty snack.
The plantains will still have the peels on them, but it's actually good. You can peel them and throw them over to the turkeys roaming the land and watch them gobble them up. That part is pretty fun for the kids.
We had plenty of time to enjoy our snack before getting back into the van and being driven back to our hotel.
---
5 Coloring Pages to take you down the Peñas Blancas River!
Get your Peñas Blancas coloring pages!
---
Peñas Blancas Safari Float in La Fortuna, Costa Rica
This river float was one of the most fun things to do in La Fortuna. We really enjoyed being able to be on the water and see so many animals from this perspective.
The river float was definitely one of our favorite things to do in Costa Rica since it was a unique experience and a great mix of water and jungle. I would highly recommend this for your family.
Was this post helpful? Please consider using my link below to book your experience!
>>> Book your Safari Float here <<<
Find more fun in La Fortuna:
Los Lagos Hotel– why you must check this place out!