Playas del Coco Costa Rica for Families!
Playas del Coco is located in the Guanacaste region of Costa Rica. It's a great location for vacationers to Costa Rica as it is filled with beaches, shops, restaurants, and more. Here I'll show a sample of where to stay, eat, and play. Check out everything you need to know about taking a family vacation to Playas del Coco.
Let's Jet, Kids! uses affiliate links.  As an Amazon (and other networks) Associate, I earn from qualifying purchases.  It is no extra cost to you.  
Where is Playas del Coco, Costa Rica?
Playas del Coco, seen as Coco on Google Maps, is located on the western shoreline of Costa Rica. It's grouped in with many of the popular beaches of Guanacaste.
Playas del Coco is north of the busy, touristy areas of Guanacaste. While Playas del Coco is still full of vacationers, it is over an hour north from the popular Tamrindo.
Where to Stay in Playas del Coco
If you've decided Playas del Coco is the place for your family vacation (and it's a great choice, in my opinion!), then you're probably wondering where to stay.
If you'd like a hotel, you could stay at Puerta del Sol in Playas del Coco, which includes a pool and breakfast. The deluxe suite sleeps up to 6. Plus, it's just a few minutes to walk to Coco Beach.
Favorite Rental in Playas del Coco
There are also plenty of condos to stay in. So which Playas del Coco rental should you choose?
Where we Stayed
We stayed in the Pacifico gated-community in a beautiful condominium. Our whole family fit comfortably in this condo.
This condo is located a short drive from the del Coco Beach.
It's also just a short walk to a large grocery store.
The pools were gorgeous, each having a zero-entry so kids of all ages had somewhere safe to play. (Plus, there was a bar right at the pool).
Our condo had 3 bedrooms and 2 bathrooms, a living room, dining area, and fully-stocked kitchen.
Our specific rental is not available anymore, but you can check out similar rentals in the same neighborhood!
Where to Eat in Playas del Coco
We found a couple sodas to eat at while in Playas del Coco that were pretty good.
If you don't know what a soda is, it is a place with local, traditional Costa Rican food. Sodas are much more affordable than typical restaurants. Plus, we never felt hungry after eating at one!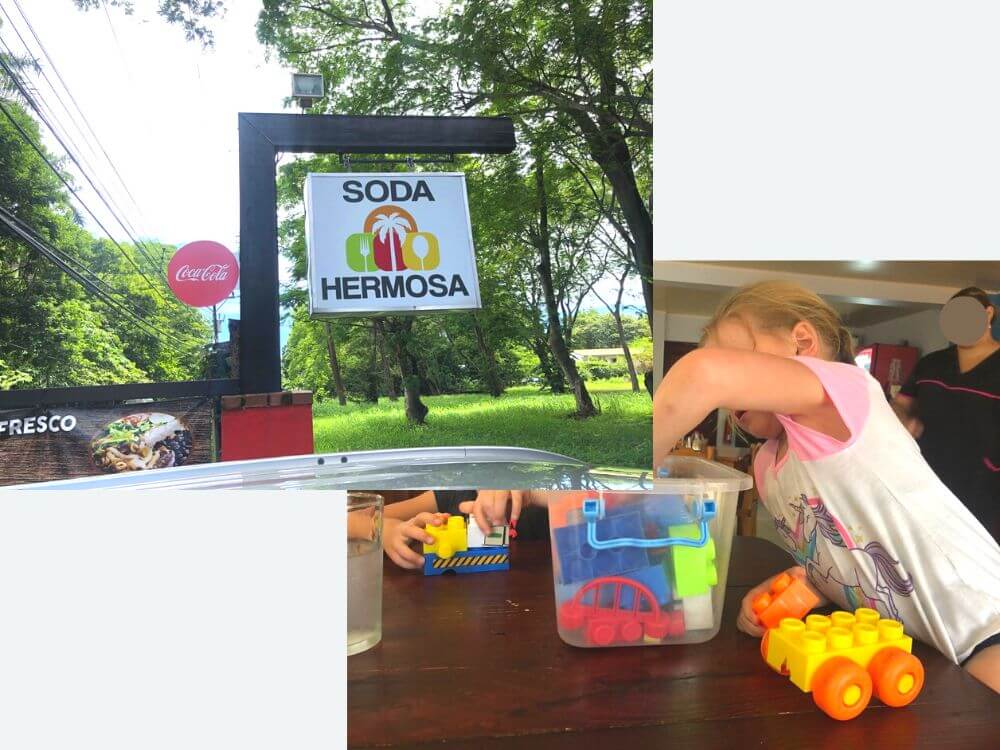 Soda Hermosa
This soda is actually located by nearby Playa Hermosa. But it's worth the short drive!
Soda Hermosa has inside seating, as well as some seating outside. Inside even has A/C.
The woman who waited on us here was so friendly. She knew some English, but also used Google translate for when there were any language barriers.
The food here was really good and we would have happily gone back here again.
Bonus: the kind woman noticed our little ones getting a little restless and brought out some Mega Blocks for them to play with while they waited for their meals. So kind!
Soda Teresita
Soda Teresita is located in downtown Playas del Coco. It was recommended to us by a local as one of the best sodas in Playas del Coco.
The coolest part of Soda Teresita is the location. It's set right across the street from the ocean, so you can grab a seat outside and enjoy a great view.
Luckily, the outside seating is covered. We had a great view of the ocean, and great acoustics for the downpour that persisted.
Soda Teresita has been around 45+ years. The people who helped us spoke great English and were very friendly.
---
Check out these fun Coloring Pages around Costa Rica!
---
The Grocery Store
Okay, maybe you won't be eating at the grocery store. But if you are planning to cook at your rental in Costa Rica, this is a great way to save some money on your trip.
The Auto Mercado grocery store was the best, largest grocery store we visited in our time in Costa Rica. It was closest to what you would see in America. Plus, if you stay at the Pacifico (mentioned above), it is a very short walk away.
So bring your backpacks to help load groceries in and fill up at the grocery store for a budget trip to Playas del Coco.
Playas Del Coco Beach
Coco Beach is not far from the condo above. It's a great area with a great boardwalk, shops, restaurants and more. It's really a great place to make base for your family vacation to Guanacaste.
Playa del Coco is located right in town. To access the beach, you can park off the street (and more-than-likely a parking attendant will be happy to watch your car for $).
As you walk through the streets to the beach, you'll pass plenty of cool souvenir shops.
Once you are on the beach, make sure to walk the boardwalk. You'll find restaurants, shops, and showers for rinsing after you spend some time playing in the sand.
I wouldn't say Coco Beach is the best beach in Guanacaste. It was a fun visit and we played a bit, but we definitely visited better beaches.
Coco beach is a main area for boats and such. So while the water was fine for swimming, the cove area was filled with anchored boats.
Boardwalk at Playas del Coco
Things to do in Playas del Coco
Other than visiting the beach, of course, there are a few tours that would be fun for a family vacation to Playas del Coco.
Take a Boat Ride
Whether it's a simple water taxi, sailboat, or booking a catamaran for a sunset tour, it's nice to get on the water! Plus, the tours often take you to see some sea life.
If you haven't booked ahead of time, there's a good chance a vendor will walk the beach to see if you'd like to hop on their boat.
Use your best judgement, of course. We've often used beach-vendors for experiences and luckily haven't had any issues. But make sure to set the price and expectations before you leave.
For that reason, booking ahead of time through a reputable company can be less stressful.
Here are a few to take a look at:
Sunset Sailing and Snorkeling from Playas del Coco (or a Morning Tour)
Go Snorkeling from Playas del Coco
There isn't great snorkeling right off the shore in many places in Costa Rica. But the story changes once you go out into the waters a bit.
Again, you'll find many people on the beach offering to take you snorkeling. If you'd like to take this route, make sure to have cash on hand.
If you want a really cool experience, try this tour which brings you out to snorkel by caves and beaches that are only accessible by boat!
Get a Taste of Costa Rica
Literally!
Every time we ate in Costa Rica, we loved how fresh and flavorful everything was.
Enjoy a trip out to the sugarcane fields where you can squeeze sugarcane and help with tortillas. This trip will transport you to a local family to learn and then take you to a local restaurant to enjoy lunch.
Take the Kids to the Park
Right beside Coco beach was a playground. Take the morning to play, then cool off at the beach. Then go back and play!
Visit Nearby Beaches
Visiting other beaches near Playas del Coco is what we did the majority of our stay. There are so many beaches around and we wanted to see them all!
We didn't get even close to seeing them all, but we saw quite a few.
It's really fun to see how different each beach is.
For example, we found a little hidden beach (told to us by a local) that was just pure, white powdery sand. Whereas Ocotal was darker sand with black rock around.
Exploring different beaches is a lot of fun.
Just don't forget your boogie board!
Visiting Playas del Coco, Costa Rica
Playas del Coco is a great base to stay on your family vacation to Guanacaste. I loved that the town was larger with great conveniences like large grocery stores and restaurants.
While the beach itself wasn't my top recommend beach, the town was perfect. Playas del Coco was a great location for basing our family vacation in Guanacaste.
Make sure to check out these other awesome places:
Ponderosa Adventure Park- perfect for all ages!
Llanos de Cortes Waterfall- all you need to know
Why You must stay in Samara, Costa Rica
---