Coolest Manuel Antonio Hotels You Must See
Manuel Antonio National Park in Costa Rica is one of the more popular National Parks. It's definitely worth its own visit. I don't recommend taking a day trip from a faraway place like La Fortuna because you'll spend most of the day in the car. I do recommend staying in one of the hotels near Manuel Antonio to make the most of your visit to the park!
Let's Jet, Kids! uses affiliate links.  As an Amazon (and other networks) Associate, I earn from qualifying purchases.  It is no extra cost to you.  
Manuel Antonio is filled with animal life, foliage, and beautiful beaches. Spend the most time there by sleeping nearby in one of the coolest Manuel Antonio Hotels.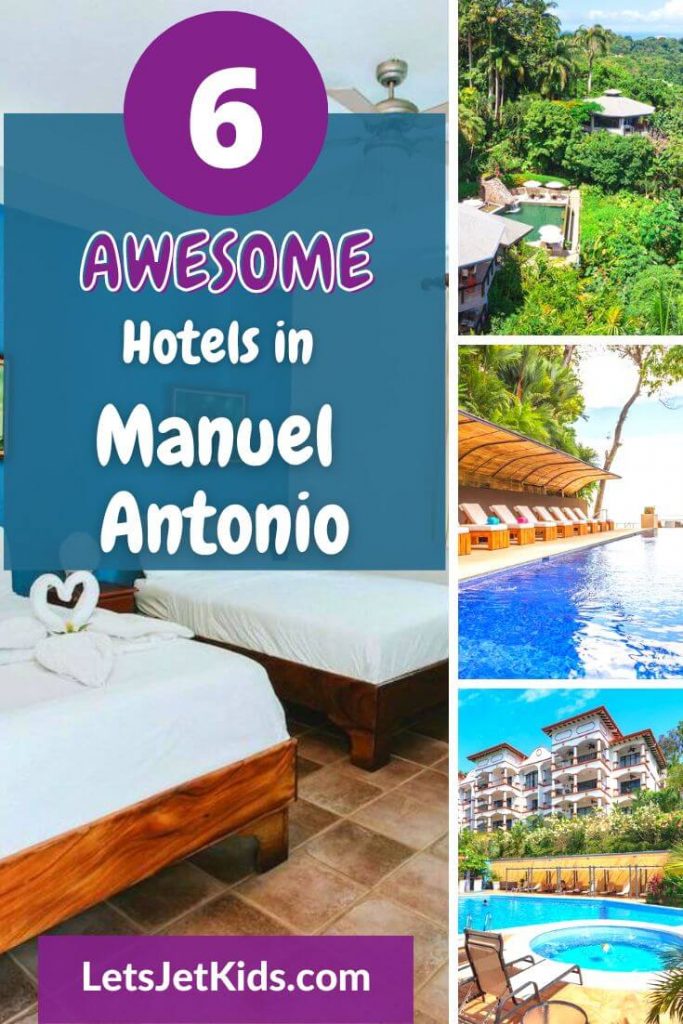 ---
Make sure to read why I always book with hotels.com (earn free nights no matter where you stay. And most offer free cancellation with the click of a button!)
---
All the hotels listed are in Manuel Antonio, but I include how long it takes to get to the national park from each location. Note that driving in Costa Rica always takes longer than expected, so a 10 minute drive might only be 1.5-2 miles away!
Tulemar– Most sought after hotel in Manuel Antonio
Time to Manuel Antonio National Park: 10 minute drive
You can talk to anyone about Costa Rica and if you mention wanting to go to Manuel Antonio, they are likely to tell you that you must stay at Tulemar!
This tree-house style hotel is quite unique and quite beautiful. You can stay in a bungalow, standard room, or even a villa that sleeps up to 10 people.
Tulemar has outdoor pools, a restaurant on site, a shuttle to the private beach with loungers, towels, and umbrellas.
>>> Check Out Tulemar <<<
La Posada– Manuel Antonio Hotel at the Entrance
Time to Manuel Antonio National Park: 1 minute walk
La Posada is not a luxury hotel. Yes, it has a pool, but I wouldn't stay there for the pool.
However, it is a great hotel for families. The room selection goes anywhere from a basic room to a "family house," which is more of an apartment-style room with a full kitchen.
Here are the best 2 parts:
–The hotel is affordable. Depending on when you go, you can stay for around $100 per night. The family home is over 1,000 square feet, and you can stay around $150 per night.
–This hotel is the closest one to Manuel Antonio National Park. Check out this picture:
Yep, when you walk out the door to this hotel, you are at the entrance of Manuel Antonio Park.
Los Altos – Luxury Manuel Antonio Hotel
Time to Manuel Antonio National Park: About 10 minute drive
Los Altos is a 5-star hotel near Manuel Antonio. It's on a gorgeous beach-front property with a pool, children's pool, full-service spa ($), game room, restaurant, pool bar, fitness center, high-end linens, and more.
Adults will appreciate the ocean view restaurant, while the kids pick something from the kid's menu.
Most rooms sleep up to 6, or you can grab the luxurious penthouse to sleep 8.
Arenas del Mar- Beach and Rainforest Manuel Antonio Hotel
Time to Manuel Antonio National Park: about 15 minute drive
This is another luxurious hotel in Manuel Antonio. This 4.5-star resort is beach front with infinity pools to enjoy the view.
Enjoy daily activities put on by the resort, tan at the beach, or book a treatment at the spa. While you relax, the kids can go to the kid's club to have just as much fun.
Enjoy fitness classes, yoga, surfing, and hiking. And start each day with the included breakfast with incredible views.
Note that rooms don't accommodate larger families, so you may have to book 2 rooms.
>>> Check out Arenas del Mar <<<
Shana by the Beach– Great Manuel Antonio Hotel for families
Drive to Manuel Antonio National Park: About 15 minutes drive
This 4.5-star hotel seems a bit more family-oriented than the previous Arenas del Mar.
First, the pool is huge. This is always a big factor in indicating if my children like a hotel or not!
This beachfront hotel also offers great amenities like a fitness center, spa ($), kiddie pool, bar at the pool, and even a playground for the kids!
It's nice to have all the great amenities at a price that is a bit easier to swallow.
>>> Check out Shana by the Beach <<<
Parador – beautiful Manuel Antonio hotel
Time to Manuel Antonio National Park: about 10-15 minute drive
When we originally planned to go to Costa Rica, we had reservations at Los Altos. Along the line somewhere, we switched to Parador because it just looked so incredible.
Well, COVID hit, so we didn't indulge at all that year. But this Manuel Antonio hotel looked amazing.
This 4-star hotel is priced as you would expect for a luxury hotel. It's not super expensive like Arenas del Mar, but it's a little more than mid-range.
The Parador hotel boasts 3 beautiful outdoor pools (and a swim-up bar) and a kid's pool.
You can enjoy the fitness center, tennis courts, steam room and spa.
The kids will love the kid's pool, playground, mini golf, and kid's menu at the restaurant.
Having a free shuttle to get around is convenient for the whole family, as is the included breakfast each morning.
Travelers loved booking a room with a view, the convenient shuttle so they didn't have to mess with parking, the great breakfast, and the friendly staff.
>>> Check out the Parador <<<
Best Manuel Antonio Hotels
Those are the best Manuel Antonio hotels that I would have loved to stay at. Whether you are looking for affordability, location, or luxury, there is something for everyone.
I mentioned that we had reserved a couple of those hotels before our trip got canceled due to the 'vid. When we rebooked, we actually decided to stay in Bejuco though we could have easily spent a few days in the Manuel Antonio area. If you're interested to see where we stayed, check out my review of the awesome rental in Bejuco we stayed at.