What to Know Before Traveling to Costa Rica
Before we went on our family vacation to Costa Rica, I had a lot of questions in my mind. I wish I had a list of what to know before traveling to Costa Rica.
Let's Jet, Kids! uses affiliate links.  As an Amazon (and other networks) Associate, I earn from qualifying purchases.  It is no extra cost to you.  
I had no idea what to expect in terms of driving in Costa Rica. What do the grocery stores look like in Costa Rica, and will they have a lot of similar products? Can you drink the water in Costa Rica? Do many people speak English?
There were so many questions that I kept thinking, What do I need to know before I go to Costa Rica.
I was so excited to go, but had so many thoughts and questions, and I wish I knew what to expect in Costa Rica. Here are a few of those questions answered, so you can plan a trip to Costa Rica confidently and know exactly what to expect.
Table of Contents
Before I begin, I'll answer one question you might not even have because you don't realize the answer.
Where is Costa Rica?
When I told people we went to Costa Rica, many thought it was an island in the Caribbean. It is not.
Costa Rica is in Central America. It is on the land strip of a few countries that connect Mexico to South America.
It is not an island. And before you get a picture of the beaches in your head, most are not the white sand, tropical isolated island feel you see on post cards.
Costa Rica is a jungle from the center and all the way to the coast. And it is beautiful.
Covid Restrictions in Costa Rica
Costa Rica currently (November 2023) does not have any Covid restrictions. No test is required to enter the country. A health pass registration is no longer required. Masks are no longer required (though some establishments may ask you to wear a mask). Businesses are allowed to operate as normal at this time.
Driving in Costa Rica – Can US citizens drive in Costa Rica?
Driving in Costa Rica is very similar to driving in the US. And at the same time, it's very different, too!
Most of the general driving laws are all the same in Costa Rica as the US. They drive on the right side of the road. And Yes, US citizens can drive there.
Driver's License in Costa Rica
Your US driver's license will be valid to drive in Costa Rica. In fact, Costa Rica will accept foreign driver's license as long as you've had it 2 years.
Car Seats in Costa Rica
Make sure to check the car seat rules, as they are slightly different. Costa Rica tends to keep your child in a car seat or booster until an older age.
Legally, I will tell you that yes, your 11-year-old has to be in a booster. And I will endorse that decision to do what the law says.
Experience-wise, our 11-year-old would not have fit in a booster and her head would have been very close to the ceiling of the car. Talk to the people at your rental car place and they will give you a general idea of what car seats you need.
We put our kids in all the same car seats that are required by law in the US.
Driving Safety
Oh man. My husband drove us all around Costa Rica for weeks. I eventually got use to it, but those first couple days I was white knuckling a bit because I was very stressed out! 😆
So here is what to know before traveling to Costa Rica in regards to driving.
Here are a few things to know about the driving in Costa Rica.
There are so many bicycles. Everywhere.
Pedestrians are also everywhere, and no crosswalks. So really watch, especially as you go through towns.
There are so so many motorcycles. They will weave in and out of traffic and probably catch you off guard. They can lane split, drive in shoulders (or rather, the edge of the road), and they will pull out anywhere if there is just enough space for them. Be very cautious of motorcycles.
Roads are narrow and there aren't many sidewalks. So watch for pedestrians in the road.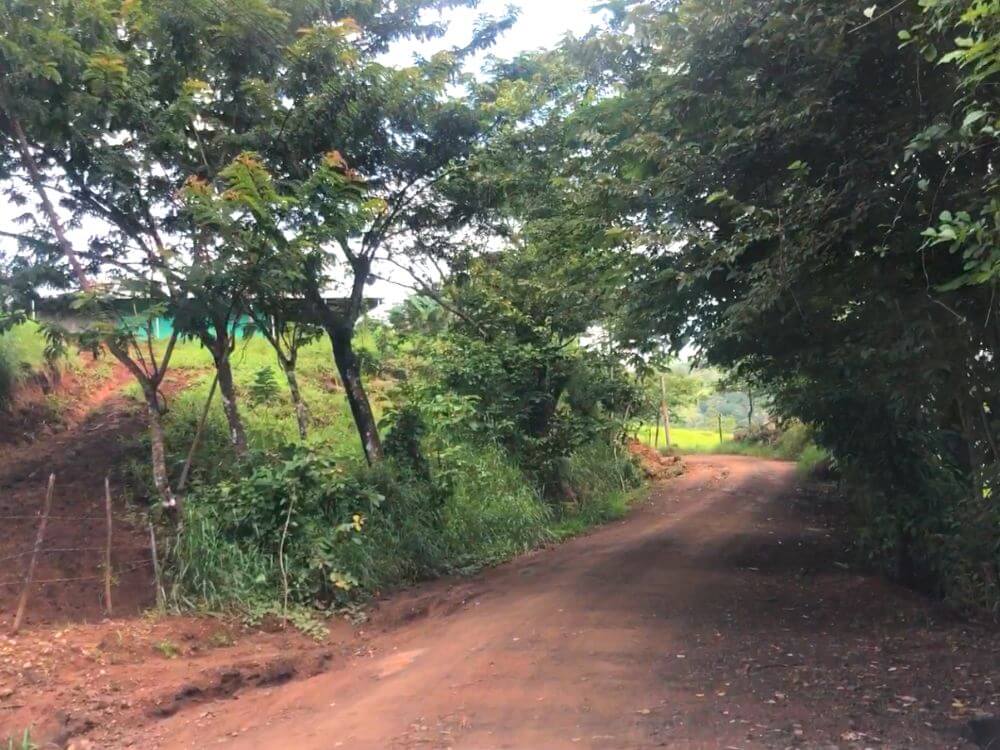 Stop signs and speed limits are law. But they often seem to be more of a suggestion.
If someone passes you (even on a solid line), they are not being rude. Being rude is not the Tico way. They are simply just going faster.
If traffic comes to an abrupt stop, they will put their hazard lights on to warn the people behind them of the sudden stop.
People will stop their car in the middle of the road if they see someone they want to talk to. This is not considered rude. In fact, it's friendly. Just go around them when it's safe and don't get mad about it.
Watch for reductors!!! These are speed bumps in the road. Sometimes there is a sign to warn you. Sometimes there is not. Sometimes they are painted yellow. Sometimes they blend in really well with the road. Sometimes they are smaller and flatter. Sometimes they are big and make you wonder if you made it over in one piece because you didn't see it coming.
You can usually expect reductors before and after school zones and before and after bridges. So if there is no marking in this area, keep an eye out.
Don't drive at night. If you are staying within the same town and just running to dinner, it's not bad. But don't drive from one destination to the next in the dark. Roads are dark, windy, and narrow. And it will probably be raining. Most emergencies with cars occur at night.
There are not a lot of signs on the roads (exception is the main highway in Costa Rica, Highway 1). Get your GPS ready and started while you have a strong signal before you head out.
Many attractions you visit ask you to pull in backwards. You'll know if it's required by how everyone else is parked.
Gas Stations are Full-Service. Do not get out of your car.
Many places you park will have parking attendants. They are there to let you park in their lot and keep an eye on your car, which is a great deterrent to theft. They'll let you know their fee (usually around $3-5).
There are toll roads in Costa Rica, and chances are likely you'll go through a bunch as you leave or come back to the city. Make sure to have cash on you!
Roads are windy! We went through a whole box of kids' dramamine. I have one child that gets very motion sick, so it was a given that she would need it. I didn't realize all the other kids also needed it (and I even took one at one point). We made a few roadside stops so they could get their bearings and take some dramamine.
Those should cover the main aspects of driving in Costa Rica.
Related Post: Is Costa Rica a Third World Country?
Renting a Car in Costa Rica
What to know before traveling to Costa Rica: Cars
What kind of Car Should you Rent in Costa Rica?
If you are just heading to the main attractions, you will probably be fine with a sedan. But if you want to adventure out, here's what to know about car rentals before traveling to Costa Rica.
Road for 4x4s only
If you are wanting to see waterfalls off the beaten path or hidden beaches, you really need a 4×4. We went a few places that the road was especially rough and steep and there is no way we would have made it in a sedan.
Who Should I Rent a Car From in Costa Rica?
Ok, I can easily answer this one.
After doing a lot of research, we ended up renting with the Best Car Rental in Costa Rica: Adobe Rental Cars. Here's why…
I looked on Expedia (since that's where I usually find the best prices for rental cars) and went to compare all the companies.
The reviews of every company were not good! Even the typical companies that are great here in the US, they had awful ratings in Costa Rica.
After some research, I found it's because while the company bears the same name, it's really not the same in Costa Rica. The "American" companies are overall rated as having less-reliable cars and not-great service in Costa Rica.
Other Rental car companies mainly have their rental agencies in the big cities of Costa Rica. So if you are out far into the country and something goes wrong, you may have to drive for hours to resolve the issue.
Adobe has 15 locations across the country. This is reassuring because if something goes wrong with the car you won't have too far to get help. Or you can use their 24/7 roadside assistance.
Adobe is also locally owned. They keep their cars up-to-date and newer than most agencies in the country.
Adobe gave us a Mitsubishi 4×4 that seated 7
We rented a 7-seat car from Adobe. It handled well, we had no issues, it was newer and it was easy to work with them. We have had very awful car trouble on trips before (in the US), so we really wanted a company that would be reliable if anything happened in another country.
I am not an affiliate with Adobe. I truly just think they were the safest, most trusted choice for us. Yes, even if they costed a little more. I wanted to know we chose someone reliable.
They'll pick you up from the airport (go all the way OUTSIDE the airport to find a guy with a sign for your family) and take you to the rental agency.
They'll go over all the details, show you your car, and you can rent car seats as well.
We even got them to come pick the car up at our final hotel the night before our flight so we didn't have to return it early in the morning!
>>> Not convinced? Take a look at other car rentals in Costa Rica and make sure to look at the approval rating. <<<
Car Rental Insurance in Costa Rica
This is another major pain point about what to know before traveling to Costa Rica.
And this is where a lot of people get surprised.
The rates online look great for renting a car. Then you get to Costa Rica and head to the agency to realize you actually owe hundreds more.
Why?
CDW (collision damage waiver) and TPL (third party liability) are REQUIRED.
So know before you go: CDW is often part of people's credit card benefits. Check your credit card and see if it is one of your benefits. It must be the credit card that you use to pay for the rental car. AND you MUST bring a letter/proof from the specific credit card showing that you PERSONALLY have CDW on that specific credit card. Then the agency will not make you pay for it with proof.
TPL, unfortunately, is not usually covered on credit cards. So there is no way around this. You must pay for this.
Also, if you use travel insurance (always a good idea!), check to see if your policy covers CDW and/or TPL. No reason to pay twice for the same thing.
---
Plans, Costs, and Codes- Everything You Need to Know About Making Calls in Costa Rica
---
Grocery Stores in Costa Rica
While San Jose has more grocery stores (and even Wal-Mart), chances are you aren't spending your vacation in San Jose. (And if you are, please look around my Costa Rica posts to see what you are missing!)
Here is what to know before traveling to Costa Rica in regards to grocery stores:
There are many "mini supers" in Costa Rica. These are comparable to a convenience or gas station store in the US.
Then there are in-between stores, like Palí (as opposed to Maxi Pali). These were bigger than convenience stores, but smaller than a grocery market.
The bigger grocery stores were Auto Mercado (closest thing we saw to a US grocery store), Maxí Pali (owned by Walmart), and China Market (we visited this one in Samara)
The bigger stores carried pretty much everything we needed. It may not be in a brand you are familiar with, but it had it.
Except cheeses. There are all different kinds of cheese in Costa Rica I hadn't heard of.
Plenty of stores carried diapers, wipes, etc. Yes, I even saw Pampers diapers or Huggies in some markets in Costa Rica.
Stores carried feminine pads. I didn't see tampons in ANY of the stores we visited! These are very hard to find, so bring enough from home.
---
Auto Mercado was the closest to an American grocery store. They had everything we were looking for, and sometimes even in familiar brands. It was the largest produce area that we saw as well.
There are many in San Jose, but you'll also find Auto Mercados on the coast of Guanacaste in Tamarindo and Playas del Coco. There is also one in Jaco.
Super New China Market was another large grocery store. It was a larger store with a smaller produce section. It had great selection for both food and toiletries. Only located in Samara.
Maxí Palí was large. Though, it had a lot less of what we were looking for. For example, all the other stores I went to had olives, but I couldn't find any here.
There was a lot of food selection, but there was also a large non-food selection. I'd compare it to a Wal-Mart that got shrunk. It is owned by Wal-Mart, afterall.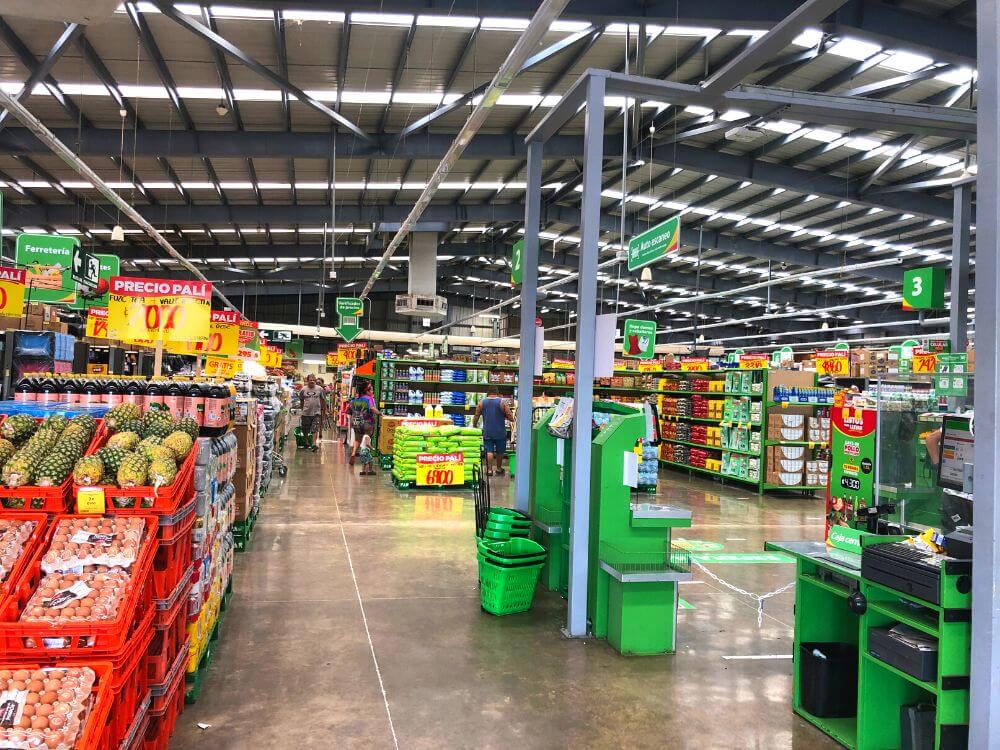 Most grocery stores in Costa Rica are not this large. If you are planning to make meals at your rental, it will be worth mapping out where one of these stores are and stopping on your way, or making a small drive to get to one.
---
Can You Drink the Water in Costa Rica
I will cautiously answer this as YES.
MOST people are just fine with the water in Costa Rica.
There are a few exceptions. If you are off the beaten path, in a very rural area, do not drink the water.
If you have a sensitive stomach, stick with bottled water.
If you don't have a sensitive stomach, but notice some GI discomfort after drinking tap water, go back to bottled water.
Our family of 6 did fine of tap water the whole time. Plenty of locals said sometimes Americans just aren't use to the water, so it can cause minor discomfort in some people.
---
Planning Guides for Costa Rica
7, 10, and 14 Day Costa Rica Itineraries
How to Spend 3 Weeks in Costa Rica with Kids
Why We Loved Bejuco, the Less-Known Beautiful Beach Town
---
Our guide in Manuel Antonio. Tour Guides will speak great English.
Do Many People Speak English in Costa Rica?
The primary language of Costa Rica is Spanish. I always encourage you to learn at least some basic language of wherever you travel. I feel that it's better manners, people appreciate the effort, and it's fun!
If you are visiting more popular, tourist areas, there will be plenty of people in the hospitality industry that speak English.
We visited a few restaurants (sodas, specifically) where the staff didn't speak any English. My husband and I both speak Spanish (enough, anyway) so we were able to enjoy any restaurants and attractions we wanted easily. Again, it's always good to learn some of the language for where you are visiting.
What Should you Take to Costa Rica?
Besides the usual packing list, here is a quick List of what we actually used and the links to what we bought:
Sunscreen (<— mineral, rated high by EWG. We also use Babyganics.)
Beach towels/blankets (<— not the exact brand we use, but we love Turkish towels because they are light!)
Sun Glasses
Hats
Umbrellas
Raincoats (<— better quality than the one I had. I got soaked in mine, so I won't link that. This one is waterproof. If you are worried about getting too hot in a coat, get a poncho instead!)
Waterproof Camera case (this one worked great)
Binoculars (optional, as your guide will probably have some and you probably won't be able to find many animals without a guide! We had some but I won't recommend them cause they were just "ok")
Cash, enough to exchange as well.
Hiking Sandals (Closed toed!! Keens are the best, but we used these because they were half the price.)
Miscellaneous Things to Know about Costa Rica Before Visiting
Is Costa Rica Safe?
Yes. Costa Rica is considered a very safe country. The most prevalent crime is theft or smash and grabs. Some areas see drugs more, but not typically the tourist areas.
Can you use a Credit Card in Costa Rica?
Many places in the tourist areas take credit cards, with the most accepted being Visa. When you pay with a credit card, make sure they bring the machine to you, right in front of you. Do not let anyone take your credit card out of your site. This advice was given to us by a local.
There were a few places, however, that did not accept credit cards, so make sure to always have some cash on you.
Can you use US dollars in Costa Rica?
This is an important thing to know before traveling to Costa Rica.
Many places also take US dollars. There were just one or two places we visited in 3 weeks that did not. Make sure to always have colones on you in case you get in a situation that doesn't take dollars or credit.
Weather in Costa Rica
One of our guides in La Fortuna explained that there are two seasons in Costa Rica: Rainy season and super rainy season.
Sometimes the rain is just inconvenient, so bring a rain jacket (or better yet, a poncho so you don't get too hot), hiking sandals, and umbrella and keep having fun.
Sometimes the rain is a downpour and it's thundering. So bring a book, cards, or small games to keep having indoor fun.
Either way, the mornings were typically dry and even sunny at times in La Fortuna. But by afternoon, the rain rolled in. Start your day early and get as much fun in as you can in case the rain pours later!
To the opposite end, I chatted with a woman who goes often to Guanacaste because she has a home there. She says when it's dry season, it's dry and it's brown. I couldn't believe that, as it was so green when we went to the beaches of Guanacaste.
Is it easy to drive in Costa Rica?
Please see the paragraphs on driving in Costa Rica at the beginning of this post for details on driving. Driving is totally doable and the recommended way to see Costa Rica. Then you can be on your own schedule and really get to see a lot of the country.
As an additional driving tip, I'll say this: Google Maps was great to have. It got us where we needed to go every time. There were times it sent us up a dirt, bumpy road that seemed wrong, but alas, it was just a shortcut to get us there.
BUT… always plan for plenty of time driving. Just because it's 3 miles (5 kilometers) away, doesn't mean it's a quick drive. It might take 20 minutes to get there.
Aside from that, allow time because there can be surprises. On our way from Playas del Coco to Playa Conchal, Google took us a route that should have worked fine. Except it had rained so hard the night before that there was a road completely flooded in water. No one was willing to try crossing (For good reason.) So we had to backtrack and find an alternate route.
Are there really that many bugs in Costa Rica?
Yes. Yes there are.
I didn't get eaten by mosquitos as much as I thought I would. I am a magnet for mosquitos, so I thought for sure I'd look like I had chicken pox.
I didn't get eaten as much as I thought. But we still got plenty of bites. Especially in the jungle areas near the coast!
Do not forget to bring bug spray. If you do forget, they sell in pretty much every market in Costa Rica.
And once you have it, do not forget to put it on!!
Aside from mosquitos, there were so many bugs. We didn't get poisoned by any. There are just a lot.
What to know before Traveling to Costa Rica
Hopefully that helped you know what to expect in Costa Rica. I had so many vague questions in my head just trying to imagine what our trip would look like. I thought it would be good to share everything I observed and learned so you had an idea.
Did I miss anything? Do you have other questions about what to know before traveling to Costa Rica that I didn't answer? Email me any questions!
Make sure to plan the perfect trip! Check out:
Family-Friendly activities in Samara (and the Coolest Places to Stay in Samara)
Why You Must Visit the Ponderosa Adventure Park
Everything to Know About Going to Llanos de Cortez Waterfall
And Make sure to check out these fun coloring pages to get excited!