Sunscape Akumal Beach Resort & Spa Review- Very Honest
Our family recently visited Sunscape Akumal All-inclusive Resort in the Riviera Maya. We saw other Sunscape Akumal reviews and had a hard time figuring out if it was going to be awesome or terrible. Here, I provide a full, honest, and un-biased (as best I can!) review of Sunscape Akumal Beach Resort & Spa. We took kids with us, so sometimes having kids plays a factor in our experience. Here is the great, good, and bad of the resort.
Let's Jet, Kids! uses affiliate links.  As an Amazon (and other networks) Associate, I earn from qualifying purchases.  It is no extra cost to you.  
---
Planning to drive yourself? Check out Rental Car Prices from the Cancun Airport
---
How far is Sunscape Akumal from the Airport
The nearest major airport is the Cancun (CUN) airport. From the airport, it is about 1 hour and 15 minutes to Sunscape Akumal resort. Once you pass Playa del Carmen, it's about 35 minutes to go until you reach Sunscape Akumal.
Is Akumal Worth Visiting?
Akumal is a beautiful area of Mexico to visit. The beaches are incredible and there are plenty of adventures on land that await. Plus, there are nice places for lodging.
How Many Rooms does Sunscape Akumal Have?
According to hotels.com, there are 362 rooms at Sunscape Akumal. It also has 6 restaurants, which I think is a great ratio, especially when you're hungry at a busy hotel!
Who Owns Sunscape Akumal?
Sunscape is part of the AMR collection, owned by World of Hyatt. Other hotels in the AMR collection include Secrets, Dreams, Breathless, and others.
Check-in Experience
We arrived at the Sunscape Resort in the evening when it was just barely dark outside. Inside the lobby, it was not very bright. After a long day of travel, we were tired. Check-in was very matter-of-fact, but quick. They did upgrade us to the Sun Club area of the resort (without even asking!) I was happy about this because my research told me this was the nicer part of the hotel with nicer rooms.
A staff member of Sunscape Akumal led us to our room (thank goodness, or we would have never found it.) The layout of the resort can be a little disorienting. To get to our room, we had to go up the first staircase to the second floor. Then walk all the way down the second floor, passing some staircases, to the specific staircase that took us to our part of the third floor. This was a bit confusing, but all the floors don't necessarily connect, so you had to make sure you took the right staircase.
(2021: ) Upon arrival, they do take your temperature and have you fill out a health screening. I know the resort offers COVID tests from prior research before we went, but as we weren't going straight home after this resort, we didn't take one here. We didn't ask about the test, and they didn't offer any info about it at check-in.
The Rooms at Sunscape Akumal
We were upgraded to the Sun Club section of Sunscape Akumal. From previous research, I hear this is the nicer side and much more updated. That was a nice surprise. Since we are 6 people, we reserved two rooms, and they ended up being right next to each other.
The rooms were very clean and nice. It was pretty spacious as well for a hotel room. My only complaint was that the A/C never cooled down lower than 22C (in either room). The rooms stayed a bit warmer than was comfortable. (We set ours to 21, but in 3 days, it never got there even keeping the blackout curtains pulled closed during the day.)
Is Sunscape Akumal Good for Kids?
Overall, yes!
Yes- There is a great kids area, which includes a large kids pool, kids club, kids bar (for mocktails), and there is a great beach for building sandcastles.
Kids Pools at Sunscape Akumal
The kids pool area is pretty cool. There are a few play sets, one whose slide goes to the edge of the pool for a fun little waterslide. The kids really enjoy doing this. The pool is a little deeper here, so this part would be for older kids (about 7+). On the other side of the pool it is shallow and a great area for the younger ones. There is also a cute slide here so the young kids don't miss out on the fun.
The kids main pool area also has a cute pirate ship, plenty of iguanas sun-basking on rocks, and smaller kids pools around the same area with little fountains and splash areas.
Kids Club at Sunscape Akumal
I can't speak to this much because my kids don't like going to any kids club 🤷‍♀️ . They would much rather climb all over dad all day in the pool 😂. But Sunscape Akumal does have a kids club, with its own little pool attached.
Other Kids Area Info
My kids loved playing in this kids area. There was a lot to climb on, explore, play, and various depths to swim in for different ages. Unfortunately, the kids bar wasn't open when we went. However, there is a large pool right next to the kids pool (pictured below) that has a swim up bar that you can order drinks and mocktails at. And, right next to that bar is the door to the resort bakery where you can grab a cookie, coffee, or piece of cake. The carrot cake was really good 🙂
The kids area also has a grill on site. The grill only serves one or two things each day, but it's always a kid-friendly choice. One day was quesadillas, the next was burgers or hot dogs.
Dinosaur Area
There are pictures on the hotels info page with large dinosaurs, sport courts, games, and more. We totally forgot about these things while we stayed. In order to get to this little area, you have to walk along the entrance road to the resort to another section. The cool dinosaur statues and play area are not at the main resort campus. It is closer to the highway.
When questioned "is Sunscape Akumal good for kids?", I answered yes. I will note that the kids area was amazing and the kids loved it. However, the overall feel of the resort wasn't "Come here with the kids!" Once you left this huge kid's area, it seemed very different. This could be a good or bad thing, depending on if you are wanting the kid-vibe or not! Our kids had a great time here though, so if this resort looks good to you, then there is plenty of fun for the kids as well!
Sunscape Akumal- Resort Pools
Are the other pools good at Sunscape Akumal? My opinion- kind of.
Main Adult Pools
(I say "adult", but kids can swim in them. They just don't have fun slides and stuff!)
There are two bigger pools at the resort (outside the kids area). Both are within the resort walls, so you don't see the beach at all. When we arrived, the pools were freezing. And not very clean. There was a fountain feature in the middle, but it wasn't running. It seemed a bit of a ghost-town as well (no one was getting in these pools).
I tested the water, and felt it was way too cold to get in. I'm a bit sensitive to cold water though, so we told the kids they could swim if they wanted. They swam just a minute or two and got out, complaining how cold it was. My kids usually aren't bothered by cold water, if it means they can swim! Both of the larger pools were the same, cold temperature.
Inside/within the pools are jacuzzis. Once they swam through the cold water to the jacuzzi, they said it was just as cold in there. It seems nothing was being heated at the time.
***Perhaps the lack of pool attention was COVID response, as the resort wasn't very crowded when we arrived since travel was still low. ***
Now…once the weekend arrived, we looked over and saw the fountains were on in the pool. I dipped my feet in and it seemed slightly warmer. I also saw staff members out cleaning the pool.
It seems, from this experience, that the pools are only cleaned when large numbers of people check-in. So even though we were paying guests, it felt a little like we were too off-season to get the full experience. That was a little disappointing.
Third Pool
There is one other (smaller) pool at the resort that is a bit of an infinity pool. But it is positioned so the very short end/side of the pool looks to the ocean. The longer side runs along the building. This pool was also cold the first two days we were there.
At night, a movie was projected above this pool. Each time we walked by, it was a kid-appropriate movie. That was a pretty cool feature.
Restaurants at Sunscape Akumal
Is the Food Good at Sunscape Akumal?
I realize food can be very important to some people on vacation. My husband thinks this is a huge part of the experience. My kids are happy they get to pick whatever they want. And I think good food adds a great bonus if it's good, but as long as it's not gross, I'm happy.
Sunscape Akumal had a lot of mixed reviews on the food, so I was a bit nervous to experience the culinary sector.
So was the food good?
Yes. It was good. I wouldn't call it amazing by any means, but we were totally satisfied with our meals and quality of food.
The restaurants are walk-in, not reservation. (Note: this may just be a seasonal rule and reservations may be required at high-season times). I personally like this system because if we are busy having fun on the beach, we don't have to stop and go get changed to make a reservation. A downside is you may have to wait a little while to get a table. We never had to wait longer than about 30 minutes, even on the weekend.
Windows Buffet
We ate here for breakfast (and lunch most days). You need to wear a cover-up of some sort, but it's casual otherwise. The buffet had a good selection of food for everyone. There was a hot/grill area for fresh omelettes, plenty of fruit choices, cereals, pancakes, museli, etc. We all found something we liked. The buffet has windows right onto the beach, which is a great bonus, as the beach is not far at all.
Da Mario Restaurant
Da Mario serves pizzas. The pizzas are cooked in wood-burning ovens and we actually really liked them.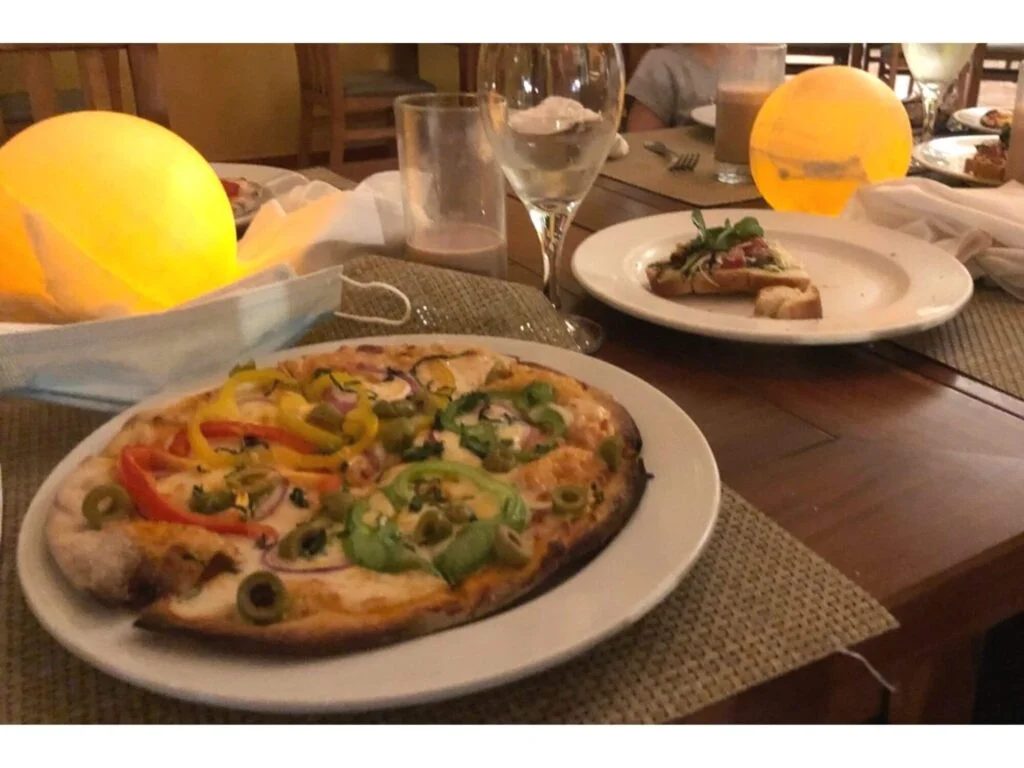 Coco Cafe
Coco Cafe is a cute little spot that serves coffee, cookies, and cake (or other items similar). The cookies were really good and we tried a few cakes, which were also really good. The cafe has a lot of tables for hanging out when you need a little break from the sun.
Portofino Restaurant
This Italian restaurant requires pants to dine indoors. We didn't have pants, so they offered us seating on the terrace which was perfect. The kids all liked their pasta (a lot!). I had risotto, which was very good.
Tiki Taco Restaurant
Tiki Taco has a few different options for tacos which were pretty good. If you keep in mind that some things just taste a little different, they're pretty good 🙂
Barefoot Grill
Barefoot Grill is in the kids pool area (as mentioned above). It offers one thing each day, and is always kid-friendly. You can walk up in your swimsuit and order and eat outside!
The Olive Branch
The Olive Branch is a mediterranean restaurant. We didn't eat here, as it is adults only.
Is the Beach Good at Sunscape Akumal?
A resounding YES. The beach here is amazing. It's not huge, like other resorts. But it's incredible.
The sand is soft and white. There are day beds to relax on and listen to the waves. It's very swimmable. The kids had a great time playing both on the sand and in the water.
The best part for us was that you can snorkel right off the beach! There are great patches of coral and rock where plenty of fish and urchins hang out. Both us adults and our 2 oldest kids brought snorkels and had a blast swimming around and taking pictures of the colorful fish!
If you look closely, you can see my daughter out snorkeling above.
Do NOT forget to bring snorkel gear! This was the best, most fun part about this hotel! This is the brand my kids use and it works great for them.
I did not see any beachside service while we were there, but the bar is up just a few stairs behind these beach day beds.
Check out the Best Beach Gifts for Beach Lovers!
The Service at Sunscape Akumal
This is where the review gets a little tougher. We have been to Mexico many times. Every resort we've stayed at made us feel like all the staff was so happy we were there.
While no one was flat-out rude to us, we didn't experience that usual hospitality that we have in the past. Sometimes staff would push in front of us and our kids while we were walking (while we are carrying things, pulling luggage, etc.)
The wait staff was friendly-enough, but again, not the overly-friendly, we're-so-glad-you're-here attitude. (Our one awesome waitress was at Tiki Taco.)
A Little Anecdote About the Service: Our Bait-and-Switch Experience
Here's Where my Sunscape Akumal Review takes a little turn:
TLDR: Loud music all night, we were told we could switch rooms the next day, they never actually let us switch rooms and we ended up with 2 sleepless nights.
The first night we slept there, there was some really, really, loud music going on nearby. Not just loud, but heavy and shaking/vibrating the walls of our room. We could feel the bass thump through our body. We let it go about 2 hours or so, and then called down to the desk to ask how long the music would be going. They told us it wasn't the hotel, but actually the condos right next to the hotel. They said there was nothing they could do but file a police report.
We waited a while, and then called again. They let us know they filed a report.
The music went till 7 AM. ALL. NIGHT. LONG. We felt it pounding inside us, our kids couldn't sleep. We dozed during a "quieter" song and quickly woke back up within minutes.
The next morning, we went down to the lobby while we waited for a taxi for an outing. My husband and I talked about how we were ready to check out and go somewhere else because it was so awful that night. We had ZERO sleep and were not feeling chipper.
While in the lobby, a staff member came up to us, basically asking about doing a presentation for when we return. I replied we definitely did not want to come back and explained the whole situation of the night before.
He talked to us, assuring us that had never happened before, but that plenty of people had complained last night. He said the police had been contacted and it shouldn't happen again, but he couldn't guarantee it. Next he told us that if it did happen again, we could just come down to the front desk and get our room changed to the other side of the resort. We felt better about that, as we didn't want to spend a chunk of our first day switching hotels. We decided to stay.
The next night was better and we slept well. (Though I did miss out on some fun the first day as I had to go take a nap. I'm not usually a napper, but felt so drained from not sleeping the night before.)
The third night…it happened again. My husband went down to the desk and let them know we'd like to move rooms, as we cannot have another sleepless night.
They told us they can't switch us, as there are no rooms to move to. We weren't too happy about this, since we were going to switch hotels two days before, but the guy talked us into staying, assuring us we could move rooms if it happened again. When they weren't helpful to my husband, I called down as well (we were staying in two different rooms). They told me they'll file a police report, but can't do anything else. And can't move us rooms. I explained how the other staff member told us to stay at the hotel, and we could switch rooms. But now all they had to say was they couldn't control the music.
I completely understand that they couldn't control the loud, pounding music right next door. But I felt a little bait-and-switched that they assured us we could move if it happened again, and then had a very "not-my-problem" attitude to us when it did happen again. In fact, they let us know we could go ahead and get a taxi to a new hotel at that time. It was 11:30 PM. And we had 4 kids with us.
Throughout this experience, we talked to the staff member in the lobby, the front desk multiple times, and the acting manager (the manager isn't there on the weekends). We were told the manager would reach out to us to help make a resolution… we never heard from anyone again.
Should You Stay At Sunscape Akumal Beach Resort & Spa?
There's a lot to consider when deciding to stay here. Here are some key points to keep in mind.
Highlights:
Amazing Beach
Food is decent
Great location for excursions (Tulum– 20 minutes, Aktun Chen– just across the highway, Akumal Beach– just a few minutes away, Yal-Ku Lagoon– just a short drive away, lots of cenotes around)
Great kids pool area
No Reservations required for dinner (possibly just a seasonal rule)
Clean, Big Rooms
Beautiful Property
Not a huge resort, so you never had to walk forever to get anywhere
Things to consider:
Food is decent
Staff not overly friendly
no beachside/poolside service
No reservations for dinner (so may have to wait for a table; possibly a seasonal rule)
If an issue arises, staff is not helpful (at least in our experience)
Layout takes some getting use to
Main pools are enclosed within the resort besides infinity pool
A/C never got below 22C (roughly 72F), making a very warm night if you add in humidity!
I hope this review has been helpful. I've tried to share some straight-out facts, as well as experiences about staying at this resort.
Would I stay here again? Honestly, we are not picky travelers. It didn't bother me that it had a lot of differences than other resorts we've stayed at. It didn't bother me, personally, that I had to walk to the bar to get a mocktail for the kids. And the beach was incredible.
So…if they could get the noise under control or actually guarantee us a room away from it, then I think a good night's sleep would go a long way for me to choose to stay here again.
What do you think? Would you ever want to visit Sunscape Akumal and snorkel this amazing beach area? Or will you keep looking elsewhere?
Click the picture for more info or to book Sunscape Akumal:
Read about one of our FAVORITE All-Inclusive Resorts in Playa del Carmen!
or this amazing all-inclusive in Puerto Vallarta!
Check out FUN Things to do in the Riviera Maya with Kids!