What to Cook in Costa Rica at Your Rental
Before we set off to Costa Rica, I knew we would eat at restaurants during some of the time. But I also knew we would do some of our own cooking, as we were there 3 weeks and couldn't always afford to eat out (no matter how much more affordable eating at sodas was!) I stressed a little bit about what grocery stores looked like and figuring out what to cook in Costa Rica in our rental.
Let's Jet, Kids! uses affiliate links.  As an Amazon (and other networks) Associate, I earn from qualifying purchases.  It is no extra cost to you.  
Luckily, I got use to one grocery store after another and came to realize what I could (or couldn't) cook at our rental in Costa Rica.
They have a great variety of foods, but not always foods you might be use to. Especially if you need specialty items. There are some items that are hard to get in Costa Rica.
So here are a few ideas of what to cook in Costa Rica if you have a rental and are wanting to make some meals of your own!
Bonus: most of these meals are mostly healthy, plus they don't take a ton of time. That way you can spend less time cooking and more time exploring!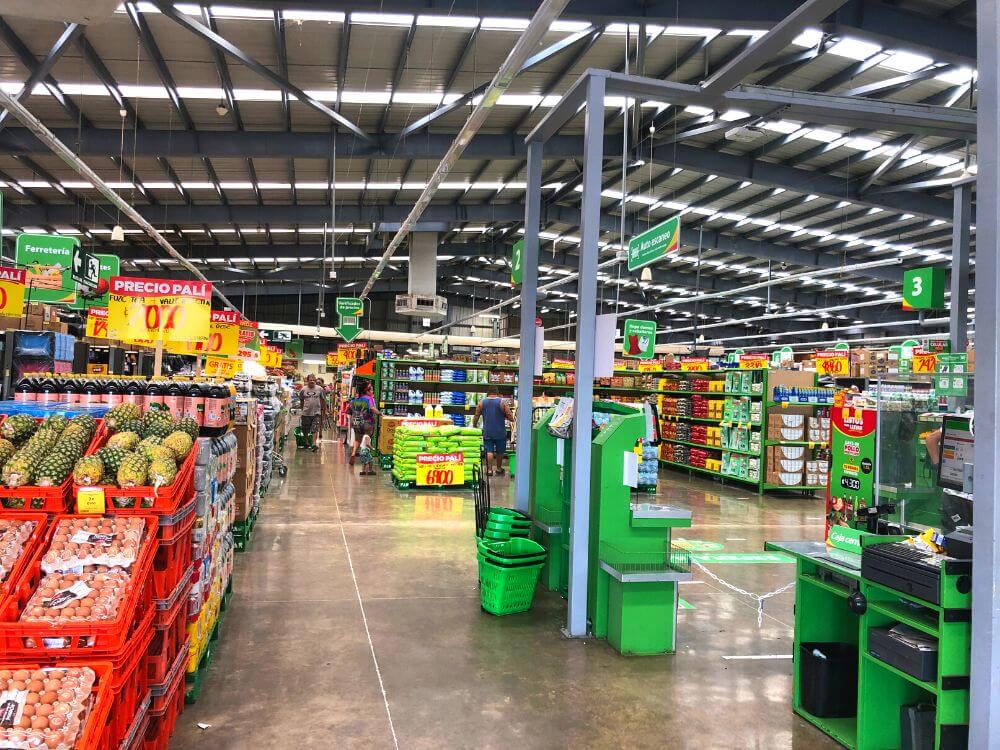 Grocery Stores in Costa Rica
I talk more about which grocery stores are the largest in my post about What to know about Costa Rica.
But I'll mention real quick that you need to be flexible when it comes to finding items you might be use to in the US.
The (larger) grocery stores have a greater selection and variety of foods. But, for example, finding mozzarella is hard to do. They do have a lot of other cheese you may not be familiar with though. We bought a few packs of cheeses to try out and see which we liked.
Some stores had ingredients we needed and some didn't. Even Maxí Palí (owned by Wal-Mart) was missing a bunch of items that we were able to find at other stores.
So just be flexible, look around, and enjoy the journey.
Fresh Produce in Costa Rica
One part of enjoying the journey is to get fresh fruits and vegetables off the street.
We passed so many people selling produce everyday. We actually even pulled over and bought a case of strawberries a couple times because we had a long way to drive and the kids were hungry, so that was their car snack.
Use good judgement (do the items look clean and hygienic?), and enjoy what you find.
You'll find that buying off the street is so much cheaper than buying produce in the store.
And some produce on the street you can't even find in a store.
But now on to what to cook in Costa Rica…
If you need some easy ideas of what to cook in Costa Rica in which the grocery stores are more likely to have the ingredients, here are a few options:
Pasta Caprese– what to cook in Costa Rica
This dish is on my original What to cook at your Rental post because it's so quick and easy and packs veggies and dairy, plus it's filling.
But I found that we can easily make this in Costa Rica with the ingredients available.
To make this you'll need:
Cherry/grape tomatoes
Cheese (mozzarella or similar)
Pasta
Olive Oil
Balsamic Vinegar
Slice the tomatoes in half. Cut the cheese into small chunks. Cook the pasta according to directions. Mix all that together. Then drizzle balsamic and olive oil to your liking and mix.
This is a recipe where you'll have to be flexible. We usually use fresh mozzarella at home, but we couldn't find it in Costa Rica. So cut up a block of cheese (we liked the hard cheeses best) or dump in some shredded cheese of your liking.
Most all places we went had grape tomatoes. If your store doesn't, just chop two regular tomatoes.
Greek Salad– Meals you can make in Costa Rica
This salad is full of veggies and nutrition…and the kids love it. It makes a great lunch or dinner. If it's with dinner, serve it with some bread.
You'll need:
Lettuce, roughly chopped
Grape Tomatoes or whole tomatoes, chopped
Cucumber, chopped
Black olives, cut in half
Red onion, chopped small
Feta
Olive Oil
Red Wine Vinegar
Oregano
Bread (optional)
Combine first 5 ingredients.
Mix oil, vinegar, and oregano together. Pour over salad and mix.
Serve with bread, if desired.
Again, be flexible here. We were able to find olives at all stores except one (Maxí Palí). We found feta only at one store, so we tried a different cheese the next time we made it. This is super simple, but refreshing and healthy.
Have a Barbecue
This may or may not work as you might not have a grill. But if you do have a grill, throw a family barbecue. (We had a grill and private pool, so we were able to swim and eat at our cool rental in Bejuco)
For dinner, our menu was:
Hot Dogs
Chicken
Cooked potatoes
Watermelon
Chips
I had bought an all-purpose type of seasoning at the first grocery store we stopped at and we used it the entire time in Costa Rica.
Find a good herb blend seasoning and sprinkle on the chicken. You can also chop the potatoes up small and cook them up in some oil in a frying pan with the seasoning (these were so tasty).
A note about hot dogs... They weren't quite what we are used to. The hot dogs we bought in Costa Rica had a paper-like wrapper around them. We weren't sure at first if we were supposed to eat it or not.
After the first bite, it was obvious we did not want to eat that. So we had to peel our hot dogs.
Watermelon, potatoes, and chips are all easy to access in most stores. They make a great addition to meals to cook in Costa Rica.
Bean Burritos– easy meals to make in Costa Rica
This was a super easy meal that we made plenty of times. It was a quick and easy lunch, or a staple for dinner that we accompanied with watermelon or other veggies.
Simply grab some tortillas, refried beans, and shredded cheese. Heat up the beans, then spread some into a tortilla and sprinkle with cheese. Roll it up and enjoy!
The refried beans we found were actually in a squeeze pouch, not a can. So watch for that.
Pan of Nachos
My kids always love nachos (who doesn't?) We always try to load them up with protein and veggies, and that wasn't hard to do!
Nachos are an easy meal if you're wondering what to cook in Costa Rica.
You can be flexible here and just use whatever you find at your store. Here is what we used:
Tortilla chips
Black Beans
Tomatoes
Avocado
Onion
Fresh Pineapple (cut into small chunks)
Shredded Cheese
Spread a layer of chips on a large sheet pan. Sprinkle on the rest of the ingredients and cook in the over at 400 for 15-20 minutes.
Veggie Cheesy Rice
This one is also up to your creativity and availability of ingredients. I basically bought a small bag of rice, black beans, cheese, and whatever veggies were around. I cooked up the rice and veggies and tossed it all together, with some salsa on the side for extra flavor.
This is no Michelin-Star contender, but it had flavor, it was filling, and it was easy!
We used chopped/cooked carrots, cooked onions, fresh avocado as the veggies.
We also made a simple fried rice version by swapping scrambled eggs for the beans. We still added cooked veggies and cheese to the rice.
Pizza Night – What to Cook in Costa Rica for dinner
We didn't see any frozen pizzas at any of the stores we were at. Maybe ones closer to the city have them. But we did see pizza crust mixes, so we decided to give it a try.
Of course, I had to get some sort of nutrition in, so I added a little salad on the side. Since I already had oil and vinegar from previous meals in the pantry, I just used those to make a dressing.
Pizza Crust Mix
Pizza Sauce
Shredded Cheese
Veggie toppings (optional)
Chopped Lettuce or Mixed lettuce
Oil/vinegar
Make the crust according to directions. Spread over pizza sauce and sprinkle with shredded cheese. Add toppings, if using.
Make a side salad with the lettuce and an oil/vinegar dressing.
Breakfast Ideas in Costa Rica at a rental
Costa Rica is abounding with fresh fruit. At home, I don't care for papaya. But in Mexico or Costa Rica, it is so much softer and sweeter and I love papaya.
Fun Fact: "hablas papaya!" is a fun saying in Costa Rica. It's basically saying "that's crazy-talk" or "no way!"
Fresh Papaya Bowl
I made myself a little Papaya breakfast with a yummy, juicy papaya. Here's how:
Papaya, cut in half length-wise and seeds scraped out
Plain yogurt
honey
granola
To enjoy this delicious breakfast, spoon the plain yogurt into the papaya as if the papaya is your bowl. Drizzle honey all over. Top with granola.
This was so delicious. I'm no professional Instagrammer, but I totally felt like this was IG-worthy because it was so pretty!
Yogurt, PB and apple
We love snacking on apples so we always had a bag of apples in our fridge. Plus, we had peanut butter for the staple PB&J. So in order not to waste the rest of the yogurt I had from the yummy papaya bowl (I had bought that 4-cup size yogurt, though I'm pretty sure there is not 4 cups in there…) I made this yummy creation.
You'll need:
Plain Yogurt
Apple, chopped into small pieces
Peanut Butter
Honey
Put some yogurt into a bowl. Sprinkle the apple pieces on top. Get a heaping spoonful of peanut butter and add. Drizzle honey over the whole thing.
This was really fresh and yummy. I love that it has some healthy fats and protein between the PB and yogurt. The apple and honey sweeten it up enough so that the yogurt isn't too sour.
Quick Breakfast and Lunches in Costa Rica
If you are looking to eat at your rental for breakfast and lunch but don't have time (or don't want to spend time) to make the above meals some days, there are plenty of quick items at the grocery store you can pick up.
We did peanut butter and jelly sandwiches (or peanut butter and honey) many times for lunch. Or leftovers for lunch.
The grocery stores have breakfast cereals, though it won't look like what you are used to. While in the US we have an entire grocery aisle dedicated to cereal, you'll likely only find a small section in Costa Rica. There is a decent variety if you like granola, basic cereal, or even if you need gluten-free.
We also just made eggs some days for breakfast.
Always load up on fruits and veggies so that you can use them as a side to your meal. They also come in handy when the kids need a snack as something quick and healthy to give them. My kids love the popular apple-and-peanut butter snack, so we did that a lot.
We also let them pick a box of crackers from the store. It was fun for them to see different brands or flavors than they are used to and give them a try.
What to Cook in Costa Rica
Hopefully this gave you some good ideas of what to cook in Costa Rica. It can be hard not knowing what grocery stores look like and not knowing what to expect in terms of food.
But if you are cooking in a rental in Costa Rica, there are plenty of healthy options to make that the whole family will enjoy!
---
Check out the rentals we did our cooking at:
Awesome Rental in Family-Friendly Samara
Beautiful Condo Rental in Playas del Coco
Private Pool Home Rental in Bejuco
---