For many people heading to Costa Rica, they wonder if making the long drive to Manuel Antonio National Park is worth it. It's a bit far from the jungle of La Fortuna or the beaches of Guanacaste. But is it worth the time to go to Manuel Antonio in Costa Rica?
Let's Jet, Kids! uses affiliate links.  As an Amazon (and other networks) Associate, I earn from qualifying purchases.  It is no extra cost to you.  
TLDR: Yes. But here's how to really get the most out of it so you're not just walking aimlessly.
Here are a few reasons why we loved our visit to Manuel Antonio with kids, and what we are so glad we did while there!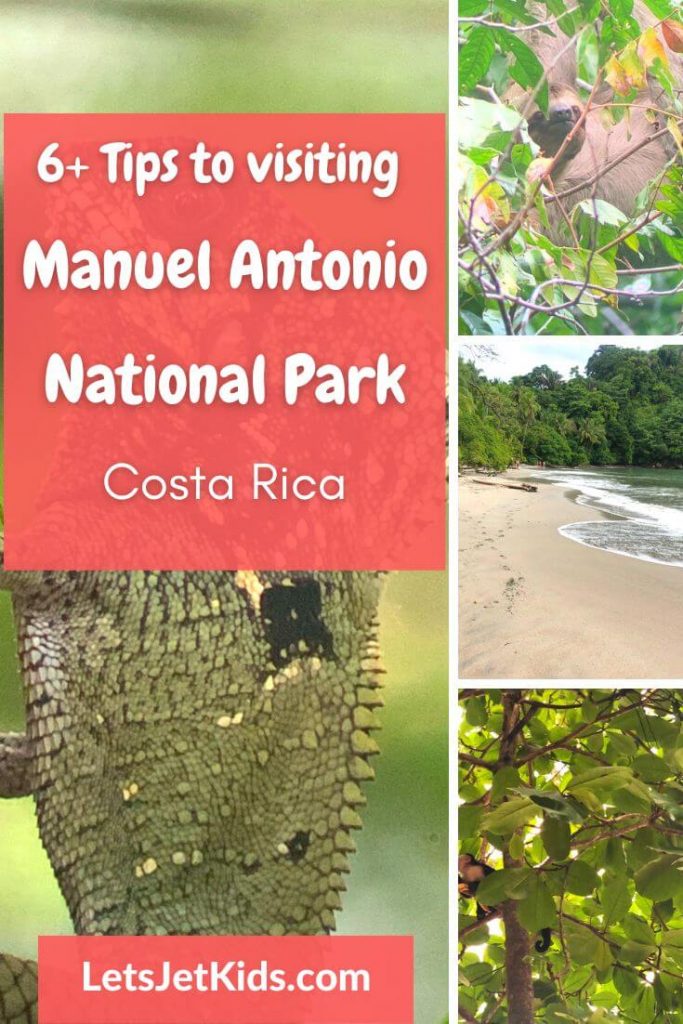 Where to Stay Near Manuel Antonio National Park
Please do not book a day trip to Manuel Antonio from La Fortuna or Guanacaste or wherever. You will waste a beautiful day of Costa Rica in the car, only to come back a few hours later.
Instead, book a stay near this national park. There really are a lot of great options for where to stay near Manuel Antonio with plenty more activities to do in the area.
You can stay right near the park, in a town close by, or in the popular Jaco.
Let me start by saying since this is a family travel blog, you may not want to stay in Jaco. While Jaco is filled with tons of daytime adventures, it's more of a party town with certain activities that happen at night.
You'll understand clearly what I mean as you drive the highway past Jaco and see signs for certain clubs teaching new anatomy on them, as you try not to get your children's innocent eyes to see the sign. ("look kids, a deer!") 🤦‍♀️
I do, however, recommend other towns that are near Manuel Antonio. Here are a few great places to stay near Manuel Antonio National Park.
Hotels Really Close to Manuel Antonio
Parador Nature Resort– We had this place booked before we had to cancel our first attempt at visiting Costa Rica. This place is a gorgeous, 4-star resort with free breakfast and infinity pools. Plus, it has lots of fun activities for the family like mini-golf, playground, and nature trails.
Los Altos– this 5-star beach resort is a short walk away from Manuel Antonio National Park. It's luxurious and family-friendly. A room can sleep up to 8 comfortably (no need for a pull out sofa.)
The popular Tulemar
Tulemar– The much-coveted treehouse style accommodations on its own private beach. Options include smaller bungalows to luxurious treehouse or villas that sleep up to 10.
Nearby Towns to Stay in
The closest larger town to Manuel Antonio is Quepos. It's maybe a 10 minute drive to get from Quepos to Manuel Antonio. You'll have more options of more-affordable hotels here.
Top Hotel in Quepos:
La Foresta – This 3-star hotel might fit your budget better. Manuel is just a few minutes' drive away.
You can use the free beach shuttle to soak up the sun, enjoy two restaurant which shouldn't be too crowded since there's only 36 rooms, or play in the pool. Guests love this place.
Where to stay in Bejuco
We stayed in Bejuco, which was about 45 minutes from Manuel Antonio. We relaxed in a 3-bedroom rental home in a beautiful, gated community. Our home had a private pool, great community pools, and was just a short walk from the beach.
The owner was so responsive and appreciative of all feedback we gave him. He takes a lot of pride in his home that he shares. Highly Recommended.
>>> Check out our rental in Bejuco <<<
Where is Manuel Antonio National Park?
Manuel Antonio is located along the western coast of Costa Rica in Puntarenas.
From San Jose, it is about 2-1/2 to 3 hours away. It's about an hour and 15 minutes south of the popular Jaco.
When is Manuel Antonio open?
Manuel Antonio National Park is open everyday except Tuesdays!
Makes sure to plan around this: CLOSED ON TUESDAYS.
The park is open 7am to 4pm.
How to Access Manuel Antonio National Park
I imagined that when you pull into Manuel Antonio Park that it would be like other National Parks with a nice parking lot and road that leads right to it.
It's not. It's nothing like that.
There isn't really a parking lot designated to Manuel Antonio National Park. Here's what to expect as you get close: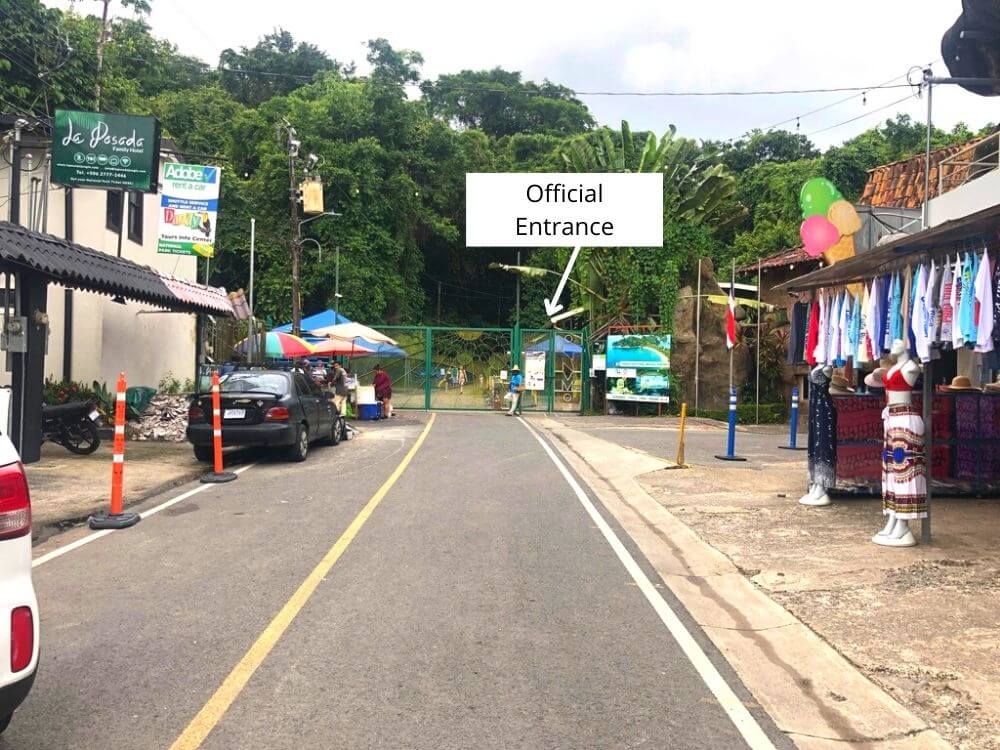 Mapping out directions to the park
To get to Manuel Antonio, you'll drive through Quepos and then you'll begin to ascend up through some windy roads.
You'll pass tucked in hotels and attractions.
Eventually you'll get closer to the park. We headed to the lower road that goes toward the park. "Official" (not really) parking attendants will guide you into their lot and let you know they are the official parking.
They are not. In fact, check your map because you'll probably have to walk a ways if you park in one of the farther lots. We pulled into one lot and as I looked at the map I said there is no way this is the official lot. So we pulled out and kept driving.
On the lower side: You will be able to park almost to the end of the road. A parking attendant will show you where to park, collect the fee (it was $5 for us) and guide you to walk up a path to the park.
The path is not too long and you'll end up passing lots of vendors with souvenirs for sale as you make your way up.
Parking on upper road, very close to entrance
On the upper side: if you take the road that leads you to the upper side (it is the same entrance, just two different roads depending on where your map takes you), there are a few parking lots there as well, run by attendants. There are also lots of souvenir shops and vendors just outside the entrance.
When you look on Google Maps, it looks as though there is an upper and lower entrance as you can see roads/paths on each. There's not though. There's only an entrance on the upper road that you see on the map.
But even if you park at the lower road, there is a cut-across trail to get to the entrance that is easy.
Getting Tickets to Manuel Antonio National Park
As you walk through the vendors on the upper road, you'll see an "official ticket booth" along the road. It's not the official ticket booth.
I'm sure they are selling tours and whatnot that include entrance. But, it's not the official ticket booth.
The only way to get tickets to Manuel Antonio National Park directly is to purchase them through the official national park website. This is often the case with many national parks in Costa Rica, like Poas Volcano.
On the website, you'll have to create an account, verify in an email link, and then make your purchase. Take a snap shot of your QR code or confirmation page. Make sure to reserve your tickets ahead of time when you have good internet.
Tickets are currently around $18 for adults and $5-6 for kids.
When you get to the actual official entrance of the park, the first thing they say is "do you have your reservation?"
Guide to Manuel Antonio National Park (and how to get the most out of it)
Ok, now that you've made sure to stay close in order to have enough time to enjoy it and figured out where to park and get tickets, here are my tips to enjoy Manuel Antonio National Park.
Wouldn't have seen these without our guide (Rainbow Grasshopper and bats)
Get a Guide for Manuel Antonio
Most places you visit in Costa Rica allow for a self-guided tour.
If you are an expert on the flora and fauna of Costa Rica, then you can really save some money.
But if you're not an expert, then please don't waste your money on entrance fees only to see nothing!
Or These (Sloth and Leaf Frog)
I highly recommend getting a guide for Manuel Antonio National Park. We started without a guide and just read the signs along the way for the first 300 feet.
Then we ran into a guide looking to take a group and we hired him, as we hadn't seen much.
Manuel Antonio is basically a beautiful walk through the jungle. It's lush and filled with wildlife. You just need to be able to spot it.
Our guide found all sorts of animals we never, ever, ever would have seen. Lizards, bats, sloths, monkeys, crabs, rare colorful grasshoppers, frogs that camouflage into leaves…
He brought along his telescope so we could get a close view of animals far away. We would look and enjoy the site, then he would take our phones to capture an image through the telescope.
Nope, wouldn't have seen these either (Jesus Christ Lizard and Crocodile)
Sometimes we would be walking and he would just stop suddenly. His eyes would wander around and he'd walk backwards and turn and say "look!" Almost like the animal had specifically called to him.
We still have no idea how he did that. But we're grateful the animals spoke to him.
The animals seem to speak to any great guide you find, but not very often to the tourists. So make sure to hire a guide for Manuel Antonio Park so you don't miss out.
There are plenty of options to hire a guide:
Manuel Antonio Park Tour Guide – tour guide
Manuel Antonio Tour – includes lunch and water
Half-Day Tour – includes snacks and water
(*note that most tours do not include the entrance fee to Manuel Antonio)
or here is our guide's info if you'd like to book with him (he spoke great English):
Fernando can really do anything you need for your vacation to Costa Rica. He can meet you and give you a one-time tour. He can help plan your vacation. Or to make it really easy, he can pick you up at your hotel and accompany/drive you on your vacation!
*I get no compensation from his company. Just had a great experience and wanted to share.
Self-Guided Tour through Manuel Antonio
Please notice I listed this as a second option. If you're able, get a guide.
If you're unable, then you'll still enjoy this beautiful park.
We saw this really big and creepy spider all on our own
The tour guides will take you down a larger gravel/service road to go animal chasing. I assume this is so large groups don't clog up the main trail.
The main trail that you will take as a self-guided tour is a boardwalk through the jungle.
There are signs along the way to try and help you learn, appreciate, and spot flora and fauna of Manuel Antonio.
The walk on the boardwalk is very easy and great to bring kids along.
Plenty of monkeys in the park
And even without a guide, there is a great chance that you will see monkeys on your own. They are everywhere!
The trail will take you to the restaurant in the middle of the park, then to the beach. You do not have to turn around and go back the way you came. You can continue past the beach on the trail to get back to the beginning.
This trail will take you past Espadilla Sur (beach,) which has a foot washing station and a bathroom.
Monkeys along the boardwalk
Keep following the signs for "salida" (exit)and you'll end up in a marsh on another boardwalk where you may be able to spot some crocs (we didn't, but there were a lot of monkeys that came down to the boardwalk).
Eventually the boardwalk connects to the boardwalk you started on near the entrance.
Stop and Swim at Manuel Antonio Beach
Manuel Antonio beach is often noted as the most beautiful beach in Costa Rica.
While many beaches are golden, brown, or black sand, Manuel Antonio beach is a white sand beach in Costa Rica popular for its beautiful scenery.
Manuel Antonio Beach is just across the way from the restaurant in the park. Before you get there, you'll pass a bathroom and changing area so you can get beach-ready.
As you get to the beach, you'll see an official "Manuel Antonio National Park" sign (the one in the picture of our guide above) to the right of the trail that is a great photo op for the family.
When you turn left to go to the beach, head farther down to the left side of the sandy area. The rip currents are strong and it can be a little rocky, but our guide let us know that to the left is a little calmer with less rocks.
You'll notice that there are low hanging trees on the beach area. This is a great opportunity to watch for monkeys! We saw 4 monkeys playing tag. Seriously, that's what it looked like. They were just chasing each other and hiding from each other. They would come right down to the sand.
Another note on monkeys is to make sure to keep all your belongings zipped, buckled, velcroed, or whatever in your bag. The monkeys are little thieves! We watched one open a guy's bag and steal his banana while the guy was laying out his towel.
Espadilla Sur Beach
---
Check out these highly rated tours near Manuel Antonio for more FUN!
---
Stop at Espadilla Beach
As noted in the "self-guided tour" section above, as you walk past Manuel Antonio and head for the final section of the trail, you'll walk right past Espadilla Sur beach.
This beach is beautiful and much larger than Manuel Antonio Beach. It doesn't get all the hype and attention, so it's not as congested.
Eat Lunch at the Restaurant in the Park
You cannot bring food into the park. THEY WILL CHECK YOUR BAG AT THE ENTRANCE to make sure you do not have food. But the park is so big and, especially if you are on a guided tour, takes a while to walk through.
***Note: I read on many other sources before I went that they do not allow single-use water bottles in the park. This is not accurate. Plenty of people had single-water bottles so I asked our guide about it. He said that is not a rule. That said, it's always a good idea to bring a reusable bottle :)
We did a guided tour and it took at least an hour or hour-and-a-half to get to the restaurant. We were tired, hot, and hungry, so we were grateful to see a place to get food!
The food at the restaurant was actually pretty decent. It's a fast casual, so you'll wait in a line, order, and then wait to pick up your food.
Then you can eat at the picnic tables outside.
The restaurant offers a variety of food: sandwiches, salads, pizza, cake, meat pastries, and more.
We ordered a ham and cheese for my youngest daughter. It turned out to be a huge hoagie. So they do not skimp on quantity!
There is also ice cream available for those hot days (so, everyday).
Browse the Souvenir Shop
The line at the restaurant will likely be long if you're there in the lunch hour.
The restaurant is a combo restaurant/souvenir shop, so you can entertain yourself by browsing the fun items along the way.
The money from the sales go toward the park and maintaining it. That said, they are priced higher than what you might find outside the park at the vendors on the street.
Guide to Manuel Antonio Park
That is the main gist of making the most of Manuel Antonio in Costa Rica. There is one main trail that goes through the park. You'll be on that unless you get a guided tour, in which they will most likely take you on a larger road to view animals.
Watch for animals, stroll through the jungle, take a dip in Manuel Antonio Beach, and enjoy a lunch break. Manuel Antonio is a perfect place for families with kids of all ages.