Easy to Follow Costa Rica Family Itinerary (7, 10, 14 days)
There is so much to see in Costa Rica that it is hard to decide where to go. We spent 3 weeks in Costa Rica and got to see so much. It truly is the land of adventure and pura vida. With all that adventure behind us, I've put together a 7-day, 10-day, and 14-day Costa Rica family itinerary for whatever your time allow.
Let's Jet, Kids! uses affiliate links.  As an Amazon (and other networks) Associate, I earn from qualifying purchases.  It is no extra cost to you.  
Check out this easy to follow Costa Rica itinerary for families! I've put exactly how I would plan our family vacation to Costa Rica if I were planning for different time frames, and I hope it's helpful for you to plan your trip, too!
How to Get Around Costa Rica
Costa Rica has busses, shuttles, private transport, and rental cars.
I highly recommend getting a rental car. Then you can be on your own schedule and use your time more efficiently. Plus if you are traveling with kids, having a rental will just be SO much easier.
You may have heard that driving in Costa Rica can be…stressful. I was stressed, but I was the passenger. My husband drove the whole time and said he felt fine, especially as he got to know the customs, habits, and roads a little better.
To prep ahead of time, check out Everything You Need To Know About Costa Rica, which includes lots of driving tips! (Plus, Is Costa Rica a Third World Country?)
7 Days in Costa Rica Itinerary
One of the most popular places to visit in Costa Rica is La Fortuna, and for good reason. La Fortuna is in the heart of the jungle and includes the famous Arenal Volcano. Adventure is never-ending, so if you only have 7 days in Costa Rica, I would recommend staying in the surrounding areas of La Fortuna.
Driving anywhere in Costa Rica can take a lonnnnng time. And counting your days for airplane travel, it may only leave you 5 or 6 days.
So here is how I would plan a 7 day Costa Rica family itinerary.
Day 1 – arrive by plane (assuming you arrive in the evening).
Grab your rental car. Head to a hotel near the airport for the night. (It's highly recommended that you don't drive long distances in the dark in Costa Rica, and it gets dark around 6:00)
Nearby Hotels include:
Day 2- Drive to La Fortuna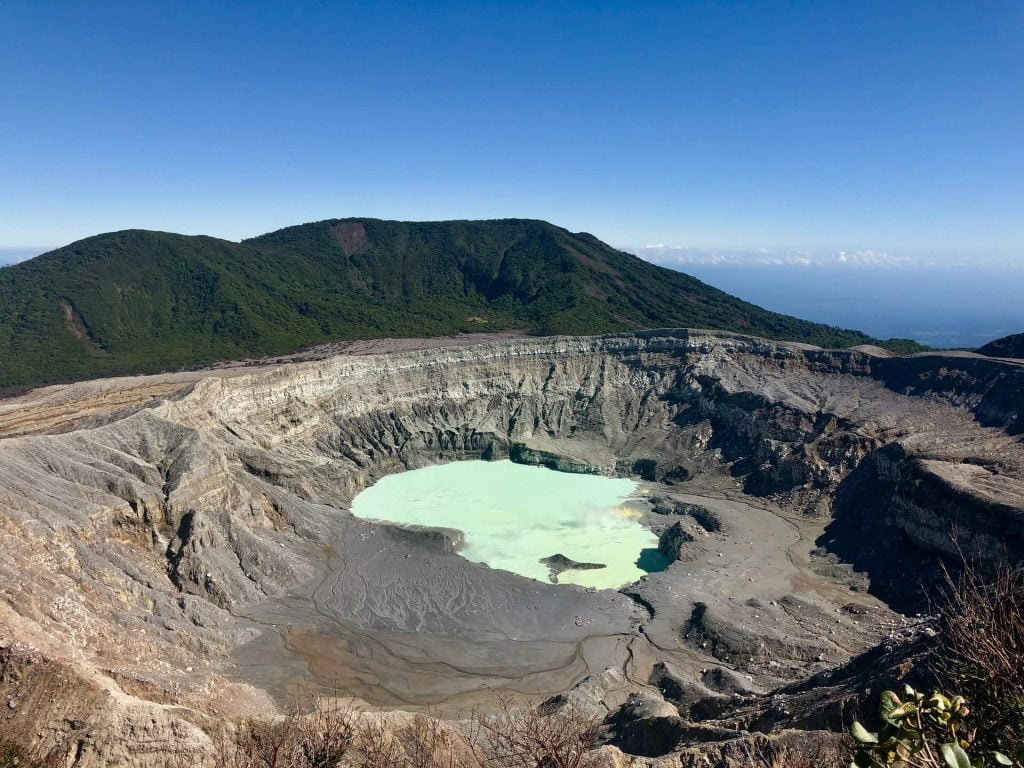 Poás Volcano
La Fortuna is about 2-1/2 to 3 hours away. Make it more fun by making a stop at Poás Volcano National Park. (<— make sure to read so you know what to expect!!!)
This national park is about an hour from the airport. From there, it's 2-1/2 hours to La Fortuna. It makes a great stop to get out and stretch. Plus, you probably can't check into your new hotel too early, so this gives you something to do on the way.
Poás volcano has a huge crater at the top. Watch a safety presentation, and then it's a short, easy walk to the crater.
La Paz Waterfall (and gardens)
If you'd like another stop to get out of the car, you can stop at La Paz Waterfall Gardens. It's just a short drive past Poás Volcano. This place is home to The Peace Lodge, an animal sanctuary, and 5 different waterfalls.
If you don't want this extra stop, don't worry. You can actually view La Paz Waterfall right on the road. You just won't get all the other cool waterfalls.
*Note: if you arrive in Costa Rica early enough (and have enough daylight), you can make the 1 hour drive and stay on site at the Peace Lodge.
Check in to Los Lagos
There are a lot of hotels to choose from in La Fortuna, ranging everywhere from hostels to luxury.
We stayed at Los Lagos, which was priced right in the middle, but we still felt we got a lot for the price!
Los Lagos has hot springs on site, pools, blended-in waterslides, a restaurant, nature trails, and more! We loved our stay at Los Lagos.
Even though day 2 had some driving, it was well-spent time being able to see a National Park and waterfalls.
Plus, when you arrive at Los Lagos, you can throw on your swimsuits and play at the pool at hot springs. There's a restaurant on site and a swim up bar to solve dinner!
Day 3– Begin the adventures
Take a Safari Float from La Fortuna
Taking a Safari Float was about the most memorable thing we did in La Fortuna. It was SO much fun, so family-friendly, easy to arrange and do, and it came with delicious food at the end!
Transportation is included, making it super simple. Make sure this is on your Costa Rica family itinerary!
Hike the Bogarin Trail
After you get back from the safari float, head to the Bogarin trail to see some sloths and other wildlife. It begins right in town, so this is one attraction you don't have to drive far for.
The Bogarin Trail in about 1.5 miles of easy surface; easy enough for a stroller, even.
Book your tour ahead of time and plan for about 2 hours for the guided tour.
Day 4-
Visit Arenal Volcano National Park
Capture some beautiful perspectives of both Arenal Volcano and Lake Arenal with the trails at Arenal Volcano National Park.
Arenal Volcano has been flowing lava since 1968. In fact, there's a trail named after this explosion as The 1968 Trail. This trail is great if you have older kids as it is longer and a little rougher than the trails inside the national park.
Inside the National Park, I recommend the Sendero Coladas, ("Lava Flow Trail"). The hike is only about 1.5 miles and takes you through bamboo, trees, and of course lava.
Go Zip Lining
Zip Lining is a pretty classic activity for going to Costa Rica. Our young kids weren't up for it, so we skipped this one and hope to do it another time.
We had hoped to do the lines that take you over La Fortuna waterfall, because that just sounds amazing.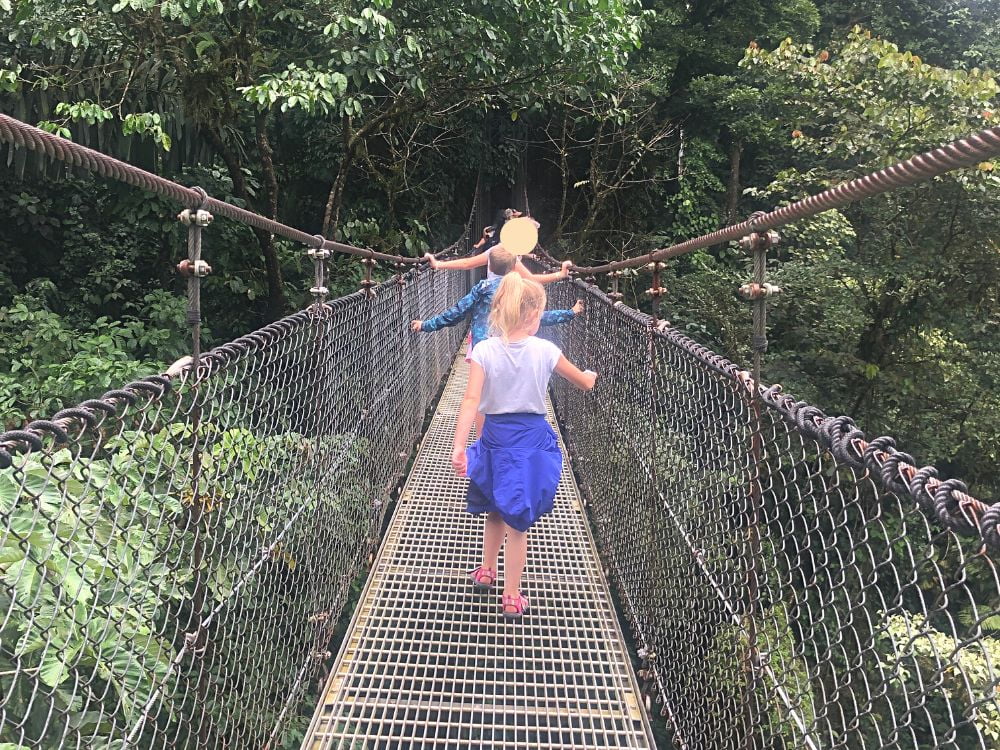 Day 5
Mistico Hanging Bridges
Since our kids didn't want to zip line, we did the Mistico hanging bridges instead. It may not have had the adrenaline, but it did have great views that we could actually stop and enjoy for a while.
Mistico has 16 bridges hanging among the tops of the trees. And when you're not on a bridge, you'll be on a trail leading you through the jungle. Interpretive signs along the way point out when to really stop and listen.
La Fortuna Waterfall
This waterfall is amazing and you really must do it…but if your kids are 2 or 3, you need to make a judgement call. (If they are younger than that, I assume you'll carry them in a backpack carrier)
La Fortuna Waterfall is gorgeous and cascades fall into an aqua blue water. It's not too far from La Fortuna downtown area and it has convenient amenities like lockers, changing areas, gift shop and cafe.
It also has about 500 stairs to get to the waterfall. Maybe your kid is use to physical challenges like that and will enjoy the stairs (my kids enjoy huge staircases for some reason.)
First you'll go down to get to the waterfall, and when you're done you'll have to come up the 500 stairs.
Know that you can obviously take your time and there are benches along the stairs to take a rest.
Day 6
Take A Chocolate Tour
Experience All-You-Can-Eat chocolate on this rainforest chocolate tour! (Wait, why didn't I put this first on day 1?!)
This tour takes you onto a farm and has a fun, educational tour about growing, harvesting, and history of cocoa. (Did you know it was used as money? It's as good as money to me!)
Dip in the Local (free) Hot Springs
This little stop is great on the last day because you can stay a long time, or a short time if you need to get on the road.
A little secret in La Fortuna (though, it's becoming more known these days) is a little spot in the river with hot springs. There is no entrance fee, however, the parking attendants will except to be paid for watching your car. This is not usually expensive (around $5) and provides peace of mind!
Find these free hot springs just beyond the Tabacón resort. Just drive past and eventually you will see guys out trying to get you to park in their spots right off the road. That's the place!
Drive to San Jose
If you've got an early flight (or even if you don't), I would recommend heading back to San Jose the day before. You never know if there will be traffic, construction, or any other surprises, so stay near the airport the day before. And remember, drive when it's still light!
Day 7
At this point, your time has come to an end! Head back to the airport, return your car, and wave goodbye from your airplane window.
Need more adventures in La Fortuna? Check out my full list of family-friendly things to do in La Fortuna
10 Days in Costa Rica Itinerary
If you're able to add these couple days, that will really help you have more time to explore another region of Costa Rica.
For this itinerary, I suggest still visiting La Fortuna, but then also driving over to the Guanacaste beaches.
**In La Fortuna, you can reference the sections above for specific activities so as not to repeat myself on activities marked "*"
For this 10 day Costa Rica itinerary for families, you will have less time driving if you fly into Liberia. Liberia is often a more expensive airport to fly into though, so if you fly into San Jose, that's ok too.
Day 1 of the Costa Rica 10 day itinerary
Arrive, grab your rental car, and stay at an airport hotel. Again, remember that it's not recommended to drive after dark.
Los Lagos hotel
Day 2– La Fortuna
Drive to La Fortuna. I'll assume you've flown into San Jose, as that is usually more affordable. The drive will take you about 2-1/2 hours if you go straight to La Fortuna.
But for a good stretch and so as not to spend the day doing nothing but driving, I recommend stopping at Poás Volcano National Park and/or La Paz Waterfall Gardens (just as I recommend for the 7 day itinerary on the way to La Fortuna).
Check into your La Fortuna hotel, preferably Los Lagos because it's awesome and way more affordable than the other really awesome hotels.
Day 3
*Safari Float on Peñas Blancas river
*Visit the Hot Springs in the River
---
My Amazon picks for your rainforest adventure (make sure you have a GOOD raincoat!):
---
Go on a Night Walking Tour
Night walking tours are especially fun if you have a kid in the family that loves creepy crawly things. I don't especially care for snakes, but my son loves them.
Night time is when many animals wake up and the jungle comes alive!
On tours, your guides are well aware of what's out there so you actually feel pretty safe.
Lava Trail at Arenal Volcano National Park
Day 4 of the Costa Rica 10 day Itinerary
*Hike Through Arenal Volcano National Park
*Zip Line or Hanging Bridges
Day 5
*Chocolate Tour
*La Fortuna Waterfall
Day 6
Club Rio
Even if you are not staying at the Springs Resort, you can still grab a day pass at their Club Río Adventure Center.
Choose from tubing, kayaking, horseback riding, wildlife, rock climbing, and more! Adult and kids passes are available because it's a great place for kids to have some big fun!
A multi-adventure pass will get you a few activities plus access to the beautiful hot springs.
Day 7 – Drive to Guanacaste
To get to the beaches of Guanacaste, it's about 3 hours (depending on which beach you go to.
Río Celeste in Tenorio Volcano National Park
If you'd like a stop on the way, I'd suggest stopping in Tenorio Volcano National Park. This is home to the famous Río Celeste waterfall and river. The Río Celeste has a stretch where it is a beautiful, turquoise blue color all due to certain minerals that collect in the water.
Río Celeste is a popular stop, though getting to it will require a hike of just under 4 miles total. It's not too tough though, so older kids or young experienced hikers could do the mileage.
Tenorio Volcano National Park is a little detour from La Fortuna to Guanacaste, but worth the stop!
You can make your reservations to the park here.
Check-In to Your Accommodations and Enjoy the Beaches
There is no shortage of places to stay in the Guanacaste area.
We stayed in Playas del Coco, as it seems to be the hub of the area. There were plenty of shops, restaurants, and condos and hotels. The beach had a nice boardwalk, playground, and outdoor showers.
We stayed at a rental in Pacifico, just a short drive from the beach, and would highly recommend it!
Once you are settled, head to one of the many surrounding beaches.
Days 8 and 9 of the Costa Rica 10 day itinerary with family
Beach Time!
These days are just for beach time! There are so many beautiful beaches near Playas del Coco. Choose one to spend the day at one, or beach hop throughout the day. Either way, this is the relaxing part of vacation!
If you flew into Liberia, it's not too far of a drive to get back to the airport. But if you flew into San Jose, you will want to leave after your beach time on day 9 and spend the night near the San Jose airport.
Day 10
Say goodbye to Costa Rica and safe travels on your way back home!
Two Weeks in Costa Rica Itinerary
Here is a 14-day Costa Rica family itinerary that will help you see, and still enjoy, as much as possible! I try to combine beach and jungle, just as in the 10 day itinerary, but take you to a different part of Costa Rica since you have a little more time. It will include a longer drive, but be very worth your time.
Days 1-6 follow the La Fortuna itinerary in the 10-day Costa Rica Itinerary plan.
Day 7- Drive to Samara
Samara is around a 4 hour drive from La Fortuna.
Never heard of it? Good!
Samara is still somewhat of a lesser-known location in Costa Rica, but word is starting to get around.
Yes, I skipped over the popular Guanacaste area here. If you are looking for the touristy hotspot, then you may want to go to northern Guanacaste area. But if you are in Costa Rica for 2 weeks, I'm assuming it's because you want to dig a little deeper than the typical tourist spots.
In that case, I recommend going to Samara instead.
We personally loved how family-friendly Samara was. The beach, the activities, the people…everything was so wonderful about this little town.
Check into your accommodations in Samara
We stayed at this perfect little rental right in the heart of town. We felt safe and completely comfortable here for our family of 6!
If you want a hotel instead, there are plenty of great hotels in Samara as well.
Walk on the Beach
After that long drive, it will be nice to move around a little. Take a walk on the large beach of Samara and enjoy a sunset (if it's not raining!)
Day 8
Beach Day
Sunscreen up and enjoy this huge, beautiful beach in Samara! All you have to do is walk through town down the main road toward the beach, and you'll be there.
From the rental I linked above, it takes maybe 5 minutes to walk there.
If you want something more than beach all day, you can always take a day trip from Samara.
Belen Waterfall after a good storm the night before
Day 9 of the 14 days in Costa Rica itinerary
Belen Waterfall
Head to a local hangout with a beautiful waterfall!
Belen Waterfall is about a 30 minute drive from Samara. I would suggest a 4×4 to access it, but it can be done without.
This waterfall is powerful and full after a good rainstorm, so it may be best to just observe and take some pictures.
But if it's not full, it's a local hangout spot to swim. Of course use good judgement and caution if you choose to do this.
And make sure to have good hiking sandals as the rocks near the falls are very slippery!
Horseback on the Beach
After you enjoy Belen waterfall and some lunch, spend some time at Samara beach. There are plenty of companies that offer horseback rides, and we used Nixon Stables. They were able to take my 5-year-old, though they say they can take down to 3-years-old as well.
This was a really cool activity in Samara and something my girls still talk about.
Day 10
Family Surfing Lessons
For your last day in Samara, take a surfing lesson!
Samara is a great place for beginners to learn. The waves of Samara are gentle, yet powerful enough to help you get up and surfing.
Check out Playa Carrillo
Carrillo Beach is just a few minutes down the road from Samara. The beach here is huge and beautiful. You'll never feel crowded here.
Day 11- of the 14 day itinerary for Costa Rica
Drive to Manuel Antonio.
Manuel Antonio is located in the Puntarenas providence along the coast. It will take a little over 5 hours to drive to from Samara, so plan a lunch break somewhere in the middle.
Can you spot them? I have black arrow on the picture to help
Crocodile Bridge
If you can push for about 3 to 3-1/2 hours in the car, then you'll be able to stop in Tarcoles for lunch. This is a great spot because you can stop at the Crocodile Bridge right along the highway and stretch out. The Crocodile Bridge is a really fun stop where you can stand on the overpass and look down to see many crocodiles sunbathing in the riverbanks below.
Once you are done at the bridge, head to the restaurant right next to the bridge. Here, you'll get a large buffet of food (served to you, not self-serve). Hang out and eat a while and walk around the little souvenir places nearby.
The end of the row of shops is a little bakery and coffee shop where you can grab some snacks for the last hour of the drive.
---
Read up more on Costa Rica and brush up on your Spanish with these books:
---
Check-in to accommodations in Manuel Antonio
Manuel Antonio is a beach town full of adventure. The most coveted place to stay is the Tulemar, where treehouse-style rooms lay just a short walk off the beach.
If that's booked (and it will be if you don't book way in advanced), you can check out plenty of other great places to stay in Manuel Antonio.
Day 12 of two weeks in Costa Rica itinerary
Manuel Antonio National Park
Manuel Antonio National Park hides some of the most beautiful beaches in the world. With 2 weeks in Costa Rica, you're lucky to have enough time to discover them!
I highly recommend a guide for touring through the jungle of Manuel Antonio National Park. You will see so many more animals than you would have seen on your own. The guide will most likely end their tour for you at Manuel Antonio beach, one of few white sand beaches in Costa Rica.
See more tips on visiting Manuel Antonio National Park (like where to park, eat, and reserving ahead of time!)
Day 13
Sloth and a frog; wouldn't have spotted either without our guide!
Chocolate Tour
If you didn't have the chance to take a chocolate tour while you were in La Fortuna, here is your last chance.
You can book a chocolate tour in Manuel Antonio that will transport you to a farm where you'll learn about coffee, chocolate, and sugar cane.
If you already did a chocolate tour…
Head to Espadilla Beach
Spend the morning at Espadilla norte beach. (The Espadilla Sur is part of Manuel Antonio National Park, so if you are still in the park you can access the south one).
This beach's shores has restaurants and shops, so it's the perfect way to relax and spend your last day in Costa Rica without too much effort.
Although, if you landed a spot at Tulemar or one of the other awesome beach front hotels, you can also spend the day enjoying that more-secluded beach area.
I would recommend heading to a hotel near your departing airport at this point!
Day 14
All good things must come to an end. This is the day to head home.
If you are flying out of San Jose, you're looking at about 3 hours to the airport. In this case, I would head to San Jose the day before. We hit a ton of traffic and construction on this route. And know that there are many tolls, so have some cash on hand.
If you are flying out of Liberia, it's even longer at about 4-1/2 hours.
Again, it's always good to be near the airport the night before to avoid any surprises on the road!
Costa Rica Itinerary for 7, 10, and 14 days
I hope this was helpful in planning your Costa Rica family vacation, or at least in giving you a general idea in what you can do in 7, 10, and 14 days in Costa Rica.
If you can swing 2 weeks, that will really make your trip worthwhile. 10 days is great, too, and gives you time to see the beaches and the jungle.
If you only have time for 7 days, I would stick in the jungle area as there is so much to do there and you wouldn't want to be rushed and spending your few days driving.
Let me know what you think of these Costa Rica family itineraries! Again, there is just so much to see in Costa Rica that these are just examples of how to plan your trip.
Check out Things to do along the way from:
Need help choosing where to go?