15+ Coolest Olympic National Park Cabins
Olympic National Park is one of the coolest national parks out there. If you are planning your vacation to visit, then make sure to check out the coolest Olympic National Park cabins that that will sleep the whole family.
Let's Jet, Kids! uses affiliate links.  As an Amazon (and other networks) Associate, I earn from qualifying purchases.  It is no extra cost to you.  
I'll show you the cool cabin near Olympic National Park we stayed in, as well as some other cool ones that your family will love.
So pack up and enjoy these amazing cabins in Olympic National Park~
Table of Contents
Where Should I Stay in Olympic National Park?
It really depends on which area you'd like to spend the most time in. We stayed at Lake Sutherland and truly felt like it was the perfect location.
Olympic National Park is spread out quite a bit, with highway 101 going around most of the north and west side.
To the north, you'll find Lake Crescent and the Sol Duc area (hot springs, waterfalls), and Hurricane Ridge.
On the western side you'll find the gorgeous Pacific beaches like Ruby Beach, Rialto Beach, First Beach, Second Beach, Hoh Rainforest, Lake Quinault, and the town of Forks. The western side is really where the majority of family-friendly hikes are.
To the east, you can hike the Staircase Hike and visit Lake Cushman.
So while there are many different areas of the park (and it's a bit of a drive between each), you really can find great hikes, waterfalls, and more no matter where you stay.
But as I said, we loved staying at Lake Sutherland on the northern side. This gave us quick(er) access to many of the fun attractions. We loved taking kids to Olympic National Park.
Wherever you choose to stay, there are some really cool cabins near Olympic National Park in each section. Find the perfect one and start your adventure.
Olympic National Park Cabins- North Side
Unplugged Cozy Affordable Cabin
2 Bedrooms 1 Bathroom
Sleeps 6
From $167/night
At first glance, you may skip over this cabin. So I've included the picture of why this cabin is so great so that you don't skip it!
This cabin is beautiful, clean, everything you need and nothing you don't.
It's located on the northeast side of Olympic National Park, on the Strait of Juan de Fuca, meaning you get incredible water views from this cabin.
Inside, you'll get 2 bedrooms with multiple beds, plus a sleeper sofa in the living room.
Outdoors, you can walk right to the beach, take in the views, or hang out at the fire pit and picnic table.
Get away and get unplugged, as there's no internet and cell service is spotty. Which may be exactly what your family is looking for.
Past guests loved how peaceful, cozy, and beautiful this cabin was. They also reported it being very clean and comfortable, and compared it to glamorous camping.
Olympic National Park Cabins – West Side
Rustic Cabin
2 bedroom 2 bath (plus loft)
sleeps up to 12
Avg $300/night
It may not have a look of luxury, but location and rustic appeal make this a true getaway.
Sleep up to 12 in this 2 bedroom, 2 bathroom cabin. You'll also get a loft/upstairs area with multiple beds.
Also enjoy a deck area and washer and dryer.
This cabin's location make it one of the cool cabins near Olympic National Park because you can step outside and go on a little hike right along the river.
Plus, it's located between Forks and La Push, making it only 5 miles from the popular Rialto Beach.
Fisherman's Hollow near Forks
2 Bedrooms 1 Bathroom
Sleeps 6
From $228/night
This is the definition of an Olympic National Park cabin! It's located on the western side near Forks, just a 25 minute drive to many of the beaches of Olympic National Park.
This riverfront cabin is actually two separate cabins, but only a few feet away and connected by the deck (both pictured).
The main cabin has the living area and kitchen, whereas the second cabin has 2 bedrooms with a total of 3 queen beds. There are no bathrooms in the second cabin, but it's just a quick walk to the main cabin.
Sit on the deck and watch the river, or hop in the river on the warm days. You can fish or inner tube.
Past guests love the owners attention and responsiveness, the tranquility of the cabin location, and the wildlife sightings (even river otters!).
La Push Olympic National Park Cabin
3 Bedrooms 3 Bathrooms
Sleeps 8
From $324
This is a genuine-looking cabin located between Forks and La Push.
Families will love the 10 acres it sits on, the nice playground on site, fire pit, and veggie garden.
Inside feels like a log cabin with the interlinking squared-off logs and beamed ceilings. The rock wall in the high-ceiling living room sits behind the wood-burning stove. Large windows let in plenty of light, and the charming wrap around porch will make you feel at home right when you arrive.
Enjoy the indoors with TVs, books, and games. There are 3 bedrooms, plus an upstairs bonus room with an additional double bed.
Out back hosts a large deck area, BBQ, and plenty of space to run and play.
You'll have free wifi, but spotty cell service.
Past guests loved the serenity of being out in the forest, the friendliness of the hosts, the gardens the deer, and the cleanliness.
Lake Sutherland Vacation Rental Cabins
When we visited Olympic National Park, we stayed in a Lake Sutherland vacation rental. Being able to go on the water everyday, or at least have incredible views of the lake while enjoying breakfast was incredible. And I caught one of the most beautiful sunsets I've ever seen.
Lake Sutherland is not quite in the park, but it's also not far at all. It's much closer than having to drive from Port Angeles.
If you want the perfect place to stay, check out these Lake Sutherland vacation rentals.
Here is the Lake Sutherland rental home we stayed at, plus a few others.
Lake Sutherland A Frame
2 Bedroom, 1 bathroom
Sleeps up to 6
Starting at $155/night
I really cannot recommend this Lake Sutherland vacation rental enough! We had the perfect stay here and would absolutely stay here again.
Upstairs you'll get a master bedroom plus a bedroom with two beds (on the floor, so not for adults with mobility issues). That slept our whole family of 6.
Downstairs, you'll have a full kitchen and a cozy living room, all with windows that overlook Lake Sutherland.
But the best part of this rental was the huge, gorgeous deck that sat above the water. The views and relaxation here were incredible.
We also loved taking the kayaks out in the morning (life vests provided as well).
If you have younger kids or even older kids that don't mind a smaller sleeping quarters, this rental is perfect. It's so affordable and gives you all the lake/cabin feels you are looking for.
>>> Check out my detailed post about this Lake Sutherland rental (and for pics of the incredible fall colors and pink sunsets). <<<
Lake Sutherland Rustic
3 Bedrooms 2 Bathrooms
Sleeps 6
From $200/night
This unique cabin on Lake Sutherland has plenty of space for everyone. Built in the 1950's, the cabin features cedar all around, beamed ceilings, and a lake for a backyard. The deck is massive, giving plenty of room to hang out outside.
Inside, you'll have two bedrooms and a living area with a pull out sofa. But where is the 3rd bedroom?
It's actually in the "treehouse" section of the house. It's not really a treehouse like you might be thinking, but rather an unattached addition to the home. While the main home has a full bathroom, the treehouse has its own half-bath.
This cabin is a great place to unplug and connect with each other, as there is no wifi.
Past guests loved taking the kayaks out on the lake, the helpfulness of the owners, and jumping in the lake from the diving board!
*Note that it may not be best for anyone with mobility issues as it is a steep grade to access the home.
More Perfect cabins in Olympic National Park:
Dream Cabin on Lake Sutherland
1 Studio Bedroom 1 Bathroom
Sleeps 6
From $100/night
This Dream Cabin is a great Lake Sutherland vacation rental if you are on a budget. The owners have used the space available to sleep as many people as possible, specifically families.
Note, this cabin is more of a studio-layout than a full house.
There isn't technically a bedroom, as the open space in the common area has been filled with double bunk beds (plus a trundle) and a pull out sofa. So if you're family doesn't mind getting cozy, this is a great, affordable rental on Lake Sutherland for you.
Outside you can relax on the deck or the dock, or hop on a stand up paddle board or kayak out in the lake.
Enjoy the full kitchen or make use of the BBQ on the deck.
Guests said the owners were great and helpful and the cabin was incredibly clean and well stocked. They loved the outdoor deck area and use of the kayak.
Perfect Lake Sutherland Vacation Rental Cabin
3 Bedroom 4 Bathrooms
Sleeps 8
From $350/night
If I only got to use one word for this Olympic National Park cabin rental, it would be: Jaw-dropping.
This lake-cabin rental is gorgeous and sits right on Lake Sutherland near Olympic National Park.
In the outdoors, you'll get a dock, kayaks, rowboat, stand up paddle boards, and provided life jackets. There's even a community swimming area (with a waterslide into the lake).
On the inside, you'll get knotty pine, wood covered vaulted ceilings, plenty of space, and incredible views. There are 3 bedrooms plus a loft, giving it 3 beds plus a futon.
You won't miss a thing with high speed wifi and a smart TV (though I'm not sure I'd be able to give up time outside in this oasis!)
Past guest have gone on about how the pictures to this place do not do it justice, which is really saying something. The owners have been applauded for their responsiveness and constant updates to the property.
Blue Haven on Lake Sutherland
3 Bedrooms 1 Bathroom
Sleeps 6
From $370/night
This Lake Sutherland Cabin is adorable with a great location. The decor is modern and crisp and the views are incredible.
The cabin has been featured plenty on Instagram, which may explain why it's a bit more expensive than others of the same size.
Inside you'll have 3 bedrooms, each with a queen size bed, making it comfortable for 6 guests. The living area has a huge TV and a pull out sofa, which can add 2 additional guests if needed.
The kitchen is fully stocked, but does not have a dishwasher.
The cabin has a 2-story deck with direct access to the water. The owners provide 2 kayaks and life jackets.
Would you stay in this Insta-famous Olympic National Park cabin?
There is about 2 flights of stairs to get down into the property from your private parking.
Olympic National Park Cabins – East Side
The east side of Olympic National Park has a few cabins in Elwha which is closest to Port Angeles. Port Angeles has plenty of restaurants and grocery stores for stocking up. So if you prefer eating out, staying closer to a town may be the best option.
Elwha is also relatively close if you are wanting access to Hurricane Ridge.
This side also has a rental listed near Lake Cushman, which is on the eastern side, but farther south.
Great Views Cabin (near Elwha)
3 bedroom 2 bath
sleeps up to 8
avg $625/night
This cabin is Ah. Maze. Ing.
You'll get big logs on the outside as well as the interior, for a true, genuine log cabin near Olympic National Park towards the Elwha entrance.
Sleep up to 8 in this 3 bedroom, 2 bathroom gorgeous home that's over 2,000 square feet.
Everyone can have a comfortable place to sleep in the 6 beds provided.
It's located only a few miles from some of the gems of Olympic National Park.
Enjoy the indoor sauna, large outdoor property, giant deck, the nearby Elwha River, and the incredible views.
Wapiti Rose Home (Near Elwha)
2 Bedroom 2 Bathroom
Sleeps 6
Starting at $195/night
This gem is a custom build set on 5-acres that isn't far from Hurricane Ridge in Olympic National Park.
In fact, the border of Olympic National Park backs up to the property, as does the West Elwha River.
The two bedrooms each have a double (or king) bed in them, plus you can sleep two more people on the sleeper sofa. The downstairs bathroom is a full bathroom, while the upstairs is a half-bath.
Enjoy the 5 acres of property, sit by the fire pit, enjoy the beautiful garden in back, and enjoy the mountain views.
Past guests loved that it was clean, well stocked, in a great location, cozy feel and yet spacious; and proximity to Olympic National Park, Port Angeles, and even ferries that allowed them to explore further.
Clean and Simple Olympic National Park Cabin (Near Elwha)
4 Bedroom 1 bathroom
Sleeps 6
Starting at $175/night
This cabin is located near Elwha on the east side of the park. It's a quick drive over to Lake Sutherland and about 15 minutes to Port Angeles. It's got a nice big property within the forest.
Sleep your large family comfortable (and affordably!) in this 4 bedroom cabin near Olympic National Park.
This home was originally built in the 1930's as a residence for those working in the area. in the '70s it was moved to its current location sitting on 1-acre.
Upstairs you'll get a loft and a master bedroom and downstairs are 2 additional bedrooms and the full bathroom.
The loft is a great place to relax or play games, and the owners allow for 2 additional floor-guests (sleeping bags) to sleep here as well, if needed.
Past guests love the games, location (quick access to grocery or popular waterfalls), and the yard space.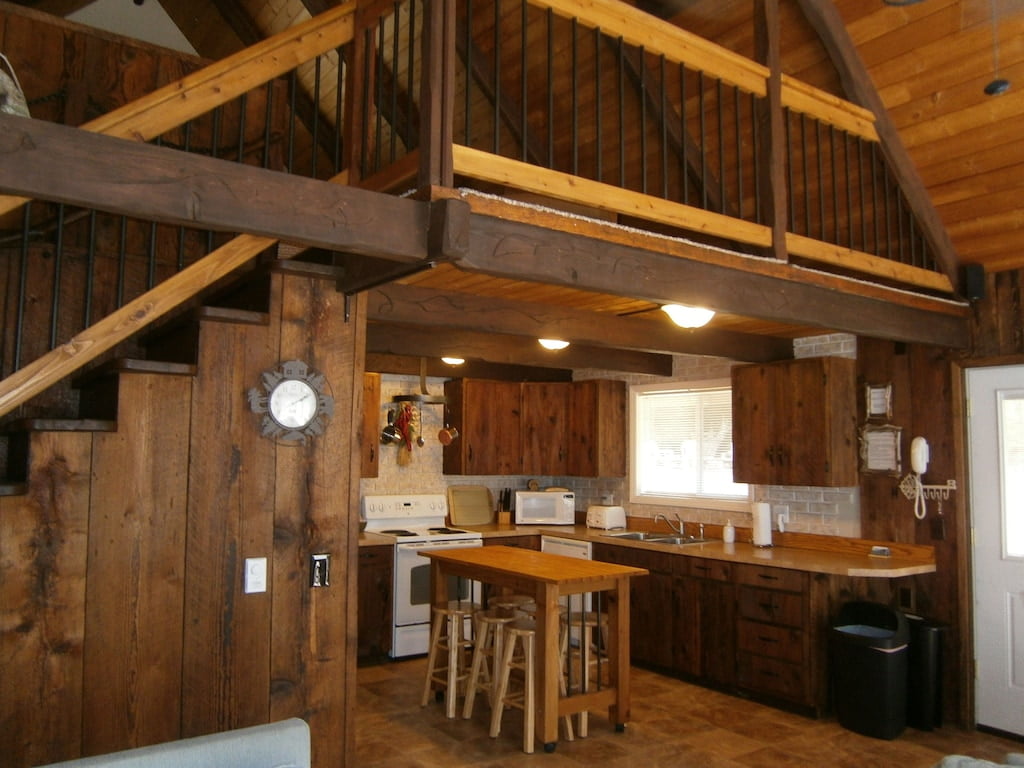 Upscale Chalet (South East location)
3 bedrooms 2 bathrooms
sleeps 8
starting at $150/night
This beautiful Olympic National Park cabin is located near Lake Cushman on the southeastern border of the park near the Staircase trail which is just 7 miles away.
Enjoy a genuine cabin feel in this home with logs running throughout. You'll get over 2,000 square feet and plenty of beds for everyone. Plus, many places in the house and on the property are gifted gorgeous lake views.
While the price point is great, even better is the location. There are a few parks nearby, but you can also play on the property which is right along a little creek.
This cabin is only 150 feet away from Lake Cushman, so you can have a lake day without really having to pack up. Swim in the cove, rent some kayaks or even a boat for the day.
Then come back and relax at the fire pit or on the deck. Or hang out at the pool table, watch one of 100+ movies provided, or have family game night with some of the board games.
Baby gate and travel crib provided for convenience.
Cabins Near Sol Duc
Sol Duc is a beautiful area of the park. Renting a cabin near Sol Duc means that you are right in the middle of Olympic National Park and will have easy (or, easier) access to many of the popular spots.
Double Cabin- Cabin
4 bed 4 bath
Sleeps up to 10
Avg $1,000/night
Does your family crave not only plenty of space, but plenty of entertainment? This is the ONE.
Rent not one, but TWO cabins on the 5-acre gated property and you'll have everything you need for a relaxing and fun getaway.
This gorgeous cabin is a true log cabin with large logs throughout the interior.
This cabin can sleep up to 10 people with 4 bedrooms and 4 bathrooms. Kids will love the bunk room and exploring the grounds.
The main cabin is the heart of the home and has 3 bedrooms (each with bathrooms).
The second cabin is the "fun cabin", with billiards, foosball, hot tub, TV (and plenty of movies), and a margarita maker. There is also an additional bedroom in this cabin.
Past guests loved fishing on the river, relaxing in the hot tub and at the fire pit, and the comfortable beds.
Fisherman's Cabin
2 Bedroom 1 Bathroom
Sleeps 8
From $300
I'm not going to lie, this is not the most luxurious cabin you will have ever seen.
So why did I include it on the coolest Olympic National Park cabins?
It's all about location for this one.
This fisherman's cabin can sleep your whole family. There's one queen bed in bedroom 1, and a queen bed and 2 sets of bunks in bedroom 2.
The interior is pretty basic.
But the exterior is where it's at.
This cabin is just outside of the Sol Duc area, but right on the Sol Duc River.
If you love to fish, this is the spot. The river is right in the backyard with the perfect fishing hole within site. Perhaps the price is a little hefty, but if you are a die-hard fisher, then it just might be worth the price.
Cabins Near Lake Quinault (South)
Timber Haven at Lake Quinault
3 Bedroom 2 bathroom (6 beds)
Sleeps up 10
Starting at $395/night
This beautiful cabin near Olympic National Park is near Lake Quinault near the south end of the park. The lake is only 150 yards away where you can play, swim, and kayak.
This gorgeous home is a cabin-feel on the outside and charming cottage-feel on the inside.
Heat and a fireplace will keep you warm in the winter and the window AC will cool it down in the summer.
Kids will love having games and books. Traveling with baby? There's a baby gate and travel crib provided.
Play during the day with 2 kayaks (easily transported to the lake on a roller) and relax at night at the fire pit.
Coolest Olympic National Park Cabins
As you can see, there are so many great cabins in Olympic National Park, and they all have plenty of space for your family to sleep comfortably.
Everywhere around Olympic National Park is beautiful. I really loved staying on Lake Sutherland. It had great proximity to some of the hikes and waterfalls as we explored Olympic National Park with the kids. It also was just beautiful and a great way to wake up everyday.
You can't go wrong with these cool Olympic National Park cabin rentals. So pick your favorite and enjoy your trip!
Save This to Pinterest
Don't Miss
7 Awesome Beaches in Olympic National Park
Complete Guide to Olympic National Park with Kids
The coolest A Frame, Lakefront Rental in Olympic National Park
Year Round Guide to Hurricane Ridge
Great Things to do From Seattle to Olympic National Park with Kids