Why Families Will LOVE Bejuco Costa Rica
We took a few weeks to visit Costa Rica. We spent the first two weeks playing hard and decided we wanted the last week to be a little calmer and a time to just gently enjoy.
Let's Jet, Kids! uses affiliate links.  As an Amazon (and other networks) Associate, I earn from qualifying purchases.  It is no extra cost to you.  
That's when we decided to stay in the town of Bejuco, Costa Rica. This was the perfect way to end our vacation. We still got a little adventure, and a bit of relaxing at Playa Bejuco and nearby beaches.
Bejuco is the perfect place if you are looking for less popular towns in Costa Rica.
Here is why your family will love Bejuco, Costa Rica and why it's worth a visit!
Table of Contents
Where is Bejuco
Bejuco is not a well-known town in Costa Rica. But it is a great town!
It is located in the Puntarenas providence (not to be confused with Playa Bejuco in Guanacaste) on the coast. If you are familiar with both Jaco and Manuel Antonio, it in-between those.
Bejuco is a small town, really just made of a couple neighborhoods of condos and houses. There are many expat families that live in Bejuco and homes used as vacation rentals.
Bejuco is just about 2-1/2 hours from the San Jose Airport, so it makes a great location if you are wanting a beach vacation without the long drive to Guanacaste.
What Services are Available in Bejuco
Right off the main highway of Bejuco is a larger shopping mall filled with restaurants and a grocery store (that carries quite a few American Brands, albeit at a cost). If you are looking to cook meals in Costa Rica, this store is just a short drive from anywhere in Bejuco.
There are also a few mini supers (convenience stores) in Bejuco if you just need some basic things quickly.
A gas station is about 8 minutes north of town. As with many things to know about Costa Rica, remember that gas is full-service (don't get out of your car).
Is Bejuco Costa Rica Safe?
We spent over a week in Bejuco, and felt safe the whole time. That included going to the beach to run in the morning (alone), and taking the kids on my own to the beach from our rental. I am very aware of my surroundings in general, and more so when away from home.
I personally never felt threatened or in danger.
To the contrary, I found everyone to be very friendly.
The rental we stayed in was a gated community. As I walked past other nearby communities, they had either a gate or a guard standing at the entrance.
At night, my husband and I would run out to grab groceries, and again, felt just fine out and about in Bejuco.
So overall, my personal experience showed me that Bejuco is a very safe town to be in.
Why Stay in Bejuco
First, Bejuco Costa Rica makes a perfect family destination
I know many people stay in Jaco, and there are a lot of great activities there. But I got nervous about the reviews I read of Jaco and how it is a party town at night (putting that lightly). That was proved to me as we drove past Jaco on the highway and saw all sorts of signs for all sorts of things I'd really rather my children not see!
So, I decided we would stay in Bejuco, which is just about 30 minutes south of Jaco.
We felt incredibly safe here. We had great conveniences just down the street from our beautiful rental. Bejuco is a beach town, so we got to spend plenty of time playing in the water. We also enjoyed the proximity to different attractions for when we needed a day of adventure.
Hotels in Bejuco Costa Rica
We loved our rental (above) and had plenty of space to stretch out. We especially loved the private pool in the backyard.
But if you'd like a hotel instead, there are a few in Bejuco.
Hotel Delfin Playa Bejuco – Right on Bejuco beach and rated highly; midrange price
Hotel Playa Bejuco – also highly rated, right on Bejuco beach; budget-friendly
Alma del Pacifico – rated Exceptional; on Estrillos Este beach, priced mid-to-high
Here are a few of the fun attractions near Bejuco
Bejuco Beach (Playa Bejuco)
Bejuco Beach, or Playa Bejuco, is an award recipient of the Blue Flag award. This basically means that this beach is clean, well cared for, and safe.
Bejuco Beach is a dark golden sand beach with plenty of space to run and play. The community has pulled together to fund a life guard for the beach (not always there, but nice to have one sometimes).
And Bejuco Beach is beautiful. It seemed a bit untouched compared to other beaches we visited (like the beaches near the popular Playas del Coco).
We loved that Bejuco beach was just a walk away from our rental. As Bejuco is a smaller town, the beach won't be far no matter where you stay.
We easily spent all morning at the beach, enjoying playing in the sand, collecting shells (there are lots!), and boogie boarding.
*note, you can't bring shells out of the country, but they are still fun to find.
Plus, the locals were very friendly. I spent one of our beach mornings chatting with another mom while all the kids played. She was very kind (and very patient with my Spanish!)
Manuel Antonio National Park
Manuel Antonio National Park is about 1 hour from Bejuco. It's a really easy drive, too (which is not usually the case to many attractions in Costa Rica!)
Manuel Antonio is famous for their beautiful, white sand beaches; sloth-sightings; wildlife; flora; and more.
Make sure to make reservations to visit, as the park limits how many people can enter per day.
Find more details about making the most of your visit to Manuel Antonio National Park.
Estrillos Beach
Estrillos beach is right next to Bejuco Beach. There is este and oeste (east and west). A local mentioned to us that, for whatever reason, este was the best. When we asked someone else, they immediately also said este.
So, for whatever reason that is, head to Estrillos Este for a fun beach day.
This beach was similar to Bejuco Beach: beautiful, wide sand, and gentle waves.
Getting to Estrillos Beach was…interesting. There must be a couple entrances, but where we went was basically a dead end street that we parked on. We then had to cut through the tall grasses to get to the beach.
But there was an official beach sign, so we knew it was the right place!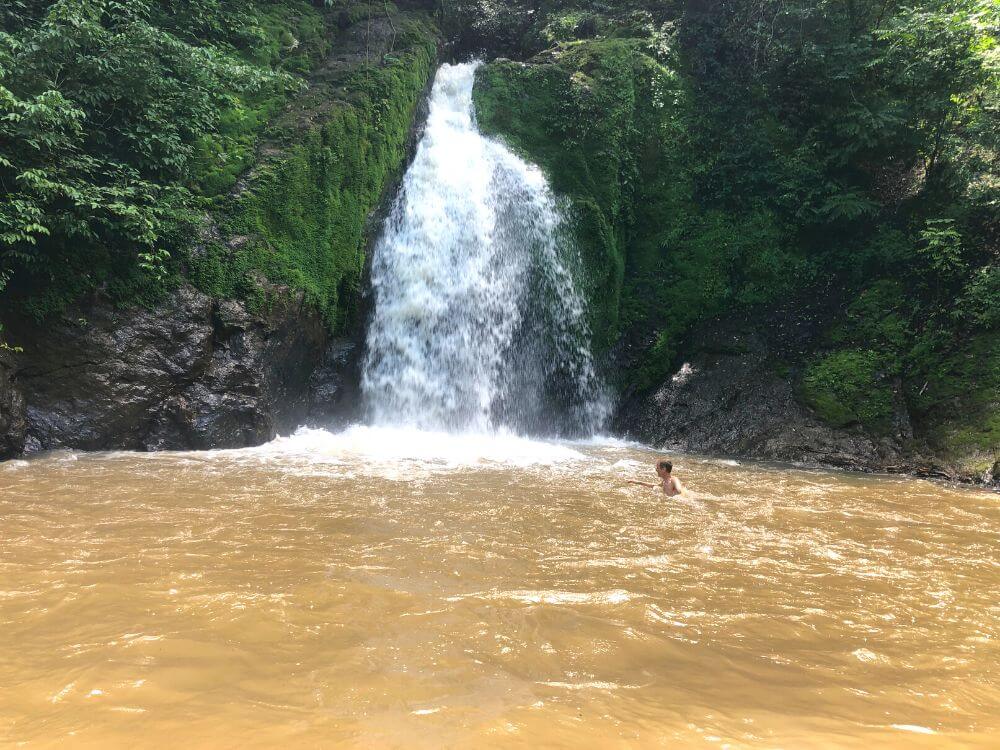 Salto de Gamalotillo
Catarata El Salto de Gamalotillo is such a fun stop that you must make if you are in Bejuco Costa Rica.
It's a fun swimming hole with a waterfall that you can cliff jump off (if you dare.)
It's really the whole atmosphere that is fun, though. There are tables, hammocks, tire swing, trails, and (of course) a great area to swim in and enjoy the waterfall.
This was our favorite waterfall to hang out at in Costa Rica. You can read how to get there and all the details about Salto de Gamalotillo.
Please please be sure to stop here if you are in the area. You will love it!
no filter
Catch a Sunset on the Beach
Almost all 10 evenings we stayed in Bejuco were raining or at least very cloudy and dark.
Almost.
On the last night, coming in at the last second, the sky was somewhat clear. Or at least clear enough to catch a sunset.
So we ran down to the beach to enjoy that golden hour (or rather, pink hour!) and soak in our last night.
And boy, it did not disappoint!
Make sure to stop at the beach during sunset and grab some incredible pictures of Bejuco Beach. It is beautiful!
Bejuco for Families
Bejuco was such a fun, quaint town and we are so glad we stayed here.
You could spend a few days here easily. We spent 10 days here and between the beaches, national park, waterfall outings and pools at our rental, we had so much fun.
I would highly recommend staying in Bejuco if you'd like an off-the-beaten path place to stay in Costa Rica.
---
Check out more great places in Costa Rica:
Complete Guide to La Fortuna with Kids
Why Samara was our favorite, chill beach town in Costa Rica
Arenal Volcano National Park – hiking with kids
and Everything you need to know about Costa Rica before Visiting
---