Best Pumpkin Patches in Colorado
Updated 9/22/2023
Let's Jet, Kids! uses affiliate links.  As an Amazon (and other networks) Associate, I earn from qualifying purchases.  It is no extra cost to you.  
Fall brings about all the best things in life: great temperatures, pleasant scents, and of course, pumpkin patches. Some great family memories can be made by visiting these fall festivals every year, so I've put together a quick guide of the best pumpkin patches in Colorado!
Note: These patches are all based from North of Denver to Colorado Springs area. I'm sure the mountains, eastern plains, and western slope all have great ones, too.
Pumpkin Patches in Denver and North of Denver
Anderson Farms – Best Pumpkin Patch in Colorado
6728 County Road 3-1/4, Erie
Anderson Farms is a big deal in the world of pumpkin patches. Its sheer size is impressive, with the corn maze alone being 25 acres.
Anderson Farms created the first corn maze in Colorado in 1999. What was once just hayrides and a pumpkin patch now offers so much more.
Activities include slides, tractor tires, pumpkin canons, wagon rides, corn maze, pedal carts, jump pads, and more!
Additional activities for purchase include gem mining, henna tattoos, pumpkin painting, mini escape rooms, and more.
2023 pricing:
Tickets start at $17 for weekdays, $28 for weekends. Kids 3 & under are free. Fire pits can be reserved starting at $75 for 4 hours.
Photo from Rocky Mountain Pumpkin Ranch; used with permission
Rocky Mountain Pumpkin Ranch
9059 Ute Highway/CO-66, Longmont
Rocky Mountain Pumpkin Ranch is a great place to pick pumpkins and has plenty of fall entertainment all month long.
On Saturdays and Sundays:
The great thing is admission is FREE. After you're inside, you can pay for exactly what you want (and not for what you don't!) Purchase tickets for $1 each. Each attraction is between 1-10 tickets and may include a train ride, petting zoo, pony ride, slides, pumpkin painting, corn maze, and more.
On Weekdays:
If you visit on a weekday, you may get a little more bang for your buck. Weekday visitors purchase a wristband ($15.00 kids, $5 adult) which gets them unlimited select activities. These include a few choices of mazes, an obstacle course, visiting the animals, and visiting the pumpkin patch (visit to the pumpkin patch is free, costs $ to purchase a pumpkin).
Maize in the City
10451 McKay Road, Thornton
Maize in the City is another great pumpkin patch in Colorado. Like the patch above, admission is free and the visitor only pays for each activity they enjoy.
The schedule is a little random. It's open weekends in October and also some weekdays here and there, so make sure to check the schedule before your visit.
Maize in the City has a large corn maze (over 20 acres!), a mini maze for younger kids, hay bale maze, playground, pumpkin patch, corn kernel box (my kids favorite when they were toddlers!), train, pony ride, bounce pads, and much more!
Many of the basic activities are free (corn kernel box, playground, Jenga, photo ops…) and others have a cost (like the maze or barrel train).
Rock Creek Farm
2005 South 112th Street, Broomfield
Rock Creek Farm is the perfect pumpkin patch if you're looking for something a little more simple.
It doesn't have 100 activities like many patches these days. But it does have over 6 miles of corn field mazes. Pick from one of the 3 corn mazes or try out the hay bale maze for younger ones.
When you've navigated your way out of the maze, check out the large pumpkin patch and pick the perfect pumpkin. You can also stop by and visit the animals on the farm.
2023 pricing:
General admission is free. Pumpkins are $7. Corn Maze was $7-$10 last year, waiting on current pricing to be revealed. Open weekdays only.
Photo from Mile High Farms; used with permission
Mile High Farms
11 Cavanaugh Rd, Bennett
Mile High Farms is open on Saturdays and Sundays during the month of October. It's located near Denver just to the east.
This place is a great pumpkin patch in Colorado for all ages. Try out one of the two corn mazes, visit the petting zoo, take a hayride, ride in the barrel cart, play at the playground, and have plenty of photo ops in front of the little surrounding buildings.
Admission will also give you access to the pumpkin patch where each person can pick the pumpkin just right! (Pumpkins are an additional cost.)
2023 pricing:
Admission is $13-$18 with kids 4 & under being free.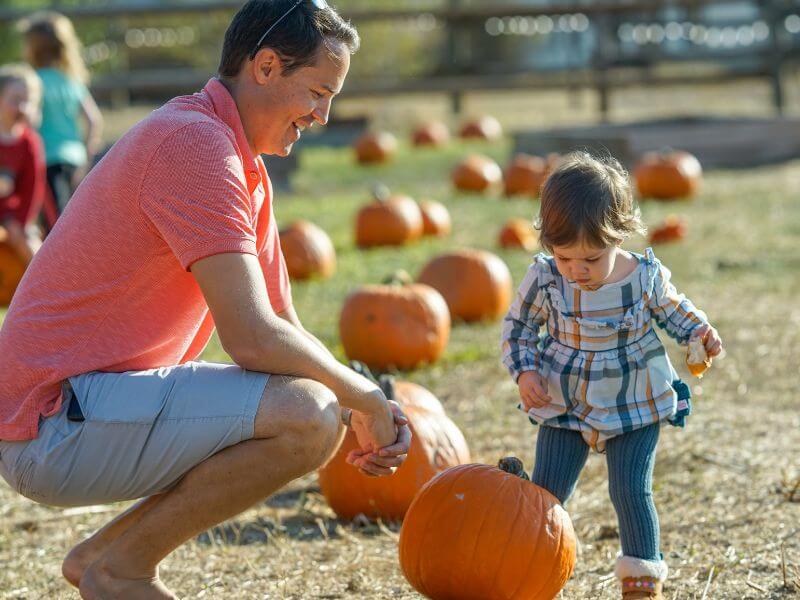 Photo from Four Miles Historic Park; used with permission
Four Mile Historic Park
715 S Forest St, Denver
Four Mile Historic Park is a great, family-friendly pumpkin patch in Denver. The activities are a little more history-focused (plus some modern fun as well.)
This unique farm offers activities other pumpkin patches don't. Try your hand at some prairie games from back in the day. Join in an arts and crafts activity. Check out live demonstrations from blacksmiths. Take a tractor ride, pan for gold, and enjoy a face-painting.
An upgraded ticket will also give you access to axe-throwing, a pumpkin to take home, and free parking.
Save a few dollars by purchasing tickets ahead of time online!
2023 Pricing:
Tickets run anywhere from $17-35. The fall festival will take place on October 14th and 15th this year.
Pumpkin Patches South of Denver
Flat Acres Farm
11321 Dransfeldt Rd, Parker
Flat Acres Farm has actually ended their pumpkin patch. I'm including this in case anyone typically makes the trek down to what was an awesome place in fall.
Last year, there was a fire (arson) at the patch. They finished out the season, but this year they are not re-opening. To clarify, the website says they are not reopening because of the amount of time and effort to "facilitate these life changing events." (So the reason they are closed may or may not have anything to do with the fire last year.)
With the pumpkin festival gone, they do still offer an air soft course and local honey for sale.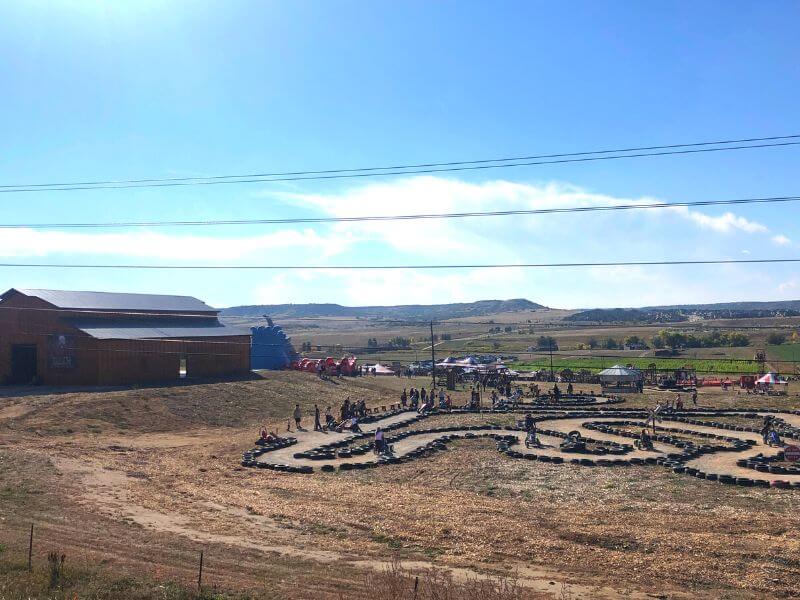 Lone Creek Farms
Lone Creek Farms
3879 N State highway 83, Franktown
Lone Creek Farms has quickly climbed up the ladder of best pumpkin patches in Colorado.
Each year, more and more work goes in to adding to this great fall festival.
The amount of activities here are nearly endless, which makes it great for all ages.
Enjoy the huge shark slide, jump pads, pig races, tire swings, farm animals, duck derby, corn kernel box, tire mountain, pedal karts, candy cannon, and so much more.
You can buy extra tickets for additional activities such as axe throwing, the sling shot, a giant zip line, and more.
Oh, and of course there's a big corn maze.
The pumpkin patch is well run, includes parking, and has some great snacks/food available for purchase.
It is one of the more expensive pumpkin patch admissions in the area.
2023 pricing:
$21.95 (Thursdays)- $25.95 (weekends). No charge for ages 3 & under. Lone Creek is open Thursday-Sunday from the last weekend in September through Halloween from 10am to 7pm.
The Patch
7400 State Hwy 86, Kiowa
Note for the 2023 season, The Patch has a new location in Kiowa (previously located in Elizabeth).
The Patch is a large, increasingly popular pumpkin patch in Colorado located south and east of Denver.
It's a great, family-friendly pumpkin patch with plenty of activities for everyone.
Enjoy the jump pad, slides, farm animals, train, ropes course, roping, rope swing, tether ball, and more.
You'll also love the corn maze and sifting through the pumpkin patch to find that perfect pumpkin.
2023 Pricing:
Advance ticket purchase online is required. General admission is $25 online or $28 at the door. Military/senior discounts available. Ages 2 & under are free.
Open Friday-Sunday
>>> You'll also love Christmas Events in Colorado <<<
Best Pumpkin Patches Near Colorado Springs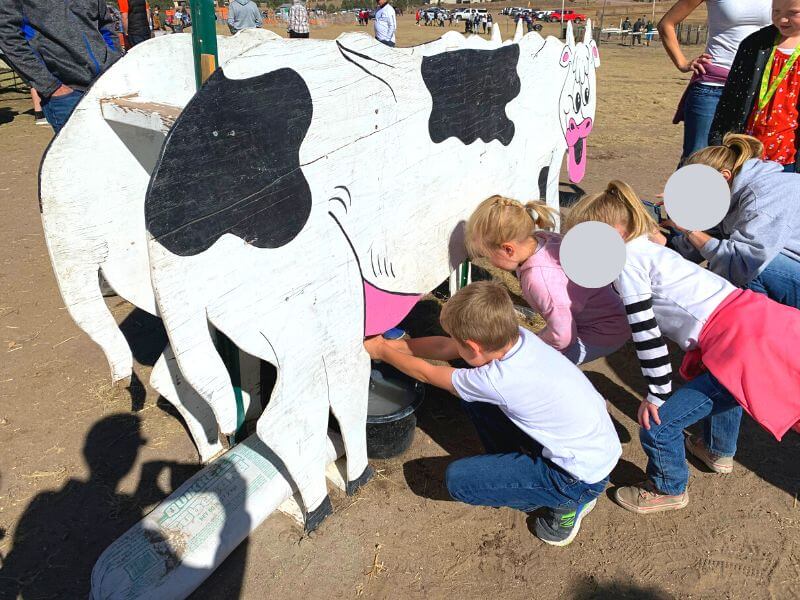 Colorado Pumpkin Patch
18065 Saddlewood Rd, Monument
This fun Colorado Pumpkin Patch is located farther south in Monument. It's a larger patch with plenty of space and plenty of activities.
Enjoy the jump pad, tube swings (my kids' favorite for some reason), hay rides, big slides, checkers, jenga, tic-tac-toe, petting zoo, outdoor laser tag (another of their favorite!), baseball throwing with a radar, corn box, cow train, steer head roping, pony rides ($), kids hay maze, and so much more!
There is plenty to do here to spend all day. Plus, we like that it's more affordable than other patches with so much to do!
Make sure to check out the schedule.
2023 pricing:
$12-$18 general admission depending on when in the season you visit. Extra charges apply for certain activities. (Ninja Nation course, pony rides, face painting). Kids 3 & under are free.
Wishing Star Farm
24024 CO-94, Calhan
Wishing Star Farm Fall Fest is open every day except Mondays beginning in mid-September.
It's home to the largest petting zoo in El Paso County, which is included in general admission.
General Admission also gets you hay rides, barrel train, jump pad, hay slide, fire truck, tire swings, corn bins, frisbee golf, a maze, and more!
Wishing Star Farm also offers pony rides for $6.
They also offer season passes, military discounts, and senior discounts.
2023 Pricing:
General admission: $11 online, $13 at the door. Ages 3 and under are free.
Longneck Pumpkin Farm
7595 California Drive, Colorado Springs
Longneck Pumpkin Farm opens at the end of September and is open Friday through Sundays. They allow visitors based on reservation only, so make sure to reserve tickets online!
Climb the hay bale pyramid to the top of the hay bale slide, swing on the tractor-swing, take a hay ride, play in the corn boxes, enjoy a story in the barn, pump water from the pump, go bowling, have a duck race, ride the pedal karts, go back to childhood with a game of tether ball…and more!
2023 Pricing
Tickets are $17 and must be reserved online. Kids 2 & under are free. Pumpkins, craft items, and food/drink can be purchased on site.
The Best Pumpkin Patches in Colorado
Whether you are looking to pay a la carte or buy a day pass with unlimited fun, there is a perfect pumpkin patch for your family!
These pumpkin patches in Colorado are perfect for all ages. I love how far patches have come, from just picking a pumpkin to now spending hours making memories.
Whether you're looking for a pumpkin patch in Colorado Springs, Denver, or somewhere in between, you'll find the perfect one of this list.
Have you visited any before? Which one is your favorite?