9 Best Places to Visit in Colorado for Summer Vacation
Are you mulling over taking a Colorado summer vacation and unsure if it's a good idea? Spoiler: it's a great idea. I've lived here over 20 years and seen a lot of Colorado (and yet, there's still so much I want to see still!) The hard part is that there is so much to see across the state that you may have to narrow down where to go.
Let's Jet, Kids! uses affiliate links.  As an Amazon (and other networks) Associate, I earn from qualifying purchases.  It is no extra cost to you.  
So here are the best places to visit in Colorado and a quick run down of each so you can choose that perfect Colorado summer vacation. We have personally visited all of them, some many many times. So we know they are a blast!
Table of Contents
Best Places to Visit in Colorado: City Destinations
These stops have both indoor and outdoor fun. But if you want something with more of a city vibe and more indoor options, here are the best places in Colorado to vacation for some family entertainment.
1. Denver
Located: Right off the main highways of Colorado.
About 30-40 minutes from the Denver Airport
Denver is great for families that want attractions that cities offer. Walk through the aquarium for both marine life and tigers and enjoy over 3,000 animals at the Denver Zoo.
But don't leave without stopping at the Denver Museum of Nature and Science. Kids love this place, and I think it's pretty fun, too. Learn about space, gems, ancient Egypt, and check out the new exhibits always rotating through.
You'll also love attending professional sports games or playing your own game at one of the many city parks.
If you're on a budget, you can still enjoy some of the many free things in Denver, like touring the Hammond's candy factory.
You can also get some outdoors time by hiking around the nearby Red Rocks Park and Amphitheater. If you don't mind a little drive, I highly recommend visiting and taking the short hike to St. Mary's Glacier. It's absolutely gorgeous.
Tip: Coming late in the season? Denver has lots of fun events in fall as well.
2. Colorado Springs
Located: 1 hour 9 minutes south of Denver down a major highway and 1 hour and 20 minutes from the Denver Airport
Personally, I love Colorado Springs and would choose it over Denver. It has many of the things Denver offers (one of the top rated zoos in the US), but it also has many interesting and unique attractions.
Colorado Springs makes the list of best places to visit in Colorado because it has such a huge variety of things to do, both indoors and outdoors.
You can head to the Olympic and Paralympic Training Center to watch athletes train, try out some skills yourself, and see past medals.
There are also lots of unique museums. Check out the Rodeo Hall of Fame museum, Pioneer Museum, Ghost Town Museum, Peterson Air and Space Museum, Western Museum of Mining and Industry, and many more! These make for great activities year round.
Just a short drive away are cool attractions like The North Pole amusement park, the Wolf Center, Manitou Springs (with a Penny Arcade and cool castle you can walk through), the Cog Rail up Pike's Peak, or even a train ride through Royal Gorge.
Summer brings plenty of outdoor fun hiking around. Check out fun places to explore outdoors in and near "The Springs" like:
In addition, you'll also find Air Force Academy. Attend a game, enjoy a show at the planetarium, or head to a cool viewpoint on campus.
3. Boulder
Located 35 minutes northwest of Denver, 40 minutes from the Denver Airport
Boulder is a great mix of indoor and outdoor fun.
Walk down the famous Pearl Street where you are surrounded by street entertainers and shopping and dining on a pedestrian-only road.
Visit the college campus which has lots of cool exhibits and things to do, like seeing the campus model made out of Legos or catching a show at the planetarium.
Take a Celestial Seasonings tea factory tour.
Hike around the famous Flatirons at Chautauqua park for some great views of nature and a great view of the city.
Then head up the canyon to Boulder Falls, a short and easy walk to the locals waterfall hangout spot.
Best Places to Visit in Colorado: Outdoor Destinations
Pretty much anywhere in Colorado will give you some epic outdoor adventures. Here are some of the best places in Colorado for hiking, climbing a mountain, chasing waterfalls, and more.
Here are some of my favorite outdoor destinations in Colorado.
4. Telluride/Ouray
Located 6 hours and 10 minutes southwest of Denver
6-1/2 hours from the Denver Airport or 5-1/2 hours from the Albuquerque Airport
Oh, the beauty of these towns! We checked out both of these towns recently and were blown away. These easily make the list of best places to visit in Colorado.
These towns are a little more remote, making them a little less crowded.
Telluride and Ouray are an hour apart, so no matter which one your lodging is in, it's easy to visit the other.
Telluride is a beautiful town with a great, huge park area, quaint downtown, easy hikes to waterfalls, and a free gondola that takes you up to Mountain Village.
You can also hike up to the tallest waterfall in Colorado, Bridal Veil Falls, for an incredible experience.
Ouray is gorgeous in a whole other way. Walk through the box canyon to a roaring waterfall within the walls (it's quite loud right next to it!) Hike the perimeter trail to see everything on Ouray's outskirts, or just pick a waterfall and relax for a while.
Whatever you choose, don't miss the hot springs!
While visiting the two towns, we stayed in Ouray at a great rental right by the river. Ouray is more affordable to stay in.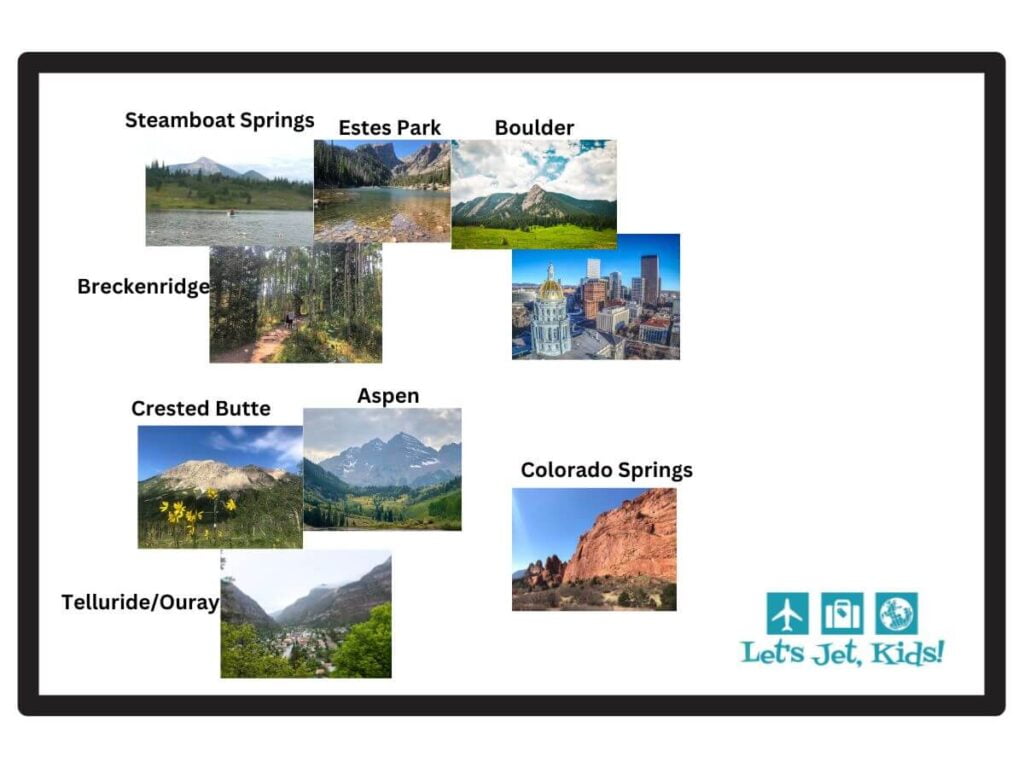 Locations above are relative, not exact or to scale
5. Steamboat Springs
Located 3 hours northwest of Denver
Located 3-1/2 hours from the Denver Airport, or 29 minutes from the Yampa Valley Regional Airport
Our most frequented town we visit is Steamboat Springs. We've easily been here at least 30 times and enjoy each time we go. It make the perfect Colorado summer vacation for families or anyone looking for adventure.
Steamboat has a great set up: head to Walmart if you forgot something. Or go downtown for local shopping and dining.
Enjoy local attractions like bowling, ice skating, the alpine slide, and the cool creek area you can play in at Mount Werner.
Otherwise, enjoy the peace of hiking or biking in the mountains, visiting Fish Creek Falls, taking some easy trails, and relaxing at nearby ponds that surround this gorgeous town.
On hot summer days you can find relief by floating the Yampa River or by visiting one of the beautiful state parks that sit on a lake.
To top it off, this great town has highly rated hot springs that are open year-round.
Steamboat is great for having festivals and events year-round. There is always something fun going on! Summer brings the Pro-Rodeo series, farmer's market on the weekend, 4th of July parade, and more.
And if you are on a tight budget you can still find plenty of fun and free things to do in Steamboat.
We always stay at the Steamboat Grand, the perfect home-away-from-home!
6. Breckenridge
Located 1-1/2 hours west of Denver and 1 hour 50 minutes from the Denver Airport
When people ask where to go, I always mention Breckenridge as one of the best places to visit in Colorado in the summer. The town is easy to get to and tons of fun.
We absolutely love Breckenridge in the summer. It is such a fun town filled with hikes, waterfalls, and even a friendly, giant, woodland troll.
The kids love playing in the water at the plaza and taking the free gondola up the mountain. They also love finding waterfalls that aren't too hard to get to.
Summer temps are bearable since it's high in the mountains. You'll actually want a sweater at night. And definitely something warm if you choose to hike to high elevations, like the nearby 14,000+ foot Quandry Peak.
You can also head to nearby Frisco (very close) to play at Lake Dillon. While you can't get in and swim, they have made a fantastic beach area to hang out on or load your paddle board in.
We love finding new, fun rentals to stay in as well to really soak in those mountain feels.
Breckenridge is a quick drive from I-70, making it accessible but far enough to feel like you've really gotten away. The accessibility just adds to making it one of the best places to visit in Colorado.
7. Crested Butte
Located 4 hours and 10 minutes southwest of Denver
Located 4 hours and 35 minutes from the Denver Airport or 38 minutes from the Gunnison-Crested Butte Regional Airport
Crested Butte is the place I find the absolute most beautiful. It easily became one of my favorite Colorado summer vacations. The mountain peaks all around create an awe throughout the town and the trails are stunning.
Even the parks and playgrounds have these incredible backdrops that make you feel like you are on an artificial set.
We loved hiking to waterfalls, but we especially loved visiting during wildflower season and hiking through the ground cover of flowers. Crested Butte is the wildflower capital of Colorado, and the flowers are thick and colorful in the summer.
One of our favorite stops in Crested Butte was the gorgeous Lake Irwin. Spend a morning on a paddle board just enjoying this gorgeous lake.
We loved staying up in the ski village (our place had an outdoor bar/counter with killer views) which has plenty of great condos and hotels to choose from.
Maroon Bells is Aspen's most famous feature, but my kids loved these ice caves, so I'm featuring them instead 🙂
8. Aspen
Located 3 hours 20 minutes southwest of Denver
Located 3 hours 50 minutes from the Denver Airport or Aspen has its own airport just outside of the downtown area
Aspen well known for being one of the best places in Colorado to visit.
Take the shuttle to the famous Maroon Bells mountains, beautifully situated in front of a lake that's easy to walk around.
Then find other outdoor adventures like mountain biking or hiking on the trails all over town.
Our favorite stop was the Grottos, a cool and easy hike with ice caves (formed by ice) and a beautiful cascade falling down the ground.
We loved staying in nearby Snowmass. Prices here are easier to swallow, it's got a great mountain village vibe (outdoor soccer field amid the shops and hotels free to use and play on!) and great hiking nearby.
9. Estes Park
Located 1-1/2 hours north of Denver and Denver Airport
Estes Park is a fun town, especially if you'd like to see some elk. They are just as at-home as the human residents are.
The reason that Estes Park makes one of the best Colorado summer vacations is that it is the entrance to Rocky Mountain National Park. This is a gorgeous park full of waterfalls, hiking, lakes, and pure beauty. There are plenty of family-friendly trails at RMNP.
Tip: be sure to have your reservation ahead of time in the summer.
Other than the national park, you'll love the aerial challenge course, the tall slides at Fun City, walking around Lake Estes (especially fun if you are staying at the hotel right on the lake), or trying some of the town's taffy.
If you want a really fun, family experience, try staying at the YMCA in Estes Park. We had a blast here rollerskating, playing in the gymnasium, swimming, and doing special events like making bird feeders and learning how to tie different knots.
It really is fun to stay at the YMCA. And while it's fun lodging, it's an experience as well.
Best Places in Colorado to Visit
If you are looking for that perfect Colorado summer vacation, this list is a great place to find it. We've been to all these places and could easily go again for more (and many we have been to multiple times!)
It's hard trying to narrow down the best places in Colorado to visit because there are so many great, beautiful places.
If you want that city vibe and convenience, check out Denver, Boulder, or Colorado Springs.
But if you are coming for a fun Colorado summer vacation to find beauty and outdoor adventure, consider one of the other places on the list. All of them have ample outdoor fun, incredible beauty, and both peace and adventure. That's what makes them the best places in to visit in Colorado!
Want to discover many more places in Colorado? Find what you are looking for by location by clicking here or on the graphic below.