8 Comparisons of Steamboat Springs vs Telluride
Trying decide between visiting Steamboat Springs or Telluride? Both are incredible mountain towns in Colorado, but they are quite different. Are you wanting skiing, restaurants, hot springs, or hiking? Then compare Steamboat Springs vs Telluride to find which is the best fit for your next trip.
Let's Jet, Kids! uses affiliate links.  As an Amazon (and other networks) Associate, I earn from qualifying purchases.  It is no extra cost to you.  
Table of Contents
Location of Steamboat Springs vs Telluride
Steamboat Springs
The airport nearest to Steamboat Springs is the Yampa Valley Regional Airport located 30 minutes away in Hayden.
You can also fly into Denver and drive in.
Steamboat is located about 3 hours away from Denver. To get there, you'd have to take I-70 until you get to the typical ski areas and then head northwest.
After turning off I-70, you'll only really go through one other town (Kremmling). If you need a rest stop, Silverthorne or Kremmling are the places to stop.
If you'd like a more route options with things to do, there are a few routes you can take to get from Denver to Steamboat.
Telluride
The closest airport to Telluride is the Telluride regional airport which is about 13 minutes away from town.
You can also fly into Montrose regional airport which is about 1-1/2 hours away.
The largest major airports are either Albuquerque or Denver. Albuquerque is 5-1/2 hours away.
Denver to Telluride Route (and what to do along the way)
Telluride is about 6-1/2 hours from Denver. To get there, you'd drive past all the resort towns along I-70 and over to Grand Junction, and then head south.
Driving to Telluride has plenty of stops along the way. You'll get a few mountain resort towns right off of I-70. Then you'll pass Glenwood Springs, great for those famous hot springs, in the beautiful Glenwood Canyon. You can also hike the most beautiful hike in Colorado to Hanging Lake.
After Glenwood Springs, stop by Rifle Falls State Park where you can have a picturesque moment by 3 waterfalls falling into lush greenery.
After that, the next notable place to stop is Grand Junction where you can drive through the beautiful Colorado National Monument for grand sites and geology.
As you go through Montrose, you can hit a national park that's not far at all. Black Canyon of the Gunnison is worth a stop to see what is called the "grand canyon of Colorado".
The final town you'll come to is Ridgway. You can stop at the state park if you'd like. Otherwise, this is the best town to get supplies if you forgot anything.
Your next stop will be Telluride.
Ouray Hot Springs near Telluride
Steamboat Springs vs Telluride Hot Springs
Hot Springs are a big attraction year round and there are many all over Colorado. There are a few hot springs nearby each Steamboat Springs and Telluride.
Steamboat Springs
Steamboat is home to Strawberry Hot Springs. They are located about 15 minutes up the mountain from the downtown area. These gorgeous hot springs are provided in a natural setting (and at night, very natural…no kids after dark).
A more kid friendly option for hot springs is the Old Town Hot Springs in downtown Steamboat. These provide a big pool area, play area, and waterslides for the kids to enjoy. This family friendly hot spring in located at the rec center of Steamboat where they also have fitness facilities.
Telluride
There really aren't any hot springs in Telluride, however, there are hot springs in the neighboring town of Ouray.
Ouray is about an hour drive away and is home to a scenic pool of hot spring mineral water. The Ouray hot springs has a few pool options as well as waterslides and an activity pool. This is a fun place for the family to hang out for the day.
Day Trips from Steamboat Springs vs Telluride
Both towns have excellent options for day trips. Here are a few options for both Steamboat Springs and Telluride that have great day trips within about 2 hours.
Steamboat Lake State Park
Steamboat Springs
Steamboat Lake State Park- When staying in Steamboat Springs, a great day trip is going up to Steamboat Lake State Park. Roughly 40 minutes away in the town of Clark is one of the most gorgeous, scenic lakes in Colorado. Hahn's Peak graces the background as you hang out at the swim beach or get your paddleboard out on the water.
Grand Lake– Grand Lake is another popular town and lake in Colorado that's just under 2 hours away. The town is a laid back vibe with great views and water activities. Grand Lake is also the gateway to the west entrance of Rocky Mountain National Park.
Vail- Vail is a popular ski resort that is massive and great for any ability. Whether you take a day trip to ski or a day trip to see the Bavarian Village and walk around in the summer, it's a great stop. It will take just under 2 hours to get here from Steamboat.
Glenwood Springs- Glenwood Springs is just over 2 hours from Steamboat. Here you can find the largest hot spring pool in the world, as well as amazing water activities for the kids. The town also hosts an adventure park, caverns, and the most beautiful Colorado hike to Hanging Lake.
Telluride
Durango– Durango is just over two hours away from Telluride. Once here, you can ride the famous and very scenic Durango-Silverton narrow gauge railroad.
Ouray– Ouray is the perfect day trip as it's only an hour away and packed with fun. Make the easy hike to Box Canyon Falls, check out the Switzerland of America, visit the Ouray Alchemist in town, or see the waterfalls in Ouray. Of course, you should also make a visit to the hot springs. There are many things to do in Ouray to pack into a full day.
Ridgway State Park– Ridgway State Park is just under an hour away from Telluride. This gorgeous park has a lake you can go out on or hang out at the swim beach. Ridgway is covered in colors in the fall.
Silverton– Even if you don't do the railway, you can still visit Silverton. At just under 2 hours away and over 9,000 feet in elevation, this beautiful town is rich in mining history. Roads can close into Silverton due to weather, so it's best to visit during summer if you're planning to drive in during your trip.
Black Canyon of the Gunnison National Park– This incredible national park is 1 of 4 in Colorado. It's steep canyons are breathtaking with the Gunnison River below. Plan about 1 hour and 40 minutes to get there.
Family Activities in Steamboat vs Telluride
Both towns are overflowing with fun family activities. Here is a breakdown of the variety of things to do in Steamboat Springs vs Telluride
Mountain Village near Telluride
Steamboat Springs
Hot Springs– as noted above, there are two main hot springs in Steamboat. Both are great for families, through Old Town may be more family friendly due to the slides and more playful environment.
Hiking– There are so many great hiking trails for families in Steamboat. The hike to Fish Creek Falls is incredibly short, though a little steep. You'll end up at a gorgeous waterfall.
We've found plenty of trails to go on. Though if you want to bring a stroller, you can walk along the paved Yampa trail along the river. This is especially beautiful during fall in Steamboat with the colors along the trail.
Other Activities– Steamboat offers bumper cars on ice, a Pro Rodeo series in the summer, lakes to hang out at, mountain biking, alpine slide, mountain coaster, and other mountain activities. There is a lot going on in Steamboat for the whole family.
Telluride
Telluride is a bit smaller, but still packs in a lot of fun activities for the family.
Hiking– Whether you'd like to hike to a lake or to the tallest waterfall in Colorado, Telluride has plenty of family-friendly hikes.
Mountain Village– Mountain Village is such a fun way to spend the day in Telluride. Walk around the village, play at the bike park, play some disc golf, or go on a story walk. Plus, you can take the free gondola up to Mountain Village from Telluride.
Other Activities- Check out a festival, grab some pizza, hang out at the huge Town Park, hike to a waterfall, go horseback riding, river rafting, and so much more. Telluride is full of fun activities for kids and adults alike. (They've got some great fun winter activities as well).
Steamboat Grand Hotel
Lodging in Steamboat Springs vs Telluride
Both towns have amazing lodging options, or simple places to check out.
Steamboat Springs
Our favorite place to stay in Steamboat Springs in the Steamboat Grand. This is one of the largest hotels in town and can accommodation huge groups with multiple-bedroom units. It's walkable to the Steamboat Ski Resort and has great amenities like a fitness room, steam/sauna, pool, hot tubs, and a gorgeous lobby area.
You can also check out the classic Rabbit Ears Motel, a more affordable option right in town.
For rentals, there are a lot of awesome places that can fit the family comfortably.
Telluride
Telluride has a lot of great places as well, though it's a lot harder to find something on the affordable end.
The top hotels in Telluride are the Fairmont or the Madeline, both of which are beautiful hotels up in Mountain Village and have easy access to the slopes.
Down in Telluride, the top rated hotel in the Camel's Garden hotel. While still not affordable, it's much more budget-friendly than the other hotels but still rated highly.
To really get more budget friendly options, it's actually better to stay over in Ouray. It's an hour away, but can really help if you're trying to stay on budget.
Hot Air Balloon Festival in Telluride
Festivals and Events
Whether you head to Steamboat Springs or Telluride looking for a festival, there is no shortage in either town.
Steamboat Springs
The top festivals in Steamboat Springs are all over the calendar. So no matter when you go, you'll be able to catch something fun.
February brings the Winter Carnival when the main street is closed and packed with snow. Onlookers can watch unique snow events during the day and the Lighted Man covered in lights, sparklers, and roman candles shooting off at night skiing down Howlsen Hill.
April brings the Cardboard Classic where contestants have to build a sled made of cardboard.
July brings an impressive 4th of July Parade and events like a pancake breakfast.
January hosts a music festival, The Festival of the Arts shows up in August, and the Food and Wine Festival appears in late Septmeber and early October.
Telluride
Telluride is known for its popular Bluegrass Festival in June each year. People travel from all over to see music artists on stage, some new and some well known.
June also brings the Hot Air Balloon Festival where you can watch balloons launch in the morning and glow along Main Street at night.
August brings a Jazz Festival and early September draws many people in for the Film Festival.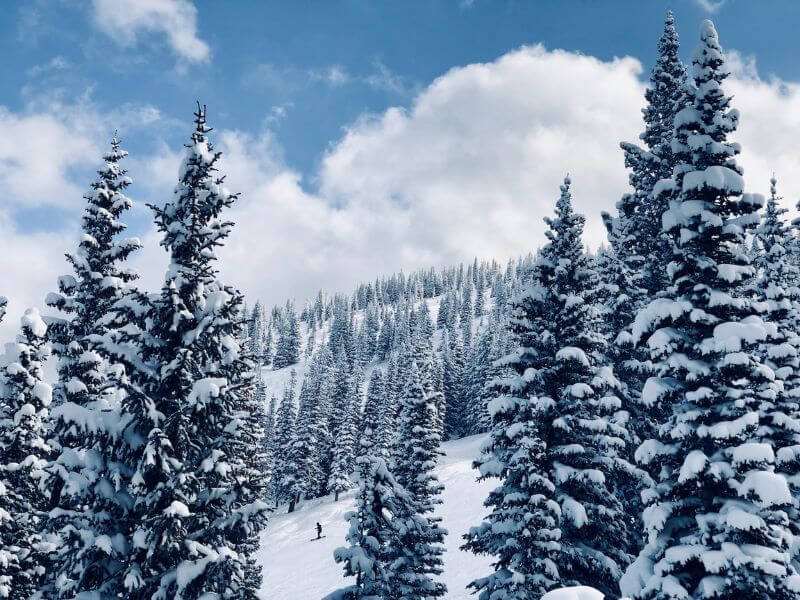 Steamboat Ski Area
Skiing in Steamboat Springs vs Telluride
For the skiers who are looking for the perfect location, you can compare Steamboat Springs and Telluride to see which resort is a better fit.
Steamboat Springs
Steamboat Springs is a larger ski resort than Telluride. It has 18 lifts and 165 runs in nearly 3,000 acres of Terrain. Steamboat, on average, gets more snow than Telluride at 286″ per year.
Steamboat also offers night skiing on certain days.
A lift ticket to ski Steamboat costs anywhere from $102 to $238 depending on the day.
Runs here provide plenty of easy, intermediate, and advance trails, great for families needing different levels.
New to skiing? Steamboat also offers ski school.
Telluride
Telluride is smaller. Though it has 19 lifts and 149 runs, it comes in at 2/3 of the size of Steamboat at 2,000 acres of terrain. While they still get plenty of snow, they average about 280″ per year, about the same as Steamboat.
Night skiing is not offered at Telluride.
Lift tickets to Telluride cost starting at $160 but can reach over $200 on peak days. Telluride is included in the Epic Pass.
Ski runs at Telluride provide a variety for different levels, though overall, Telluride is known as having steeper runs than Steamboat.
Telluride also offers ski school.
Downtown Telluride
Overall Feel of Steamboat Springs vs Telluride
Steamboat
Steamboat Springs is a nice mountain town that comes with mountain town prices. You'll find nice hotels and million dollar homes, as well as trailer homes.
If you are wanting larger conveniences, Steamboat Springs is the best choice. In Steamboat, you get two full grocery stores (City Market and Safeway), plus a Walmart (with a small grocery section as well).
You'll also get a Walgreens just outside of downtown and a soda shop convenience store in town. The edge of downtown has a great park with shaded areas and a large playground. It's easy to access the trail along the river here.
Steamboat Springs also has a full and highly rated hospital, the Yampa Valley Medical Center which has a level III trauma center. There are also a handful of Urgent Cares to choose from.
The downtown area is the hub with shops and restaurants, Howlsen Hill with biking, skiing, an arena, and ice rink.
When comparing Steamboat Springs vs Telluride in general feel, Steamboat is a larger town with more conveniences nearby.
The town has 2 public high schools, with the main school serving over 700 students.
Out of town on one side takes you to the regional airport and out of town to the other side takes you through Rabbit Ears Pass.
Telluride
Telluride is a beautiful mountain town with a mining history. The town is more expensive than Steamboat Springs and filled with celebrity name drops, either by visiting or having homes there.
Telluride is a smaller mountain town with plenty to do, but less main amenities than Steamboat.
Telluride has a few grocery markets, though none are quite as big as a supermarket you may have in a larger city.
There is a hospital, the Telluride Regional Medical Center, just a few blocks off of the main street (Colorado Ave). It offers level V trauma care.
There is one high school on the end of town which serves just under 200 students.
Telluride has a main downtown area with shops and restaurants. Town Park is located at the edge of town. Here, you can participate in many activities, go ice skating, fish at the pond, play at the playground, attend a festival, or even reserve a camping spot.
Heading out of town one direction will take you toward Mountain Village and toward Ridgway. The other side of town will take you to Bridalveil Falls and beyond to Black Bear Pass (not for regular vehicles or winter driving).
Telluride has a smaller town feel than Steamboat. It's a bit more remote as well.
Comparison Chart
FAQ Steamboat Springs vs Telluride
Which is better, Telluride or Steamboat?
If you want a quaint, remote mountain getaway, Telluride is better. If you want an easily accessed getaway with all the comforts of home in a smaller size, Steamboat is better.
Does Telluride have Hot Springs?
Telluride does not have hot springs, but you can make an easy drive over to Ouray an hour away. Ouray has a great town hot springs with slides and activities, or an adults only pool.
Steamboat Springs vs Telluride Wrap Up
If you ask my kids which town they like better, they instantly say "Steamboat wins." They love going to the park, easy hikes, and going to the fun kid stores in the downtown area. We've also been there many more times than Telluride, so that could affect their decision as well.
So to make you decision between Steamboat or Telluride, you may need to consider all of the comparisons above.
Are you looking for a quaint getaway in a nice town? Telluride might be best. Or are you looking for a quicker getaway with all the conveniences of home? Then Steamboat is the right choice. Both towns are amazing when you compare Steamboat Springs vs Telluride. It just depends on the type of experience you are looking for.