What to Expect at Poas Volcano National Park – Costa Rica
Costa Rica is filled with over 60 volcanoes. There are so many cool ones you can see up close. Poas Volcano National Park is a great place to experience the top of a volcano up close. Here's everything you need to know about visiting Poas Volcano National Park.
Let's Jet, Kids! uses affiliate links.  As an Amazon (and other networks) Associate, I earn from qualifying purchases.  It is no extra cost to you.  
First, know that the park is technically called Parque Nacional Volcán Poás. For the sake of this post, I'll refer to it as Poas Volcano National Park.
How Much Does it Cost to Visit Poas Volcano National Park
We visited Poas Volcano National Park in June 2022. At that time, the prices were $15 per adult and $5 per child. If you are a resident of Costa Rica, prices are much cheaper.
How to Purchase Tickets for Poas Volcano National Park
You MUST purchase tickets ahead of time onine and show your reservation at the entrance. If you do not have a reservation, they do not let you in.
Luckily, my husband had a signal on his phone that we could get on and (ever-so-slowly) purchase tickets. Many other people there weren't so lucky as a signal is tough to get up in the park.
First you must register an account with the Costa Rica national park service. Then you can log in and purchase tickets for whatever park you are visiting.
I recommend making your account NOW. It will save you a lot of time.
>>>Create your account HERE.<<<
Then, any national park in Costa Rica you'd like to visit will be easier to purchase tickets for when you're ready.
Heading to La Fortuna? Check out this awesome, hot springs resort (that's more affordable!)
What to Expect at Poas Volcano National Park
Mandatory Safety Presentation
Once you have your reservation set, drive into the park and park in the parking lot.
Someone will help guide you to where you need to be before heading to the volcano.
You must first get a hard hat. Then, you'll go into a large room where they will show a video of safety guidelines.
It basically says you need to wear a hard hat and where safety shelters are in case the volcano acts up.
Walking to the Volcano
When the presentation is over, you can exit through the door up front and start your walk to the volcano.
The walk is really easy. There is a paved trail that takes you right to the volcano viewpoint. It takes about 10-15 minutes with kids.
Even if it's rainy, you can still enjoy that beautiful, massive foliage.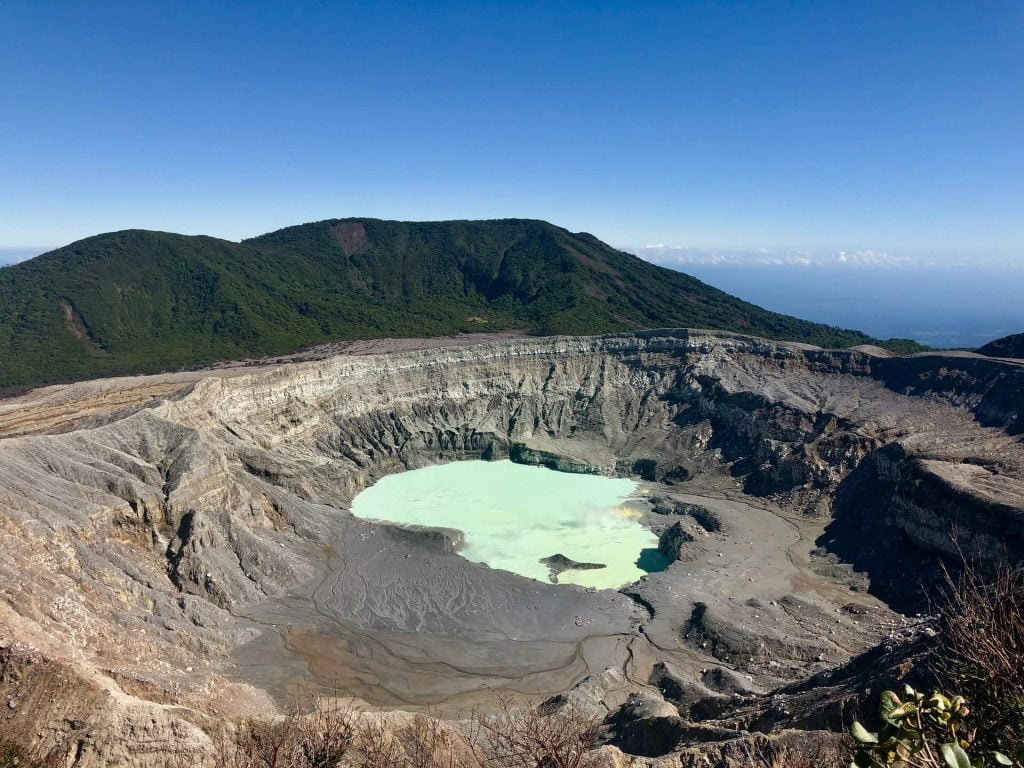 Poas Volcano on a clear day, Photo by Manfred Madrigal on Unsplash
Poas Volcano on a cloudy, rainy day.
Can you See Poas Volcano?
This is a hard question to answer!
On a clear day, yes! You can see the crater with the small lake inside. And it's quite a site (or so I hear…)
On a cloudy and foggy day, nope. Not a thing.
The thing about Poas Volcano is that one minute it can be clear, and the next it is covered in a blanket of fog.
When we arrived, the guy at the entrance checked his camera and told us it was clear. We were so excited!
By the time we parked, did the presentation and began our walk, it was pouring rain. Pouring rain. We got to the volcano and we couldn't see 10 feet beyond the viewpoint.
---
I highly suggest bringing some ponchos!
---
Everyone agrees that if you can't see the volcano, just wait a few minutes and maybe it will clear. This is true; however, another part that makes it tricky is you are only allowed to stay at the volcano for a maximum of 20 minutes.
Just maybe that is enough time for it to clear. But maybe not.
I would LOVE to know if you get to see Poas Volcano on a clear day!
---
Check out these fun Coloring Pages around Costa Rica!
---
Facilities at Poas Volcano National Park
Close to the parking lot is the main facility building for Poas Volcano National Park.
The first floor has the presentation room. Upstairs is a gift shop and cafe.
This area also has real bathrooms. One is right outside the safety presentation room on the first level. The other is in the gift shop on the second floor.
Poas Volcano National Park
So do you think you'll take the risk and visit Poas Volcano National Park in Costa Rica?
There's a good chance it'll be foggy. But if you make it to the crater on Poas Volcano on a clear day (or rather, a clear moment!), it seems so incredible!