Salto de Gamalotillo- Awesome Swimming Hole in Costa Rica
While we were staying in Bejuco, we had a day with not much planned. We had already spent a day in Manuel Antonio and wanted another adventure before we commenced our beach days. That's when I saw that Salto de Gamalotillo was nearby, a cool waterfall and swimming hole in Costa Rica.
Let's Jet, Kids! uses affiliate links.  As an Amazon (and other networks) Associate, I earn from qualifying purchases.  It is no extra cost to you.  
This was easily one of our favorite places to hang out during our family vacation to Costa Rica. Here's why we loved it so much.
What is El Salto de Gamalotillo?
El Salto de Gamalotillo is a pretty incredible waterfall and swimming hole in Costa Rica. It is frequented by locals but also encouraged for travelers to stop by.
Of all the waterfalls you could swim at in Costa Rica that we went to (La Fortuna Waterfall, Llanos de Cortez, and others), we liked this one the best.
"Salto" means jump, so if you are into waterfall/cliff jumping, you can do so here. (Please read below for instructions and safety for jumping this waterfall.)
We love visiting waterfalls wherever we travel. While we were staying in Bejuco, I was surfing through Google Maps to see what was nearby and this waterfall showed up, and it didn't look too far away. So we decided to give it a try.
Where is this Swimming Hole in Costa Rica?
El Salto de Gamalotillo is located just south of Bejuco and north of Quepos. From Jaco, it's about an hour. From our rental in Bejuco, it was about 40 minutes. As you'll find about driving in Costa Rica, it doesn't take long to get there because it is far. It takes a while because of the types of road you drive on are a little rough.
It's pretty convenient to visit El Salto de Gamalotillo if you are staying in Manuel Antonio or if you stay in Bejuco.
This swim hole is between Jaco and Manuel Antonio, so if you are going from one to the other, it would make a great stop.
In Google maps, you can type "Catarata el Salto Gamalotillo" and it should mark it and guide you right to it.
---
From Jaco/Bejuco, you'll take the main highway (34) to road 234. Turn left at 234 and drive a ways.
Eventually you will turn left (pictured below). If you are watching, you'll see a sign for El Salto. Stay on this road of rock, then pavement, then cement until you come to the gate.
---
Yes, there are times you may wonder if you are going the right way because it gets isolated, but Google didn't fail us.
The road changes from pavement on the main highway to dirt and gravel and potholes pretty quickly once you turn off the highway.
It switches back and forth between pavement and gravel/dirt.
At one point we were on cement, but a rock slide had covered about 1/3 of the road.
Just be prepared for anything. I recommend a 4×4, but a sedan could probably make it with some effort.
When you've arrived at Catarata el Salto de Gamalotillo, there will be a large gate on the right. There was a red banner hanging on the fence to mark the location.
Just drive through the gate and you'll see a few parking spaces not far up the road.
Someone will probably come out and guide you to a spot.
The Staff at Salto de Gamalotillo
From the moment we parked to the moment we pulled out, the staff was just so genuine and friendly!
The woman at the front desk spoke to us for a while, being patient of our Spanish, and happy to chat.
Later, we met the owner of El Salto de Gamalotillo. She is a very friendly woman who came to Costa Rica and bought the land that Salto de Gamalotillo sits on.
She told us a bit about how she decided to buy the land, what updates she's made, and other things.
But the thing I loved most is her vision:
Hanging Out at Salto de Gamalitillo
Salto de Gamalotillo is already a beautiful local hangout. Travelers also stop by to enjoy the special gem. The owner purchased the property in 2020 during Covid. Since then she has added benches, hammocks, a tent so people could change in/out of swimsuits, and (my kid's favorite) a tire swing.
She envisions Salto Gamalotillo as a place people can come barbecue or pack a picnic, eat at the little tables, rest in the hammock, swim in the water and really just hang out for the day.
She is in no rush to push you through quickly; she'd actually really like you to find a relaxing, fun-filled day here.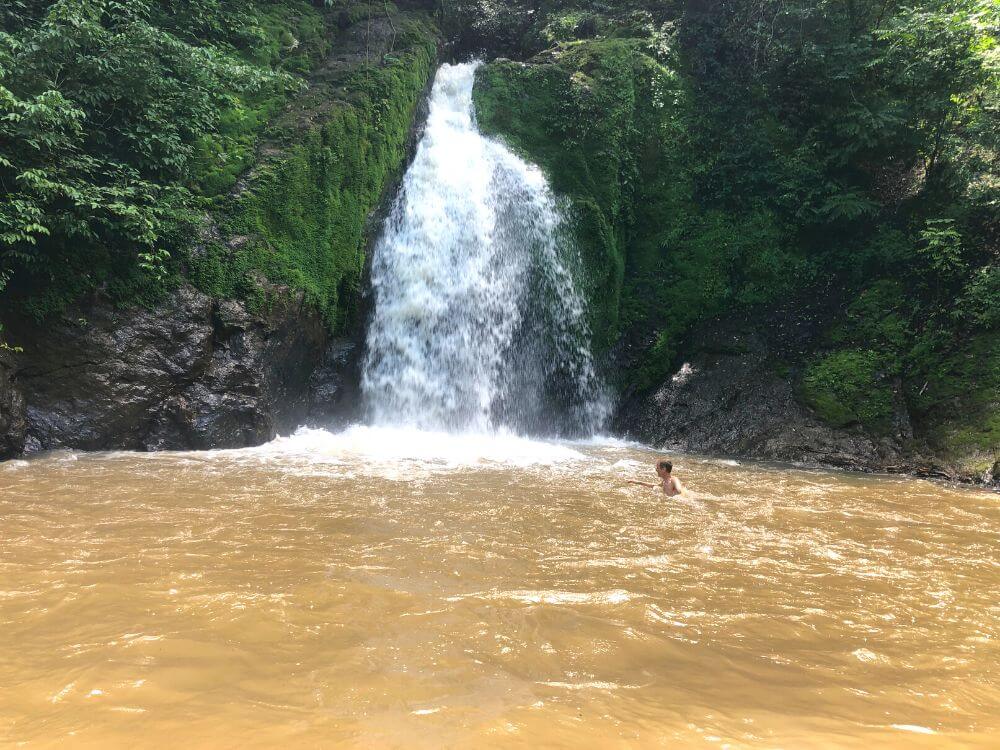 The water in the swim hole stays shallow for a while, so there is plenty of space for kids to play. And while it may look brown and dirty at first glance, you'll quickly realize it's actually quite clear.
We probably hung out here longer than any other waterfall we visited because it was so easy to stay a while. This was our favorite swim hole to visit in Costa Rica!
Entrance to Salto de Gamalotillo
Catarata ("waterfall") Salto de Gamalotillo is open daily from 8am to 4pm.
Prices for travelers/foreigners are 3,500 colones for adults, and half-price for kids 3-12. You will need to sign a liability waiver to enter.
There is a booth right as you park to take payment. A few steps away from that is a (legit) bathroom.
The Hike to Gamalotillo
First and foremost…WEAR BUG SPRAY
After you pay, you'll walk along a gravel/dirt road, in the shade of the trees, for about 5 minutes. It's a super easy walk that kids of all ages can easily do.
I recommend closed-toed sandals, as you can really use these everywhere in Costa Rica, especially on really rocky trails. They are sturdy, yet if/when your feet get wet, it won't be too uncomfortable. Flip flops would probably be fine as well on the walk to the waterfall.
Keep an eye out for animals as you walk. The owner showed us a few exotic birds on our way, high in the trees.
Hiking at Salto de Gamalotillo
Flip flops will not work if you want to hike around the trails beyond the waterfall.
They are a bit steeper and more technical. I hiked up a couple for a shorter distance just to see the view from the top of the waterfall.
My son ran after me to the top of the waterfall (9 years old and I wouldn't let him come close to the waterfall area…very slippery!), but I would not have brought my younger kids. The trail gets steep, has some steps (both built and natural), narrow, and can be very slippery.
Besides heading to the top of the waterfall, you can also take trails to other waterfalls and pools on the property, just follow the sign for "pozas/pools". They say it takes about an hour to do so. Again, I wouldn't take my kids on these trails, though.
Cliff Jumping at El Salto de Gamalotillo
As mentioned, you will have to sign a liability waiver upon entrance. It's probably for this part 🙂
If you are into cliff jumping, this is a great place.
Hike up the trail that is marked "Catarata". This will lead you to the top of the waterfall. The terrain is a bit sketchy at the very top next to the falls.
Up there, you'll see some ropes you can use.
Or to jump, we were told to make sure to jump into the white water below. It is deeper there.
Then make sure to swim out, not up as you start to emerge.
Visiting El Salto de Gamalotillo- cool swimming hole in Costa Rica
Our family loved hanging out at this fun swimming hole in Costa Rica. It felt like an authentic experience of just loving and appreciating nature and the beauty that Costa Rica offers.
We loved the staff and especially love how easy it was to set our stuff down and hang out for a while.
This was one of our favorite things to do in Costa Rica and I highly recommend it for any family traveling there.
Are you a cliff jumper? Would you take the plunge here? Comment below and let me know if you'd dare!
Check out these Coloring Pages around Costa Rica (featuring a page from Salto de Gamalotillo!)