Hyatt Ziva Puerto Vallarta Review and Why It's Amazing
If you are looking for a great all-inclusive in Puerto Vallarta for the whole family, look no further! If you are looking for Hyatt Ziva Puerto Vallarta reviews, here is one. And it is shining.
Let's Jet, Kids! uses affiliate links.  As an Amazon (and other networks) Associate, I earn from qualifying purchases.  It is no extra cost to you.  
We stayed at the Hyatt Ziva All-Inclusive in Puerto Vallarta and I would stay there a hundred more times. I am a big fan of all-inclusive when you are visiting somewhere that you just want to relax. It's nice not having to load kids in and out of the car at every mealtime. This is by far one of the best Mexico all-inclusive resorts we've been to. (Here's the other one on top of our list)
What is the difference between Hyatt Ziva and Hyatt Zilara?
Simply put, the Ziva hotels are are more suitable for families as they allow children. Hyatt Zilara hotels are adults-only.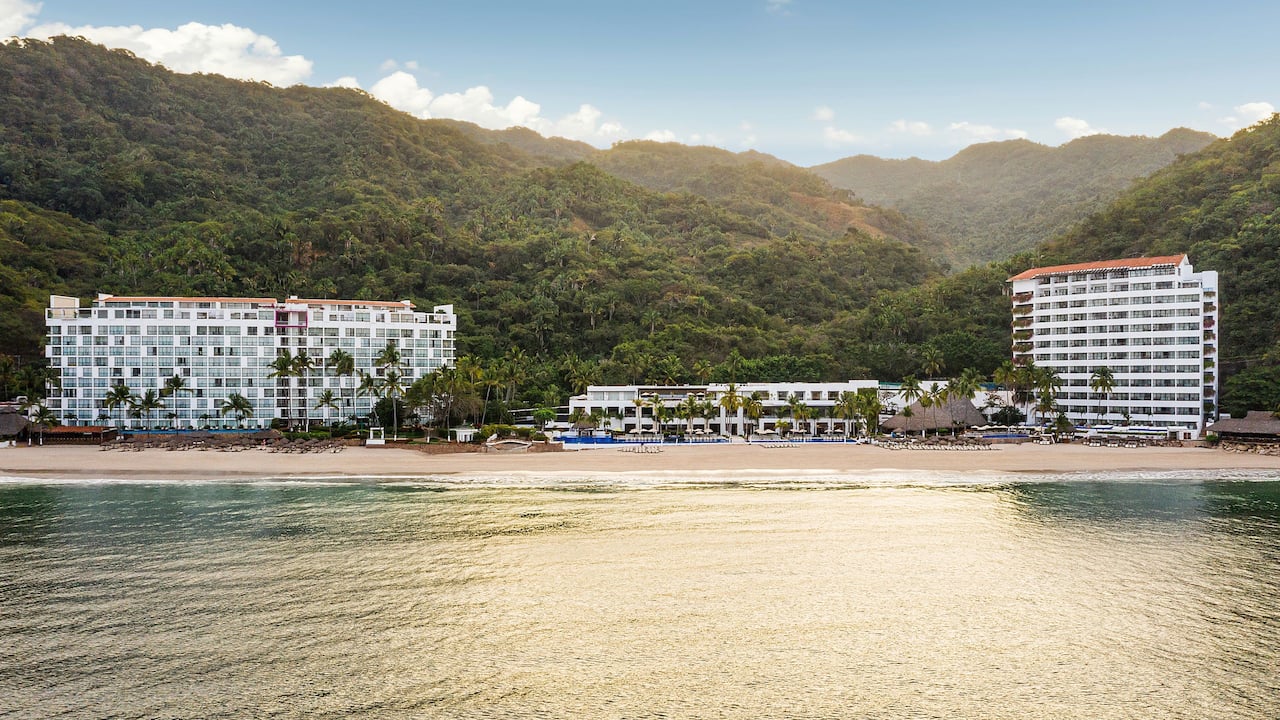 Photo from Hyatt, used with permission
Click picture below to go to booking info
Is Hyatt Ziva Puerto Vallarta in a Good Location?
The Hyatt Ziva Puerto Vallarta hotel is set between two tall rock formations/mountainsides, so the privacy is unmatched. It makes it feel a little more secluded and intimate.
This hotel is not located in the downtown area. It's located in the south shore hotel area, about 20-30 minutes away from downtown Puerto Vallarta.
Malecón, the popular boardwalk featuring art and statues, is about a 12 minute drive in Zona Romántica.
Playa las Gemelas is also about 12 minutes away.
The airport for Puerto Vallarta is about 40 minutes away.
We personally loved having a quieter setting to enjoy our vacation in Puerto Vallarta.
---
Want to be closer to (or IN) town? Check out these top hotels in Puerto Vallarta:
Villa del Palmar Beach Resort and Spa
---
Overview of the Grounds: Hyatt Ziva Puerto Vallarta Review
There were two buildings with rooms and the main building right in the middle with check-in, the buffet restaurant, fitness center, doctor, gift shop, coffee shop, etc.
The gardens and landscaping are just beautiful here and very well-tended. The beach is great and, as mentioned, has a beautiful backdrop on the sides (we even took some family pictures using the rock and beach background!) The location makes the perfect spot for an all-inclusive in Puerto Vallarta.
Kids Club at Hyatt Ziva Puerto Vallarta
I can't personally speak to the kid's club as my kids don't typically want to go to any kids clubs when we travel.
But we did walk by the kids club on our way to different activities and it looked like a fun place.
The kids club offers programs that you can pop into a la carte, or have your child spend the day at.
One cool offering, if you are visiting at the right time, is a seasonal sea turtle release program at the kids club!
Pools and Entertainment
The Hyatt Ziva hotel had a few pools. I don't think we even saw them all. They weren't huge, but since there were a few and we were there during rainy season, they were never very crowded.
There was a kiddie size pool, and nearby was the infinity pool. There was also another pool that was a little more removed from the main area (but not far) for a quieter experience.
What makes this Mexico all-inclusive so great? It's not just the beautiful property and pools. They've got top notch entertainment as well.
Here's the fun part of this Hyatt Ziva Puerto Vallarta Review: Nightly Entertainment. There was such a great variety that we really enjoyed each night. It had a variety of water tricks, flame jugglers, a Mexican night with food and mariachi, and other great events that both adults and kids found highly entertaining.
The Beach Area at Hyatt Ziva Puerto Vallarta
Is the Hyatt Ziva Puerto Vallarta Beach Swimmable?
Yes! You can definitely get in and play in the waters at this Hyatt Ziva. We didn't go super far into the waters with the little kids, but we felt safe enough to wade and play in the waves.
As adults, we did go in farther past the wave break to float through the ripples.
Beach Vendors at Hyatt Ziva
A few vendors roamed the beaches, selling jewelry, blankets, and hats on the beach of Hyatt Ziva Puerto Vallarta. There were also some tables set up for selling souvenirs on the property. It was nice to have some selection of souvenirs, but not overcrowded with vendors either.
Activity Vendors on the Beach – snorkeling at Hyatt Ziva Puerto Vallarta
One guy on the beach was set up with a poster of a snorkeling tour to Los Arcos, not far from the hotel. He charged one price (around $100) for the whole family to hop onboard and take us out to Los Arcos with some snorkels.
Since there is no dock at the hotel, we had quite an interesting and memorable time getting to the boat, which he had to have anchored in the deeper part of the ocean past the wave break.
He threw the littlest kids on his shoulders and took the brunt of the wave to get them safely on the boat. Some of the adults didn't get there as gracefully, but it was pretty comical and a really fun memory we have now.
Down by Los Arcos, we swam through the rock formation and around it, where we saw plenty of "Dory" fish, as well as a stingray! The littlest kids stayed aboard the boat and even from there you could see the fish. The older two gave snorkeling a try for their first time and did so great! We were glad we did it and that it didn't come at a premium price!
How is the Beach at Hyatt Ziva Puerto Vallarta?
The beach back at the hotel was great. We brought some boogie boards to play in the ocean with and the kids had a blast riding the waves in. We also just went out into the ocean to float over the large ripples.
Is the Food at Hyatt Ziva Puerto Vallarta Good?
This is another favorite part to remember in this Hyatt Ziva Puerto Vallarta Review.
We remember the food very well. It was some of the best food we've ever had on vacation. We still, years later, talk about the Mexican restaurant and how good it was. And the servers were all so friendly and generous, bringing us appetizers we didn't even order because they thought we might like it! And we very-much DID like it!
If you're looking for all-inclusives with the best food, Hyatt Ziva ranks at the top.
Each afternoon a snack cart rolled out. My kids' favorite was the mango-on-a-stick. Conveniently cut, this mango is peeled and stuck on stick for easy eating. It's oh-so-ripe and juicy, too!
A cart of cut-up mango on a stick came out to the pool everyday
Final Thoughts on Hyatt Ziva All Inclusive Puerto Vallarta Review
We would definitely stay at this Hyatt Ziva again. It's somewhat of a new standard we set our planning to now. It had the best all inclusive food we'd ever had.
If you're looking for the best Mexico all inclusives, Hyatt Ziva Puerto Vallarta does not disappoint. Great food. Great staff. Great location and property.
Does Hyatt Ziva Puerto Vallarta look amazing to you? Was this Hyatt Ziva Puerto Vallarta review helpful?
Check out more All-Inclusive Resorts in Mexico
The Royal Haciendas Playa del Carmen- a very favorite!
Wyndham Alltra Cancun- why we dream of going here
Viva Wyndham Maya Playa del Carmen- a great affordable option
Sunscape Akumal- an honest review
Save this to Pinterest!
Pin the above Hyatt Ziva Puerto Vallarta review!