Perfect 4 Day Cancun Itinerary for Families (Activities IN Cancun)
Mexico is always a good idea. We love heading to Mexico for its beautiful beaches, warm temps, and affordability (relative to other beach destinations!) Many people head to Cancun, so if that's your plan this year, here is a 4 day Cancun itinerary for families. It's full of fun things to do in Cancun that the kids and adults will both love.
Let's Jet, Kids! uses affiliate links.  As an Amazon (and other networks) Associate, I earn from qualifying purchases.  It is no extra cost to you.  
While many Cancun itineraries make day trips of activities to other cities, everything in this itinerary are fun things to do in Cancun (except the cenote) so you don't spend all day in the car. Plan to spend an hour or less getting to these fun attractions. And enjoy your 4 days in Cancun!
(If you'd like to branch out of the Cancun area more, check out the top excursions to do in the Riviera Maya with kids)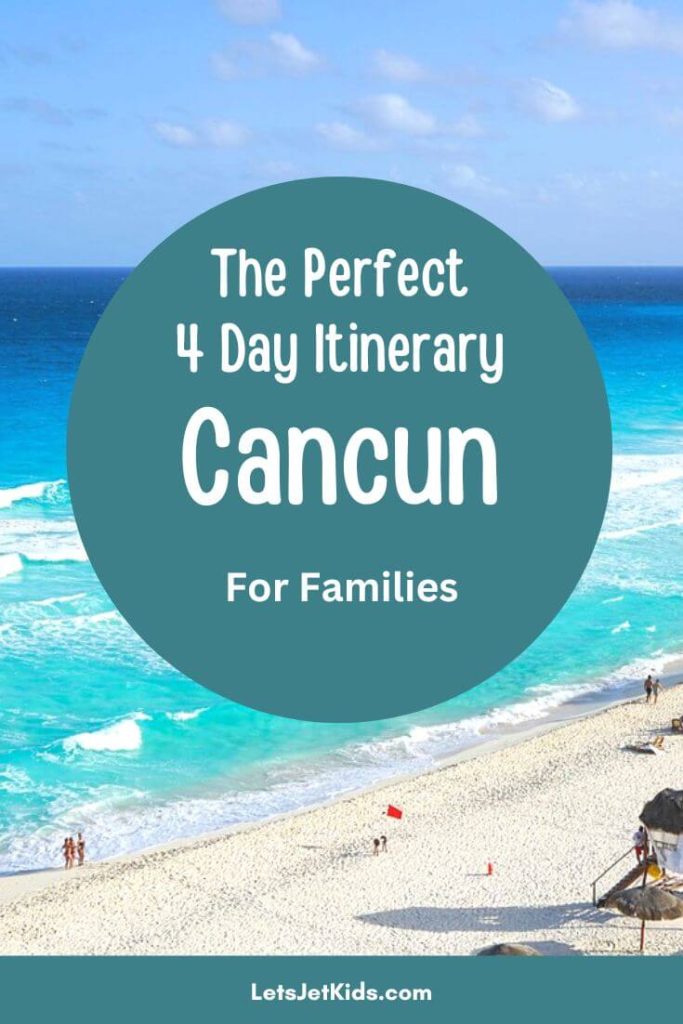 Table of Contents
A Little About Cancun
Where is Cancun? Cancun is located in the Yucatan Peninsula of Mexico. It is part of Quintana Roo.
Cancun is a popular family destination, honeymoon spot, and spring break getaway. Really, it's a great place for everyone.
When is the Best Time to go to Cancun
While I would say "it's always a good time for Mexico," there are a few factors that may impact your decision on when to book your trip to Cancun.
Sargassum Seaweed
People are becoming more and more aware of the seaweed infestation that plagues Cancun. While the seaweed can appear seasonally, July and August seem to be the worst months of seaweed-covered beaches.
Temperatures in Cancun
Cancun always sees highs in the 80s and 90s. The 90s start to creep in in May, making a full appearance by July, August, September. It is hot in summer. If you visit in summer, you're going to want to make sure you have plenty of water activities planned.
We've been a few times in summer. Walking through ancient ruins sounds like a great idea, but we (especially the kids), don't last long when it's in the high 90's.
What Airport is Near Cancun?
Cancun has an airport very close: the Cancun International Airport (code CUN). Cancun is so popular that you can actually find direct flights from many cities in the USA.
From the airport, it's 30 minutes or less to arrive at your hotel in the Cancun Hotel Zone.
Where to Stay in Cancun with Kids
The Hotel Zona (Zona Hotelera) is the most popular place to stay in Cancun. There are so many options to choose from, and the majority of hotels are all-inclusive. This means that your stay, food and drinks, and many activities are all included.
Most even have a Kids Club that is free for kids to attend (though babysitting will cost extra).
Here are some of the best resorts in Cancun to stay at with kids:
Garza Blanca – Luxury Garza Blanca is a top rated all-inclusive resort in Cancun for families. You can book a room that has up to 3 bedrooms within, making it perfect even for larger families. The downside is it's not all-inclusive. But if you like to travel in luxury, this is the place. It's located in Punta Sam, which is the very southern part of the Cancun strip.
Villa del Palmar– Space this one IS all-inclusive, plus you can book suites with up to 3 bedrooms, leaving plenty of space for the family. The kids will love kayaking, snorkeling, kids club, and the kid's pool. You'll get 6 restaurants onsite to choose from.
Wyndham Alltra – Fun Previously Panama Jack, the Wyndham Alltra is a perfect all-inclusive for families. You can sleep up to 5 in certain rooms. The kids club is colorful and fun, but the kids will love the outdoor kids pool area with slides and toys. The only downside here is that many rooms are non-refundable, so book if you're certain! (I'd love to visit Wyndham Alltra, here's why)
Moon Palace (Grand) – SUPER FUN Moon Palace is not within the Hotel Zone. It's more on the main land south of Cancun. But it is consistently one of the most recommended all-inclusive hotels for families. Moon Palace has a children's pool, a playground, 11 restaurants, 9 pools plus a lazy river, waterpark, theater, indoor play climbing area, ropes course AND MORE. It's a total fun-zone inside and out. It even has swim-up suites. So basically it has everything.
4 Day Cancun Itinerary for Families
As I said, all these fun attractions are within an hour of Cancun (the city, not necessarily the hotel zone). Actually, all except one are in Cancun. The only exception is the Cenote, which is just south. I planned it this way so you won't be in the car/shuttle all day long and really can make the most of your 4 days in Cancun!
Day 1 of the 4 day Cancun Itinerary with kids
Spend the morning at Playa Delfines
Playa Delfines is a beautiful public-beach in Cancun. It's free to visit, though there are food, chair, and souvenir vendors to help your experience, so you may want to bring some cash.
Enjoy the white sand and blue waters for the morning. There are bathrooms and showers on site, if needed.
Playa Delfines is located just south of the Hotel Zone.
El Rey- Achaeological Site
After the beach, head just across the road to the El Rey Archaeological Zone.
Here, you'll find Mayan Ruins from 800 years ago. These ruins are a smaller cousin to the greater Tulum Ruins, but the Tulum Ruins will take up to 2 hours to get to, so these are a good alternative so you don't have to go far.
At El Rey, you'll find two main platforms, temple columns, palaces, and more among the ruins.
There are actually quite a few ruins and structures to see at El Rey. If you have only 4 days in Cancun, this is a great stop and saves time from driving down to Tulum.
As mentioned in the weather section above, it can get really hot if you choose to walk through the ruins during the hot summer months. It's not impossible, of course, but make sure you bring plenty of bottled water, hats, and sunglasses for everyone. This will make the experience so much more enjoyable.
Entrance into the ruins is around $4/per person.
Museo Maya
After exploring through El Rey, take the short drive (a couple minutes) north to Museo Maya. This museum has exhibits featuring Mayan history, which will be more appreciated after seeing Mayan ruins in real life.
You'll get to see key pieces that have come from other archaeological sites like Comalcalco, Chichen Itza, and Palenque.
Closed Mondays; Admission is around $4
At this point, head back to your hotel and get dressed for a fun, unique dinner!
Xoximilco dinner in Cancun
Book a Xoximilco dinner ahead of time for the family dinner tonight.
At Xoximilco, you'll be eating on the canals of Cancun aboard a gondola. You'll get a 3-course meal, unlimited tequila/beer or sodas, and live mariachi bands all night.
This is a fun family experience where you'll sit with up to 20 people on each boat.
Xoximilco is on the mainland, about 5 minutes south of Moon Palace.
Day 2 of the 4 day Cancun itinerary with kids
Puerto Maya Cancun
Located on the southern end of the Hotel Zone is Puerto Maya and this fun outing will give your family a great day in Cancun.
This tour will take you through the beautiful Nichupte Lagoon. You'll get to snorkel among the beautiful fish and sea life in the second largest reef in the world. You'll also get to drive a speed boat and walk through a little jungle area.
When you're finished, enjoy the included lunch.
Plenty of families have done this excursion and highly enjoyed and highly recommend it!
Transportation not included, but you can add on hotel pick-up from the hotel zone for a small fee.
Head back to the hotel and have some beach time before getting ready for another night of fun!
Pirate Cruise and Dinner – a Cancun Must-do activity with kids!
Climb aboard and give the kids a dinner they will never forget.
The pirates aboard the ship will be swinging around, battling each other, and firing cannons in this very family-friendly show.
The Jolly Roger serves up seafood, main meals, and even vegetarian dishes included in its ticket. Plus you'll get unlimited drinks.
The night will come to an end with a colorful fireworks show above.
Located at the Playa Linda Pier
Book your Pirate Dinner Cruise Here
Day 3 of the 4 Day Cancun Itinerary with Kids
Cooking Class
Are your kids creative? Do they enjoy cooking? Or do they love food?
This cooking class is the perfect thing to do during your 4 days in Cancun with kids.
The experience starts at 9:30 in the morning, so it's easy to still get that vacation-style-sleep, grab some breakfast, and then head out. You can drive yourself or request a pickup if you are staying in/near the hotel zone.
First you'll walk through the market selecting the perfect foods, then you'll make your way through a 4 course meal (plus drinks!)
Learn how to use a mortar and clay pots to cook this local, delicious meal.
Cenote Sol Y Luna
What is a cenote?
A cenote by definition is an underground cave that holds water. While some cenotes within Mexico are most definitely in a cave, many are just within walls with an open ceiling.
Cenotes are fun swim holes, often very deep (so wear a life jacket, especially for the kids), and often very beautiful.
There are so so many cenotes to choose from in Mexico. Sol Y Luna ("Sun and Moon") is located near Puerto Morelos, so it's under an hour to get to from Cancun.
It's one of the closest cenotes to Cancun and a great cenote to visit with kids.
Life jackets are provided, which is great because the kids are probably going to want to go across the zipline of the water below.
You can also tour a Mayan pyramid-replica with a small museum inside.
There is also a regular pool if you'd like to take a cenote-break, but remain cool!
Note- there are two cenotes at Sol Y Luna. The main one is nearby, but the second cenote is a a bit of a drive away if you decide to visit it.
Sol Y Luna also offers other activities, such as ATVs and paintball. But the cenotes will be a great way to cool down on a hot day.
Entrance starts at around $25
Find more info and pictures of Cenote Sol Y Luna (note, if you translate to English, the prices may still reflect pesos).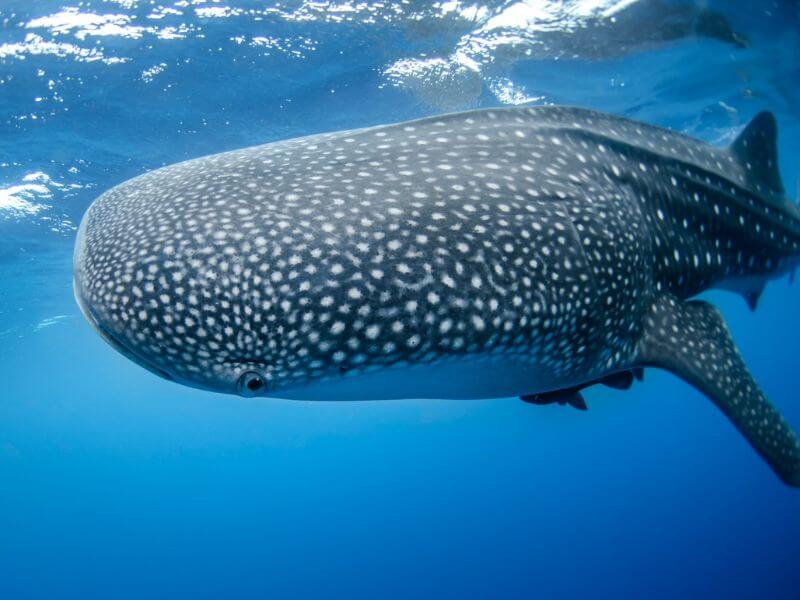 Day 4 of the 4 Day Cancun Itinerary
Swim with Whale Sharks (and turtles and manta rays)
This excursions starts a bit earlier, but includes transportation from your hotel and breakfast upon arrival.
Enjoy this unique experience of swimming with whale sharks.
The drive from the hotel zone is short. After that, you'll spend about an hour on the boat getting to where the best spots for seeing whale sharks are. You'll be transported near Isla Mujeres, and even enjoy some time on the beaches of Isla Mujeres.
This excursion is kid-friendly. It typically lasts about 5 hours, but there will be plenty of food and drinks to last.
You may be nervous about the whale sharks…don't be!
Whale sharks actually feed on microorganisms. They have tiny teeth and swim very slowly. Which is great, since it will give you a chance to swim alongside them.
This excursion is available during the warmer months when whale sharks are hanging out. So if you visit between May and September, be sure to book this during your 4 days in Cancun.
Enjoy Your Resort Activities
As you return to your resort, take advantage of the many activities if offers.
Or just relax at the pool or beach.
As the last of your 4 days in Cancun with kids, it's nice to wind down and soak in the peace that Cancun offers after days of fun activities.
Things to Take to Cancun on Vacation
Here are a few things to take to Cancun of vacation:
Swimsuits– take a few swimsuits as you'll probably be wearing them quite a bit. Multiple allow you to always have a dry one available!
Reef-Safe Sunscreen– You'll be near the second largest reef in the world! Help protect it by using reef-safe sunscreen.
Some attractions only allow sunscreen if it's reef-safe. (We've even been to some attractions that don't allow sunscreen at all. Which leads me to…)
Swim Shirt– We've been to areas that don't allow sunscreen at all (like Yal Ku Lagoon in the Riviera Maya). Don't miss out on fun activities because you don't have a swim shirt… and don't attend activities without one anyway and burn! That's a really quick way to ruin a vacation to Cancun.
Lightweight Towels– chances are your resort provides towels. But not all resorts allow you to bring them off-site. Pack some lightweight, quick dry towels to take on excursions.
Sunglasses – because, well, you will be in the sun a lot.
A Hat– same reason as above.
Frequently Asked Questions about Cancun
Is 4 Days enough in Cancun?
That really depends on what your goal is. 4 Days is plenty in Cancun if all you want to do is relax on the beach and at the resort. 4 days is also enough if you just want to be out and about exploring Cancun. But if you want both relaxation days and days that are out exploring, you may want to add a couple days to your trip. 4 days fills up fast in Cancun alone; you may want to go to nearby areas like Playa del Carmen or Tulum to explore more what of Riviera Maya has to offer.
Which is Better, Tulum or Cancun?
Cancun is a popular tourist destination. If you are looking for a vacation manicured to relaxation, fun, and nightlife, Cancun is the place. If you want something a little quieter and with some of the most beautiful beaches, Tulum is a better options. Both offer plenty of great things to do and beautiful beaches, though.
How Much is a 4 day trip to Cancun?
If you stay at an all-inclusive, you really can get away with paying nothing more than your hotel booking fee, flights, and airport transfer. If you want to add activities to your trip, I would plan at least an extra $100 per person, per day.
What should I do if I'm in Cancun for a few days?
You should definitely relax on some of the gorgeous white sand beaches, visit a cenote, and snorkel. Cancun can be filled with relaxation or with activities.
What can I do in Cancun on a low budget?
If you are staying in an all-inclusive resort, you don't need to spend any extra money! If you'd like to see nearby attractions, then consider going to some of the local ruins. These usually cost only a few dollars to visit.
4 Day Cancun Itinerary with Kids
Hopefully you've gotten some great ideas of how to spend 4 days in Cancun with kids. All the activities noted above are family-friendly and things that the kids will enjoy!
From snorkeling, swimming with whale sharks, museums, ruins, and even some relaxing beach time, you'll see how you can really pack a lot into a 4 day Cancun itinerary. These 4 days will be fun-packed, memory-making days for you are your family.
You'll Also Enjoy:
Should we go to Mexico or Costa Rica on Vacation? (A Comparison)
How to Take a Family Vacation to Mexico on a Budget
Royal Haciendas: detailed Review of our Favorite Resort in Playa del Carmen (great for big families!)
Save this to Pinterest!