If you are looking for a tropical vacation with the kids, Mexico is a great choice! There are plenty of things to do in Mexico with kids. Plus, you can experience turquoise waters, white sand, and plenty of fun activities for the whole family. Mexico is much more affordable than Caribbean Islands nearby with white sands and turquoise waters. Here I'll show you great ways to go to Mexico on a budget. Mexico makes a great, affordable family vacation!
Let's Jet, Kids! uses affiliate links.  As an Amazon (and other networks) Associate, I earn from qualifying purchases.  It is no extra cost to you.  
This post will be focused on taking that tropical family vacation to the Riviera Maya area of Mexico, which is famous for its warm sunshine, beautiful beaches, and numerous activities.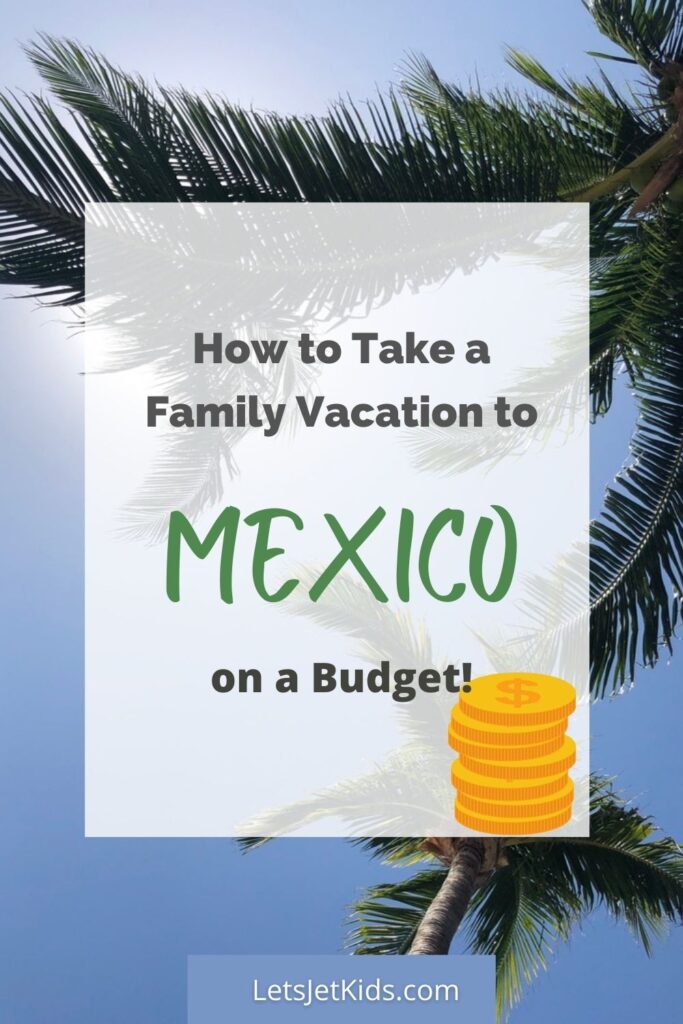 ---
Planning to drive yourself in Mexico? Check out great rental car deals in Cancun!
---
Getting to Mexico on a Budget
All major airlines fly into Cancun, the airport that serves the whole Riviera Maya. Often, the most affordable airline getting to Mexico is Frontier. This a la carte airline runs some really good deals. Make sure to sign up on their email list to get alerted of flight deals. (We were recently able to go to Mexico for about $150 R/T.) Between signing up for email alerts and frequently checking flights on a site like Google Flights.
If you book on an airline like Frontier, you do need to buy seat assignments (usually families want to guarantee they sit together). You also have to buy some checked bags. Keep in mind that every person doesn't need a checked bag. You'll probably be in a swimsuit most of the time, so do not pack more than you need. We are a family of 6 and packed everything into 2 giant, checked bags.
Southwest, while not the cheapest airline, can be an affordable option during a sale. If you're able to book at a good price, then you are good to go! Southwest does not have baggage fees (within 2 bags), and its open-seating policy means that as long as you're on-time for boarding, your family should be able to find seats together without a problem. No extra charge 🙂
Keep in mind that fares to Mexico vary, just as any other destination. The off-season for Mexico is late summer and into fall. This is when hurricane season commences and things slow down a little. That doesn't mean you won't have a great vacation still (unless a hurricane actually comes through, of course 😉 )
Where to Stay in Mexico on a Budget
In order to stay on a budget in Mexico, make sure your expectations aren't set on luxury resorts. If you truly want to make that trip happen, but can't afford the luxury, you need to be willing to let the luxury go. That said, there are still really great places to stay in Mexico on a budget.
All-Inclusive or non-All-inclusive? That is a good question, especially when trying to stay on a budget.
Mexico All-Inclusives on a Budget
All-inclusive often comes with a hefty price tag. But there are plenty of All-Inclusives that don't cost an arm and a leg to stay.
We recently stayed at the Viva Wyndham Maya (<— full details) in Playa del Carmen where it was just over $100/night for a room. It was all-inclusive, meaning all our food was included, lots of activities, entertainment, pools, great beach area, and more. When you look at it that way, that is an incredible deal and a huge value!
Was Viva Wyndham Maya the nicest resort in Mexico? No. But it came at a budget price and still included a ton. We were plenty happy here.
You can find plenty of all-inclusives that can meet a lower budget. And again, keep in mind that you don't have to worry about spending more money on food or most (or all) activities when you arrive.
Here are a few other suggestions that are pretty affordable (of course, they vary depending on the time of year).
Affordable Cancun All-Inclusive Hotels
Riu Caribe- From $188/night, but often on sale depending on time of year
Krystal Cancun- From $166/night
Affordable Playa del Carmen All-Inclusive Hotels
Viva Wyndham Maya (full review here for more details)– From $132/night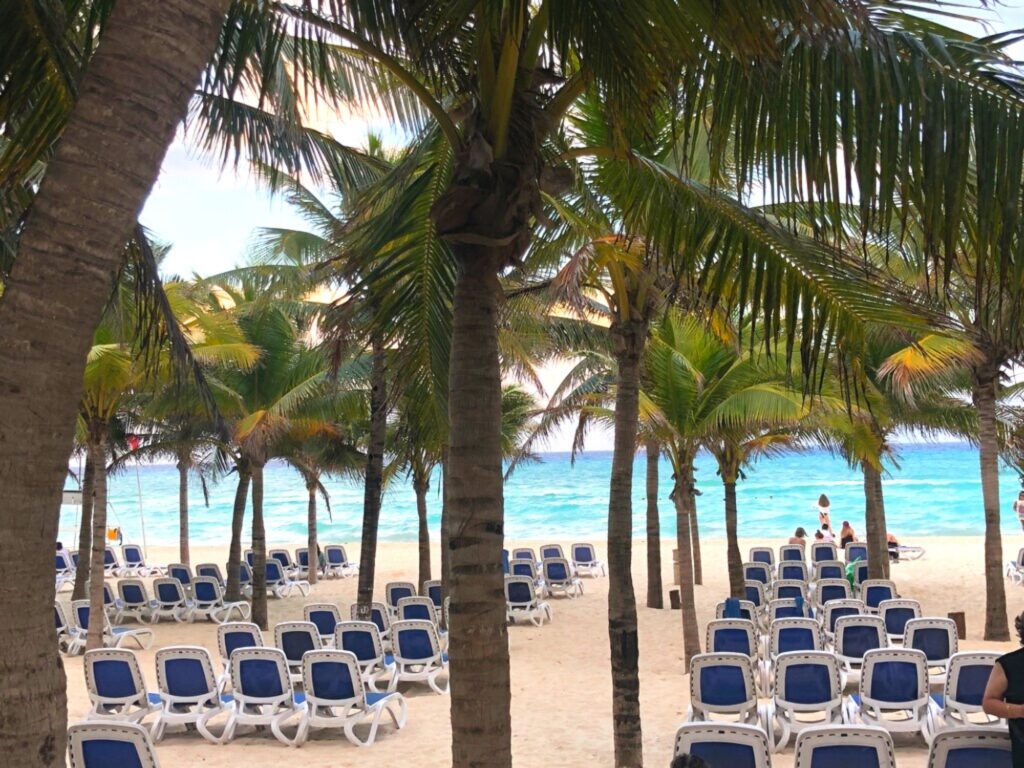 The Reef Coco Beach- Playa del Carmen– From $118/night
Using Hotels.com
Another tip (and what I always do!) is to use Hotels.com to book your hotel. When you register for the website (free), you have access to their secret prices, which often is lower than what is listed above. There are so many other benefits to using Hotels.com, so find out why you should use Hotels.com here.
Things to do in Mexico on a Budget
Play at the Resort with the Included Amenities
You may book your flight and book your All-inclusive and be good to go. If your idea of a fun family vacation is to hang out at the resort and beach, then in theory, you don't have to spend another dime. And that is a great option, because most resorts have plenty of things to do to keep their guests happy for the entire trip.
Take advantage of those resort amenities. Many all-inclusive resorts have kayaks and boogie boards. These water activities are unique, cheap (or free), and a blast with the whole family.
All-Inclusive resorts also usually have a kids club that the kids can attend free-of-charge. Activities run through the day, whether it's building sand castles, playing in the kid's zone, or playing water games. Kids Club is run by a staff member for the purpose of entertaining the little ones at any time of day.
However, if you'd like to get out and explore a little, there are some great, affordable things to do in the Riviera Maya on a budget.
Check Out the Cenotes
There are thousands of cenotes in the Riviera Maya and surrounding areas. Some are part of tourist parks that are really beautiful, but come with a higher price. No worries; there are plenty of cenotes that don't cost but a few dollars to visit! Here are a few that are close to each other, making a great day trip!
Cenote Cristalino just south of Puerto Aventuras- Around $7-8 for entrance, this cenote gets up to 6 meters deep, has great fish and snorkeling, and an option to cliff dive from 20 feet above.
Cenote Jardín del Eden is not far from Cenote Cristalino. Entrance is around $10 (200 pesos) to this popular cenote. Here you can rental snorkels and life jackets. Closed Saturdays.
Cenote Azul is another popular, beautiful cenote in the same area as the previous two cenotes. Entrance is around $7-$8, and you can rent a life jacket as well.
Affordable Archeological Ruins in Riviera Maya
TULUM– Entrance to the Tulum Ruins is very inexpensive. It's just a couple dollars a person, however, you have to pay in pesos, so make sure you have exact change (35-40 pesos per person). For just a couple dollars, you get entrance to a place that takes you back in time to the Mayan. Explores the different temples and buildings that are standing today, with beautiful turquoise waters below. Walking around Tulum can take 1-2 hours, and there are plenty of signs and plaques to read along the way.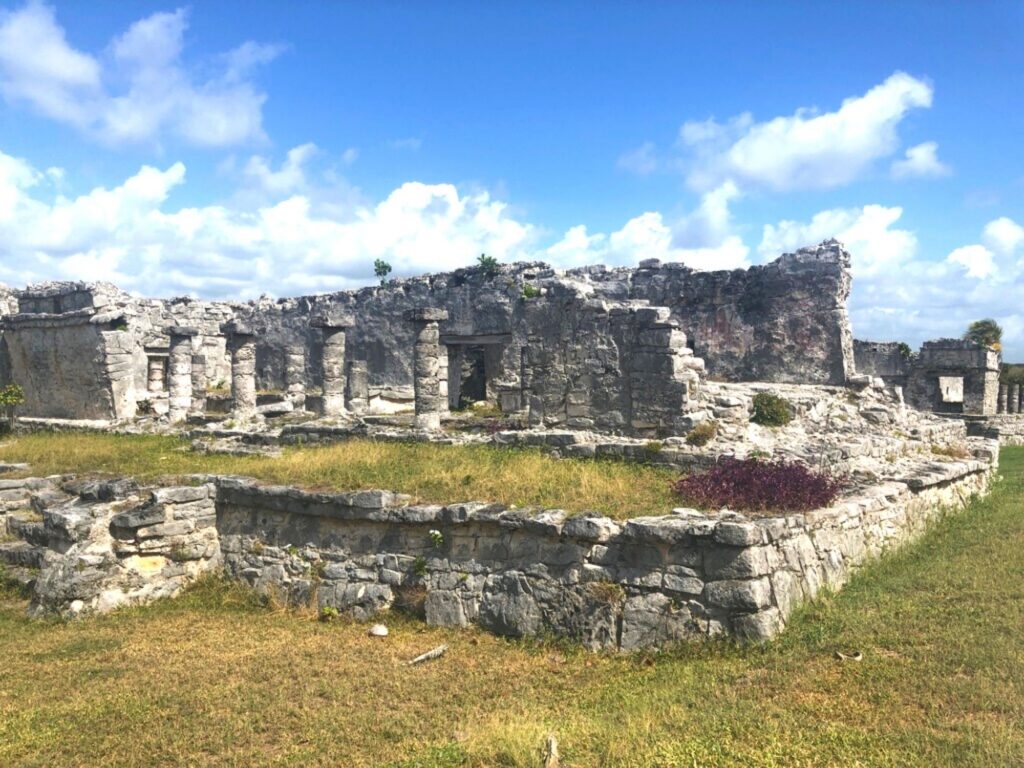 CANCUN– El Rey Archaeological Zone only cost a couple dollars per person to enter. Here you can roam around 45 Mayan structures. From temples to burial sites, this lesser-known site is easy to get to on the southern part of Cancun.
---
Need more ideas?
Check out my post of Kid-Friendly Excursions in Mexico– (they are varied in pricing, though!)
---
How to Get Around Riviera Maya on a Budget
There are a few options for getting around Cancun, Playa del Carmen, and down to Tulum on a budget.
First, you could get a taxi. Taxis should cost between 25-200 pesos for a ride within town. However…you need to solidify this price before you get in. Often, taxi drivers will take tourists for a much higher price than 200 pesos. Make sure to talk down the price. Then, it really becomes an affordable way to get around the Riviera Maya.
You could also take a colectivo, a white van that goes up and down the main highway of the Riviera Maya. Since this is a family-travel-friendly post, you may want to stick with a taxi though. The colectivos don't necessarily take you right where you want to go, so you (and the kids) may end up walking a ways.
Interested more in safety and convenience? You can hire a driver for 5 hours in the Riviera Maya. While it may not be the cheapest option, $180 is still a great deal for 5 hours of private service, wherever you want to go, and whenever you want! We used this service last time we were there and it was awesome!
---
More tips on traveling on a budget! (Even with a big family).
Fun excursions for Kids in the Riviera Maya
---
Take a Vacation to Mexico on a Budget!
Hopefully now you see that it is possible to take an affordable family vacation to Mexico! Using these tips, you could get some really great deals in Cancun, Playa del Carmen, Tulum, and everywhere in between! A tropical family vacation doesn't have to be expensive.
Save This Post!!