Guide to 7 Beautiful Beaches of Olympic National Park
If you're driving through Washington, I highly suggest a detour through Olympic National Park, where you'll find a little bit of everything. It has lakes, waterfalls, hiking trails, rainforests, and beaches. As you drive along the western edge of Olympic National Park on Highway 101, you'll be graced with beautiful shoreline for a view. Here is a guide to 7 beautiful beaches of Olympic National Park to visit with the family. The following beaches are easy to get to and require only a short walk, making them perfect for kids to come!
Let's Jet, Kids! uses affiliate links.  As an Amazon (and other networks) Associate, I earn from qualifying purchases.  It is no extra cost to you.  
---
🌲 Check out this post for lots of fun, kid-friendly things to do in Olympic National Park!
🏠 Need a great place to stay? We loved this Lakefront Home.
OR Check out these amazing cabin rentals around Olympic National Park
---
Don't forget to rent a car! Compare prices here
Ruby Beach at Olympic National Park
Ruby Beach is one of the more popular beaches of Olympic National Park to visit. Heading south on highway 101, it's the first beach you come to as you begin to see the ocean. There's a decent parking lot (not just a side-road pull off) and bathrooms. It's a downhill walk to access the beach and is just under a quarter-mile.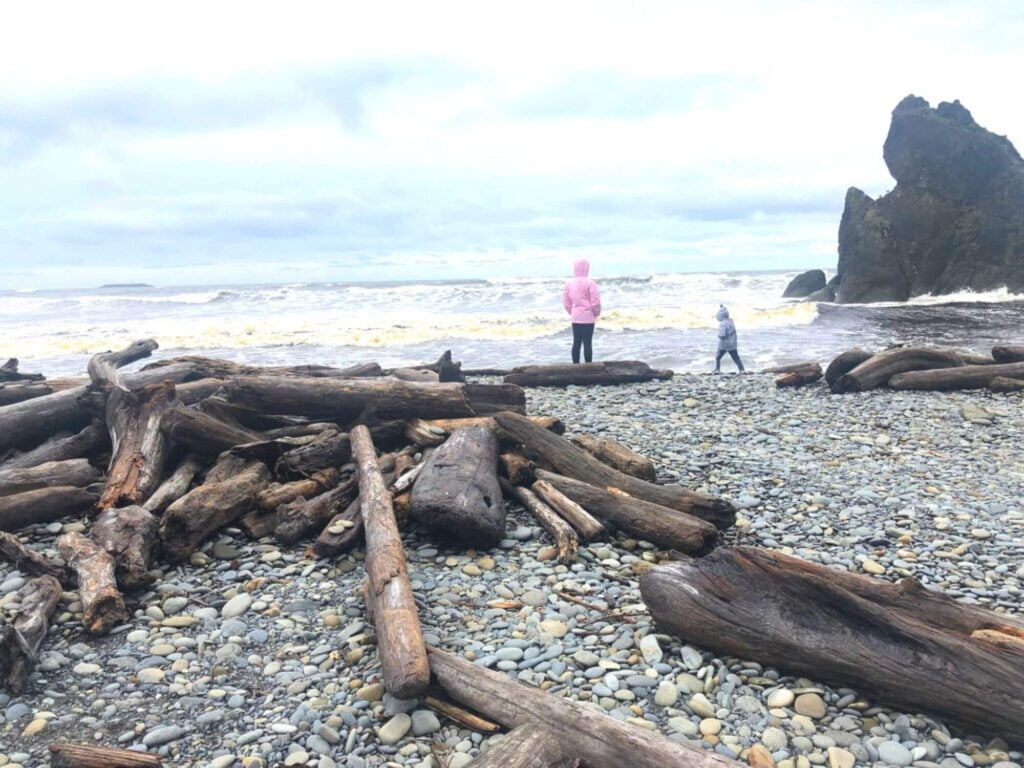 When you get to the bottom, you can walk along the smooth-rock beach of Ruby Beach. There's driftwood for beautiful photo ops and exploring, rocks formations (or "stacks"), shells, and rocks. Use caution as you near the formations. The water may seem low and far, but every once in a while came up and made quite a splash against the rock.
Ruby Beach FAQ
Is Ruby Beach Open?
We visited in October 2021, and yes, it was open.
How is Ruby Beach Weather?
Average summer high temperatures at Ruby Beach are in the low 70's. By winter, the highs are only in the 40's. You can expect some wind or at least an ocean breeze. Summer brings just a few days of rain each month. As you get into October and beyond, rainy days climb to the teens and above.
Can I Get A Schedule of the Ruby Beach Tides?
Yes! Check here for daily tide schedules at Ruby Beach.
Is Ruby Beach Good for Kids?
Yes! It's easy to get down to and there is plenty of space to move around on the beach area. Climbing around driftwood and rock is fun; just watch your kids closely so they don't fall, get hurt, or get in the water when the tide shifts.
Where to Stay- Ruby Beach Hotels
The closest place to stay near Ruby Beach is the Kalaloch Lodge. It's located right off highway 101, and right near the ocean for great views.
A little farther, but beautiful and comfy is the Woodland Inns, a 3-star hotel located in the town of Forks about 16 miles from Ruby Beach. The cabins have a small kitchen for convenience.
Also in Forks is the Pacific Inn Motel. It's usually a little more affordable and has a refrigerator and microwave in the room.
>>> More awesome places to stay in Olympic National Park <<<
The Numbered Beaches of Olympic National Park
Please note: The following beaches are in the Kalaloch area of the park, not in the Mora / La Push area. The beaches below are not the same as "First Beach," "Second Beach," etc. Those beaches are beautiful, but some of them require a more significant hike to access rather than a quick walk down.
As we continued driving, we kept seeing little signs for random beaches off the side of the road. These are less popular beaches, as we hadn't heard of them before our visit during our research. But we thought, what the heck, let's jump out of the car and check them out, and they didn't disappoint.
Beach 4 at Olympic National Park
There are 4 beaches south of Ruby Beach, and simply named with their number. I'll start at Beach 4 simply because it's the next beach south of Ruby Beach as you drive south on Highway 101.
Be on the lookout for the sign for Beach 4 off highway 101. Pull in the small parking lot and begin the decent to the beach area. It's a short, .2 miles down with a great view.
You may need to stop here if you've got a baby or toddler. I really only suggest moving on if you have older kids or are able to help them safely. As you continue to the beach area, there is a large rock formation that you need to climb down. Someone has attached a rope to help lower (and later climb) yourself down. My kids actually thought this was really fun.
I went down first, then stood at the bottom to spot my younger kids as they climbed down. We all made it safely. Again, please only do this if you feel confident in yourself and your kids. There's plenty of sharp rock around and water below from the joining stream.
Tidepools at Beach 4 in Olympic National Park
Once you're down, this beach is pretty awesome! It's a packed sand beach with a few rocks as well. As you walk to the right, you'll find a huge rock area. This is where the majority of the tide pools are! This is another area you need extra caution with as the rocks are very slippery! I had my younger kids wait to the side with their oldest sibling while my son and husband went searching for sea creatures.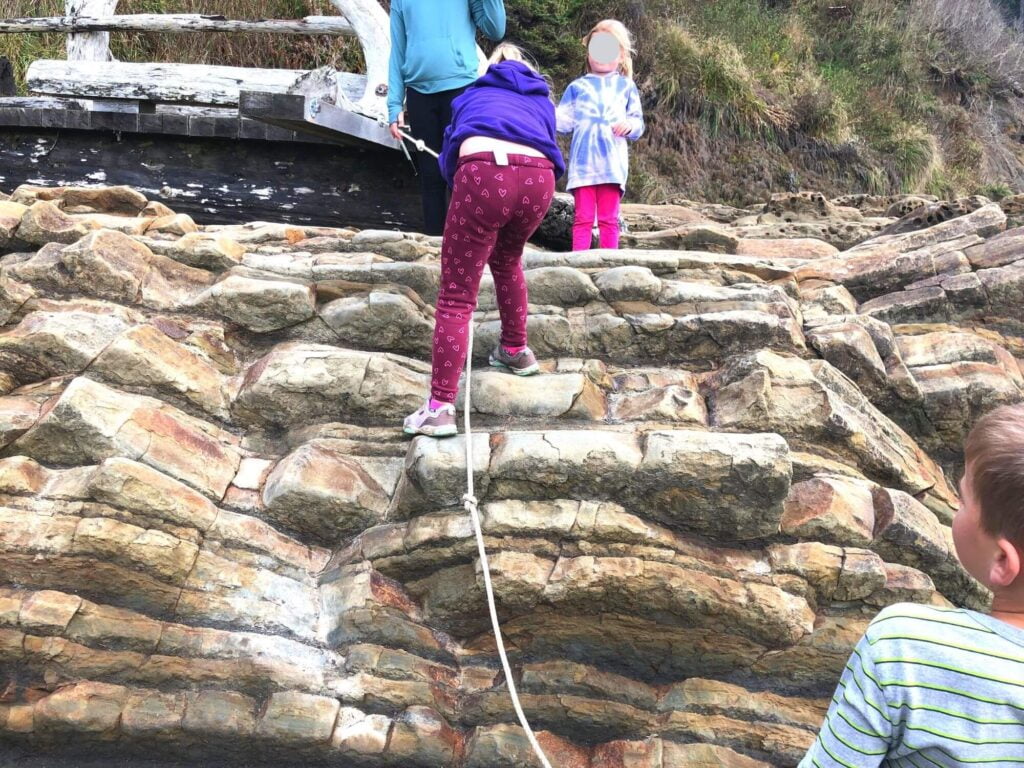 Beach 3 at Olympic National Park
Continuing driving south, the next beach you'll come to is Beach 3. There is no parking lot for Beach 3, but there is a pull-off area to the side of the road. The trail down is not difficult, but it is a bit steep and has a lot of stairs. It's a really beautiful trail down. At one point, you are going down the stairs alongside a lush, green wall of plants.
Beach 3 is just a great, big beach to run around and play on. There's some driftwood right as you end the trail down, but otherwise it's pretty open. The ocean is beautiful here. There is said to be some tide pools at Beach 3 if you walk out a ways, but we didn't find any when we were there.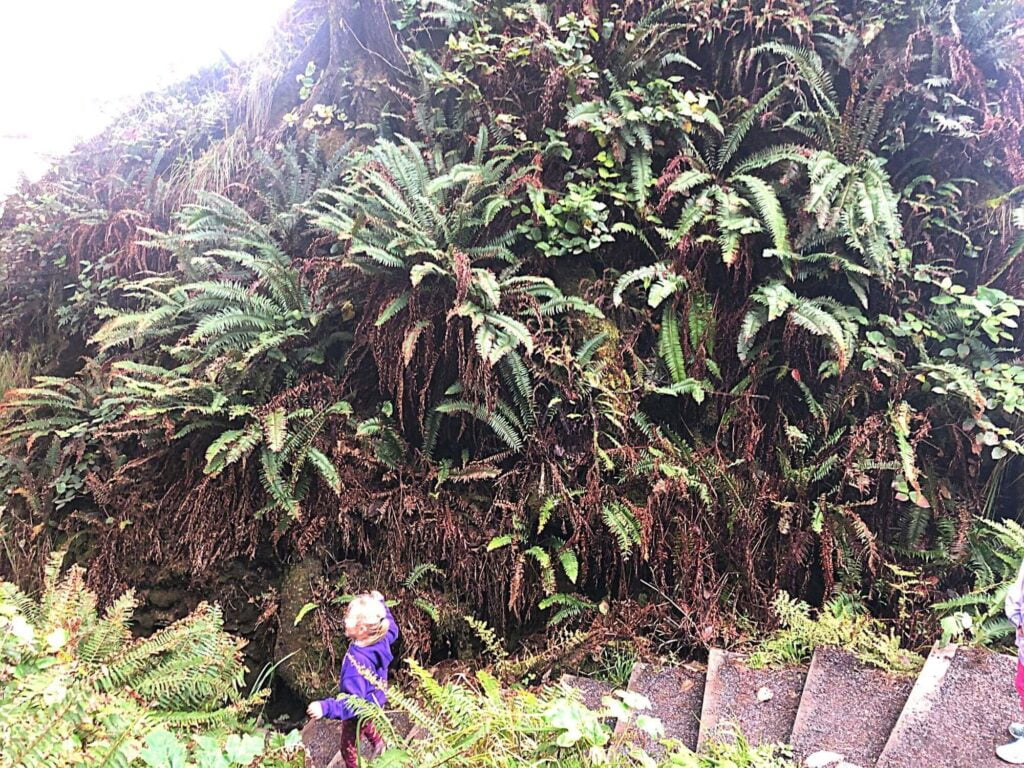 Beach 2 – Olympic National Park
Beach 2 is another beautiful stretch of packed sand in Olympic National Park. After hiking less than 1/4 mile down to the beach area, you're greeted with driftwood and ocean and plenty of room to run. There are a few large driftwood pieces that are fun to take some pictures with.
Beach 1 at Olympic National Park
The last roadside beach stop is Beach 1. There is no parking lot here, it is simply a pull off to access the trail to Beach 1. This quarter-mile trail takes you down to another stretch of great beach. The trail is covered in knobby trees filled with huge knots along the trunk.
When you end the trail, there is a large pile of driftwood (unless it's moved now!). You might need to help the kids climb over this, as it's a rather large pile. When you're over, you can witness the ocean and all that comes with it. There is smooth rock along the shore, plus depending on the tide, there is plenty of packed sand to run around in.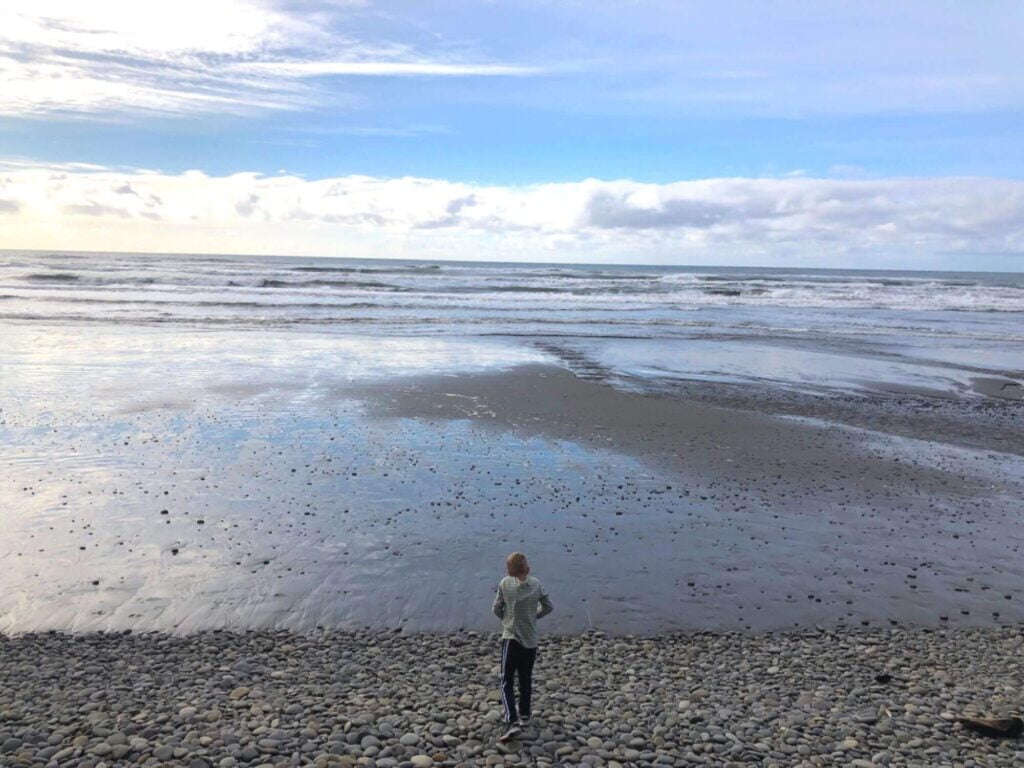 Want to see some of the trails down and the beaches in action? Check out this quick YouTube video:
More Great Beaches in Olympic National Park
Rialto Beach – Olympic National Park
Photo by Marisa Harris on Unsplash
It's not right off highway 101, but Rialto beach is a very popular stop. From highway 101, head toward Forks. Turn west onto WA-110 and then right on Mora Road. Rialto Beach is in the La Push area of Olympic National Park.
There's plenty of parking (though high season will be busy of course). To access the famous hole-in-the-wall formation, it's over a mile to get there from the main beach area. It's tough at high tide and could take a few hours. For that reason, if you've got kids along for the ride, I suggest enjoying the main beach area and the views all around. Plus, if you arrive at low-tide, you can go searching for sea life through the tide pools.
First (and Second) Beach – Olympic National Park
These beaches are located in the La Push area as well.
First Beach is just a hop over from Rialto Beach. It's easy to park and walk right over to the beach. It's filled with scenery and rock formations, though the waves can be powerful.
Second Beach is not as accessible. First you park, then you hike over a mile to get to Second beach. The trail is fairly easy enough for kids, but be aware there are a lot of steps. It's easy to get there, but coming back is uphill.
Family-Friendly Beaches in Olympic National Park
That's the list of perfect easy access beaches in Olympic National Park! Which beach in Olympic National Park are you most excited to take the kids to? Whichever you choose, you can't go wrong. They are all beautiful!