11 Great Easy Kid-Friendly Hikes in Breckenridge, Colorado
Best Hikes for the Whole Family in Breckenridge
I grew up skiing every.single.weekend.  I've been to Breckenridge many times, but I had never really experienced the town and everything it had to offer in the summer.  I was surprised how many great options there were for hiking with kids in Breckenridge. I love seeing all the beauty of the area, and allowing the little ones to as well with these kid-friendly hikes in Breckenridge.
Let's Jet, Kids! uses affiliate links.  As an Amazon (and other networks) Associate, I earn from qualifying purchases.  It is no extra cost to you.  
If you need some easy hikes in Breckenridge (with or without kids,) here are a few great ones.
We have taken a few long weekends away up in Breckenridge, and just find there's so much to explore every time. One thing that keeps our trip both FUN and within budget is finding the best kids hikes in Breckenridge.
Here are a few easy hikes in Breckenridge to take the whole family on.
---
Flying into Denver for your trip to Breckenridge? Don't forget to book a rental car! Great rental cars in Denver this way.
---
---
Check out Awesome Family Cabins in Breckenridge and
Top Ten Things to do in Breckenridge for a fun Family Weekend
Check out the best driving routes and shuttles from Colorado Springs to Breckenridge
---
Kid-Friendly Hikes in Breckenridge:
Here are our favorite, best hikes in Breckenridge for families.
1. Burro Trail – moderate (because it ascends)
This was our first kids hike in Breckenridge, and it didn't disappoint.
We first hit Burro Trail. This was a beautiful and easy to moderate hike. It was raining, so we didn't do the full trail, but it was beautiful and wooded. And the smell! Ahhh, fresh, wooded pine as it rains. It doesn't get better than that.
The trail went alongside a river and had many great photo opportunities! We had 4 children ages 3-9 that did the trail just fine walking (I would not recommend a stroller). The trail was not flat; definitely inclines. But was not too tough of terrain. This is a great trail for kids in Breckenridge.
How to get to Burro Trail Trailhead

To access: start near the Quicksilver chair. There is a lot we parked in (for a fee) not far from the trailhead, near the Beaver Run Resort and Conference Center (we were the only car in the lot at the time. Again, it was raining and not super busy).
2. McCullough Gulch Trail – more difficult
The next day we all got a little sore. We really challenged our kids, and they rocked a tricky and sometimes technical hike on the McCullough Gulch Trail.
According to AllTrails, McCullough Gulch is the #1 trail in Breckenridge. It is rated difficult on the app, but a lot of difficulty comes after the falls. Regardless, this is more for older kids or younger kids that have some experience hiking.
We hiked this up to the falls at the top, but you have the option to go beyond to a lake. It is about 6 miles roundtrip if you do the whole thing. We only did to the falls. Even then, this hike was incredible.
There were beautiful sights along the way. It definitely climbs and there are a couple short but technical parts (going up and across larger rocks where no trail is present). This is a more challenging hike for kids, but doable if they are up for it. It's probably better suited for older kids or if your kids are used to hiking. The top is so rewarding though.
The picture truly doesn't do it justice

The 3-year-old rode and sang to us in a hiking backpack, while the other 3 pulled their own weight. Definitely not a trail for strollers.
How to Get to the McCullough Gulch Trailhead

To access: this is actually past Breckenridge and right outside of Blue River. Head south on highway 9 and eventually you'll turn onto Rd 850. Very soon after, turn right on Rd 851 and take that to the trailhead.
There are a few spots to park in a parking lot, but many were parked on the roadside (make sure there's no "no parking" sign".) There is a gate to enter the area, and then a walk down a wide dirt road until you reach the actual trailhead. Then you being to ascend the mountain.
We were there on a hot day, and much of the trail is within the trees and provide great shade, especially at the bottom part. But definitely wear sunscreen!
Take lots of water and a snack to enjoy at the top when you reach the falls. There are great views all along the way and the pictures of the falls at the top don't do it justice. If you can handle a moderate-to-difficult hike, do not skip this!
That evening, we spent a bit of time relaxing in the hot tub!
3. Iowa Hill Trail – Easy
This is one of the great kid friendly hikes in Breckenridge that isn't too long, maybe 1 to 1.5 miles in total if you do the whole loop. It's easy to access, as it's just off the main highway into Breckenridge along Airport Rd (which runs parallel to CO-9).
Iowa Hill Trail is filled with mining history and mining exhibits. The kids will love seeing mining carts, a cabin, and a great, interactive trail for the kids. It is not too difficult, but does ascend over 150 feet overall. This is definitely a fun trail for kids in Breckenridge.
How to Get to Iowa Hill Trailhead
Iowa Hill is pretty easy to find. Just off highway 9, you'll turn onto airport road. This road runs parallel to highway 9. If you enter Airport Road from the south end (and are heading north), there will be a road that forks off to the left just past the elementary school. Take that fork and you will be at the trailhead for this easy hike in Breckenridge.
---
You May Also Like:
Hiking in Aspen, Colorado with Kids
A Complete Guide to Steamboat Springs, Colorado
Awesome Cabin Rentals in Breckenridge
Top 10 Things to do in Breckenridge in Summer (with kids!)
---
4. Sawmill Creek Trail – Easy
Another one of the great kids hikes in Breckenridge, this one was pretty easy and would be great for all ages.
Sawmill Creek Trail is pretty easy, though it does ascend. The terrain starts at a groomed, packed trail, but turns into a typical mountainside trail. It is cleared and easy to follow, but has tree roots and whatnot.
A stroller would be difficult and there are a few stairs at the top (but if necessary and you have a great off-road stroller and two adults to help lift it in a couple places, I wouldn't say it's impossible).

The trail follows a beautiful river and ends at the top at a great lake/reservoir that's beautiful. The 4 kids hiked it just fine without problems, and we passed lots of other families. I think the trail is somewhere around 1-1.5 miles and is not too difficult.
How to get to Sawmill Creek Trailhead
This trail can be accessed at the bottom of Snowflake chairlift off Four O'Clock road. We were lucky to find a parking spot in a make-shift lot that fits maybe 4 cars right where the trail starts.
5. Blue Lakes Trail (and waterfall!) – Easy kids hikes in Breckenridge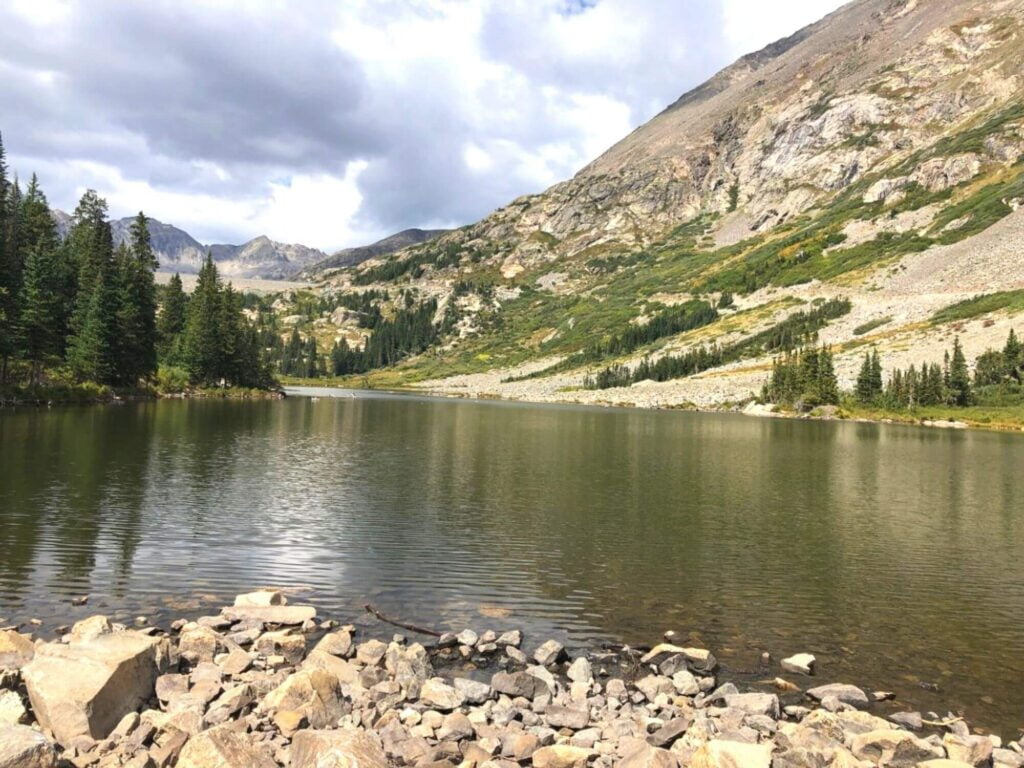 At only 1 mile total, this is a perfect and one of my favorite kids hikes in Breckenridge (well, a few miles away from Breckenridge). The lake can be accessed just a short walk from the car.
However, if you keep going along the lake (the far side from the car), you can hike about a half-mile more. This will land you at a gorgeous waterfall. You can see the waterfall from a distance when you arrive, but when you take the easy hike to it, it really is incredible to see up close.
There is plenty of large rock to walk around on for different views. It's a great place to stop and have a snack and get some great photos. This is now one of our favorite kid-friendly trails in Breckenridge!
How to get to Blue Lakes Trailhead
Take highway 9 south to Blue River. Turn west onto Rd 850 (same road you would turn on for McCullugh Gulch). Stay on this road and it becomes Blue Lakes Rd. Take it until it ends.
This is another of our favorite, easy hikes in Breckenridge. We love that it's easy and we love that it's beautiful.
6. Rainbow Lake Trail – Easy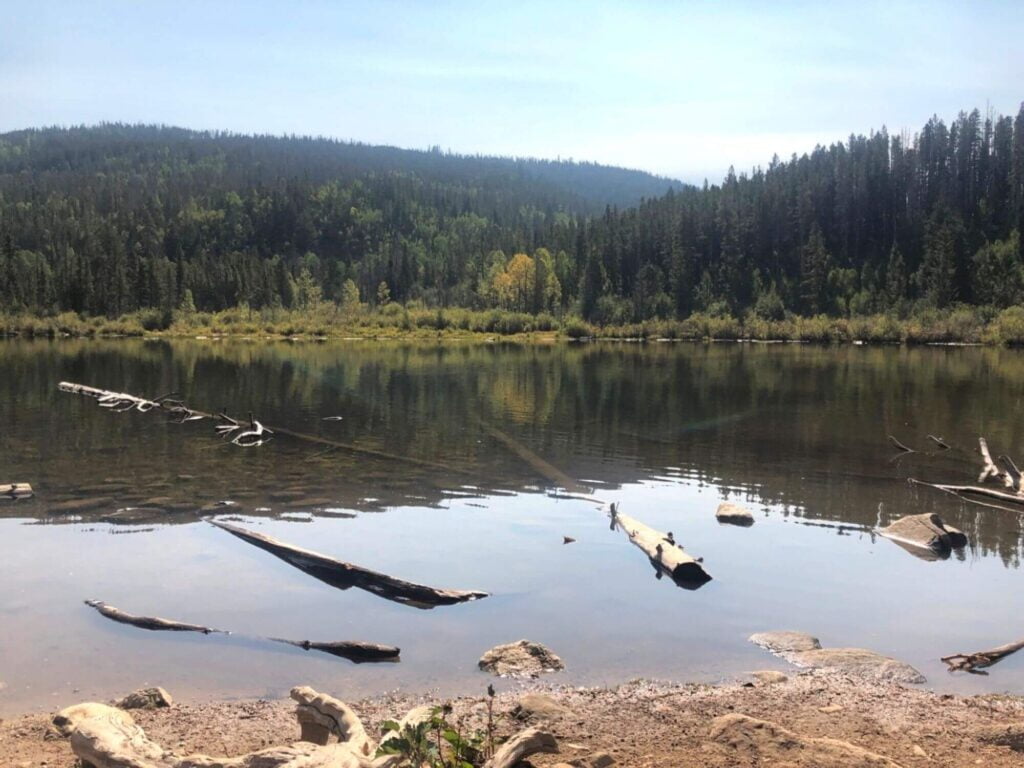 This was one of the coolest kids hikes in Breckenridge as it had many elements to it.
This hike is fairly easy for kids to do and well marked. It's only about 2 miles round-trip and has a gorgeous reward at the top.
The trail starts right at the dirt lot and you can follow the signs for Rainbow Lake. You'll cross a boardwalk over a flooded area, up some rocky parts (not too long or hard), and on some easy dirt sections. I would not recommend a stroller on this trail. However, there were plenty of kids and families, so even little ones will enjoy it!
Eventually you'll be near a creek, and when you start really hearing the water flow, you're just about at the top! Rainbow Lake is the perfect, easy hike in (near) Breckenridge.
How to get to Rainbow Lake Trailhead
This trail is technically not in Breckenridge, but it is Frisco, the town right next door. You can park for free right at 2nd Ave and S. Cabin Green. Head out earlier than later, as the lot will fill up for this awesome kids hike near Breckenridge.
7. Sapphire Point Lookout – Easy
This is another of the easy kids hikes in Breckenridge. It is a loop under a mile and not too tricky. Plus, you get a huge reward for just a little work. Well, technically it is just outside of Breckenridge, but not a far drive at all.
This is an easy hike for kids and adults alike that gives you some incredible views of Lake Dillon from above. One stopping point has a few picnic tables to relax at.
Another point has a gorgeous lookout over Lake Dillon, though really there are many places along the trail to just stop and admire the scenery. We went a little before sunset and stayed to watch the sky change above the lake and it was incredible.
How to Get to Sapphire Point in Frisco
From CO-9, turn onto Swan Mountain Road. Drive a little over a mile and you'll come to the parking lot for the Sapphire Point lookout.
8. Trollstigen Trail (Breckenridge Troll hike)
Not feeling up for a long hike or any inclines? This is THE easiest kids hike in Breckenridge. It's more of a short stroll down a dirt path!
Isak Heartstone is a famous, friendly woodland troll often visited in Breckenridge. It's maybe only about a quarter-mile walk to get to him, a perfect hike for little kids! The 15-foot tall troll was created by Thomas Dambo for the Breckenridge International Festival of Arts.
How to Find the Troll in Breckenridge
Find the trailhead for Isak near the Stephen C. West Ice arena parking lot. Make sure to read the parking signs carefully; a lot of the parking lot is for ice area parking only. The far end can be used for the Breckenridge Troll. This is one of the top things to do in Breckenridge with kids!
---
Make sure to pack a day pack with water, snacks, and other necessities for your hikes.
---
3 More Noteworthy Trails for Kids in Breckenridge
Cucumber Gulch Trail
This trail is under 3 miles, and filled with beauty. It gains less than 300 feet, so nothing too strenuous for the kids. Walk through gorgeous areas and scenery, taking in the ponds and wildlife. Take caution that there have been several moose around the trails; beautiful to see, dangerous to approach.
Cucumber Gulch Trail begins near Ski Hill Rd. It does have closings, as it is located on a wildlife preserve. The trail will be closed at times to allow wildlife a breeding season.
Minne Mine Loop Trail
This trail includes a bit of history. At only 1.5 miles, kids will love the ease of terrain and being able to find remnants of old mine cabins. There are great views and even an exhibit explaining the mining of the past and how rocks were sifted through to find the valuable stuff.
Illinois Creek Low Trail – Easy (slight climb at beginning)
The Illinois Creek Trailhead starts at the same spot as the trail for the Breckenridge Troll. Head to the Ice Arena and park on the far end. Hop on the trail and head to the right (rather than the left for the troll). You can make a loop out of this trail. You'll head up for a bit until you turn slightly to the left. At this point you'll be able to see the road, but being in the woods is still beautiful. This trail makes a full loop around. You'll end up coming down behind the troll, which is kind of cool to be as tall as him at one point.
This was one of the kid-friendly hikes in Breckenridge that was fun to just walk around the woods and see where you ended up. And at the same time, you were never too far from civilization.
Our Favorite Lunch Spot after a hike
To save some money, we brought up most of our own food and snacks. But we did eat out three times. Once at a Mexican place that was good, but a little more expensive than we planned. The other two times, we ate at LoLo's juice on Main Street. It is a healthy, fresh place with wraps, salads, and smoothie bowls. It's exactly what we needed during the long days of hiking!
Great Places to Stay in Breckenridge
The house we stayed at was amazing, but no longer available. The best thing about it was the location. When you get to the beautiful neighborhoods atop the mountain in Breckenridge, you'll immediately be taken to a state of escape.
>>> Check out rentals in the best neighborhood in Breckenridge. <<<
If you want something a little closer to town, check out these recommendations.
Crystal Peak Lodge sits right at the mountain. With ski-in ski-out access, you won't have to lug those skis or hiking packs around much. This beautiful property is condo-style, meaning you'll have plenty of comfort and convenience (like a kitchen) in your room. Plus, you can get anywhere from 1 to 4 bedrooms, making it really easy to accommodate the whole family in one unit!
Residence Inn by Marriott is another great choice for families visiting Breckenridge. This hotel has a modern-mountain feel. The kids will love playing in the pool and the adults will love the option of a 2-bedroom suite. The rooms come with kitchens, some small, some larger.
If you're looking for something that screams "mountain-home" a little more, check out my post on Awesome Family Cabins in Breckenridge.
Great Kids Hikes in Breckenridge
There's so many more kid-friendly things to still explore in Breckenridge and we look forward to returning soon! For now, I hope you enjoy these awesome kids hikes in Breckenridge.