Viva Wyndham Maya kept popping up on my search results when I was looking for an all-inclusive resort in Mexico for families. I wanted somewhere that would be comfortable and fun, and that would be a good resort for kids in Playa del Carmen. When Viva Wyndham Maya kept coming up, I noticed it was one of the more affordable all-inclusives in Mexico, so we decided to give it a try. Reviews were overall "good" for the resort, but definitely had some mixed reviews. Looking for reviews on Viva Wyndham Maya?
Let's Jet, Kids! uses affiliate links.  As an Amazon (and other networks) Associate, I earn from qualifying purchases.  It is no extra cost to you.  
Here is a full break-down of the Viva Wyndham Maya All-Inclusive resort in Playa del Carmen, including the great, the good, and things we would love to see different.
Viva Wyndham Maya Review: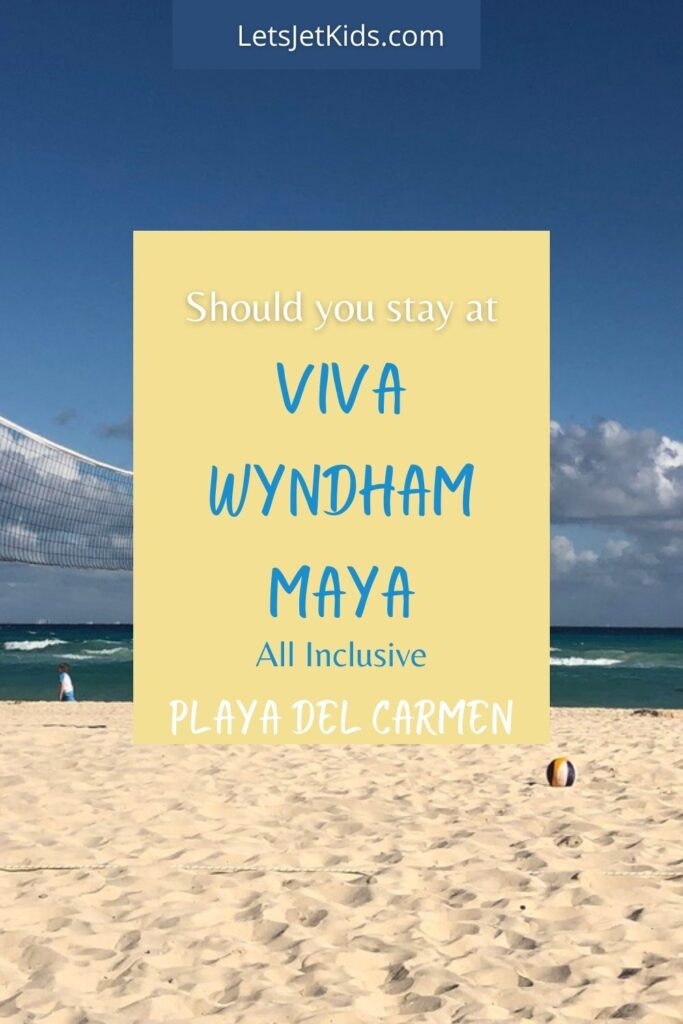 ---
Need a car? Check out these Rental cars from the Cancun Airport
---
Check In Experience
This was probably the best check-in experience I've ever had. We went to the check-in counter and told our four kids to go sit on one of the couches in the lobby. Someone promptly brought us drinks, a cold, refreshing juice (maybe guava?) I looked over and they had also brought the same drinks for the kids.
Checking-in takes a long time, especially these days when you have to fill out a health-screener form for every person in your family. In the middle of filling these out, I looked over to check on the kids and saw that a staff member had gone over to them and was chatting with them. She had also brought coloring pages of the Mayan calendar and was teaching them about it while they colored.
When we finished checking-in, we went to the kids on the couches where the staff member was still entertaining them. She then chatted with us, presenting me with a small gift from the hotel (a ceramic Mayan calendar).
Then, she asked if we'd like to attend a 90-minute sales presentation for a return gift of 7 days at any Viva Wyndham resort (many Caribbean locations). We hadn't done this in 10 years, but decided the reward was enticing enough. We asked to make sure the reward would be for TWO rooms (we need two rooms almost everywhere we go as a family of 6). She assumed it would be, but didn't sound completely confident. We agreed.
What is the Sales Presentation?
>>> First, if you are interested in timeshares, be sure to check out everything you need to know about timeshares before attending any timeshare presentation <<<
Here was our experience with the sales presentation at Viva Wyndham Maya:
The next morning, we had breakfast and then were taken to the sales office. The kids got to hang out in a room with a TV, Wii, tablet, and lots of toys. Before we proceeded back into the office, I asked the girl at the front desk "the voucher is for 2 rooms…correct?" She responded, "yes, it's for two rooms."
Awesome.
The presentation was to become a member of the Viva Club. In the Viva Club, you pay for points to use each year at any of the Viva Wyndham Resorts, as well as an additional option to use a discount booking site. We found later, only Viva Club members get certain advantages at Viva Resorts as well. We turned down the offer to buy into the Viva Club.
90 Minutes?? Nope.
The guy who presented to us was friendly. Of course, then the boss comes over and has to do his part. It ended up taking 3 hours. We did get the Viva Bucks for the spa that we were promised. However, we only got one room voucher for a future stay, not two as we were told.
You win some, you lose some.
We ended up taking the Viva bucks to the gift shop (instead of the spa), where our kids were able to each pick out a souvenir. The lady at the check-out counter there made sure we were using every last Viva buck (there's no cash value or change for Viva bucks), advising us to pick out snacks, key chains, etc. when we were close to using them all. That was very helpful and kind of her.
How are the Rooms? Viva Wyndham Maya Review continued
Viva Wyndham Maya reviews aren't complete without knowing about the rooms, of course. The rooms were very basic and a little small. We felt like we had what we needed though and don't have complaints. The A/C worked great and kept our rooms very cool, which was very refreshing to walk into each day! Soap and shampoo is from a communal dispenser. The rooms have a TV with Nick Jr. which kept the kids happy at night 🙂
My only complaint here is that you are provided two bottles of water in your room (even if you have 3 people.) Those are the only bottles you get free of charge. After that, you can go to the gift shop and buy more bottled water. Of course you can always stop at a bar or restaurant for a drink. It's just not quite as convenient. If you bring your own reusable water bottle, there are filtered water stations in the hallways of the hotel rooms.
Is the Food Good at Viva Wyndham Maya?
The food is good. The food is not amazing. The food is not bad. The food is good.
We knew going into this from other reviews that this resort didn't have any Michelin stars. That's ok. My husband finds food important when traveling. I am content as long as the food isn't gross. I was happy enough with the food, and my husband didn't complain.
If you travel for food, this isn't the resort for you. But if food isn't the main highlight of your trip, you'll be fine here.
There are a few restaurants at Viva Wyndham Maya. Unfortunately, we were only able to eat at one. We had to eat at the buffet the rest of the time.
Process for Eating at a Restaurant
The restaurants are based on reservation. We made one reservation at the Mexican restaurant. We then called to make a reservation at another restaurant for the next day. We were informed we could only make one reservation/eat at a restaurant once during our stay (perhaps you can only eat one restaurant for every 3 days?). If we wanted to eat at a restaurant again, we would have to call the day-of between 3:00 and 5:00 to see if there were any available reservations.
We found out during our sales presentation that if you are a member of the Viva club, you can make a reservation at a restaurant every night. This seemed a strange benefit, but once we found out we could only eat at a restaurant once during our stay, we realized why that was a benefit of the Viva Club.
Personally, I think that is a terrible system. The one restaurant we ate at wasn't even very busy, but I'm guessing they had to save tables in case a Viva Club member decided to eat there.
The Restaurants at Viva Wyndham Maya
The Buffet
While the system of being able to eat at a restaurant was disappointing, the buffet provided plenty of selection. Each night was a different themed-cuisine (so one night was Italian, one night was Mexican, etc.) That was nice so that you weren't eating the same exact thing every night.
For breakfast, the buffet provides french toast, waffles, pancakes, yogurts, cereals, eggs, chilaquiles, omelettes, and plenty of other variety. Lunch had just as big a variety, and dinner differed each night.
The cafeteria area is very large. There are plenty of tables and we never had an issue finding one. You walk in and seat yourself, and a waiter will find you and take your drink order.
The Snack Bar (Viva Cafe)
There is a snack bar located right at the main pool area. It is open 24 hours for those late night cravings. The snack bar has basic grill and pool-side food. We enjoyed hotdogs, nachos, fries, and fruit. The bar does close for short periods of time to switch out cuisines depending on the time of day, but it's not closed for long.
Near the snack bar is the main Bar for the pool area. There is also a big menu on the pillar offering plenty of smoothies. We tried quite a few of these (banana, mango, strawberry, coconut…) and they were all really good. This is a really fun experience for the kids to be able to go and order their own fun drink! While it is not a swim-up bar, it is just steps from the pool.
The snack bar and pool bar are both located under one big covered area with plenty of seating. There is also uncovered seating on either side of the snack area. One side is smoker-friendly and the other side is non-smoking.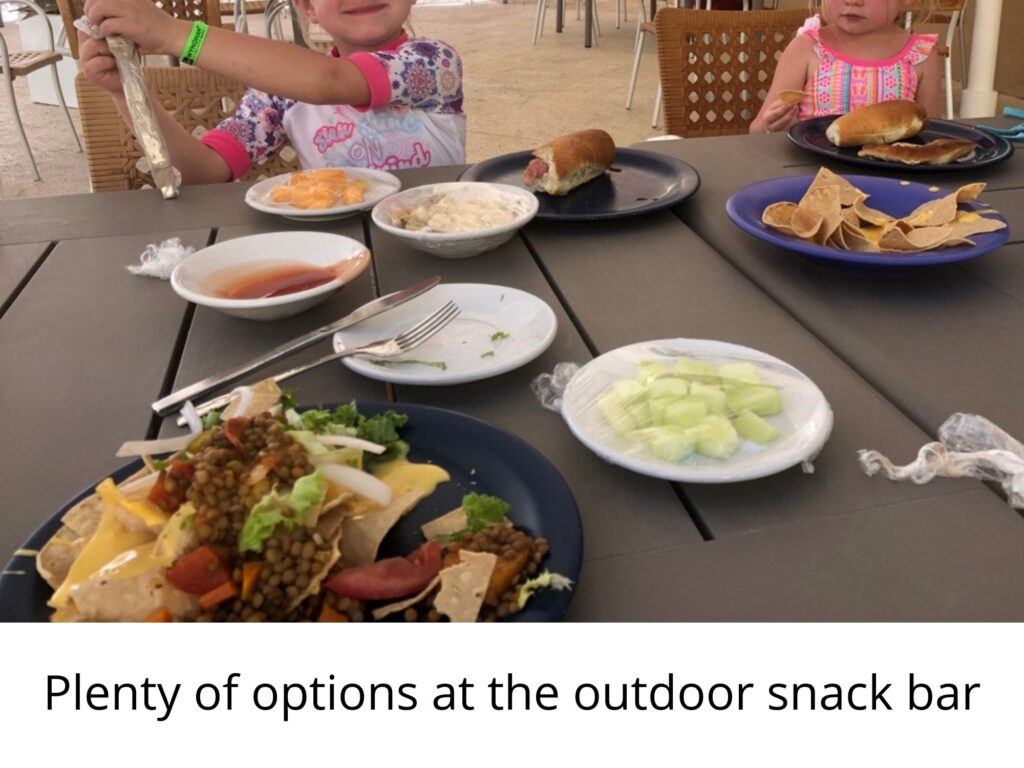 Hacienda Don Diego
This is a Mexican restaurant, and food here was good. The menu wasn't huge (maybe 10 things total on it?) They bring you Tamarindo Margaritas and Guava juice (or something similar) to the kids when you sit down. They made kid-friendly options for my kids, even though it wasn't on the menu. This was located along the covered walkway, about half-way through the resort.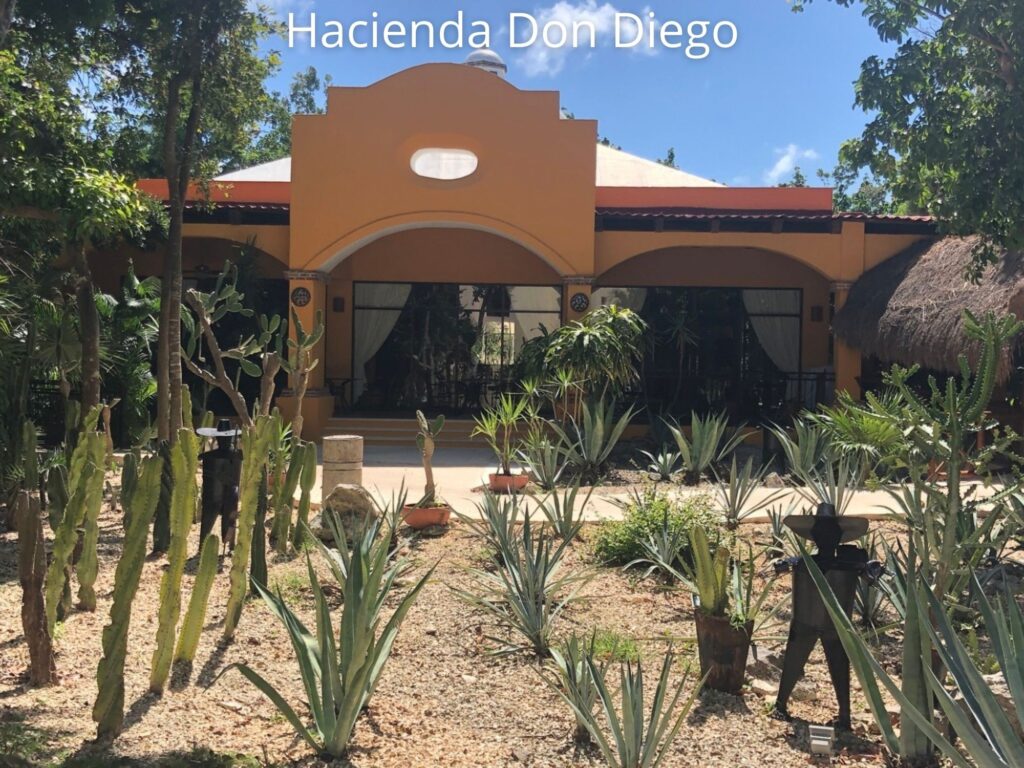 Miramare
This is an Italian Restaurant. We did not get to eat here. It looks amazing, as it is located on top of the snack bar and has windows all around, giving the tables great views of the ocean.
Portofino
This is a Mediterranean restaurant. We did not get to eat here. It is located halfway through the resort along the covered walkway.
Take a Virtual Tour of Viva Wyndham Maya (video)
Is Viva Wyndham Maya Family-Friendly?
It's important to know in Viva Wyndham Maya reviews if the resort is family-friendly or not. I found Viva Wyndham Maya to be very family-friendly overall. There were plenty of families here. I don't know if Wyndham just attracts friendly people, but I often noticed how friendly the guests were.
An older lady in the pool was (from a few feet away, of course) chatting with my youngest, counting with her as she jumped off, and pretending to swim back with her to the edge.
Another group of ladies chatted it up with my daughter at the buffet, which then we all got excited everytime we saw each other and chatted for a bit. The night before we left, we realized we were neighbors at the hotel.
The guests just seemed so friendly here, and there are lots of families. Plus, there were plenty of activities the whole family could enjoy. So yes, I'd say this is a family-friendly hotel.
Kid's Amenities
Viva Wyndham Maya has one main pool area. The largest pool is great because it is deep enough for older kids and adults, but at the entrance there is a very large area where it's only about one foot deep. This is great because we can all be in the pool at the same time at a comfortable depth. We adults don't have to be far from the kids, and we don't have to just sit at a kiddie pool.
That said, there is also a kiddie pool in the main pool area 🙂
Kids Club at Viva Wyndham Maya
Viva Wyndham Maya also has a kid's club. I cannot speak to it, as my kids didn't attend here (they never want to try kid's club.) There are also plenty of activities the kids can join in.
Amenities at Viva Wyndham Maya
There were quite a few amenities at Viva Wyndham Maya, many which we didn't even have time to enjoy. But they include:
Fitness Facility
Doctor on Site ($) (can Covid test here)
Spa ($)
Trapeze
Adults Only Pool Area
Family Pool Area
Kayaks
Volleyball
Catamaran Tours
Bicycles to Borrow
Gift Shop ($)
Money Exchange
Photographer (free photoshoot, pay for any pictures)
Scuba Diving ($)
Lots of Entertainment and Activities
We were able to play some beach volleyball and enjoy some of the night shows. It would have been fun to do one of the included Catamaran tours (they run once or twice a day). The waves were a bit too rough when we stayed to take the kayaks out.
All day long there are activities going on somewhere. We saw Zumba lessons going on, Spanish lessons, dance classes, horseshoes, yoga, darts, beach soccer, beach volleyball, and so much more! There really were so many options to stay entertained.
We really enjoyed the nightly shows. They begin at 9:30 and end at 10:30. Live performers do skits and dances, keeping the whole family entertained.
Is Viva Wyndham Maya in a Good Location?
Yes. Everything about this location was great.
Viva Wyndham Maya is located in Playacar, which is a nicer neighborhood/area of Playa del Carmen. It is safe to leave the resort and walk around the area. The staff actually recommended using the resort bikes to go out for a ride around the area. The resort does not have an incredibly long drive in from the road, so it's easy to just walk right out. It's just a few kilometers from 5th Avenue, a popular shopping destination in Playa del Carmen. We took a taxi there, but the staff said it is about a 25-30 minute walk.
If you want to just grab some local souvenirs, you can even just walk right across the street where just a few vendors are set up on the sidewalk. Easy-peasy.
The Beach at Viva Wyndham Maya
This Wyndham resort is also located on a great piece of beach. In fact, many reviews agree that Viva Wyndham Maya has the best beach in Playa del Carmen. It is large and has plenty of chairs. My girls were able to find lots of little shells. Beach vendors come through this area, which I really enjoy. Water-sport vendors also set up on this beach, offering parasailing, jet skiing, or boating.
There are plenty of chairs under the palm trees. There is also a section of nicer chairs with thatched umbrellas, but that section is only for Viva Club members.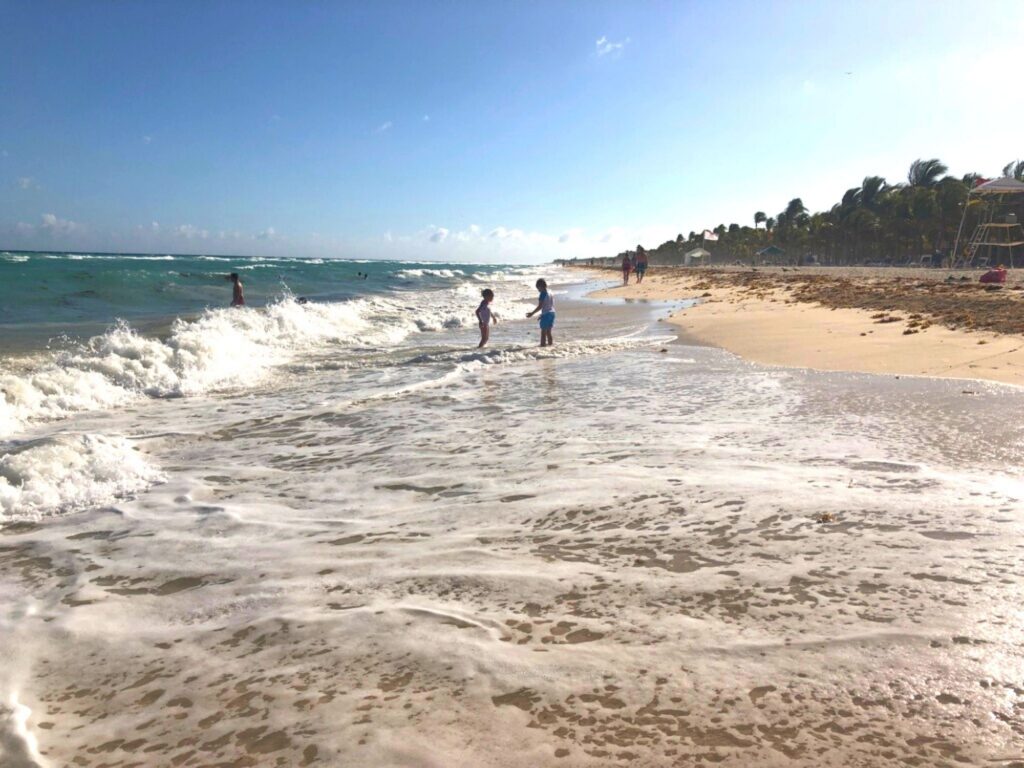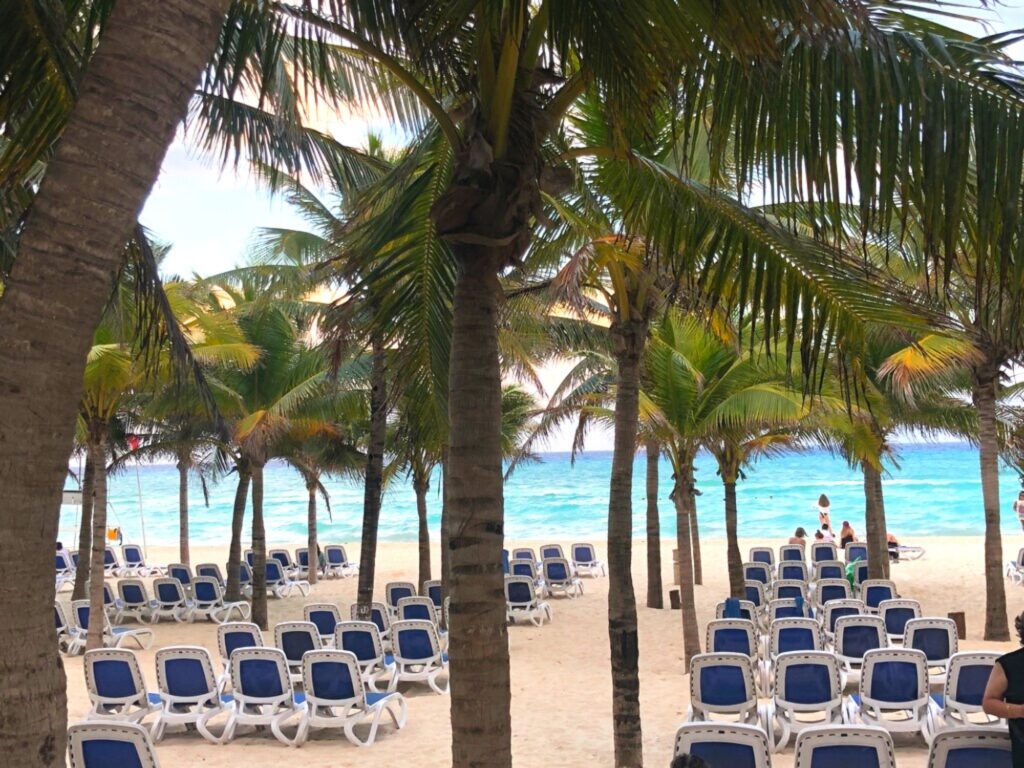 Layout of the Viva Wyndham Maya
The Layout of this hotel is pretty intuitive. At the main building where check-in is, there is
Gift Shop
Money Exchange
Concierge
Bar
Sales Office
Stairs to the Buffet
Continuing through this building, you step outside into a very large plaza. Each night there is something relaxing going on in the plaza. We would sit here after dinner and enjoy a violinist one night and walk through vendors who had set up another night. There is usually music in the evening and it's just a nice, relaxing place to hang out.
On either side of this outdoor plaza, you can continue down the paths where the hotel rooms run along the outside edges. On the inside, right down the center, you'll come across beautiful garden areas which include Mayan statues. You will also walk past either Hacienda Don Diego (Mexican Restaurant) and Portofino (Mediterranean Restaurant). When you come to the end of either walkway (both, by the way, which are covered for a majority of the walk! This really helps with the hot sun during the day!) you'll come to the outdoor theater area where the nightly shows take place. Continue on to Viva Cafe (the snack bar) and bar. Right on the other side of the snack bar is the main pool. Then, the beautiful beach is just steps from the pool.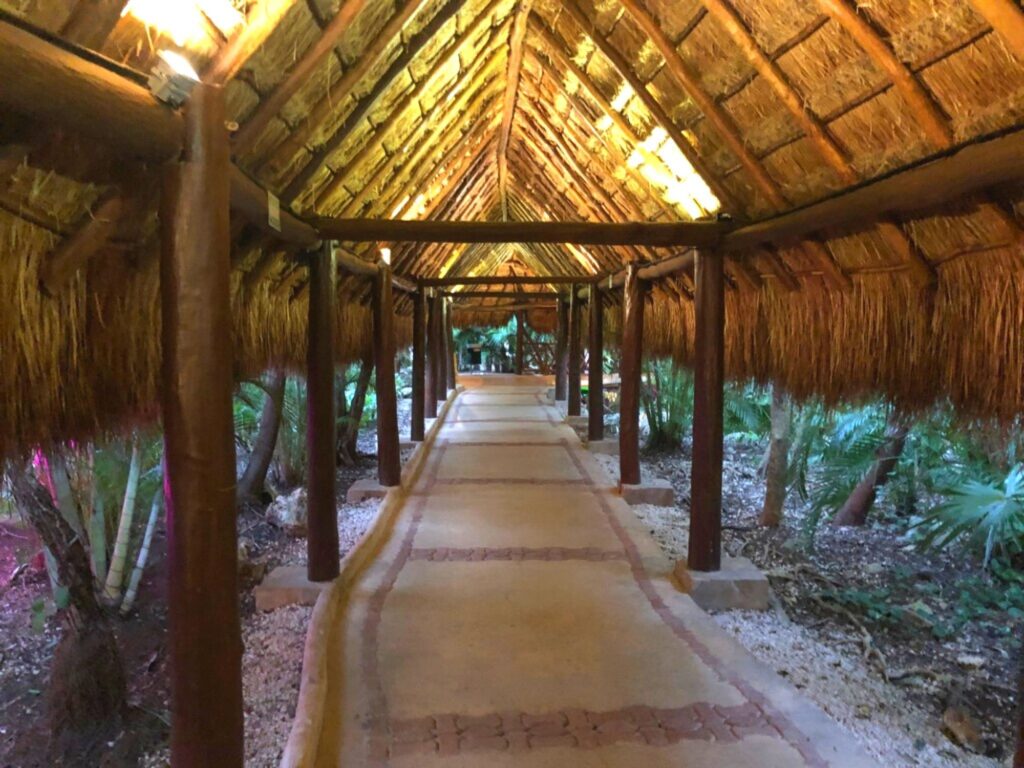 It's basically a straight walk to almost everything you need. The exceptions are the doctor, gym, spa, kids club, and adults only pool, which are located down a path to the right of the lobby.
Conclusion of Viva Wyndham Maya Review-
Should You Stay at Viva Wyndham Maya- Playa del Carmen?
Hopefully this full review has been helpful in determining if Viva Wyndham Maya is the right hotel for you! Here is a quick review of some highlights and perhaps suggestions:
Highlights
Excellent Check In Experience
Great variety of food
Family-Friendly
Lots of activities and amenities
Great Location, close to Playa del Carmen
Practical pool with kids
Beautiful Beach
Clean rooms
Intuitive to get around
Where I think there is room for improvements
Sales presentations are too long (if you choose to participate)
Personally thought there was too much smoking (sometimes guests just didn't respect the non-smoking signs though)
Would have liked to be allowed to eat at more restaurants
We found our stay to be comfortable and fun. Viva Wyndham Maya isn't a 5-star resort, but it was one of the more affordable resorts offered and had everything we needed to have a great time!
Would you stay at Viva Wyndham Maya in Playacar? Let us know in the comments!
Interested in Booking? Click the picture for more! And don't forget to check out why we ALWAYS book hotels through hotels.com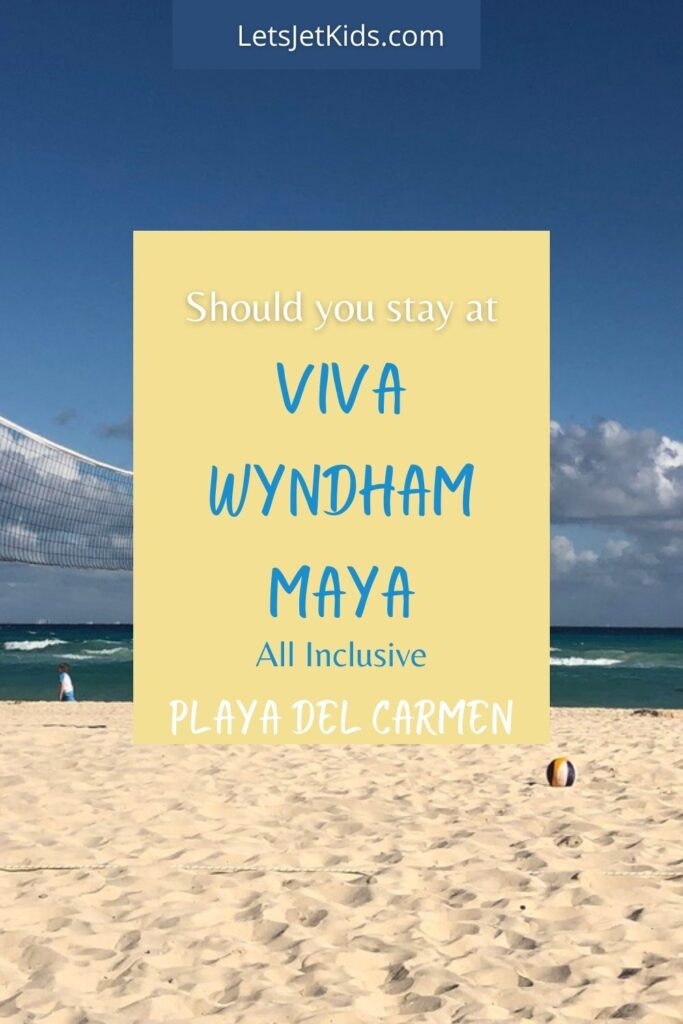 Check out our other posts on All-Inclusives and activities to do in Mexico!
Royal Haciendas- a wonderful All-inclusive!
Sunscape Akumal- All Inclusive