13 Great Places to Stay Near Great Sand Dunes National Park
Trying to figure out where to stay near Great Sand Dunes National Park? This list has you covered!
Let's Jet, Kids! uses affiliate links.  As an Amazon (and other networks) Associate, I earn from qualifying purchases.  It is no extra cost to you.  
Whether you need ample space in a rental, something unique, something affordable, or even some great Great Sand Dunes camping areas, you can find it here. These great hotels near Great Sand Dunes National Park are close to the national park so you can spend your day playing. And the rentals will provide everything you need to make your home away from home during your stay.
Table of Contents
Where to Stay Near Great Sand Dunes National Park-

Closest (and Coolest) Options
Great Sand Dunes Lodge
*Close, convenient
The Great Sand Dunes Lodge is the closest lodging to the park that you can stay. Choose from a standard room to a comfort room that has a little kitchen (perfect for making simple meals to save money!)
Rooms sleep up to 4, and they are pet-friendly ($). (Tip: Unlike most national parks, you can bring dogs onto the sand dunes. Just keep them leashed.)
Great Sand Dunes Lodge serves up a continental breakfast each morning (included) to make the start to your day easier.
Great Sand Dunes Lodge is a great place to stay because of its proximity to the park. It takes just a few minutes to drive into the park, whereas nearby towns are around a 30 minute drive.
Past guests have loved being so close to the dunes, the service, the cleanliness, and the incredible night sky!
There aren't many rooms at Great Sand Dunes Lodge, so make sure to book ASAP.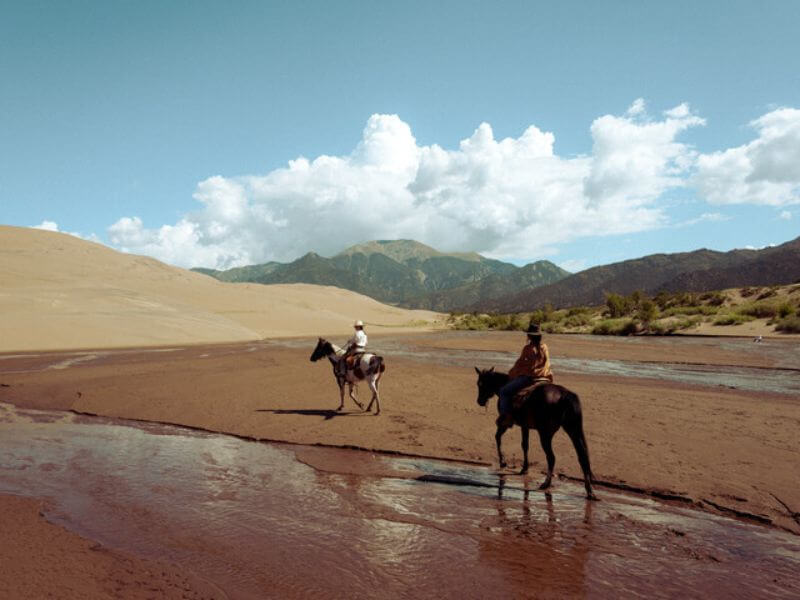 Image credit: Claudia Landreville, and @Ranchlands (used with permission)
Zapata Ranch
*Ranch Experience
Zapata Ranch is the next closest place to stay to Great Sand Dunes National Park. It's a unique, ranch-style lodging owned by the Nature Conservancy and managed by Ranchlands. And it's an amazing place to stay.
Zapata Ranch is perfect for families that love horseback riding, as you'll have plenty of opportunities to ride through herds of bison or even over to Great Sand Dunes.
Though you're on a working ranch, it's a luxurious experience between the amenities and gourmet food made from local ingredients.
Past guests have loved the staff, the food, the freedom granted during horseback riding (as opposed to everyone riding 5 inches apart in a line), and the overall happy feeling. Riders must be at least 8 years old, though younger kids can ride ponies in the corral.
"Ranch Vacations" are all-inclusive and require a 3 night stay.
Single overnight stays only include breakfast and dinner and do not include all the activities.
Zapata Ranch is only open March through October. Dogs are not permitted.
Rustic Rook Resort
*Canvas Tents
The Rustic Rook Resort is perfect if you're looking for a unique place to stay near Great Sand Dunes. At just a 15 minute drive away, it's a great, comfortable place for glamping with the family.
Rustic Rook is a great place for families. These canvas tents can sleep up to 6. This happens by putting 4 people in the main tent, and 2 in the smaller tent (included in the 6-person price) right outside.
You can also bring your dog along ($).
Breakfast is included, and (loved by guests). The property has great activities on site, like volleyball, BBQs, campfires, horseshoes, and more.
Many guests get to enjoy s'mores in the evenings.
In the spirit of glamping, there are private community showers and bathrooms.
If you're looking for where to stay near Great Sand Dunes National Park, this is a great and unique choice. Since it's not located in a city, it gets to experience the great night sky that Great Sand Dunes is famous for.
Hotels Near Great Sand Dunes National Park
The nearest town near Great Sand Dunes is Alamosa. It has plenty of conveniences and amenities and will take about 30 minutes to get to the sand dunes from.
Here are a few nearby Great Sand Dunes hotels in Alamosa to take a look at.
Fairfield Inn & Suites
*Top rated, standard, convenient
The Fairfield Inn is a nice, standard hotel in Alamosa. It has an updated design, clean rooms, and can sleep up to 5 in a room.
You'll get included breakfast at the Fairfield, plus an indoor pool.
The rooms have a microwave and refrigerator, making it easy to run to the Walmart down the street for easy, quick meals.
One convenient thing about staying at the Fairfield is the ease of using sand sleds and boards… here's why.
Kristi Sports is a great place to rent sand boards and sleds for the day. While there is a cut off time to return them to the store by the end of the day, you may not be done playing quite yet. No worries. They have an agreement with the Fairfield that renters can return their sled to the front desk at the Fairfield after hours.
Book the Fairfield Inn & Suites
Holiday Inn
*Standard, pool
Another great hotel near Great Sand Dunes National Park is the Holiday Inn in Alamosa.
Holiday Inn has a small indoor pool and hot tub for swimming any time of year. You'll also get free breakfast, wifi, and options for connecting rooms.
The rooms are well-kept, standard rooms with options to sleep up to 6 with a sleeper sofa. They also have a small fridge and microwave.
Past guests loved the friendliness of the staff and considered this to be a better-than-standard hotel.
Comfort Inn and Suites
*Standard, budget
Comfort Inn and Suites is one of the more affordable hotels near Great Sand Dunes National Park. But as the name suggests, it's comfortable and perfect for families just wanting somewhere to rest their heads after a hard day playing.
We stayed at Comfort Inn and Suites as a budget-friendly option. We loved that the room was bigger than a standard hotel room. There is a room for the beds, then a slight divider area for the sofa area (which pulls out, giving you space for 6 people to sleep in one room).
We loved that it provided breakfast, was clean, comfortable, and in a great location to Kristi Sports (to rend sand sleds) and Walmart (to grab quick dinners for the fridge and microwave).
Rental Homes Near Great Sand Dunes National Park
Modern Home Rental Near Great Sand Dunes NP (closest rental)
*Close, Hot Tub, Modern
This beautiful, modern rental is less than 10 minutes away from Great Sand Dunes.
With 3 bedrooms and 2 bathrooms, you can comfortably sleep up to 6 people in this home.
You'll be able to make (or heat up) meals at home with the full kitchen. Laundry machines come in handy after a day on the sand and in the creek.
This is a newer rental, and therefore doesn't have any/many reviews yet. I highly recommend messaging with the host to get any questions answered before booking!
Crestone Cabin in the Woods
*1 hour from sand dunes, close to town
This gorgeous cabin is located near Crestone will take just under an hour to reach the sand dunes. Crestone is a great place to stay if you want a day on the sand dunes and a day of gorgeous hiking. There are a few moderate hikes that will take your breath away (literally and figuratively) in Crestone.
This Crestone cabin is conveniently close to town. It has a real, log cabin feel to it with log exterior architecture. The inside still feels like a mountain home, but is less rustic-looking that the outside.
You'll get 3 bedrooms, plus a loft area with a trundle bed, giving you space to sleep up to 8 people comfortably.
The best part of this cabin is the wraparound deck, giving you ample space to relax and enjoy sunsets (or sunrises, if you're an early riser). Past guests especially enjoyed the upstairs balcony and soaking the in the stars at night.
The cabin is surrounded by nature as well, making for a private getaway.
This rental provides internet, fireplace, fire pit, fooseball table, laundry, and more.
Book this Crestone Cabin in the Woods
Beautiful Adobe Home in Crestone
*1 hour from sand dunes, wildlife and nature
This adobe home has everything you need for a 4-person family getaway. Plus more!
Sitting on 2-1/2 acres, you'll have plenty of privacy and outdoor space to play or relax among the nature and wildlife. (And as wildlife are the only neighbors, you'll enjoy many undraped windows so you can enjoy the views).
This home has 2 bedrooms and 1 full bathroom. You'll also get a full kitchen with everything you need for cooking (often including spices and condiments).
But the best part of this home is the retreat-feel and feeling like you can get away from it all, but still be close enough to the sand dunes (just under an hour away for that fun day trip).
Great Sand Dunes Camping Spots
Zapata Falls Campground
Located 15 minutes from the national park
The Zapata Falls campground is conveniently located along the same main road as the park, about 7 miles away. It is operated by BLM (Bureau of Land Management) and you must make a reservation to stay.
There are 23 sites here and both tent campers and RV/trailers are welcome.
The Zapata Falls campground is cool because of its proximity to the dunes, but also because it is close to the creek and accessible to Zapata Falls, a relatively easy hike up to a great waterfall.
Zapata Falls campground is a basic campground without amenities or any access to public drinking water.
Reserve your Zapata Falls Campsite
Great Sand Dunes Oasis
Located right at GSD National Park
The Great Sand Dunes Oasis is the perfect, family-friendly Great Sand Dunes Camping site. There are plenty of conveniences to make your trip easy.
The Oasis provides both RV sites and tent sites. You'll also get a place to shower, access to sand board/sled rentals, and a restaurant to make your meals easy to plan.
There's a little souvenir shop as well with some basic groceries for anything you forgot.
The Great Sand Dunes Oasis is in the same area as the Great Sand Dunes Lodge (listed first on this list), so it's great access to the national park everyday.
Reserve your site at the GSD Oasis
Piñon Flats Campground
Located just a few minutes from the national park parking lot
If you want Great Sand Dunes National Park camping right at the park, this is the one.
Piñon Flats campground is located just a mile from the visitor center. It is open seasonally and must be reserved in advance.
Piñon Flats offers a few amenities to make your stay more comfortable. You'll get actual bathrooms (flush toilets), though no showers. You'll also get a place for water in each camping loop.
Piñon Flats is ideal for tent campers and RVs up to 25 feet are also allowed, though there are no hookups available. (Select spots can fit RVs up to 35 feet, check your reservation carefully).
Each campsite offers a picnic table and fire grate to use. There is also a bear locker provided at each site.
Any spot you get here will be great. There are some spots with plenty of trees around, giving you great shade during the hot months. Though, if you get a site without trees, you'll probably have a great view of the giant dunes just a short distance away.
As Piñon flats is one of the closest Great Sand Dunes camping spots, it fills up quickly for the summer months (especially early summer). So make your reservation ASAP.
Base Camp Family Campground
Great Sand Dunes KOA
Located 26 minutes from Great Sand Dunes National Park.
Perfect for families looking for various lodging options. Choose from pulling your own RV in, basic cabins (bring your own linens!), or tent camping.
The KOA provides various activities like cornhole, basketball nets, a playground, seasonal pool, sand board rentals on site, and even meal options.
Where To Stay Near Great Sand Dunes National Park
Whether you are looking for Great Sand Dunes hotels (and hotels near Great Sand Dunes National Park), a cool unique ranch, a great rental home, or Great Sand Dunes camping spots, there are plenty of options to make sure your family finds the perfect place!
If you'd like to see more in Southern Colorado, make sure to check out fun things to do in Pagosa Springs (spoiler: fun, FREE hot springs) and the best places to stay in Pagosa Springs.