Best Water Park Hotels Across the United States
No matter which state you are traveling to, you can find an awesome water park for the kids to enjoy! This list of waterparks state-by-state will show you which hotel to stay at that makes it the most convenient. I've found the best hotels with waterparks in each state…with just a few exceptions of hotels near the best water parks (where no waterpark-hotel was to be found). So read on and start planning your water park adventure stay today!
Let's Jet, Kids! uses affiliate links.  As an Amazon (and other networks) Associate, I earn from qualifying purchases.  It is no extra cost to you.  
The list goes alphabetically, state-by-state. Take a peek and see which waterpark sounds best, or look for a state you'll be visiting to find where to stay with all the water fun!
---
See why we love using Hotels.com to book!
---
Disclaimer: Some water parks are seasonal. Please be sure to double check if the park is open before booking. Also, during this time of COVID, some waterparks are at limited capacity or require reservation. Please be sure to check that as well with each location! Use your best judgement and please follow all COVID restrictions and local orders.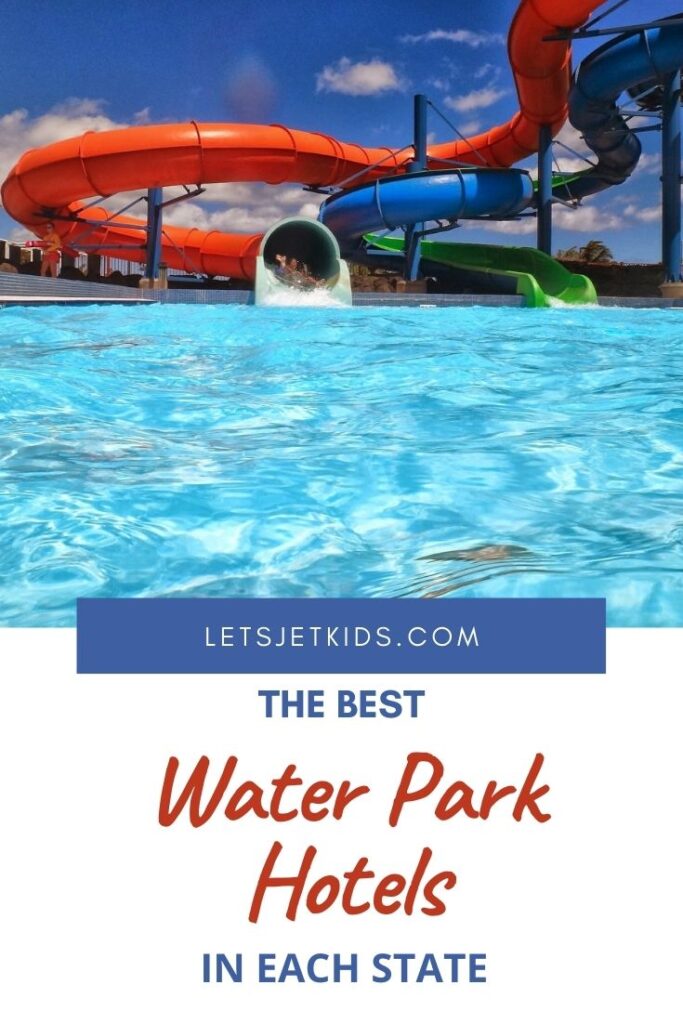 Best Water Park Hotel in Alabama
Chestnut Bay Resort– Leesburg, Alabama
The rental homes at this resort are perfect for families. Choose from a poolside home, or a lakefront home for beautiful views of Weiss Lake! Spanning from 2-6 bedrooms, they can accommodate larger families and groups. Onsite is a pool with a waterslide for all to enjoy!
For an extra charge, you can access the large Pirate's Bay Waterpark just a couple minutes away! It features slides for both big kids and little kids, pools, and putt-putt golf.
Best Water Park in Alaska
H2Oasis– Anchorage, Alaska
H2Oasis technically doesn't fit as a "hotel," but you can bring and camp your RV here, and it's free to park with admission to the waterpark. This waterpark is huge and features big slides and little slides, a pirate ship kids area, hot tub, lazy river…all you could want in a waterpark can be found at H2Oasis in Alaska! Back when H2Oasis was completed, it was the 5th largest waterpark in America!
Best Water Park Hotel in Arizona
Hilton Phoenix Resort at the Peak– Phoenix, Arizona
This beautiful resort has a massive pool area. The River Ranch Water Park is open daily and features a waterslide and beautiful waterfall area. You'll also find mini-golf and a cafe. You will feel like you have escaped to a tropical location, all right in Phoenix!
Best Water Park in Arkansas
Magic Springs Water Park– Hot Springs, Arkansas
One awesome water park in Arkansas is, unfortunately, not attached to a hotel. But the Magic Springs Waterpark will not disappoint. Nearby hotel Candlewood Suites Hot Springs is an easy drive away. Magic Springs is both an amusement and water park. The water park is HUGE and features slides galore for both big and small, a massive wave pool, plunge slides, a large water-playground area, and even a multi-track slide to race on! You'll find all sorts of fun at Magic Springs Water Park
Best Water Park Hotel in California
Omni Rancho– Rancho Mirage, California
Just outside of Palm Springs, this beautiful hotel features and beautiful pool area to relax in. But, there is also a well-done water park area. It's a smaller scale than massive water-park resorts, but still well-done and a blast for the kids! Splash all day in the splash area, pools, slides, and lazy river.
Plus, the location is perfect! Nearby to great dining (Spaghetti Factory, Cheesecake Factory, etc.) and a short drive from Joshua Tree National Park makes this a great spot!
Best Water Park Resort in Colorado
Great Wolf Lodge– Colorado Springs, Colorado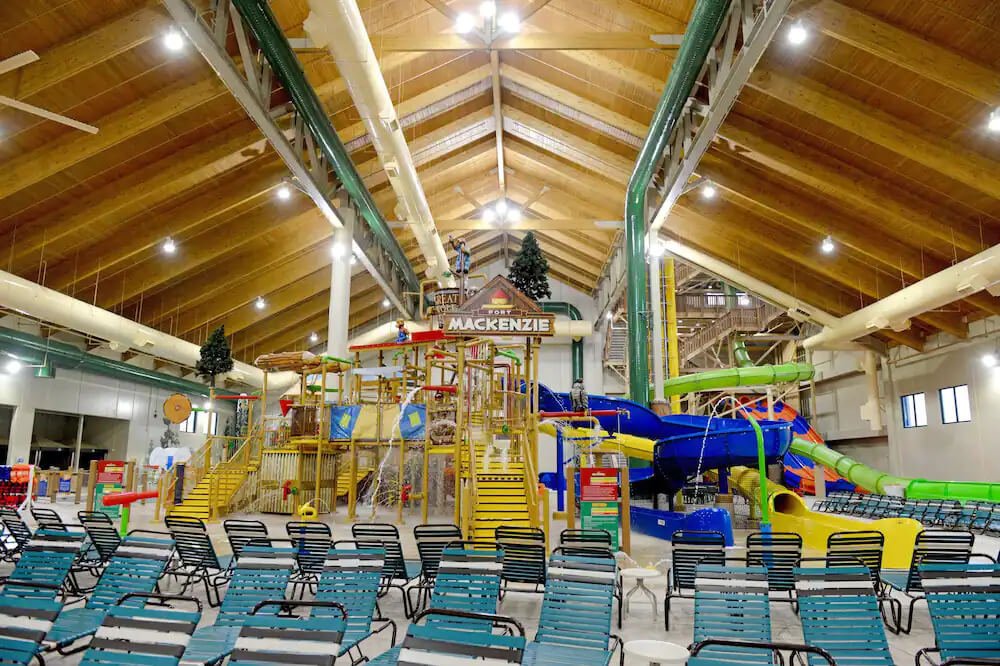 While there are two main resorts in Colorado for waterpark fun, Great Wolf Lodge is definitely the bigger waterpark of the two (Gaylord Rockies being the other great choice, and it's near the Denver Airport). With a wave pool, slides, zone for the little kids and more, you can easily spend a fun weekend here. Plus, there are dining options, arcades, and more activities the kids will love!
Best Waterpark Hotel in Connecticut
Coco Key Water Resort and Hotel ML – Waterbury, Connecticut
This ginormous waterpark is over 55,000 square feet of indoor, year-round fun! From the lazy river to the giant slides, adults can relax or thrill-seek. The kids will love the slides, jungle gym, and other water features, as well as the arcade and restaurants at the resort!
Best Waterpark in Delaware
Atlantic Sands– Rehoboth Beach
This beach front hotel at Rehoboth beach is in a great location and has a great outdoor space, but unfortunately is not a water park resort itself. But… it is a short drive from Jungle Jim's Water Park. If you want a hotel closer to the waterpark with high ratings and great charm, check out Ocean Glass Inn, just a few blocks away.
Jungle Jim's has it all! You'll find a lazy river, spray ground, wave pool, slides, and even bumper boats! This awesome waterpark is just a short distance from the hotels above, so decide if you'd rather be beachfront at the Atlantic Sands, or a mile from the beach and close to the waterpark at Ocean Glass in!
Best Water Park Hotels in Florida
Holiday Inn Resort Orlando– Orlando, Florida
Holiday Inn has really stepped up its game since I was a kid! While not all Holiday Inns look like this, I sure wouldn't mind stopping by Holiday Inn Resort Orlando! With a Zero-entry pool, big waterslides, a massive water playgound, pool, and so much more, there's plenty for everyone in the family to enjoy at this water park in Florida!
There were a few water park hotels in Florida to choose from, so a few honorable mentions include the Flamingo Waterpark Resort in Kissimmee featuring big slides, little slides, a lazy river, playground, and an arcade at the hotel.
Holiday Inn Resort Panama Beach– This water park is great for younger kids with a fun splash pad and water area. The hotel also boasts an arcade and even billiards for the adults! Plus, it's right on the beach!
And lastly, The Grove Resort and Water Park in Orlando has a few big waterslides along with a fun water playground area for the younger ones!
Best Water Park Hotel in Georgia
The Ridges Resort – Lake Chatuge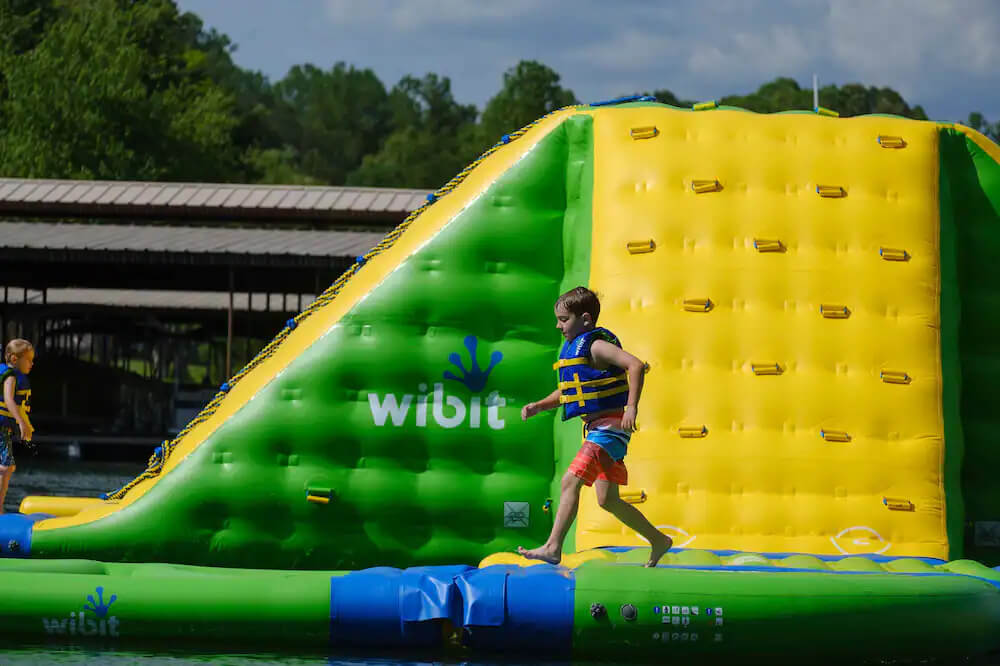 The resort and water park are separate, and yet are together, too! Splash Island is part of the Ridges Resort, but require a separate entrance fee. The best part about this water park? It's totally un-traditional. Right on Lake Chatuge, you'll find massive inflatables to play on (seasonal). There are all sorts of climbing challenges, slides, and more on this fun inflatable obstacle course on the water. Splash Island recommends you be at least 7 years old to play, or else always be accompanied by a parent/guardian.
Best Water Park Hotel in Hawaii
Hilton Hawaiian Village Waikiki Beach Resort– Waikiki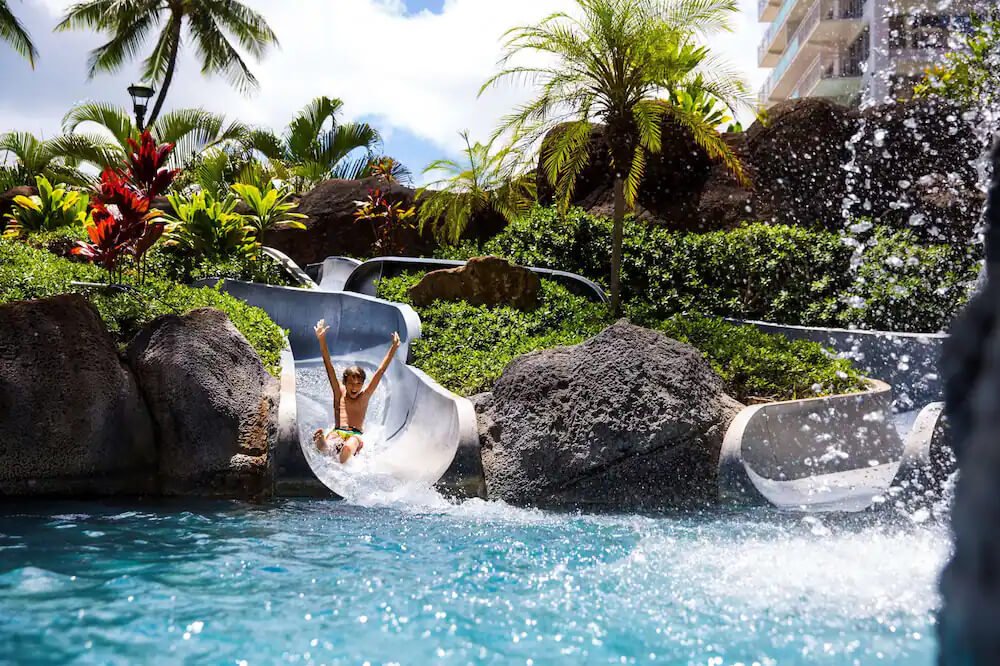 This hotel already looks perfect and the fact that it's beach front on Hawaii means it must be incredible. But there's so many more reasons the Hilton Hawaiian Village Resort is perfect for that family getaway! Of course, the water park. It's not a big, loud, colorful waterpark. It's a beautifully landscaped, peaceful-sort of outdoor oasis. At this Hawaiian hotel, you'll find a natural-looking slide in the pool area, providing excitement for the kids while you relax, or perhaps take a ride down the longest slide in Waikiki yourself!
Best Waterpark Hotel in Idaho
Triple Play Resort– Hayden, Idaho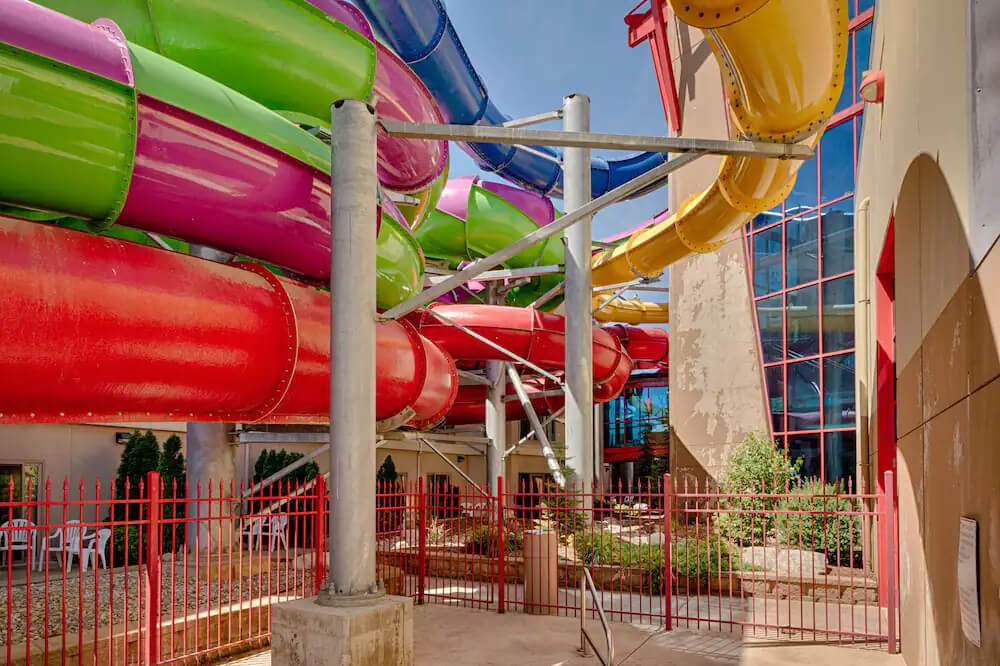 While you may not have heard of Hayden, Idaho, perhaps you've heard of Cour d'Alene. Hayden is just north of Cour d'Alene and the waterpark inside this hotel is pretty impressive for an Idaho town! Triple Play Resort has a Raptor Reef water park that will impress anyone, with massive slides as well as a younger children's area. Massive dinosaur decorations will excite the kids as they run and play. Access to the water park is an extra charge that can be discounted for hotel guests. If the water park isn't enough, you can also find bowling, bumper boats, bumper cars, and more in their great Triple Play fun center!
Honorable Mention in Idaho goes to:
Silver Mountain Resort– Kellogg, Idaho
This hotel is near the Silver Mountain ski area, about 40 minutes east of Cour d'Alene. Between a day on the slopes and a day at the waterpark (with a lazy river, waterslides, hot tub, and more!), the whole family will love Silver Mountain Resort!
Best Water Park Hotel in Illinois
Grand Bear Resort- Utica, Illinois
You could spend all day on the slides, wave pool, or floating in the Lazy River at Grand Bear resort! When you're tired, you can head to one of the many onsite restaurants. Or, take a break from swimming at the arcade, playing some mini-golf, or participating in one of their craft events!
Great Wolf Lodge – Gurnee, Illinois
Closer to Chicago, you can find a Great Wolf Lodge. Famous for their massive indoor water park with sections for all ages, you can also find dining options, themed rooms, fun activities and amenities throughout the hotel!
Best Waterpark Hotel in Indiana
Big Splash Adventure– French Lick, Indiana
Conveniently located either about 2 hours from Indianapolis or about 1 hour from Louisville, KY, Big Splash Adventure is a great, big water park inside of a fun hotel! The water park features a lazy river, a big water playground, a splash area for young ones, and big, tall waterslides for the older ones! It's got everything a waterpark should have!
Best Water Park Hotel in Iowa
Kings Pointe Resort- Storm Lake, Iowa
This resort has both indoor and outdoor waterparks! With 5 big slides for the older kids to enjoy, as well as a lily pad and splash zone for the younger kids, there's plenty of fun to go around! And as a bonus, the resort sits right on the lake!
Bridges Bay Resort- Arnold's Park, Iowa
With both indoor and outdoor water park areas, you can enjoy Bridges Bay Resort all year long! Outside has a big pool with a couple plunge (steep, fast!) slides, as well as an area for the little ones. Inside is a classic dump-bucket playground and some slides that the kids can enjoy! The resort also features an arcade.
Best Water Park Hotel in Kansas
Great Wolf Lodge– Kansas City, Kansas
This Great Wolf Lodge sits on the Kansas side of the Missouri/Kansas border. With a lazy river, big slides, little slides, a water playground, and a specific area for the small ones, Great Wolf Lodge makes a great family getaway! You can eat onsite at one of the restaurants, or drive a short distance to surrounding restaurants, (including some good BBQ!)
Best Water Park in Kentucky
Kentucky Splash Water Park and Campground – Williamsburg, Kentucky
This isn't exactly a hotel, but if you're willing, you can pack up to sleep at the campground here and play at the water park during the day! And the water park is pretty impressive for a campground! With many slides and a splash area, this is the perfect way to cool off during a hot, summer camp out! The campground also has mini-golf and a driving range to add to the fun.
Not in the mood to camp? Check out the Holiday Inn Express in Williamsburg, just a short drive away from the Kentucky Splash Water Park!
Best Water Park Hotel in Louisiana
Seven Clans Hotel– Kinder, Louisiana
Seven Clans features 2 slides, each 40 feet tall, as well as a lazy river, splash pad, and a swim-up bar. There's a little something for everyone here! The location is near a golf course and a casino for a little night life.
Best Water Park in Maine
Funtown Splash Town– Saco, Maine
(Not a hotel)
Everywhere you look, there seem to be waterslides! Funtown Splash Town has slides galore, a fun splash area, water playground, and lagoon area. The slides range from plunge slides, multi-tracks, multi-rider tube slides, and more!
While there isn't a water park hotel in Maine (that I could find, anyway), you can enjoy Funtown Splash Town and stay nearby at the Hampton Inn, or Edgewater Motel (which is close to the ocean, so you'll have an all-round water vacation!)
Best Water Park Hotel in Maryland
Francis Scott Key Family Resort– Ocean City, Maryland
Come feel like you're in the Caribbean at Shipwreck Cove, the new outdoor pool area! The water park features dump buckets, waterslides, splash areas, zero-entry pool, and hot tub to relax in! The younger ones will love the Pirate Ship water playground, and all will love the variety of food for purchase!
Best Water Park Hotel in Massachusetts
Great Wolf Lodge– Fitchburg, Massachusetts
One of the most well-known water park hotel chains has a location in Massachusetts! Great Wolf Lodge is always a good idea. With waterslides for the older kids (and adults!) and waterslides for the younger, everyone can participate in this fun water adventure. Even the littlest ones have their own section of the water park with splash areas and little slides in shallow waters. Great Wolf Lodge offers a massive water park, and restaurants, activities, and other amenities as well.
Best Water Park Hotel in Michigan
Soaring Eagle Waterpark and Hotel- Mt. Pleasant, Michigan
This waterpark has it all! The FlowRider provides a great area to practice surfing. Biish Falls will soak you when the eagle sends its warning, but feel free to run around and play on the playground while you wait. Otherwise, you can ride the slides, soak in the hot tub, float on the river, or play a little water-basketball! When the kids are worn out from the water park, you can visit the arcade or participate in storytime!
Best Water Park Hotel in Minnesota
Great Wolf Lodge- Bloomington, Minnesota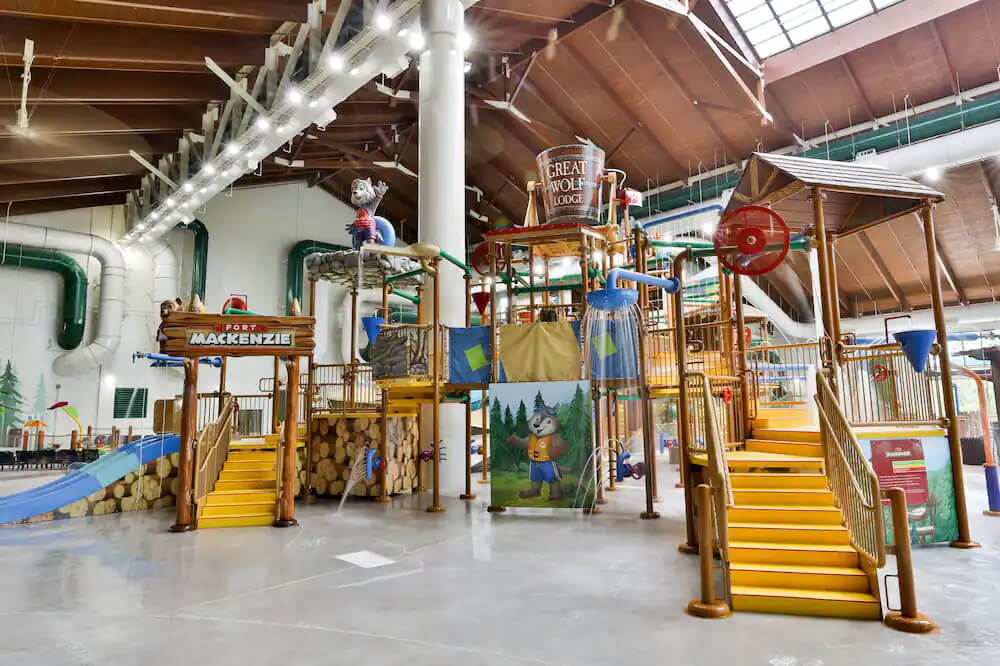 Great Wolf Lodge is always a favorite family getaway. The water park is included in your stay and has a section for all ages! The older ones can ride the big slides, while the younger ones can play on a playground made just for their size with slides that are just right. The littlest ones will even find a water splash area just their size, with slides even smaller, but just as fun!
Holiday Inn Express Hotel and Suites- Baxter, Minnesota
For a Holiday Inn Express, the idea of having an indoor water slide and pool-basketball area is pretty impressive!
Comfort Suites Rapid River Lodge– Baxter, Minnesota
This open, large pool area inside this Comfort Suites will be perfect for little ones wanting some extra adventure at the pool! The pool area has a playground area for playing and sliding while enjoying the pool.
Best Water Park Hotel in Mississippi
Margaritaville Resort– Biloxi, Mississippi
Margaritaville Resorts are just plain cool. They cater to fun and adventure for everyone. The great waterpark area has a slide and obstacle course area, lazy river, swim-up bar and is really just a large, pleasant space. If that wasn't enough, the resort also hosts a climbing wall, ropes course, arcade, and other fun activities! And this location is on the water, giving you beautiful views when you wake up each day.
Best Water Park Hotel in Missouri
Margaritaville Lake of the Ozarks– Osage Beach, Missouri
Another Margaritaville Resort takes the cake again! This Missouri location features a great Indoor waterpark, 3 outdoor pools, tennis, restaurants, outdoor games, nearby golf, marina…and it's close to a beach area for more water play!
Click Below for the next page of Montana thru Wyoming!