Super Cool Places to Stay in Samara Costa Rica
Heading to Samara in Costa Rica? It's a cute little, family-friendly town that doesn't have any big chain hotels. But it does have some really cool places to stay! If you're wondering where to stay in Samara, check out the list below.
Let's Jet, Kids! uses affiliate links.  As an Amazon (and other networks) Associate, I earn from qualifying purchases.  It is no extra cost to you.  
---
Makes sure to check out
Fun Things to do in Samara for families
---
More-Affordable Places to Stay in Samara Costa Rica
In-Town Casa
Average $136/night
3 bedrooms, sleeps 8
I have to mention this rental first because it is where we stayed. It was the cutest place and had plenty of room for our family to stretch out.
This rental is in a convenient location with the ability to pretty much walk everywhere in Samara.
Need dinner? Right across the street.
Need ice cream? Right across the street.
Need groceries? A short walk down the same street.
And the beach is an easy walk down a couple blocks.
I rave on and on about why we loved this rental in this post about the coolest rental in Samara. Or check out the listing here.
---
The Hideaway Hotel
The Hideaway Hotel in Samara kinda looks like a big, beautiful home.
It's located on the road between Samara and Carrillo, giving you quick access to either beach.
The hotel has a pool (and bar), restaurant, and only 12 rooms so it doesn't feel too crowded.
The rooms all have wi-fi, TV, and A/C.
Check out the Hideaway Hotel here.
Did you Know: Booking with hotels.com will lead to free nights? Plus, if plans change, many hotels allow free cancellations (within a time frame) with a click of a button. See each listing for specific details. See more on why I love using hotels.com
---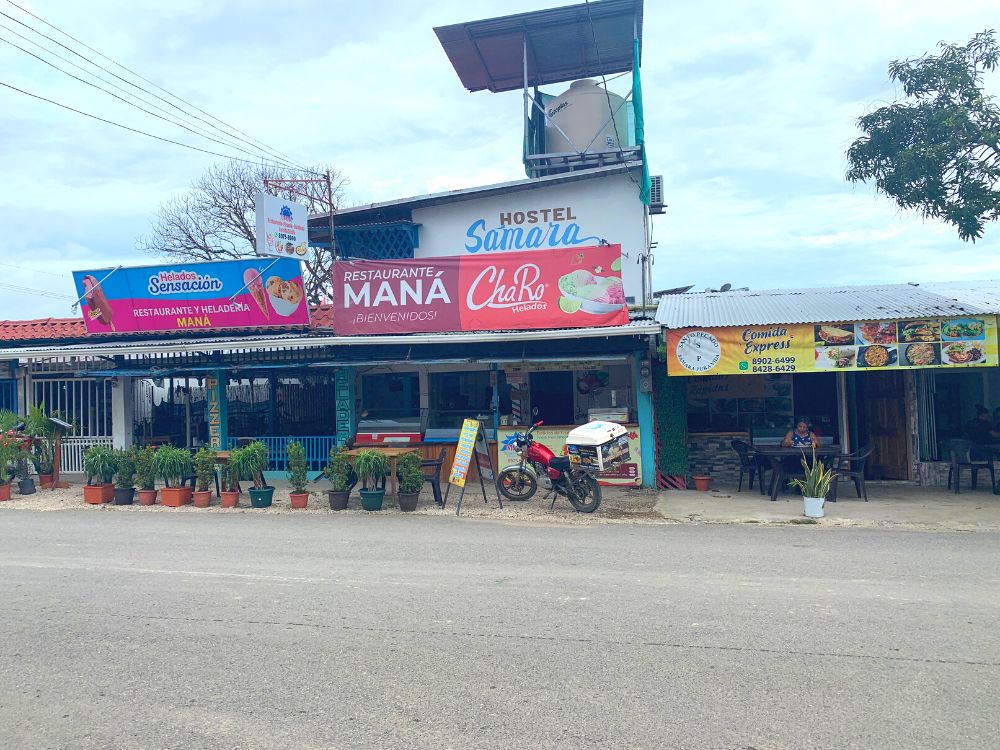 Hostel Samara is located right inside the entrance to this restaurant
Hostel Samara
I don't typically think of Hostels as a typical family lodging option. But this one is a nicer, more private hostel. And if you're needing something very affordable, why not check it out?
You can book private room if your family takes it up (like the 4 person room), and even have your own private bathroom.
Enjoy the shared kitchen to chat with others and a cool rooftop terrace to overlook town.
Hostel Samara is located right in town, with the entrance right alongside a great restaurant.
We actually ate at the restaurant one night and were surprised at how many people came in to this hostel through the night. We said "that must be a good hostel!"
And sure enough, it's rated highly with people mentioning it being very clean, enjoying their family stay there, and loving the staff.
Mid Range Hotels and Rentals in Samara
Tree House Inn cool places to stay in Samara
If you want a unique place to stay in Samara, this is it!
(I need to note, I don't know how much it costs, but whatever the base price is for 2 people, there is an additional fee per person after.)
The Tree House Inn is limited on space, but big on fun. There are only 6 tree-house-style apartments. The complex has its own pool and is beachfront. Though only 4 of the apartments have the beach view and breeze and the other 2 are behind with a pool view.
Each place has a small kitchen, though it's right in town if you'd like to make a short walk to a restaurant.
And even though it's a treehouse, you'll get wi-fi.
See the Tree House Inn website for more info. Click "Rates and Contact" for instructions on how to book.
---
Villas Verdes- cool places to stay in Samara Costa Rica
This place just kinda screams "Jungle getaway" when you see it.
There are 8 villas available. It's nice to have privacy and space when traveling with the family. Plus, each are individually decorated so it doesn't feel like a chain hotel by any means.
Depending on the size of your family, you can book a villa that sleeps 3 or one all the way to 11 people (and a few in between).
Kids will love the pool on the property. Adults will love the A/C, option for multiple rooms in your villa, and short walk to the beach.
---
Hotel Leyenda
Hotel Leyenda is located in Carrillo, which is a neighboring beach to Samara and a short drive away.
This hotel has a modern beach vibe to it. It's beautiful inside and out, with a gorgeous pool and location near the beach.
Kids will love the playground and kids pool. Adults will love the A/C and free beach shuttle to soak up some sun.
Choose room that fits up to 6, whether that's with a sleeper sofa or a 3rd queen bed.
---
Tropical Rental in Samara Costa Rica
Average $279/night, much higher rates in December
3 bedrooms, sleeps 6
This cute home is beautiful on the inside. It kinda reminds me of something you might see in the Joanna Gaines magazine. Sleek, modern, and welcoming.
Not only is it beautiful and modern, but it has its own pool. Because I know that's what really counts when you bring kids on vacation.
Feel at home with concrete floors, glass doors that open to the pool, 3 bedrooms (sleeps 6), and they even let you use 4 bikes!
This home is located in the northern part of Samara, but it's less than a half-mile to the beach.
The owner does note that since this is a newer property, more homes are being built nearby. So keep in mind there may be some nearby construction.
More details on this cool rental in Samara
---
Rental Condo for 10 people in Samara
average $250/night
4 bedrooms, sleeps 10
Do you need a place that sleeps lots of people in Samara?
This gorgeous condo can sleep up to 10 people in its 5 bedrooms. I especially love the floor to ceiling windows, giving you an amazing view.
It's a two-story condo, giving you plenty of space and plenty of views. You can all enjoy the beautiful infinity pool area at the condo and feel even safer knowing you parked in a gated parking area with 24 hour security.
This condo has been renovated with sustainably sourced materials.
See more gorgeous photos and info
Larger Budget Places to Stay in Samara
Villas Playa Samara – All inclusive in Samara Costa Rica
I am going to recommend this one cautiously. The reason I include it is that it is an all-inclusive hotel in Samara for families. (There is another all-inclusive in town, but it is adults only.)
Villas Playa Samara looks amazing It is a beachfront, all-inclusive hotel on a larger property.
However, the reviews are mixed, with the most prevalent complaint being that it is outdated.
The hotel provides beach loungers, a fitness room, beach towels, pool and children's pool, and entertainment. It is located on the road between Samara and Carrillo.
Take a closer look at Villas Playa Samara
---
Modern Rental with a view
average $470/night
3 bedrooms, sleeps 6
This beautiful, modern rental is up the in the hills overlooking Samara Bay.
Wake up each morning in comfort and space. Take a swim in the 40-foot lap pool, or sit out back and watch for monkeys, birds, or iguanas.
This rental is located within the town of Samara and in a gated community of just 4 total villas. You'll have easy access to shops, restaurants, banks, and grocery stores.
And yet, it's just a short walk to the beach.
Guests highly-recommend this home and love the helpfulness of property managers.
Check out this beautiful modern rental in Samara here
---
Casa Noche Rental in Samara
average $585/night
3 bedrooms, sleeps 6
This homes screams luxury jungle experience.
A few highlights include the large infinity pool that looks out to the ocean, a covered bbq and seating outdoor area, huge living spaces, vaulted ceilings, and a full (beautiful) kitchen.
The master room, bath, and closet are all huge. The guest room is impressive as well, having its own private terrace.
This 4,000 square-foot home is located in a gated community.
Are you taking parents or another couple with you?
This home has a separate guest house on the property as well!
You'll be completely impressed and truly on vacation here.
Where to Stay in Samara- great hotels and rentals
There are so many awesome places to stay in Samara Costa Rica. And I love that there is a place for every budget. From family-friendly hostels to large, luxury homes, it's fun looking for the best place to stay in Samara, this perfect beach town.
I'd love to hear where you end up staying!
You'll also like:
Fun things to do in Samara for families
Beautiful Beaches near Playas del Coco