7 Awesome Costa Rica Beach AND Jungle Towns

If you're looking for the best of both worlds in Costa Rica—jungle adventures and pristine beaches—you'll be pleased to know that there are several towns that offer a perfect blend of both. Here are a few of the awesome Costa Rica beach AND jungle towns that are filled with fun, adventure, and relaxation.
Let's Jet, Kids! uses affiliate links.  As an Amazon (and other networks) Associate, I earn from qualifying purchases.  It is no extra cost to you.  
Check out the popular towns of Jaco or Tamarindo that offer jungle and beach activities, or try some of the quieter towns that have pristine beaches and waterfalls nearby. These gorgeous towns won't disappoint!
Table of Contents
Caribbean Coast Costa Rica Beach and Jungle Towns
Puerto Viejo de Talamanca
From San Jose Airport: 4 hours 15 minutes
From Liberia Airport: 7 hours 8 minutes
One of the best places in Costa Rica for beach and jungle is Puerto Viejo de Talamanca in Limon.
Puerto Viejo's lively atmosphere, reggae music, delicious cuisine, and welcoming locals make it an unforgettable destination that captures the essence of both jungle and beach experiences.
Puerto Viejo de Talamanca
For great jungle adventures, you're in the right place. The lush rainforests of the nearby Gandoca-Manzanillo Wildlife Refuge are teeming with wildlife, including howler monkeys, toucans, and sloths. You can take guided jungle tours, hike through the forest, or even go on an exciting river expedition.
Playa Cocles
On the coastal side, you'll find breathtaking beaches like Playa Cocles, Manzanillo, and Punta Uva all within a short drive from Puerto Viejo. These beaches are perfect for swimming, surfing, and snorkeling.
Playa Chiquita is a beautiful beach awarded the blue flag award, meaning it promotes safety, responsible tourism, and community involvement, making it a beautiful, clean beach. It's also a less crowded beach area than the others mentioned.
Where to Stay: CariBlue Beach and Jungle Resort (At Playa Cocles)
Suggested Tours
Chocolate Making Class (Ages 15+)
5 Day Caribbean Coast Tour (lodging, transportation, most meals!)
Cahuita
From San Jose Airport: 4 hours
From Liberia Airport: 7 hours
If you'd like a Costa Rica beach and jungle town that is less touristy, then consider going to Cahuita on the Caribbean coast. Cahuita is located north of Puerto Viejo, but has its own little town and beautiful beaches. It even has its own National Park.
Monkey in Cahuita National Park
For jungle adventures, head to Cahuita National Park. This national park will give you both beaches and jungle all in one. Snorkel in the coral reef right off shore (must have a guide), hike along the trail that gives you views of the ocean and jungle, or relax on the beaches of the national park.
Another jungle experience includes heading to the sloth sanctuary in Cahuita. There are many reuges in Costa Rica, and this one is dedicated to helping sloths and providing care to ideally release them.
Beaches in Cahuita include Playa Blanca, Puerto Vargas, and Playa Negra. Playa Blanca and Puerto Vargas are located within the national park and provide soft white sand for beachgoers.
Playa Negra is in town and displays a black sand beach. This beautiful beach is well kept nad has been awarded as a blue flag beach.
Where to Stay: Manzanillo Caribbean Resort
Suggested Tours
Banana Plantation, Cacao Forest, and Cahuita National Park
Hike and Snorkel in Cahuita National Park
Canals, Wildlife, National Park, and Limon Tour
Pacific Coast Towns with Beach and Jungle
Tamarindo

(popular Costa Rica beach and jungle town)

From San Jose Airport: 4 hours 20 minutes

From Liberia Airport: 1 hour 30 minutes

Tamarindo is one of the most popular tourist towns in Guanacaste. It's a bustling coastal town that provides a fantastic mix of jungle adventures and beautiful beaches.

The nearby Las Baulas National Marine Park is a nesting ground for leatherback turtles, offering visitors a chance to witness these magnificent creatures up close during nesting season.

The area surrounding Tamarindo is rich in dry tropical forests, which you can explore through hiking and wildlife-watching excursions. In town, you'll find a vibrant surf culture, with opportunities for surfing lessons and other water sports.
Playa Langosta
Tamarindo Beach is known for its golden sands and stunning sunsets, making it an ideal spot to relax after a day of jungle exploration. The town also offers a variety of accommodations and restaurants, ensuring you have everything you need for a memorable vacation.
Just south of the town is Playa Langosta. This is the perfect beach if you need a quieter atmosphere, but still desire a beautiful beach. The water can be a little rocky, but the sand is soft and a beautiful tan.
About a half-hour to the north is Playa Flamingo, one of the boast-worthy beaches of Guanacaste. This beach feels luxurious with its soft white sand and clear waters.
This Costa Rica beach and jungle town is popular among tourists because it can provide an overall feel of Costa Rica in one place.
Where to Stay: Hotel Tamarindo Diria Beach Resort
Suggested Tours from Tamarindo
Full Day Horseback, River Tubing, Canopy Aventure (Ages 6+)
Rio Celeste, Sloths, Waterfall Full Day (Sells Out!)
Surf Lessons in Tamarindo (Ages 4+)
Jaco
From San Jose Airport: 1 hour 36 minutes
From Liberia Airport: 3 hours 11 minutes
This is definitely one of the most popular Costa Rica beach and jungle towns, offering plenty of adventures, plus great surfing and beach fun.
Related: Driving from La Fortuna to Jaco
I don't typically recommend this town for families due to its nightlife (you'll see on the signs along the highway to Jaco and know what I'm talking about), but it is a great town to stay near as it is a hub of fun and activities during the day.
Jaco
Jaco offers great jungle activities like hiking through the rainforest, canopy tours, waterfall chasing, and horseback riding. You can also kayak through mangroves or take a night walk for seeing the jungle come alive with its inhabitants.
You can also tour through Neofauna, a wildlife rescue center that helps, rehabilitates, and releases animals.
As far as beaches go, Jaco Beach is the most popular in the area. You'll get 2.5 miles of sandy fun with the town running along behind it. That means you'll have access to food and drinks all over the beach.
Playa Mantas is another nearby beach just north of Jaco. This is a great beach for families as the turquoise waters are nice and calm.
And just south of Jaco you'll find Playa Hermosa (there are a few Playa Hermosas in Costa Rica. It means "beautiful beach," so I guess it's appropriate that there are so many.) This beach is indeed beautiful to hang out on and wade in, but not the best for swimming. The southern part of Playa Hermosa is part of a wildlife refuge, so you won't find any restaurants at this part.
Where to Stay: Crocs Resort and Casino (Beachfront!)
Suggested Tours from Jaco
3 Hour Jungle and Waterfall Tour (ages 4+)
Boat Tour to Isla Tortuga for the Day
Bejuco
From San Jose Airport: 2 hours 15 minutes
From Liberia Airport: 3 hours 30 minutes
If you're looking for a place in Costa Rica with both beach and jungle, Bejuco is a great home base for many activities.
Bejuco is a quieter, laid back town that isn't really on the tourist radar. We stayed here for 10 days as a way to relax and soak in some exciting, beautiful downtime at the end of our trip.
I wouldn't stay in Bejuco if you're looking for nonstop action and adventure. But if you're looking for something low key with a little mix of Costa Rica jungles and beaches, then this may be the perfect place.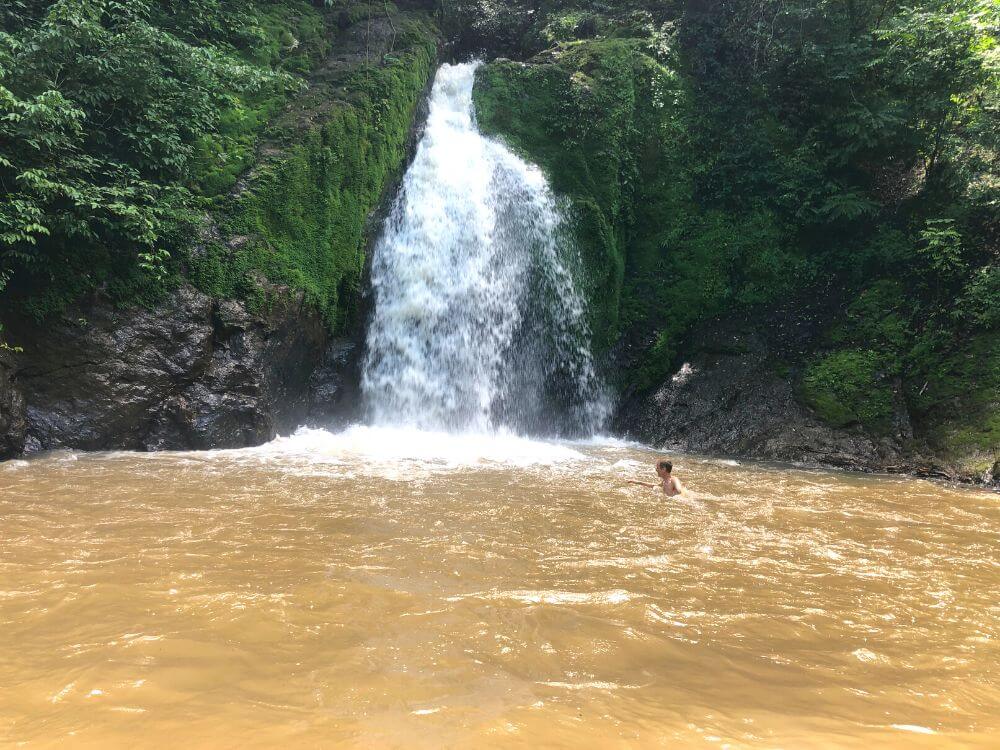 To get your jungle fix, head to Catarata El Salto de Gamalotillo. This is an awesome swim hole on the bottom of a waterfall in the jungle less than an hour from Bejuco. It was most definitely a highlight of our trip. The owner was so friendly, the swim hole was amazing, and the whole experience was relaxing, but exciting.
You can also get to Manuel Antonio in about an hour from Bejuco. This incredible national park is the quintessential place for Costa Rica beach and jungle, offering many sloth sightings as well as the most beautiful beach in Costa Rica.
As for beaches, Bejuco is right on the coast with its own beautiful beaches. Playa Bejuco is a blue flag beach (as explained above), giving you a clean, safe, beautiful beach to play at.
Just down the street is the Esterillos Oeste beach. This beach is large and very similar to Playa Bejuco. Neither beach is terribly crowded since they are off the radar a bit for tourists.
Where to Stay: This Awesome Rental We Stayed At (private backyard pool and community pools!)
Manuel Antonio
From San Jose Airport: 3 hours
From Liberia Airport: 4 hours 16 minutes
Manuel Antonio is the best place to stay if you are wanting to soak in the white sand beaches of Costa Rica. Plus, it's one of the best places to see sloths in the country.
Monkey in Manuel Antonio National Park
The jungle awaits in Manuel Antonio. Take a guided tour of the National Park for the best experience. A guide is SO helpful in finding many animals for your tour that you definitely wouldn't have seen otherwise.
Head onto a plantation for a great chocolate tour where you'll get a guided tour of coffee, chocolate, and sugar cane and how they are produced. You'll even get to sample a bit for a delicious hands on learning experience.
Manuel Antonio is a great place for a Night Jungle Tour as well. While you can see a lot of animals during the day, you can see so many more at night! This tour takes you into the jungle to search for snakes, tree frogs, and other exciting mammals and insects.
As far as beaches go in Manuel Antonio, it doesn't get much better than this!
Manuel Antonio Beach
In order to access Playa Manuel Antonio, one of the most beautiful beaches in Costa Rica, you'll need to hike through the national park. The hike isn't strenuous and you'll see great animals along the way (assuming you got a guide, you'll see lots.) Though this beach isn't huge, it has gorgeous white sand and clear waters. Just pack your food up as the monkeys will sneak into your bag and steal it.
Adjacent to the park is Playa Espadilla. You can access this from outside the park. Playa Espadilla is gorgeous and huge, giving you plenty of space to spread out and enjoy.
Manuel Antonio is a great place to practice or learn to surf. Try out a highly rated surf lesson to be successful in this beautiful town.
Where to Stay: Los Altos Resort (Sleep up to 8 in select rooms)
Dominical/Uvita
From San Jose Airport: 3 hours 6 minutes
From Liberia Airport: 4 hours 40 minutes
Dominical and Uvita are about 20 minutes away from each other, so staying in one will give you the benefits of the other with just a short drive.
Located south of Manuel Antonio is the town of Dominical. Just south of that is Uvita. These are the perfect places in Costa Rica for beach and jungle.
Dominical is a laid back town. Tourists go through in the style of backpacking or family travel, but you won't find large all-inclusives or luxury spots here.
Nauyaca Waterfall
For jungle adventures in Dominical, check out the gorgeous Nauyaca Waterfall Nature Park about 15-20 minutes away. Take a hike to the falls and then enjoy the cool waters of the pools below.
If you don't want the long drive, you can head to Poza Azul waterfall just a few minutes away. This is another great swim hole, and everyone will love using the rope swing into the pool.
To get some animals involved in your jungle experience, you can go to the Alturas Wildlife Sanctuary just south of Dominical. The mission of this sanctuary is to rescue and rehabilitate animals to be released back into the wild of the Costa Rica jungles. You can take a guided tour of the sanctuary to learn about the wildlife of Costa Rica and how they help.
Just a short drive from Uvita is the Catarata Uvita (Uvita Waterfall). This gorgeous waterfall has a pool at the bottom you can swim in. It's an easy hike to get to this great swim hole.
Also near Uvita is Marino Ballena National Park. This counts for both Costa Rica jungle and beach like Manuel Antonio did. The highlight of this park that most tourist look forward to is walking onto the Whale Tail of the park. This is a land strip that jets out into the ocean and then opens up in the shape of a whale tail. Though some say it got its name thanks to the number of whales you can see here.
Beaches in Dominical and Uvita are definitely worthy of a visit. Playa Dominical is a larger beach that is great for surfing.
South of Dominical you'll find (another) Playa Hermosa. This is another beautiful beach great for surfing and covered in dark sand.
Then in Uvita you can visit Playa Uvita. This is located in the Marino Ballena National Park and is a great place for swimming. You can do other water activities (like kayaking) as well. This gorgeous white sand beach stretches over 2 miles, giving you plenty of space to enjoy.
Where to Stay: Cristal Ballena Boutique Hotel (Free beach shuttle)
Suggested Tours:
Whale and Dolphin Watching Boat Tour in Uvita
Multi Waterfall Adventure Tour
Costa Rica Jungle and Beach Town Wrap Up
As you can see, there are some really great options for if you are going to Costa Rica and want to stay somewhere that offers both jungle and beach. From the beautiful parks of Manuel Antonio and Cahuita and the beaches they offer, to the town of Jaco with the many activities and tours nearby, there are plenty of great choices for Costa Rica jungle and beach towns.