The Coolest Hanging Bridges in La Fortuna Costa Rica
At some point during your family vacation to Costa Rica, you need to get up in the canopy of the jungle to experience the beauty and animals of the high up world. Many people go zip-lining, filled with adrenaline and speed. You should also consider Mistico Hanging Bridges near La Fortuna in Costa Rica. These bridges are suspended high in the jungle to get a great fauna- and flora-filled adventure!
Let's Jet, Kids! uses affiliate links.  As an Amazon (and other networks) Associate, I earn from qualifying purchases.  It is no extra cost to you.  
Read on for more about these cool hanging bridges in Costa Rica!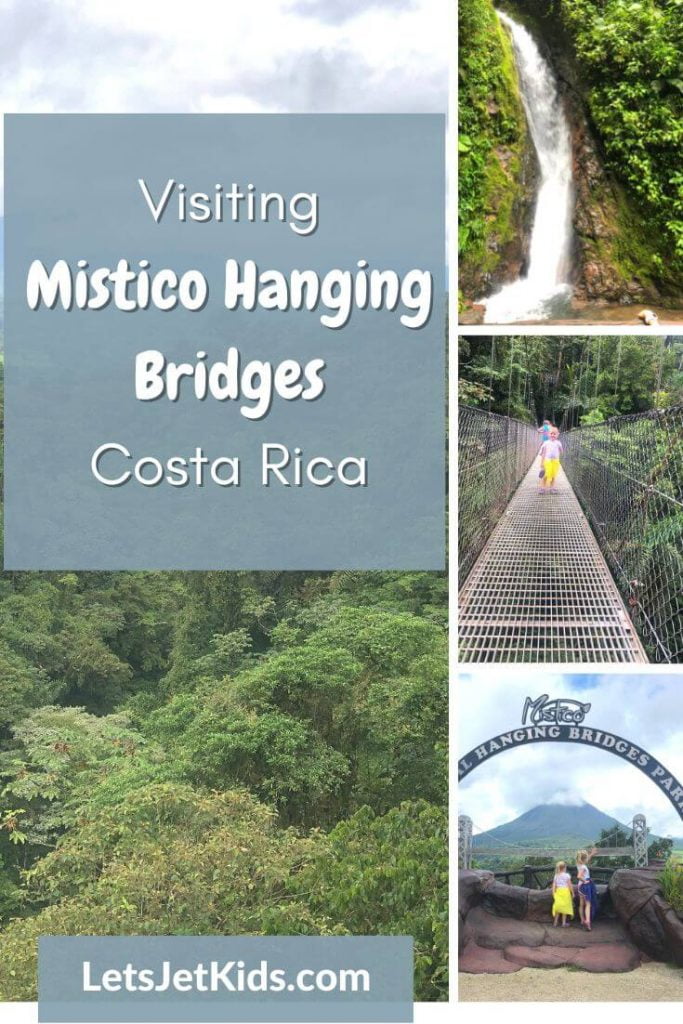 ---
Don't Miss: Guide to La Fortuna with Kids
---
What is Mistico Hanging Bridges?
Mistico Hanging Bridges is one of many adventures that Mistico Park offers. Tours can include anything from gentle bird walks to horseback riding to canyoning.
Hanging Bridges is a great adventure for all ages, which makes it a perfect family activity in Costa Rica.
Mistico Park has 16 bridges which hang on steel cables. They are safe and very sturdy, though there is a slight swing in them when you walk across.
The bridges are built among the canopy of the jungle, giving you great views and easy access from one side of the park to the other.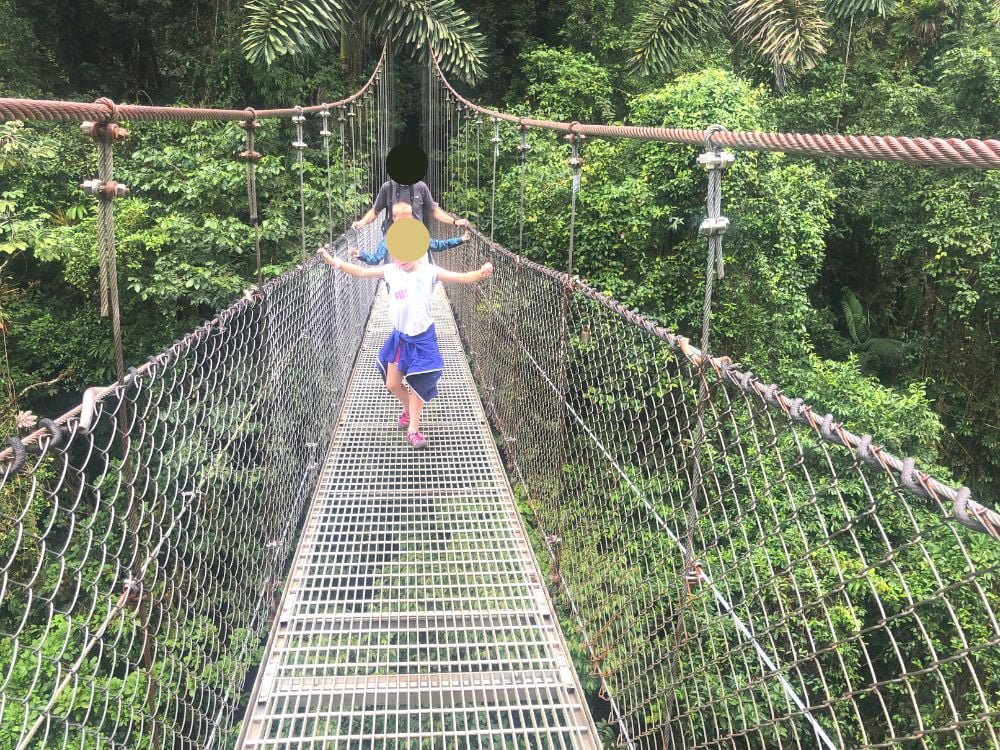 How to get to Mistico Hanging Bridges
To get to Mistico Hanging Bridges from La Fortuna, continue down the main road (142) towards and beyond Tabacon. You'll head toward lake Arenal, passing the entrance to Arenal National Park.
Continue on until you are near the lake. At that point, you'll come to what is a very very sharp right turn (basically a sharp U-turn). Continue up this road for about a mile.
Arriving at Mistico Hanging Bridges Park
When you reach the park, there is an attendant who will make sure you're going to the park. They'll open the big arm covering the road so you can continue to the parking lot.
Plan Ahead for Mistico Hanging Bridges
Mistico Hanging Bridges only allows a certain number of people each day, so make sure you get your tickets in advance!
What to Wear at Mistico Hanging Bridges
Wear comfortable, lightweight clothes that you can hike around in.
Closed Toed Shoes are required to go into Mistico Hanging Bridges park. This provides better protections against rocks and other hiking terrain to keep you safe. It also will provide better traction on the bridges rather than flip flops.
Keen closed-toed sandals are great quality and will be well-worth your money for your entire trip to Costa Rica. If that is out of budget, we actually purchased these ones that are half the price.
How much does it cost to go to Mistico Hanging Bridges?
You can purchase tickets ahead of time online (link above). Make sure to bring your confirmation with you! You may or may not have phone service, so I recommend printing out your confirmation.
Kids 0-10 are FREE
11-18 are around $20
Adults are around $27
**Note** – When I went to purchase our tickets, for some reason it wasn't allowing me to pay (even with the follow up email telling me to pay). However, it did at least reserve our spot. When you arrive and go to get tickets, they will ask if you have a reservation. Luckily, we had a reservation, but just needed to pay still.
Lunch at Mistico Hanging Bridges
When you purchase tickets, it also gives you an option to purchase and eat lunch at the park after your bridge excursion. We did not do this, but kinda wished we did. We were pretty hungry by the time we finished, and the view was incredible!
If you don't eat at the park, make sure to stop at one of the yummy sodas in La Fortuna for affordable eats!
Great views throughout the park
Do you need a guide for hanging bridges?
You can go to Mistico Hanging Bridges on your own and do your own self-guided walk.
But I would definitely get a guide!
We didn't get a guide and it was still really fun to walk through the jungle and experience the bridges.
But we saw so many people with guides stopped and looking through the binoculars at animals, meanwhile we were like "what are they looking at!!"
The guides are very experienced and know exactly where to look for animals, so it really helps.
If you are in Costa Rica doing lots of jungle hikes and have guides on other hikes, then it might be ok to do a self-guided walk here and just enjoy the bridges and scenery.
But if you're only doing one or two jungle walks during your family vacation in Costa Rica, then I would definitely get a guide to really experience the animals.
---
Check out these Guided Hikes:
Combo Tour- Bridges, Arenal, Lunch, La Fortuna Waterfall
---
Other tours you may like
Description:

Start your day as you hike across the Arenal Hanging Bridges and see the jungle from high above the forest floor. Your naturalist guide will teach you about Costa Rican culture, history, while you experience what we like to call "nature therapy." After

Price:

$186.67
Description:

With the view of the majestic Arenal Volcano, enjoy the sweetest rainforest experience, discovering the ancient secrets of chocolate: from its discovery and use, in tropical America, to the processing of the product we know and enjoy today. A hands on pro

Price:

$26.00
Description:

This experience is a great opportunity for you to learn about the Costa Rican eco system and the impact on the climate. You will go to a local farm with a local family, where you will find 17 different stations and you will be able to learn something fro

Price:

$60.00
A Viper that looks like it had just eaten
Animals at Mistico Hanging Bridges
As I mentioned, we did not have a guide. But we did see a few animals on our own including an unknown snake, a viper snake, and some cool birds.
We actually found the Viper when we saw a crowd of people hanging out. They left, so we moved in to look. Luckily we didn't get too close because then a guide came up from behind us. He saw what we were looking at and quickly took a step back saying "whoa, guys. That one is very venemous."
We also chose to take a step back at that time.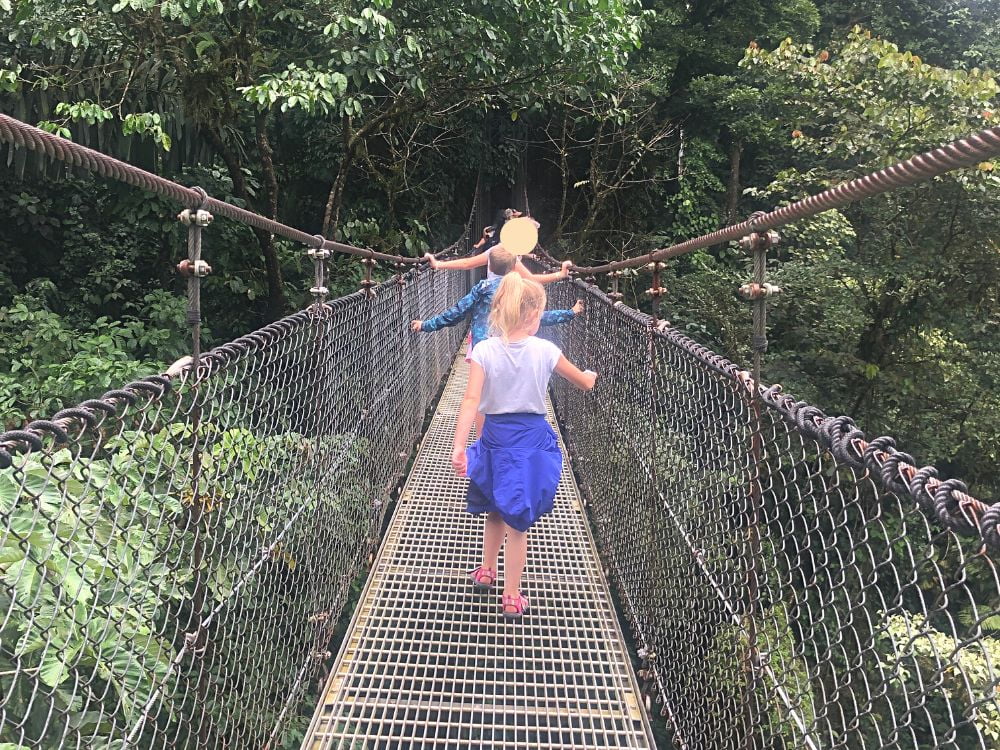 Hanging out near La Fortuna? You May Also Like:
Awesome hotel for families: Los Lagos
Arenal Volcano National Park - where to hike with kids
How Long does Mistico Hanging Bridges take?
Walking through the park takes about 1-1/2 to 2 hours on your own. With a guide, it is recommended to plan about 2-1/2 hours as you will be stopping and seeing animals along the way.
The Trail at Mistico Hanging Bridges
The entire Main Trail is 3.2 km, or about 2 miles. My little ones didn't have a problem with this distance or the trail. They loved the hanging bridges in Costa Rica and weren't scared off by them.
The main trail when you begin is paved and easy. The trail the entire way isn't paved, but it is accessible and easy to walk. There are definitely some hills, but the smooth terrain makes it doable for kids.
There are areas where you may want (and should!) take a little detour off the trail as well.
For example, you'll come to a spot where you can detour off the main trail to see a waterfall. There is a decline to get down, not as easy as the main trail. It is a short detour and brings you to Blue Morpha Waterfall.
Also be sure to stop and listen to the sounds in the jungles. There are actually signs along the trail reminding you to do so!
Plus, make sure to enjoy the great views on the bridges. They are incredible!
View from one of the bridges
Mistico Hanging Bridges in Costa Rica
We had a great time and were glad we visited Mistico Hanging Bridges. It's a great activity for families in Costa Rica, plus we loved that we didn't have to pay for a few of the kids, making it somewhat affordable, too!
---
Check out these fun Coloring Pages around Costa Rica!
---