Pagosa Springs to Denver Routes and Fun Stops
Pagosa Springs is an absolutely stunning town with fun nature activities, hot springs and attractions nearby. When you're done visiting this great town, you'll most likely be heading back to the city for a flight or to continue your trip. So here are a few routes from Pagosa Springs to Denver, as well as plenty of things to do along the way to break up your trip.
Let's Jet, Kids! uses affiliate links.  As an Amazon (and other networks) Associate, I earn from qualifying purchases.  It is no extra cost to you.  
Of course, you can also do these attractions in reverse if you are driving from Denver to Pagosa Springs.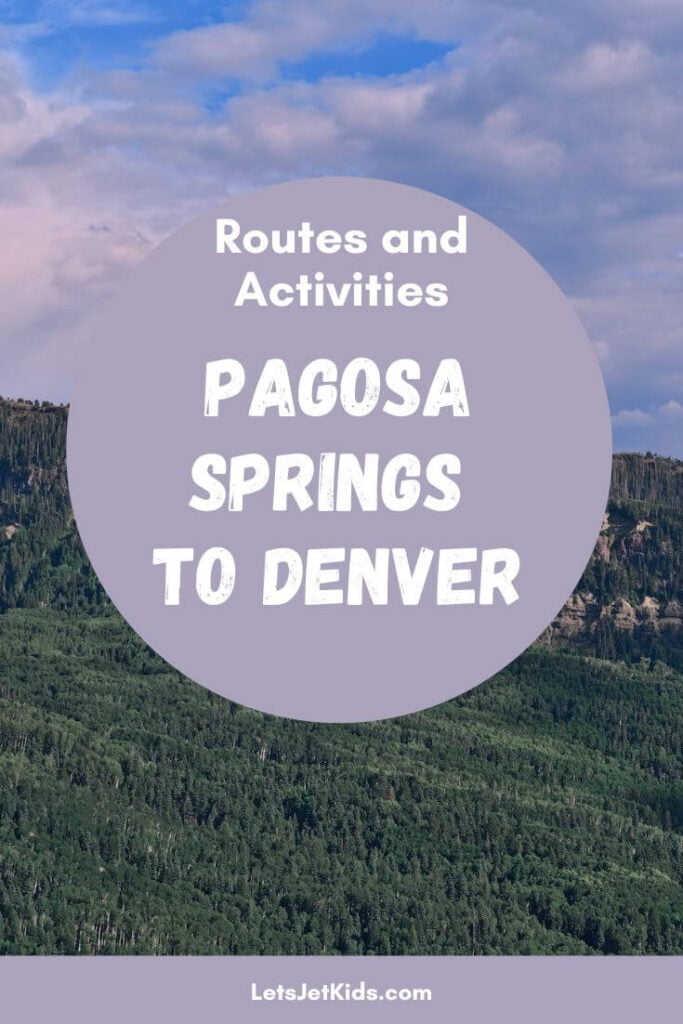 Table of Contents
How Far is Pagosa Springs from Denver?
The distance from Denver to Pagosa Springs is 277 miles. Driving, this will take approximately 5 hours.
Which Route Should I take from Pagosa Springs to Denver?
Do you prefer driving through the countryside, finding lesser-known attractions and activities? Take Route #1. It's typically the faster route as well and keeps your driving through the forests of Colorado.
Do you feel more comfortable on highways, in the midst of civilization and conveniences? Take Route #2. While it adds time, you'll feel more like you are still around people and not lost among back roads of Colorado.
Make sure to not miss all the fun activities in Pagosa Springs!
#1-Fastest and Scenic Route from Pagosa Springs to Denver
While I think both routes have some scenery to be appreciated, this is the route that will keep you off main highways the longest, providing more scenic opportunities.
Time: 5 hours
Directions
The fastest route from Pagosa Springs to Denver is by heading completely north and then cutting over east once you are near Denver.
This involves heading north on 160, then turning onto 112 once you are in Del Norte. You'll be on 112 a short time before you then turn north onto 285.
You'll be on 285 quite a while and eventually merge onto C-470. Then take 6th Avenue toward and into Denver.
What to do along the way from Pagosa Springs to Denver:
Treasure Falls
When your stay in Pagosa Springs is over, head out of town to the north on 160. Not too far after you'll come to Treasure Falls. This is a nice, short hike up to an impressive waterfall.
It is a little steep, but nothing kids couldn't handle. We hiked this in winter, which was a bad idea because it was so icy. But the falls were frozen and beautiful.
If you don't want to hike, you can see the falls from a pullover/parking area right off the road.
Wolf Creek Pass
This isn't so much something you can do as much as it is something you have to do, but will enjoy immensely. Wolf Creek Pass is the road that takes you through the mountains just outside of Pagosa.
This road is absolutely stunning as you go through the mountains, with ridged cliffs and stunning scenery.
Pay attention on the road, but enjoy the view in your peripheral as you drive through Wolf Creek Pass.
Fun Valley Family Resort
This stop is not so much a quick stop as it is a really fun option of somewhere to spend a night or two. Fun Valley is the place for fun family memories. Try the paddle boats, go hiking, or play mini golf. It's little family retreat in Colorado that all ages will love.
Revolution Rail
As you continue to drive, you'll come to South Fork. Here you can have a unique experience riding the Revolution Rail. Stop at the South Fork Railroad station and choose a double or quad railroad bike. You'll pedal your way 6-12 miles (options available) along a railway.
This experience is probably something you've never done before! You can even add on the option to pedal and then hop on a raft or tube down the Rio Grand, back to the start.
Great Sand Dunes
Great Sand Dunes National Park is one of the most unique national parks we've ever been to. To get here, you'll have to get off route for a short time to visit. But it's well worth it!
This is a great stop in fall or spring. You can visit in summer, but try to get there early before the sun heats up the sand. If that doesn't work for your departure time, consider spending a night nearby so you can enjoy the dunes early in the morning.
Hike around the dunes, or for extra fun, grab a sled and/or sand board to really play. There is no "stay on the trail" here; you can walk all over the dunes!
Browns Canyon National Monument
Located in Salida and not far off from the route is Browns National Monument.
While many people have heard of Colorado National Monument, not many have heard of Browns Canyon National Monument.
Browns Canyon is free to enter, though if you go to some of the recreation areas there is a parking fee you'll need to purchase a pass for.
Browns Canyon is a beautiful area, declared a national land in 2015. The area is made of over 22,000 acres of trees, wildlife, canyons, a range in elevation of 3,000 feet, and the Arkansas River.
The area provides awesome rafting, hiking, and fishing. It's a great stop on a long road trip from Pagosa Springs to Denver, allowing for beauty and fresh air.
Take a Half Day Rafting Adventure through Browns Canyon (Begins in Buena Vista)
Buena Vista
The town of Buena Vista comes next on this trip. It's located right at the intersection of where you turn off, so you'll go off route for a short time.
Buena Vista is known for its incredible beauty and outdoor adventure. Along with rafting (as noted above), adventurous souls can try the Via Ferrata. This adventure will show you Colorado from a new perspective by scaling the face of a mounting, hiking on trails, and stepping across iron rungs along the mountain.
Book your Via Ferrata Adventure (ages 12+)
Fairplay
Fairplay is another town along 285 that is worth stopping. This small, mountainy town feels a little isolated, but has great things to explore as you drive through Colorado.
While in Fairplay, visit South Park. This isn't the TV show that probably just jumped into your head, but the name the town has gone back and forth on since the 1800's.
Fairplay started as Fair Play, a mining town, that later changed its name to South Park. Then to Fairplay years later.
But today you can walk through a small town that shows the life of living in South Park, with 40 different historic buildings and a museum, history lovers will enjoy learning about mining life back in the day.
Bailey
The next stop from Pagosa Springs to Denver is Bailey, Colorado. Bailey is another great town with hiking, biking, and mountain backdrops.
One of the notable activities in Bailey is to climb around at the Treehouse Adventure Park.
The Treehouse Adventure Park is an aerial park with zip lines and aerial obstacle challenges. Fly among the treetops in Bailey with fresh air of the evergreens.
Morrison
Morrison is a town off 285 (and beyond) that has a pretty unique attraction. Take the kids to a town just their size…Tiny Town!
Originally built in 1912 by a man that just wanted to provide his daughter some really cool play time, Tiny Town is now open to the public to explore. It's a town of around 100 little buildings that are just the right size for kids.
You can even hop on the official Tiny Town Railroad to take a tour around the town.
Red Rocks Park and Amphitheater
(Free to visit and Free Parking)
As you get onto C-470, you can exit into Morrison and visit the popular Red Rocks Park and Amphitheater.
Here, you can take the trails around the park that feature red rock formations. The crowning gem here is the amazing amphitheater. Its walls are made of natural formations, producing incredible acoustics.
If you have the chance to see a concert here, it's not to be missed. But if you can't swing a concert, it's still pretty amazing to visit the amphitheater when an event is not going on.
Dinosaur Ridge
Just down the highway from Red Rocks is Dinosaur Ridge. This is a long hill up that you can walk for free and witness fossils and dinosaur tracks in the mountain. At the bottom of the hill is the visitor center and museum where you can book a shuttle (if you're not wanting to walk) and walk through the museum to learn more about the area.
Denver Museum of Miniatures and Dolls
Once you are on 6th, turn onto Kipling to see the Denver Museum of Miniatures, Dolls, and Toys. This is the last stop from Pagosa Springs to Denver, and a unique one at that.
From Star Wars figures to Dollhouse items, there are over 20,000 miniatures that rotate on exhibit through the museum each year.
Don't Miss the Best Hotels in Pagosa Springs
#2 Highway Route from Pagosa Springs to Denver
For this second option, you'll be heading east first and then heading north from Pagosa Springs to Denver. This route isn't as scenic as the first since you will be on a major highway for much longer than the other route.
But if you feel more comfortable on highways, closer to civilization, this is the route for you.
Time: 6 hours 2 minutes
Directions
To go from Pagosa Springs to Denver on this route, you simply head out of Pagosa Springs north on 160. You'll take 160 all the way to Walensburg where you'll get onto I-25 north. This will take you all the way into Denver.
Treasure Falls and Great Sand Dunes
These stops aren't near each other, but they are the same first couple stops as above. So either route you take will provide these options.
Zapata Falls
If you visit Great Sand Dunes, make sure to stop at this short hike on the way out. Zapata Falls is located on the road out of the Sand Dunes, so it's really convenient.
Zapata Falls is a short hike up to a waterfall tucked inside a mountain. It's really gorgeous, even in winter.
Bishop Castle
About two hours after leaving Zapata Falls you can visit Bishop Castle in Rye, Colorado. This castle is a little ways off the main highway, but not terribly far. And it is an interesting and incredibly unique attraction to visit.
Bishop Castle was created by Jim Bishop. He had no plans or blueprints to build this, he just started gathering material and going at it.
Today, it is free to visit Bishop Castle, a highly unique structure. Not everyone is brave enough to climb to the top, and that's ok. It's still a sight to see from the ground.
Pueblo Zoo
Walk around the world with visits to animals from Asia, Africa, South America, the Prairies, Islands, and more. Attend special talks about animals, buy a ticket to be part of the feedings in late morning, or have an animal encounter.
Pueblo may be a smaller town, but it's pretty cool they have a zoo. The zoo is fabulous on 30 acres of fun.
Arkansas Riverwalk
The Arkansas Riverwalk is also located in Pueblo. Think of it as a smaller San Antonio Riverwalk, but still cool and enjoyable.
Whether you need restaurants or shopping or fun events, the Arkansas Riverwalk is the place. You can even ride in a boat down the river.
Cripple Creek and Victor Narrow Gauge Railway
Riding on the Cripple Creek Railroad is a fun experience that won't take over the whole day.
There are no reservations for the railroad (it's first come first served), so stop by for the many departures throughout the day to hop on.
This open air ride is only about 45 minutes as it takes you through mines and to a mining town.
The Railway depot is a bit off the main route in Cripple Creek. If you happen to be traveling in February, you can also catch the ice festival in Cripple Creek.
Pikes Peak
Taking this route from Pagosa Springs to Denver will take you near the Pike's Peak region of Colorado.
Going up to Pikes Peak is a phenomenal option of unique things to do along the way. This 14er (mountain over 14,000 feet) can be experienced without hiking, though you can do that too, if you'd like.
Head to Manitou Springs to ride the Pikes Peak Cog Rail up to the top of Pike's Peak. This gives you a safe, scenic, incredible way of viewing the mountain and everything around it.
If you don't want to take the Cog, you can also drive up the mountain. This still entails a cost per person (or per car, if that option is cheaper) and you'll want to make sure you check the weather before going. Even in summer you can experience winter at the top!
Colorado Springs
I-25 head rights through Colorado Springs, so it's pretty convenient to stop and enjoy this town. Whether you are looking for city experiences like the Cheyenne Mountain Zoo or nature experiences like hiking through North Cheyenne Cañon Park, there is something for everyone here. The variety of things to do is endless.
Check out the Olympic and Paralympic Training Center, catch a show at the performing arts center, visit the Air Force Academy, see Seven Falls at the Broadmoor, go panning for gold at the Museum of Mining and Industry, and so much more.
After Colorado Springs, you'll have a little over an hour drive to get to Denver, all on the highway.
FAQ about Pagosa Springs to Denver
How Far is Pagosa Springs from Denver?
The shortest and fastest route from Denver to Pagosa Springs down 285 is 277 miles and takes 5 hours. The route that keeps you on highways longer (I25 south through Colorado Springs) is 323 miles and 5 hours and 42 minutes.
Pagosa Springs to Denver Final Thoughts
As you can see, there are a lot of things along the way from Pagosa Springs to Denver to break up the drive. Do you want more off the beaten path experiences? Then head up 285. Do you want more highway driving in civilization? Then head through Colorado Springs.
Either route you take will lead you to plenty of fun activities and things to do and explore. Head into nature or check out odd attractions on your trip from Pagosa Springs to Denver.
Once you're in Denver, check out fun, free things to do! or figuring out how to navigate the Denver Airport
Save to Pinterest!