Top Ten Free Things to do in Denver with Kids!
Denver is a great city to bring the kids to. If you are planning a vacation to Denver this year, there is plenty to do. Vacations add up quickly, though, so here are some fun free things to do in Denver that the kids will enjoy, too! Make the perfect family vacation to Denver without breaking the bank. Here's what to do in Denver for Free.
Let's Jet, Kids! uses affiliate links.  As an Amazon (and other networks) Associate, I earn from qualifying purchases.  It is no extra cost to you.  
---
Flying into Denver? Compare car rentals here!
---
#1 Hammond's Candy Factory – Free things to do in Denver Indoors
5735 Washington St., Denver, CO
This obviously had to be #1 on the list. What kid won't like going on a tour all about candy?! The Hammond's Candy Factory opened in Denver nearly 100 years ago and has since become a classic American candy brand. This tour is completely free and includes samples along the way. Reservations are required (make them as soon as you can!) but after that all you have to do is show up!
#2 Take an Art Walk through the RiNo District – what to do in Denver for free
RiNo District
Photo by Gina Santangelo on Unsplash
RiNo, or River North Art District, is known for its artistic appeal. Walk through streets of murals, graffiti, sculptures and other colorful sightings. You'll find geometric patterns, psychedelic pieces, waves, faces, and more. Many creative businesses are here as well, such as local furniture creations, architecture, and photography. There are plenty of walking tours you can buy, OR you can do a self-guided tour for free. Check out the walking map at the bottom of this post by The Discoveries Of.
#3 Tour the State Capitol – free things to do in Denver indoors
200 E Colfax, Denver, CO
Photo by Eric Muhr on Unsplash
If you're looking for a more educational experience for the kids in Denver, take a free tour of the Capitol building. You'll find similarities to the structure of this building to the nation's capital in D.C. The building is filled with Colorado stones that are incorporated into the design inside, such as granite and Rose Onyx (the Capitol building is believed to have the most Rose Onyx in the state). Tours do not require a reservation, but you can check here for more info about Denver Capitol tour times.
---
Going during the holiday season? Check out the Best Christmas Events in Colorado!
Also check out Fun Day Trips from Denver
---
Things you MUST bring to Denver: Even if you go in summer, it cools off at night! During the day (anytime of year), the sun is intense, so make sure to have sunscreen and a hat. And the high elevation gives out-of-towners altitude sickness, so keeping hydrated is a MUST. Check out my picks for having an awesome time in Denver for you and the kids!
---
#4 Tour the Denver Mint – free things to do in Denver indoors
320 West Colfax, Denver, CO
Image by Jim Olah from Pixabay
Another popular and FREE activity in Denver is touring the Denver Mint. The tour will give you a history of coins and their creation. There are 6 mints in the country, only 4 that are production mints and Denver is one of them, so don't miss this opportunity!
---
Great Hotels in Denver!
Looking for a great hotel in Denver? Check out the Brown Palace, a unique and beautiful classic in Denver located right downtown.
This hotel is also rated highly, with a great location to everything downtown!
(See this post for the many reasons we always book through hotels.com!)
---
#5 Experience Nature at Red Rocks – free things to do near Denver
18300 W Alameda Pkwy, Morrison, CO
Photo by Alex Mertz on Unsplash
Denver is not short on places to get outside and get some wiggles out. One popular spot that is worth the small drive out of town is to visit Red Rocks, less than 30 minutes away. Take a nice hike among the red rock formations, and make sure to stop and check out the amphitheater area. Concerts here are revered for their great sound among the natural formations and beautiful setting.
Try the Red Rocks Trading Post trail, an easy 1-1/2 mile loop that the kids can do and will enjoy. Experience great views and beautiful photo ops.
Have a little extra time? Check out the coolest, easy hike at nearby Lair O' the Bear (and the castle!)
Have even more time? Check out Garden of the Gods in Colorado Springs which is also free to visit!
#6 Watch Kayakers Downtown on the South Platte River
Confluence Park, 2250 15th Street, Denver, CO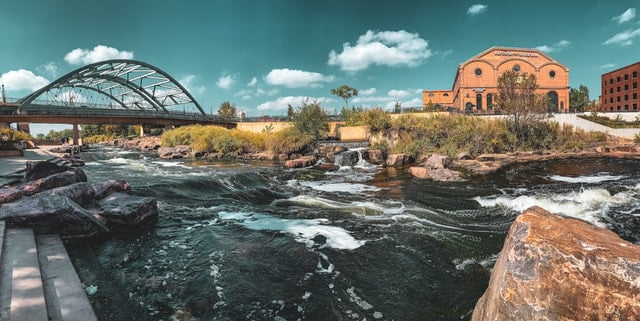 Photo by Devonshire on Unsplash
Bring a picnic and sit along the Platte River at Confluence Park, right across the river from the large REI building between 15th and Speer Blvd. Kayaks galore will make their way down the kayak run at this location, and you and the kids can enjoy a great setting while re-fueling.
#7 Play and Watch Performers on 16th Street
16th Street, Denver
Photo by Peter Pryharski on Unsplash
At the heart of downtown Denver, you can walk along 16th Street Mall. This outdoor street is closed to cars (16th street shuttle only, which is FREE to use) and filled with shops and dining. Along the mall you'll find checkers, chess boards, and various performers depending on the day. (If you're really looking for performers, head to Pearl Street in Boulder.) At the south/east end of 16th Street you'll come to Republic Plaza, which is argued to have the tallest building in Denver.
Flying into Denver? Here's everything you need to know about the Denver Airport
#8 Check out the Rocky Mountain Arsenal Wildlife Refuge– free things to do in Denver with kids
6550 Gateway Rd., Commerce City, CO
Whether you want to just drive around the 11 miles Wildlife Drive or get out and stretch on 20 miles of trails, you won't have to pay anything! The Rocky Mountain Arsenal is a fun, free thing to do in Denver that the kids will love that's only about 20 minutes away. Many animals, like bison, deer, and coyotes can be spotted as you explore. You can even download the iNaturalist app so the kids can participate in a scavenger hunt. If you're interested in archery, you can even use one of the 10 lanes for free archery practice.
---
Looking for more? Make sure to check out Awesome Day Trips from Denver
---
#9 Discover Gems at the Mines Museum of Earth Science – free things to do near Denver
Colorado School of Mines, General Research Lab Building, 1310 Maple St., Golden, CO
If you're willing to make a short drive (a little over 20 minutes) to Golden, the kids will love the Mines Museum of Earth Science. Enjoy over 15,000 square feet of fossils, rocks, and minerals. You can also enter the indoor cave to learn about glowing minerals. There are over 2,000 items on display, and they are consistently being rotated.
#10 Visit the Iconic Union Station in Denver
Image by Shawn Reza from Pixabay
1701 Wynkoop St., Denver, CO
This last free thing to do in Denver with kids takes you to an iconic piece of Denver. Union Station is the transportation hub for Denver and the surrounding areas. Union Station provides stops for Amtrak, the lightrail network, RTD busses, and the MetroRide. But Union Station is now so much more than a transit center; it also is home to shops, restaurants, and even the Crawford Hotel. Union Station is a truly beautiful building filled with history, as it was originally built in 1881. In 1894, a fire burned from a chandelier in the ladies' room. It was rebuilt in 1914.
Free Activities in Denver that Kids will Love!
Which free things are you excited to do when you visit Denver? Whether you're looking for nature, history, education, or candy, there's something for everyone in Denver…and you don't have to spend a dime!
SAVE THIS POST
What's your favorite FREE thing to do in Denver? Share in the comments!