16 Awesome Colorado Family Reunion Venues
Looking for family reunion sites in Colorado? There are so many to choose from! The best places are in the mountains, giving your family the perfect environment to relax or play together. But there are also a few closer to the city (but still in a great natural atmosphere). So check out the top Colorado family reunion venues and decide where you'll connect next.
Let's Jet, Kids! uses affiliate links.  As an Amazon (and other networks) Associate, I earn from qualifying purchases.  It is no extra cost to you.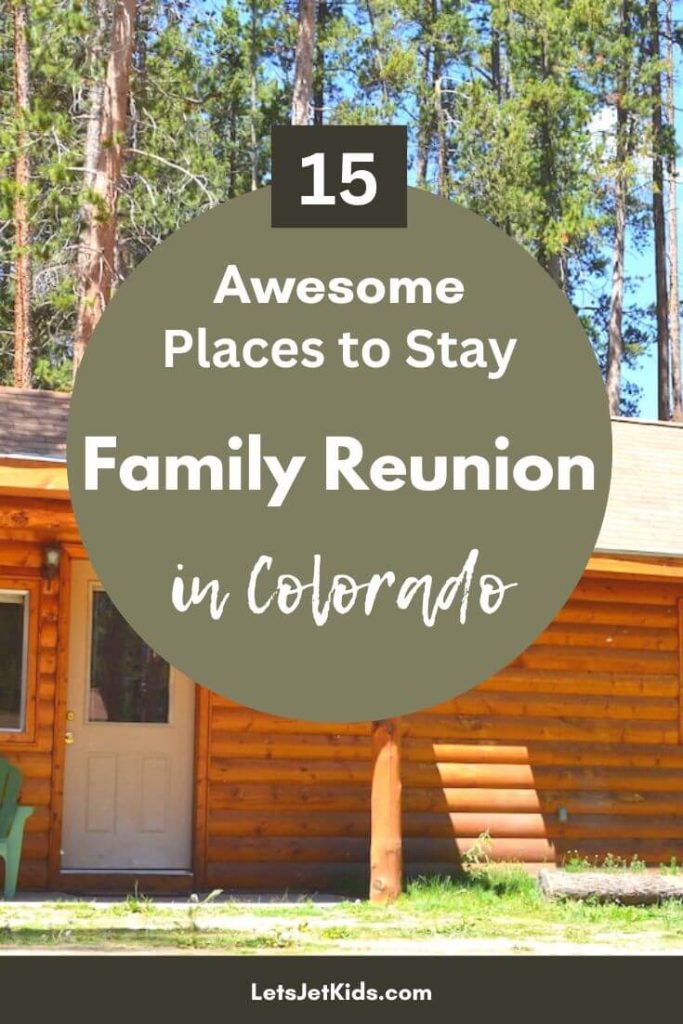 Table of Contents
Where Can I Host a Family Reunion in Denver?
There are plenty of hotels in Denver to host your family reunion. You can find chain hotels like Marriotts and Hyatts, or even more unique hotels like the Brown Palace.
But if you are looking for somewhere that you can really spread out and have great activities all around you (with easy access), I suggest getting out of Denver and heading to some other great areas in Colorado.
Below, I've listed a bunch of great cities in Colorado to have a family reunion, along with lodging suggestions. These are great places that provide memorable experiences included in your stay, or (for more budget-friendly reunions) close by to your lodging.
Grand Lake Family Reunion Lodging
The Daven Haven Lodge
The Daven Haven Lodge is located in the popular Grand Lake, Colorado. It's just a couple minutes drive from the west side of Rocky Mountain National Park, giving your family incredible hiking and views during your Colorado Family reunion. It's the perfect way to spend the day with a large group.
At The Daven Lodge there are 16 cabins on the property. Each individual family could rent a cabin near each other and hang outside together for a BBQ. There is a picnic area, perfect for meals together.
Cabins can sleep 3 to 6 people (depending on option chosen) and all come with a fridge and microwave for easy breakfast prep. The larger cabins have a full kitchen inside.
For the other meals, you can check out the restaurant and bar on site, or you can head to one of the nearby restaurants.
Tip: if booking with the link below, book one room at a time. Since each room is different, it won't be able to pull up multiple of the same room on a search 🙂
Being near Grand lake will make the perfect Colorado family reunion venue and location.
Granby Colorado Family Reunion Venue
Granby has some of the best family reunion sites in Colorado. Dude ranches offer a lot of fun and entertainment, plus food! They make it easy to plan a Colorado family reunion for a large group.
Photo Credit: C Lazy U Ranch
C Lazy U Ranch
Some of the easiest family reunions in Colorado are places where everything is included (certain exceptions, like the spa) and you don't have to worry about anything once you're there!
If food is just as important as fun, this is the place. Meals are a cross between fine-dining and casual. The menus are seasonal with fresh offerings, as well as dietary accommodations.
Enter, C Lazy U Ranch.
This ranch is a luxury dude ranch where there is something for everyone to do. The days have a schedule of activities like trail rides, climbing, swimming, and more.
During the summer season, kids and parents will eat together for breakfast and lunch. For dinner, the kids will eat with other kids and the counselors. Then they'll go off for their evening activities while the adults enjoy a gourmet meal.
This dude ranch in Colorado is highly rated and favorited by many families as their favorite vacation they've ever done.
Imagine your Colorado family reunion here, the kids and cousins all off playing having the time of their life. The adults on their adventures, too. And enjoying gourmet meals.
Pricing from $400-$1130 per person per night depending on accommodation, age, and season of visit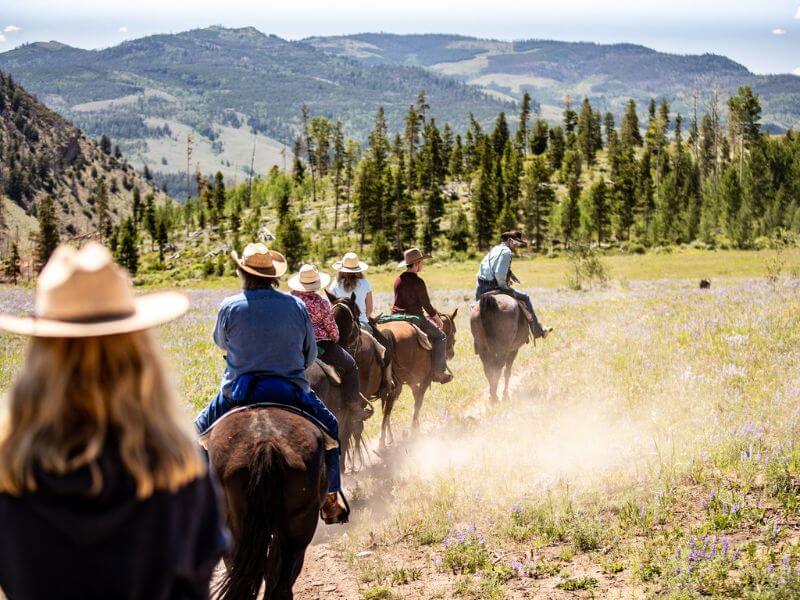 Photo courtesy of Drowsy Water Ranch
Drowsy Water Ranch
Drowsy Water Ranch is another great Colorado family reunion venue.
This all-inclusive ranch has cabins for each family. Cabins come anywhere from 1 to 4 bedrooms.
Or, you can book the larger accommodation which sleeps 14-16 people if you'd like to all stay in one place.
The meals here are less formal, serving up most meals "family-style." Though Drowsy Water Ranch really loves the outdoor meal experiences (like the Chuckwagon dinner) and knows you will, too.
The schedule of activities for the week long stay is perfect for families. Adults will enjoy trail rides, mountain biking, fly fishing, yoga, hiking, and so much more.
There is even a children's program so the young ones get the most out of their week.
The youngest kids will have counselors supervising them during the week. They'll participate in horseback riding, games, crafts, and more.
Older kids will get horseback riding instruction and subsequent trail rides. They'll also be able to have supervised swimming, hiking, rafting, and more.
Those age 5 and up can participate in the rafting trip each week, which is included in your stay.
Pricing is $900-$2800 per person for a week
Sun Outdoors Rocky Mountains (AKA River Run)
From RV hookup pads to actual rooms and even cabins, there is an accommodation for every travel style at Sun Outdoors in Granby, CO. (You can even sleep in a covered wagon).
But what makes it one of the best places for family reunions in Colorado?
It is SO fun and has so many great activities.
The whole family will love hanging out in the pool or hot tub. Inside you can even grab a bowling lane, arcade, or hit the fitness center.
Enjoy live music in the evenings, mining for gems and playing yard games, volleyball, tennis, or on the playground in the daytimes, and hanging out on the large property.
Plus, Granby has some great outdoor activities near by (like Granby Lake, Monarch Lake and hiking, and even the Rocky Mountain National Park west entrance is a short drive away).
Westcliffe Colorado Family Reunions
Want more of a family-camp style family reunion in Colorado? This is the place!
Sky Ranch at Horn Creek
Another great places for reunions in Colorado is at Sky Ranch. Sky Ranch is one of the many sleepover summer camps in Colorado.
The difference from other summer camps is that they offer family summer camps.
The camp can host 17-22 families at a time, making it the perfect family reunion lodging in Colorado.
Sky Ranch is a Christian-based family camp located just north of Great Sand Dunes National Park (though, there is no north entrance, so access to the park entrance actually takes about 2 hours).
Sky Ranch is an all-inclusive camp with all meals and (most) activities provided, and it comes at a much more affordable price than dude ranches.
Activities include ziplining, tubing (seasonal), hiking, team building activities, rec center activities, pools (with slides), and more.
Sky Ranch offers retreat packages which can accommodate 30-350 people. So if your family reunion is quite large, you'll want to look into that option.
Prices from $1800-3600 per accommodation
Steamboat Springs, Colorado Family Reunions
Steamboat is full of fun, restaurants, hikes, and more. It's the perfect place to cater to every interest during your family reunion.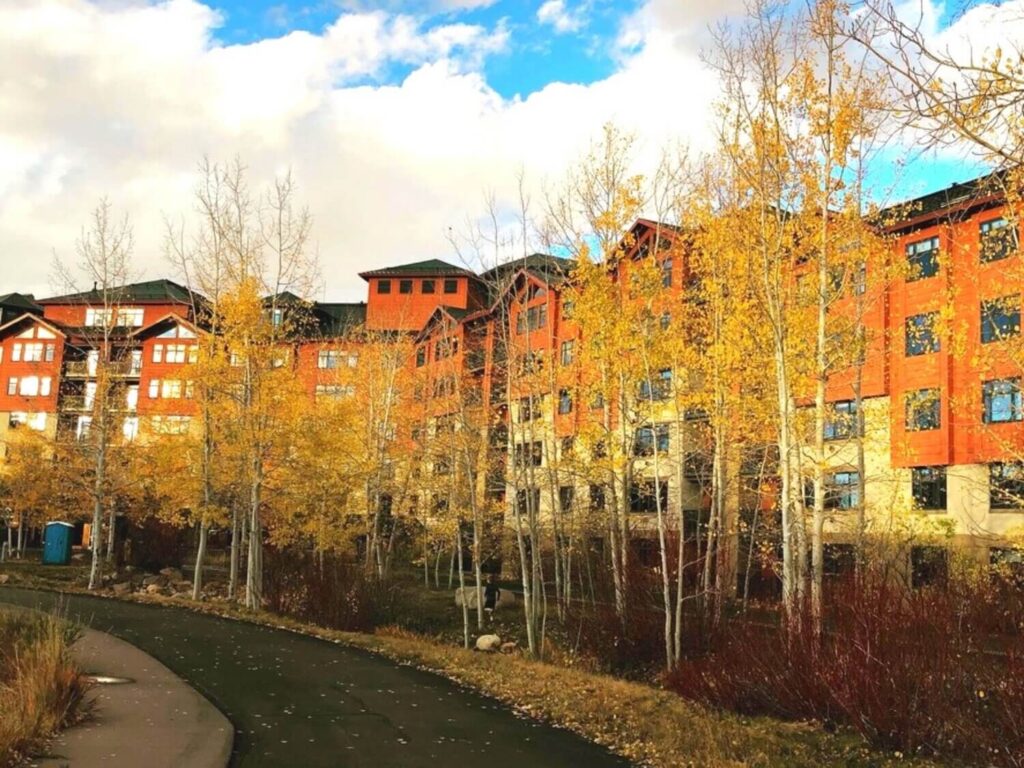 The Steamboat Grand
Perhaps I'm bias when I say this is one of the best family reunion lodgings in Colorado.
We have personally had a few (and by a few I mean a lot) of family reunions at the Steamboat Grand hotel.
You can read my full review and breakdown of the Steamboat Grand.
But here's a short synopsis on why this is a great place for reunions in Colorado.
You can choose rooms that sleep your whole party (we've had 20+ people in a penthouse before). You can also just book individual rooms next to each other.
What's great is the larger units have a family room and a full kitchen.
Outside is a great pool (heated year-round), large hot tubs, and even a little outdoor track to walk around.
The Steamboat Grand also provides free shuttle service in/back from town.
You can eat at the restaurant on site, or take the shuttle to town to eat at one of the many restaurants.
In addition, Steamboat makes a great places for family reunions because of all the great activities around. Hang out at the ski resort (right across the road), hang out at Steamboat Lake State Park, go on some great hikes, soak in the hot springs or ride the ice bumper cars. There are plenty of things to do in Steamboat for families.
Starting at $265
Book the Steamboat Grand Hotel
Grant, Colorado
Grant Colorado is located down 285, right where Guanella pass hits. So if you're looking for the best place for a family reunion in Colorado in fall, this would be an ideal spot. Guanella pass is one of the well-known leaf peeping areas in Colorado.
Tumbling River Ranch
Located up Guanella pass north of Grant, Tumbling River Ranch makes a great Colorado family reunion venue. This all-inclusive ranch makes it easy to show up and have fun.
With 8+ different houses to rent, ranging from 1 to 5 bedrooms, your whole family reunion can easily take place on this beautiful property.
Meals are mainly served family-style, with a huge assortment of foods. (The standard menu naturally includes foods that fit the vegetarian, GF, and healthy lifestyle, though they cannot guarantee a large assortment for vegan diets.)
Foods are all made from scratch, including the breads!
Different activities include riding horses, kids programs, fishing, guided hikes, fitness classes, sport shooting, and even an overnight pack trip.
Rates from $2500-2900 per person (and differ seasonally) for a week
Colorado Springs family reunions
If you need a great location to stay in Colorado for a family reunion, Colorado Springs is a great option. What makes it especially great?
Well, for one, there is so much to do around Colorado Springs. Whether you are looking for city activities or outdoor nature activities, Colorado Springs is full of family-friendly fun.
Secondly, if you have any family members that can't quite manage the altitude in the mountains of Colorado, Colorado Springs is a great alternative. It's at a lower elevation than the mountain towns, but still gives you great nature activities.
Ranch at Emerald Valley
The Ranch at Emerald Valley is 9 miles away from the main Broadmoor resort and is owned by the Broadmoor.
Emerald Valley has a more rustic feel to it as it is made of charming cabins, but still feels elegant and luxurious.
You can book a family reunion retreat with 10 private cabins and up to 32 guests. Perfect for a family reunion.
Your all-inclusive experience comes with seasonally made meals made by Broadmoor chefs and plenty of activities. You have access to the Broadmoor amenities (swimming, shopping, golf). Up at Emerald Valley, activities offered are horseback riding, hiking, kayaking, games, campfires and s'mores, and so much more!
You can look around the website, but to book larger parties, you'll have to call the number on the booking page.
Call for Pricing
Timber Lodge Cabins
If you need a place just to gather and be near each other, check out the Timber Lodge Cabins.
These cute cabins are in a great setting, but don't come with all-inclusive additions, making the price much more affordable.
Larger cabins can sleep up to 6 and have full kitchens. The smaller cabins do not have kitchens. But even though you feel as if you are in the woods, there are plenty of restaurants nearby to go grab some food.
Activities abound in Colorado Springs, but you'll be just across the road from Red Rock Canyon open space for some impressive hikes (of all distances and abilities).
Starting at $82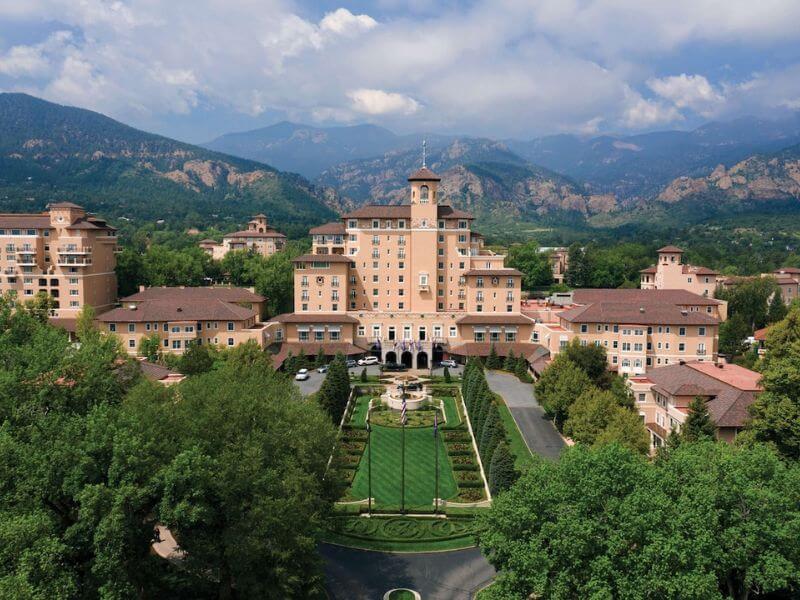 The Broadmoor
The most famous hotel in Colorado Springs is the Broadmoor. It's also one of the most luxurious, so it will come with a price tag.
The Broadmoor is home to one of the nicest gold courses, great pools, great food, and luxurious accommodations.
Why is the Broadmoor a great place for a Colorado family reunion? Well, while there are so many things to see around Colorado Springs, you could actually check in to the Broadmoor and never have to leave. It's entertainment central.
When meal times come, head to one of the 6 restaurants on site, filled with top-notch meals.
For activities, enjoy the beautiful pools (indoor and outdoor), play on the waterslides, go to the bowling alley, catch a show at the mini movie theater, or enjoy the game room with billiards and fooseball.
There is plenty to keep a large family entertained at the Broadmoor during a family reunion.
Starting at $385
Estes Park Colorado Family Reunion Venues
Estes Park is a beautiful mountain town where half the inhabitants walking through town are elk!
Estes Park is located right up agains the east side of Rocky Mountain National Park, making it easy to spend your days hiking or driving to great viewpoints.
YMCA of the Rockies
The YMCA of the Rockies is really just an awesome place to have a family reunion in Colorado. There are plenty of activities you can join, plus a schedule each day of activities for the whole family.
Play in the pool, go roller skating, try archery ($), go sledding (winter), volleyball, tennis, check out the library, try some guided hikes… the activities go on and on.
You can book rooms in the lodge next to each other, or you can book a few cabins (some sleep up to 7 people in one).
The rates are pretty affordable for everything you get.
There is a cafeteria on site, but food is not included in your stay. So you can pay to eat there, or head into town for nearby restaurants.
Lodge rooms starting at $83, cabins starting at $134
*Note- There is also a YMCA in Winter Park with a similar set up.
(book direct for cabins)
Book YMCA of the Rockies- Estes Park
Timber Creek Chalets
At Timber Creek Chalets, you'll be just minutes from Rocky Mountain National Park and have access to hiking right outside your door.
Most of these cabins have kitchens inside, making simple meals easy. Many cabins can sleep up to 8 people and some have their own hot tub.
Enjoy a seasonal outdoor pool and a game room with a pool table.
Timber Creek Chalets are great affordable family reunion lodgings in Colorado as cabins start at just $115.
Lazy R Cottages
Lazy R Cottages have options for 1 to 3 bedrooms with some sleeping up to 10 people. These are spacious, and another great budget rental for your family reunion as they start at $120.
The first of the cabins are located right off the main road, so request one farther back if possible. These are a great, cheap place to stay in Colorado for a family reunion. The cabins aren't deep in the woods, but they are close to town.
Lazy R Cottages do not provide food or activities on site.
Wind River Ranch
Wind River Ranch is a Christian-based guest ranch resort.
They offer cabins that can sleep up to 8 people. There are no kitchens inside, which is fine as this is an all-inclusive accommodation in Estes Park.
Let the cousins all join in a supervised pizza party while the adults get to chat over dinner.
Relax in the hammocks, swim in the pool, attend a guest speaker event (Christian speakers), Bible studies, horses, family Olympics, country dancing, kayaking, hiking, fishing, and more.
Kids will also have their own programs and even a kids rodeo.
This is the perfect family reunion lodging in Colorado where everyone can have a great time in a fun environment.
Wind River Ranch books up fast, so make your decision and get it booked ASAP!
Prices from $800-$2795 per person for a week
Worldmark by Wyndham
We love staying at Worldmarks when we can. They are so spacious and come at a pretty affordable price. Worldmark by Wyndham would be a perfect family reunion lodging in Colorado.
Most rooms come with a full kitchen. If it's not a full kitchen, it's at least a mini kitchen. You can choose from a studio that sleeps 2 to a 3 bedroom that sleeps up to 8.
This Wyndham is right next to a BBQ joint (a good one, might I add) and is praised for its great customer service.
You'll get a great outdoor pool, fitness room, game room for great cousin time, and even an outdoor playground. It's the perfect the perfect Colorado family reunion venue.
Dumont
Dumont is an easy-to-access location for anyone having to fly into Denver. It's located just a few minutes west of Idaho Springs off I-70.
Lawson Adventure Park
Located not far off I-70, Lawson Adventure Park is the perfect place to host reunions in Colorado.
You can book multiple little cabins, or you can even book a yurt, making this a fun and unique place to stay for your reunion.
It's named as "adventure," and it lives up to that name. At Lawson Adventure park you can ride ATVs, fly fish, raft, hike, zipline, kayak, paddleboard and so much more.
This is not an all-inclusive, so you'll have to pay for each activity. (And, you won't pay for the ones you don't do!)
That said, it makes the lodging a bit more on the affordable side.
There's a restaurant on site as well in kitchens in some cabins.
Pricing starts at $75/night
Sedalia – family reunion lodging in Colorado
Sedalia isn't quite in the mountains of Colorado. It's located a bit south of Denver, so like Colorado Springs, it's another great option for a family reunion if anyone struggles with high altitudes in the Colorado mountains.
Lost Valley Ranch
This all-inclusive ranch spares no detail or comfort. Cowboy cookouts, swimming pools, line dancing, children's programs, rodeos, horseback riding, fly fishing, archery, trapshooting, hayrides… you'll stay busy all week long.
Book 1-3 bedroom cabins that are spacious and beautiful. There are no kitchens since all meals are included in your stay.
Meals aim at being both healthy and delicious. Plus, they try to accommodate any dietary need/restriction.
Pricing varies each season: summer ($1400-$4,100) is by week and spring/fall is pricing per day
Where to Have a Family Reunion in Colorado
By now you've seen that there are so many family reunion lodging options in Colorado. Whether you are looking to stay in the mountains, have an all-inclusive ranch experience, or just grab some fun cabins for a large group, you can find the perfect place.
So enjoy your Colorado family reunion venue, whichever you choose, and have a great time connecting and catching-up.
---
You may also like: Best Sleepaway Summer Camps in Colorado
---
Frequently Asked Questions about Family Reunions in Colorado
Where can I host a family reunion in Denver?
If you'd like to host a family reunion IN Denver, then there are plenty of hotels to choose from. They may not provide the ideal set up for daily activities and a place to gather a large group, though. The best hotel in Denver to host a family reunion is the Gaylord over by the Denver Airport. Otherwise, I suggest heading away from Denver for some great experiences and lodgings.
What are the best Colorado Family reunion venues?
The best family reunion lodging in Colorado includes many of the dude ranches around the state. These come at a high price, but they are also all-inclusive so you don't have to worry about food or activities all week long. They provide ample opportunities to connect and have fun.
What can you do for a family reunion in Colorado?
Colorado is filled with adventure. Your Colorado Family reunion can be full of hiking, snowshoeing, campfires, and plenty of unique opportunities. If you stay at an all-inclusive dude ranch, you'll have all your activities planned and ready like horseback riding, fishing, and more.
Save to Pinterest!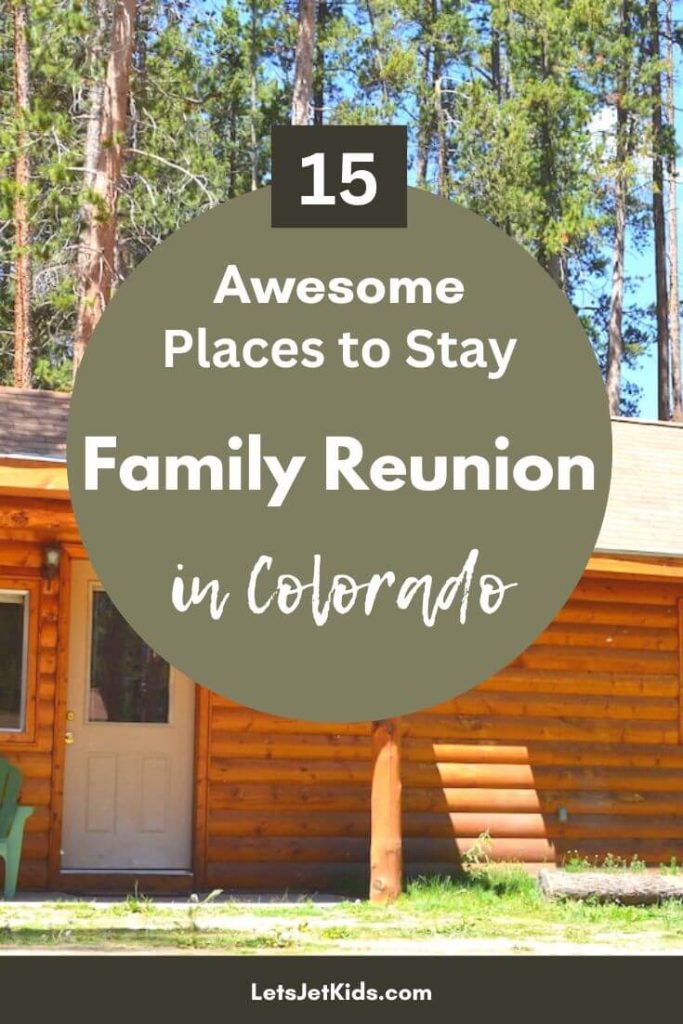 You'll Also Enjoy:
Great Sleepaway Summer Camps in Colorado