6 Tips to Hiking Hanging Lake with Kids
Hanging Lake, located in Glenwood Springs, is considered one of, or even THE, most beautiful hikes in Colorado. While the destination is quite breath taking, even the journey is beautiful along the way. This gorgeous hike is often rated difficult, so many wonder if they can hike Hanging Lake with kids.
Let's Jet, Kids! uses affiliate links.  As an Amazon (and other networks) Associate, I earn from qualifying purchases.  It is no extra cost to you.  
We recently did this hike with our 4 kids and it was definitely worth it. It was also challenging! Here is everything you need to know about hiking to Hanging Lake with kids so you can decide if your kids are up for the challenge!
Table of Contents
What is Hanging Lake?
Hanging Lake in Glenwood Springs is a beautiful, well-known hike that sits below a few delicate waterfalls around the outside. Its blue hues below are fed by thin waterfalls along one side, fed from East Fork Dead Horse Creek. Its beauty was unable to go unnoticed, and it was made a National Natural Landmark in 2011.
Only those willing to make an effort can access this beautiful Colorado gem. The lake requires hiking 1.5 miles to get to, or 3 total miles round trip. You'll ascend 1,000 feet to reach a final elevation of 7,323 feet.
That elevation can really make a difference to someone not from the mountain areas.
For comparison, the popular Bear Lake at Rocky Mountain National Park is at 9,449 feet elevation.
Hanging Lake was first formed when a geological fault resulted in the lake bed dropping from the valley floor above. The water now enters from above by means of Bridal Veil Falls, the thin and delicate waterfalls that drop into the turquoise waters.
Sometimes the waters of Hanging Lake appear turquoise, sometimes green. This is a result of the carbonates and minerals that have dissolved in the waters. The rock surrounding the lake is a type of limestone called Travertine.
Can Kids Hike Hanging Lake? How Hard is the Hanging Lake Hike?
If you'd like to go to Hanging Lake wtih kids, we need to first answer: Can kids even manage the hike? How hard is Hanging Lake? Here's what to except on the Hanging Lake Hike.
Hanging Lake is rated "hard".
For the majority of the hike, I'd say it is moderate. The trail has rock and roots across a natural terrain. But it goes up, up, up the entire time. It can get pretty steep in parts, and some parts are gradually inclined.
We kept saying "it's gotta even out at the top of this climb," just to find that it kept going up.
As you get toward the end of the hike, you are quite literally stepping up rocks in a narrow stairway. The stairway is made of narrow, steep rock. While it's not quite scrambling (though that may help), you have to figure out where to put your foot for each step to make your way up.
This tricky part of the hike is not too long. Most people were treating it as a one way route, as it is difficult to find a foothold for one person, let alone two.
Those are the main difficult parts of the trail to keep in mind when deciding if you should go to Hanging Lake with your kids.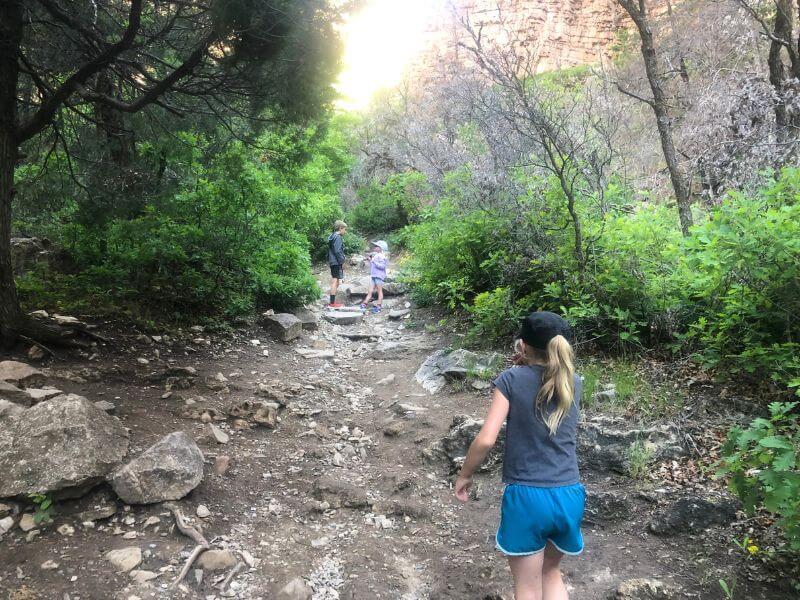 Hiking Hanging Lake With Kids – Our Experience
My kids did awesome on this. As I mentioned on my Instagram, they seem to do better on hard hikes than easy, flat roads.
My kids are use to hiking and we have gone on both easy flat roads and up challenging hikes. But this one was one of the more challenging ones.
They didn't seem to mind at all how steep it was. Perhaps it's because there were so many rocks to jump on, bridges to cross, and the beautiful river alongside us most of the way to distract them.
Our kids had no trouble doing this hike (and even didn't complain!)
And yes, we saw many other kids on this hike. People take it at all different paces!
So if your kids can handle a typical hike, they may be just fine here. Get them excited about going on an adventurous hike with rocks to climb and jump over and bridges to cross (my kids love bridges).
When hiking Hanging Lake with kids, just make sure to bring lots of water (of course) and lots of snacks. Nothing motivates kids better than knowing a snack is coming! 🙂
Tips for Hiking Hanging Lake with Kids
Wear good hiking shoes. The surface is uneven and there are rocks everywhere! Find shoes with good ankle support and tread.
Bring lots of water. Especially if you aren't used to altitude, it's important to stay hydrated to help fend off headaches that come with altitude sickness.
Bring Snacks. Not just for fueling your ascent up the mountain, but for enjoying the peaceful view at the top
Take lots of breaks. It is steep and it's totally legit to rest. The altitude increases quickly.
Take lots of pictures, but also sit and enjoy. While pictures are worth 1,000 words, they don't do justice to real life. Snap some pics and then just soak in the beauty.
Easy coming down. We had to remind our kids a few times not to run down. It's much quicker on the way down because the grade is so steep, but we didn't want anyone tripping on rocks sticking out everywhere.
Hiking Essentials:
What to Expect Hiking to Hanging Lake
Here's a play-by-play of what you'll encounter on the hike to Hanging Lake with the kids.
When you arrive at Hanging Lake, you'll go through the entrance station where you have to present your permit (more on that below).
The ranger will inform you that you should try to keep your stay limited to 2 hours so that there will be enough parking for each new group coming in. It's definitely possible to keep it to 2 hours, but I highly doubt everyone can finish this in time, especially with kids.
We were about 5 or 10 minutes late coming back. Nothing happens if you're late, its just considerate to free up the parking space.
The hike up takes a while, then you want to enjoy viewing the lake at the top. Coming back down is much faster.
So, you may not make it in exactly 2 hours. But do try to be considerate to future groups coming in during their reserved time who are trying to find parking. Don't hang out at the top for hours.
Your only chance at real bathrooms at Hanging Lake
After you find a parking spot, you can head toward the trailhead. Here you'll find REAL bathrooms. These are the only real bathrooms around, so take advantage.
Next, you'll walk down a paved trail along the Colorado River for about .25 to .5 miles. (The ranger said .25, our GPS put it closer to .5 miles.) This is not part of the Hanging Lake Trail.
At the end of this, you'll be at the official trailhead for Hanging Lake. Here you'll find another set of bathrooms to the right. These are just vault toilets, and a great opportunity for the kids that insisted they didn't need to go back at the real bathrooms.
To begin the trail to Hanging Lake, look for the sign post to Hanging Lake and go up that way. Do not go over the bridge to the right…that is the wrong way (unless you need the bathroom first).
Beginning of the trail
The trail begins almost immediately to ascend. For the first bit, it's just you and the kids and the rocky ascent.
Eventually, the river will come back and it turns into an absolutely beautiful hike through the woods. There are plenty of little waterfalls throughout your walk along the river.
It's hard putting the phone away to stop taking pictures because so many spots are just beautiful.
My kids really liked the bridges on the hike. Many of them stand right over gentle waterfalls of the river.
As you get to the top, you'll come upon the technical rock section mentioned (and pictured) at the beginning. This section is totally doable for kids. Just take it slow and stay safe. Some of the rock is carved into stairs, making for uneven and steep steps.
Coming back down the rock-step section
When you reach the top of the rock steps, you'll walk along a boardwalk for a short time before coming into view of the beautiful lake!
There is a boardwalk all the way to the other side of the lake for different viewing perspectives. There are also a few benches built into the rails to relax and soak it in.
You've now accomplished hiking Hanging Lake with kids, and you'll now see why it was so worth it.
Bonus Waterfall at Hanging Lake
Hanging Lake is the most beautiful part of this hike and the main reason for taking the challenging climb up.
However, you can see a bonus waterfall with just 200 more yards of hiking.
Head to the left side of the lake (where you first enter the lake area) to find the sign for the waterfall behind the lake.
The hike up here is not very long, though it is a bit steep and rocky. But it's worth the extra effort to get up close to Spouting Rock Waterfall.
This waterfall can be seen from Hanging Lake in the distance, but it is so much cooler to see it up close and get the spray in your face to cool you down.
Additional info…
Where is Hanging Lake?
Hanging Lake is located in Glenwood Springs, Colorado. It's not in the main downtown area, or even at the same exit.
From Glenwood Springs, it's about 15 minutes to get to Hanging Lake. You'll have to get on I-70 and head east to exit 125 and follow the sign.
If you are coming from the east, there is no west-bound exit for Hanging Lake. You'll have to overshoot it and turn around and access it from the west. The best way is to pass Hanging Lake, get off at Exit 121, and then turn around and get back on I-70 heading east.
From the exit, the parking area is not too far. You'll have to go through the station where they check your reservation.
Glenwood Springs is a great location, close to the mountain resorts to the east and Grand Juntion to the west, home to Colorado National Monument (a great day tip!)
No editing on this pic. It's that beautiful!
Reservations for Hanging Lake
Do you need a reservation for Hanging Lake? YES.
Hanging Lake has become so popular that the masses have started to come over the years. Trails degenerate more easily and, well, the trail just got too crowded.
Enter: the reservation requirement.
You can NOT hike Hanging Lake without a permit. You will need to register each person in your group for the hike and it WILL be checked when you enter the park.
You will then need to carry the permit on you the entire time hiking, as it may be checked at a later time.
You must make your reservation ahead of time, and I recommend doing it as far in advance as you can.
The cost to hike Hanging Lake is $12 PER PERSON. Once you pay, you'll receive a permit that has everyone on the same paper. Print it off and bring it with you.
Can You Swim at Hanging Lake?
Leave the swimsuits at home because you can NOT swim in Hanging Lake. Skin contact with the water exposes oils, lotions, or any other pollutants into the water which can harm the whole ecosystem (scientifically speaking, it can harm the dissolved carbonates that get deposited onto the edge.) We want to keep this stunning lake as picture-perfect as it is now, so enjoy the lake from the boardwalk.
If you want a lake you can actually play at, check out my list of Best Lakes in Colorado.
Why is Hanging Lake Closed?
At the time of this writing, Hanging Lake is actually open. But it is not uncommon for it to close down.
In years past, fires and damage from storms have caused it to close. Then in 2021, mudslides began in Glenwood Springs causing another closure prompting major restorations. Fast forward to 2023 and Colorado was blessed with a ton of rain, causing flooding from the trailside river along with plenty of mud on the trail. After another round of cleanup, the Hanging Lake trail was open again for the summer.
Where to Stay when Visiting Hanging Lake with Kids
For some great hotels near Hanging Lake for families, check out these to picks:
FAQ about Hiking Hanging Lake with Kids
Does Hanging Lake Have Fish?
Yes, Hanging Lake is home to a few species of Trout. However, fishing is strictly prohibited at the lake.
Is Hanging Lake Difficult?
Hanging Lake is a difficult hike, presenting steep terrain and rocky areas. It is a popular trail that families can ascend with caution and effort to get rewarded at the top.
Can Kids Hike Hanging Lake?
Yes, kids can hike Hanging Lake. It is a challenge, but many kids are distracted by the trailside river, waterfalls, and bridges. Bring lots of water and snacks to keep them (and yourself) going.
Is Hanging Lake Worth it?
Absolutely Hanging Lake is worth it. This challenging hike gives a reward equal to the effort and even offers a bonus waterfall beyond the lake.
Can Dogs Come to Hanging Lake?
No, sorry. The ecosystem around Hanging Lake is so fragile that dogs are not allowed on the trails or in the lake area.
Final Thoughts on Hiking Hanging Lake with Kids
This natural beauty up in the mountains of Glenwood Canyon is quite a sight and an item you should check off when visiting Colorado. The hike isn't terribly long, but it is challenging. Prepare with the right gear and then enjoy this gorgeous hike to Hanging Lake with the kids as one of the highlights of your trip.
Enjoy the green and blue waters and fragile waters that fall in front of you. And don't miss the bonus waterfall behind the lake that takes just a short hike to access.
Save to Pinterest!
You May Also Enjoy:
11 Best Hikes in Breckenridge for Families
Driving from Colorado Springs to Breckenridge