What to do at Rifle State Park with Kids
I'd seen these gorgeous waterfalls at Rifle Falls State Park in pictures online and always wanted to visit. But they seemed kinda far away and not near other activities we were ever doing. So when we were driving from Grand Junction to Glenwood Springs, Colorado, I saw it as the perfect opportunity to visit Rifle Falls State Park with the kids.
Let's Jet, Kids! uses affiliate links.  As an Amazon (and other networks) Associate, I earn from qualifying purchases.  It is no extra cost to you.  
What I didn't know was how incredibly easy it was to take the kids to see the falls. Here is some basic info on visiting this cool state park and why you must visit! Whether you are just looking to hike, see some cool features, or camp, visiting Rifle Falls State Park with kids is easy peasy and very worth it!
Table of Contents
How to Get to Rifle Falls
Quick Version: enter Rifle Falls State Park into your GPS/maps app. The address is 5775 Highway 325 Rifle, CO 81650.
Rifle Falls State Park is located about 14 miles north of the town of Rifle. You can access Rifle right off I-70. If you are coming from the east side (Vail), you'll exit at New Castle onto Castle Valley Boulevard and head north from there.
If you are coming from the west side (Grand Junction), you'll exit in Rifle/Meeker onto CO-13 and head north from there.
Either way, as you drive along highway 325, you'll pass by a lot of rolling hills, distant mountains, and even another state park. Rifle Gap State Park is home to a great lake and more camping. Your pass to Rifle Falls also includes Rifle Gap, so feel free to pack in 2 state parks during your visit.
Note: Your GPS will take you right to the park, just get it loaded before you go in case you lose your signal.
We were taking a longer route home from visiting Ouray and decided to stop here on the way. It was a great stop on our way to Glenwood Springs and helped break up the drive a bit.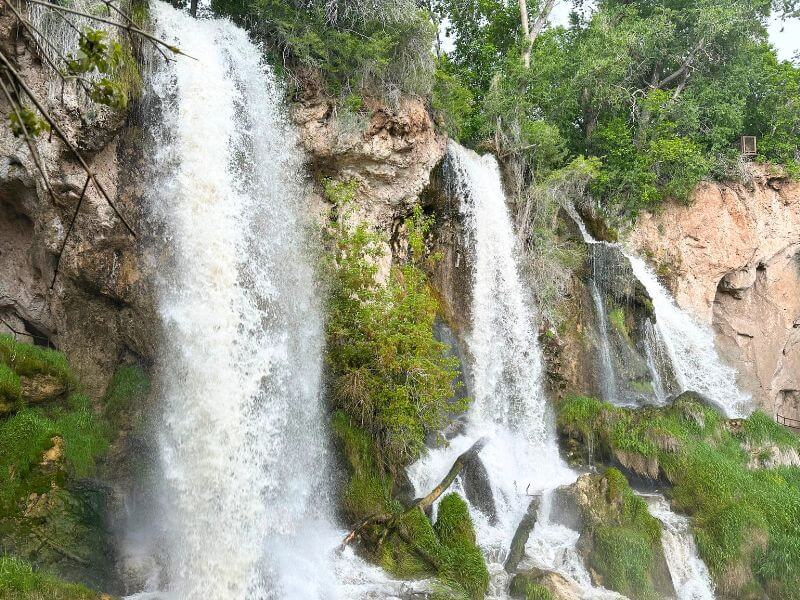 What is so Great About Rifle Falls State Park
Rifle Falls State Park is home to magazine-worth waterfalls. All right next to each other, these 3 falls at 70 feet tall rush down over limestone cliffs, making a beautiful sight that is easy to get to for anyone.
Some Instagramers have called it the Jurrassic Park of Colorado, noting its lush greenery all around and moss covered rocks near the falls. It's the perfect place to take kids that is easy to access, easy to get to the falls, and gorgeous. Plus, mentioning Jurassic Park and dinosaurs just might get their attention.
This is one of the unique state parks in Colorado, as it is small but packs a punch. Enjoy hiking trails, walkways, three waterfalls, and camping all in this small area.
Once you are at the falls, take out a picnic to have one of the most majestic views you've ever had eating lunch. Enjoy the colors and the powerful falls in front of you.
How Much Does it Cost to Go to Rifle Falls
Going to Rifle Falls requires a Colorado State Parks pass. Starting in 2023, these will be added onto your vehicle registration. If you didn't opt out of the park pass, then you'll be able to enter with that pass registered to the vehicle.
Otherwise, a day pass to Rifle Falls State Park costs $10.
After purchasing the pass, you can spend the day exploring through the park. In fact, the pass is good until noon the next day, giving you another opportunity to take the kids to Rifle Falls State Park.
Parking: There really isn't a ton of parking at this park. We were lucky to have arrived later in the day, and during a storm. So we found a spot right away, with plenty to spare! But the lot isn't very big, so on a nice, sunny Saturday, you may have to wait for parking to be available.
Why It's Easy to Visit Rifle Falls State Park with Kids (the Layout)
It's hard to get lost at Rifle Falls State Park. This is one of the smaller state parks we have been to (actually, the smallest we have been to.) While parks like Golden Gate Canyon is large enough to drive for a while, Rifle Falls is a smile enter-and-park kind of park.
That made it one of the reasons it's great to visit Rifle Falls State Park with kids. You can see a lot in a short amount of time and leave feeling like you didn't miss out. Even with young ones and little legs, you can see a lot of cool things!
When you get past the ranger station, there is just one short road that dead ends at a parking area. This dead end parking area is the one closest to the falls. That's the entirety of car access to the park. No driving around for an hour finding your way to trailheads.
As you drive along this short road, you'll see drive-in camp sites lining each side of the road. On the east side you'll be able to sneak a peak of the East Rifle Creek.
The end of the road, at the parking lot, is also where the trailhead to the falls and other hiking trails is.
Plus, there are bathrooms a short walk from the parking area.
Things to do at Rifle Falls State Park with kids include:
Having a Picnic
Taking an Easy Hike
Exploring the Caves
Walking right up to the Falls
Fishing at the Hatchery
Walking along the Rifle Creek
Camping with the family
More on all those activities to come…
How Long of a Hike is Rifle Falls
TLDR: NOT LONG! Maybe 20 yards from the trailhead until you see them
We visited Rifle Falls during a thunderstorm. Our kids have done many hikes in the rain, but we didn't want to make them hike in the storm. Everything I read said it was around a half-mile to get to the falls.
Not knowing when the rain would let up, we waited in the parking area a while. When the rain got a bit lighter and we hadn't heard thunder, we decided to go for it, thinking we could walk quickly.
To our surprise, we could see the falls within about 20 yards of walking on the trail. We didn't need to wait in the car all that time after all had we known it was so close.
So how long is the hike? To just come into view of the falls, the hike is about 20-30 yards from the closest parking lot. Slightly farther to actually go up onto the walkways near the falls.
My point is, if it's raining (or you wonder if you have enough time), you can walk up to the falls without being miserably wet for an hour first to get there.
Beyond just seeing the falls, you can walk the little paths and walkways around the falls and even go behind the falls. This is a really cool, but safe way for kids to get close up to a waterfall.
Can You Swim at Rifle Falls?
No, you cannot swim at Rifle Falls. In fact, they recently added tasteful fencing to keep people from going too close to the water at all.
There are a few articles out there about wading in the water… I don't know if you use to be able to or what. But today, no. You can't get in the water as it is blocked off.
You can, however, get so close to the waterfall on the provided walkways and take in the powerful sounds and even get a bit wet from the spray.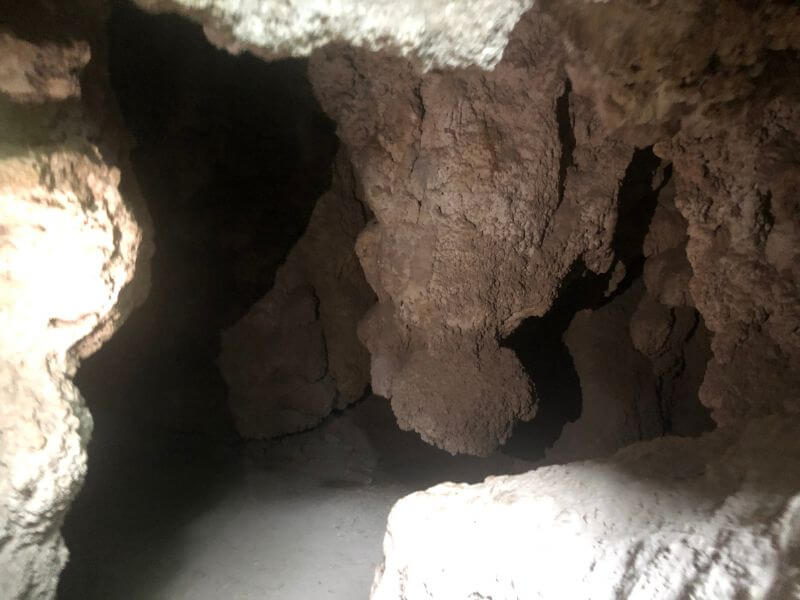 Exploring The Caves at Rifle Falls State Park with Kids
Going through the caves is really fun for kids at Rifle Falls. There is one larger cave and a few smaller ones to explore.
It's recommended that you bring a flashlight through the larger one so you can go in deeper. You may even need to shrink down onto your hands and knees to see everything. Kids will love exploring through and climbing around near the caves.
The caves are located off of Coyote Trail.
Hiking Trails at Rifle Falls
There are a few easy trails to do at Rifle Falls State Park with kids. They are short, easy, and kid-approved.
First, try the Coyote Trail. This loop is under a mile and will take you to a different viewpoint of the falls, as well as to the famous caves. The trail is pretty easy and it does have some stairs.
Squirrel Trail runs from the parking area near the falls and down along the edge of the park boundary, following the main road and campsites at a distance. It goes down to the bottom camp sites and turns back into the main camping area / main road of the park.
This 1.5 mile trail is fairly easy and beautiful as it is tree covered along Rifle Creek toward the bottom.
Lastly, Bobcat Trail is the other main trail in Rifle Falls State Park. While this particular trail may only be 1 mile (2 round trip), you need to first hike the Coyote Trail to get to it, making this trail a total of 3.4 miles total.
The Bobcat trail will take you back to the Fish Hatchery, as well as by the falls and caverns while you are on Coyote Trail. Kids will love being able to fish on the trout-stocked ponds along this trail.
What is the Best Time to Visit Rifle Falls State Park
Late spring and early summer are the best times to visit Rifle Falls State Park with kids. While it is open year round, kids will love visiting the hatchery, exploring the caves, and walking along the creek. During late spring and early summer, the water is at its highest, making for beautiful falls and a full creek.
Do You Need a Reservation for Rifle Falls State Park?
No, you do not need a reservation for Rifle Falls State Park. You can visit as a walk-in and purchase a pass at the ranger station when you arrive. You can also visit using a Colorado State Parks Pass.
You do, however, need a reservation to use any of the camp sites.
Camping at Rifle Falls State Park
This state park is small, but we mentioned many times how fun it would be to camp here. Waking up each morning and walking to the beautiful falls, taking a little hike along the creek, and enjoying nearby state parks would make Rifle Falls a perfect place to camp.
There are 13 campsite that you can drive into, perfect for RVs, trailers, or even tents. These spots each have both 30 and 50 amp electric outlets. They also have a picnic table and a grill.
There are restrooms in the park as well.
The campsites are right next to each other along the main road, so it does feel a little less private.
There are also 7 walk-in campsites at the park. This doesn't mean a reservation isn't needed, it just means that you'll have to park your car and then carry in your gear to your campsite.
The majority of these campsites are along the Rifle Creek, giving campers a beautiful ambient sound all day, and peaceful view in the morning.
Make Camping even more fun for the kids with these fun kids camping gifts!
Rifle Gap State Park
Full Campground?
Since there aren't too many campsites here, you can also camp at nearby Rifle Gap State Park. This park is set on a lake (reservoir) and has many many campsites. Reserve one well in advance, as they often book up.
Are Dogs Allowed at Rifle Falls?
Yes, dogs are welcome at Rifle Falls State Park. They must be on a leash and within control of the owner at all times (even at campsites).
Dogs are not allowed outside the boundary of the park. If you hike out to the fish hatchery, dogs will not be permitted.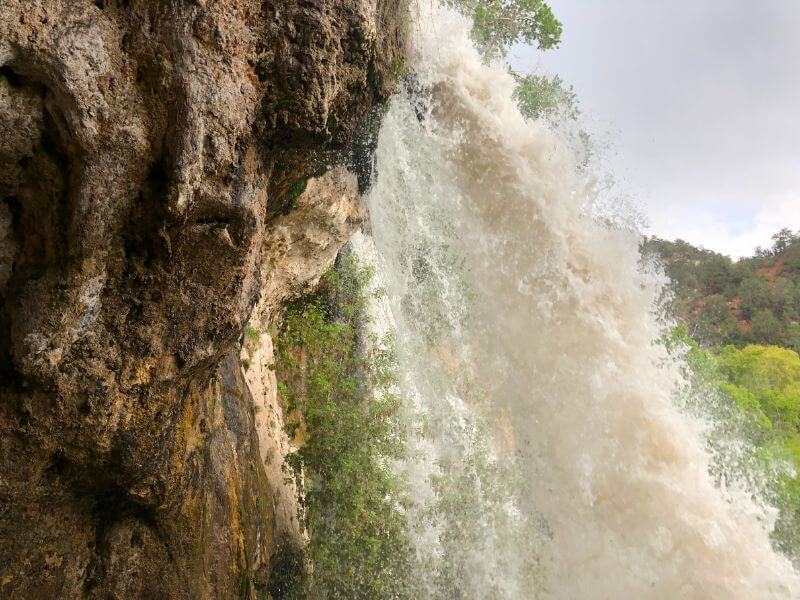 State Park Hours
Rifle Falls State Park hours are from 6am to 10pm. Campers will have 24 hour access to the park.
Is There a Visitor Center at Rifle Falls State Park
There is not a visitor center AT Rifle Falls State Park. However, there is a visitor center at Rifle Gap that serves both parks. So if you'd like to get more info or visit the gift shop, you can stop by the visitor center about 4 miles away.
Day Trip to Rifle Falls from Nearby Cities
Rifle Falls makes an easy day trip from a few cities.
From Glenwood Springs to Rifle Falls State Park, it's 28 miles and about 45 minutes.
Grand Junction to Rifle Falls is a little longer but still very doable. It's 1 hour and 20 minutes to get there and just over 70 miles. This is a great trip to combine with Colorado National Monument in Grand Junction.
Vail to Rifle Falls State Park will take 1-1/2 hours over 88 miles.
Wherever you are coming from, if pass Rifle in I-70, it's definitely worth a stop and the short 14 mile detour up to Rifle Falls.
FAQ about Rifle Falls State Park
How Long of a Hike is Rifle Falls?
To actually just see the waterfalls, it's a matter of a short walk (think 20 yards) before you come into view. Once in view, you can walk around the walkways up close and behind the falls. You can also take a short trail under a mile near the falls.
How Much Does it Cost to Go To Rifle Falls?
To see Rifle Falls, you'll need a day pass to Rifle Falls State Park which costs $10 per vehicle.
Do Your Need a Reservation for Rifle Falls State Park?
No, you do not need a reservation. Feel free to drive in whenever you'd like. Note that the parking lot is on the smaller side, so it is best to come early in the morning or later in the evening when the crowds are smaller.
Where is Rifle Falls State Park?
Rifle Falls State Park is in the city of Rifle, which is about 40 minutes west of Glenwood Springs. The park is 14 miles north of I-70.
Visiting Rifle Falls State Park with Kids
We are so glad we decided to stop at Rifle Falls State Park with the kids while we passed through. It was such an easy stop that really gifted us a lot of gorgeous scenery. We loved the fresh smelling air of the wet trees all around us, the running creek along the road, and of course, the 3 beautiful waterfalls that were so easy to get to.
I highly recommend stopping by Rifle Falls State Park as a family and exploring this gorgeous area. We are hoping to return some day and camp in this intimate, but beautiful place.