7 Amazing Lakes in Steamboat Springs, CO
Steamboat Springs, Colorado is full of things to do for the whole family. Whether you are looking for in-town activities, hot springs, shopping, eating, or nature, you can find it in Steamboat Springs. There is something about nature and water that really draws us in, so I've made a collection of info about a few awesome lakes in Steamboat Springs, and what you need to know about visiting them. Grab the kids, get your swim suit, and let's head out for a lake day. Here are the most beautiful lakes near Steamboat Springs, Colorado.
Let's Jet, Kids! uses affiliate links.  As an Amazon (and other networks) Associate, I earn from qualifying purchases.  It is no extra cost to you.  
While there are plenty more lakes I could list, they are a bit too far outside of Steamboat with the kids. We've visited so many lakes in the area and love the proximity, making it a fun day on the lake rather than in the car.
So here are some of the best lakes in Steamboat Springs (or best lakes near Steamboat) to really add to the fun.
Looking for more to do in Steamboat Springs? Check out this Full Guide to Steamboat
and our favorite place to stay in Steamboat!
#1- Dumont Lake
Dumont Lake is easy to access. As you pass through Rabbit Ears Pass on US-40, you'll see a sign for Dumont Lake on the north side. It's a short, 1-mile drive to reach the lake. Once you park, it's just a few steps to the lake.
We enjoy just watching for birds and alllll the gorgeous wildflowers. You can also take out a electric motor or hand propelled boat. It's a great place for fly-fishing and hiking as well.
To park and visit the lake, you are required to pay the day pass fee (currently $5, August 2021). It is open July through late October for both day use and camping (though dates can vary; check the website for up-to-date info). Dumont lake has 22 campsites as well as water (hand pump) and toilets. Camping has a different fee than the day pass and you can make reservations online. Go here to make a reservation.
Why Dumont Lake made the Amazing Lakes in Steamboat Springs list
The scenery here is just incredible. Right as you step out of the car and take a few steps, you see not only the gorgeous lake, set at just under 10,000 feet elevation, but you are surrounded by wildflowers of all colors. My kids loved finding all the different colors. The easy, short trail down to the lake makes it perfect for kids to enjoy; the reward is within reach right when you get there!
>>> Featured in my post Denver to Steamboat Springs where Dumont Lake is one of the perfect stops!) <<<
---
Make sure you have everything you need for the perfect day at the lake!
---
#2- Lake Catamount
While most of these lakes are near Steamboat, you may be asking Is There a lake IN Steamboat Springs.
Why, yes there is.
As you drop down Rabbit Ears Pass and make your way into the entrance of Steamboat Springs, you get an incredible view of Lake Catamount. I've always wondered about this lake because it's beautiful, though it never looks crowded.
Lake Catamount is actually a private lake. It is open only to members of the Catamount Ranch and Club. The 530 acre lake is a nice, peaceful, private retreat to those who belong to the club, which also offers a pool, fitness center, grill, tennis, hiking, biking, and much more.
Why Lake Catamount made the Amazing Lakes in Steamboat Springs list
Lake Catamount is a really gorgeous way to welcome you into Steamboat Springs. Coming out of the mountain pass, you are greeted with a large lake below, surrounded by green land and gorgeous property. There are even places along US-40 to pull over and snap a picture, it's that beautiful.
#3- Steamboat Lake
---
Steamboat Lake is located within Steamboat Lake State Park in Clark, Colorado. It's about a 35 minute drive from downtown Steamboat Springs, and a really easy-to-navigate drive. It's a little windy, so if someone gets motion sick easily, you might want to grab some dramamine. (One of our kids lost it at the very end.)
To spend the day at Steamboat Lake, you need to pay for a day use pass as you enter. There are stations near the lake or you can pay at the Visitor's Center.
Can you Swim at Steamboat Lake State Park?
Yes! And you should because it's awesome!
Steamboat Lake is perfect to bring kids to. There's a great roped-off swim beach where the water is shallow and the sand is fun. It's also a great place to bring a paddle board, kayak, or even a boat. And if you're looking for a place to camp near a lake in Colorado, this is one of the most convenient campground. Nearby is a laundromat, a small market, and showers and bathrooms. This is the perfect family camping spot in Steamboat.
Why Steamboat Lake made the Amazing Lakes in Steamboat Springs list
I'm not sure I've ever been to a more beautiful lake than Steamboat Lake. It was the perfect day: the kids playing in the sand, hanging out at the picnic table, and taking turns on a SUP. You are surrounded by mountain backdrops, including Hahn's Peak in the near background. Steamboat Lake is great for a family day out.
Read 8 Fun Things to do at Steamboat Lake State Park
Add to the fun at the lake with a Stand Up Paddle Board. Here's the one we have, and here are a few more highly-rated (but lower cost) options:
#4- Pearl Lake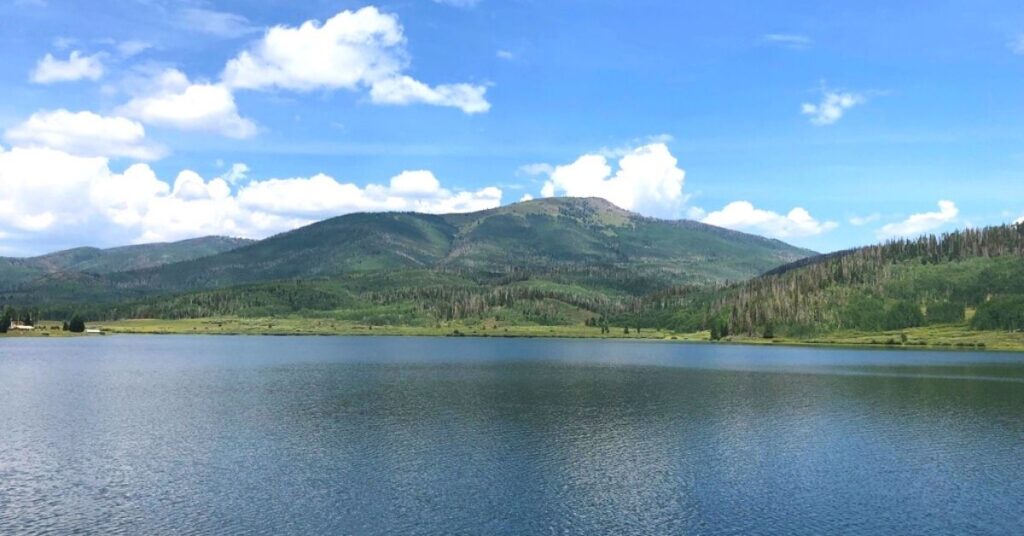 Located in the Hahn's Peak Village area, and just down the road from Steamboat Lake is Pearl Lake. The place is a real beauty. Though it's right next to Steamboat Lake, it feels like a whole other world. The setting of the lake is surrounded by tall mountain sides of evergreens. This entire lake is a no-wake zone, so the water is calm. The vast area fills with paddle boarders, kayakers, and people floating and enjoying the peace. For more info on Pearl Lake, see it's featured spot in my post on Steamboat Lake State Park.
Why Pearl Lake made the list of Amazing Lakes in Steamboat Springs
Pearl Lake feels like a whole new setting. It has its own set of campsites, as well as picnic tables to enjoy the day here. This is definitely one of the most beautiful lakes in Steamboat Springs, Colorado.
#5- Hahn's Peak Lake
Just a few miles up the road from Steamboat Lake State Park is Hahn's Peak Lake. If your family loves to camp, you can pitch a tent in one of the 23 campsites. At 8,500 feet, you are sitting among the mountains, though still about 2,000 feet below the stunning Hahn's Peak nearby.
Hahn's Peak Lake is 160 acres and a great base for fishing, hiking, and biking. You can use a non-motorized OR an electric motor boat in the water. The kids will enjoy a mile long hike along the lake on the West Side Lake Trail.
Why Hahn's Peak Lake made the list of Amazing Lakes of Steamboat
If you haven't seen a pattern yet, let me explain. Everything up in the Hahn's Peak Village area is just gorgeous. Surrounded by forest, water, and exclusive scenery, these mountain lakes are a true gem to behold. Hahn's Peak Lake is all the beauty, but a more peaceful feeling.
#6- Fish Creek Reservoir
Fish Creek Reservoir in Steamboat Springs, Colorado is a beautiful lake with a great setting. There is a campground near this reservoir and there is plenty of hiking to enjoy as well as fishing and non-motorized boating. You can also use non-motorized boats, paddle boards, and kayaks on the lake.
Why Fish Creek Made the list
Fish Creek is tucked away out of town in a spot that really makes you feel like you've gotten away. It's located up in the Hanhn's Peak area, which automatically delivers beauty and scenic views.
#7- Stagecoach Reservoir
Stagecoach Reservoir is in a state park that is rather convenient to Steamboat. Just a short drive away will bring you to this lake where you can boat or enjoy the swim beach. There are many areas around the lake to put in a paddle board and camping all around.
The lake has a great beach area for swimming, with a convenient store right off the sand.
Why Stagecoach made the list
While not as scenic as Steamboat Lake, this huge lake offers plenty to do. Mostly we love it because it is so convenient to get to. In about 20-25 minutes from Steamboat you can be parked and ready to hit the water.
Beautiful Lakes in Steamboat Springs
There is plenty of water to enjoy in and near Steamboat Springs. These 5 lakes are really inspirational though. With beautiful mountains, pines, wildflowers, and glistening waters, these beautiful lakes in Steamboat Springs really take the cake.
Have you visited any of these lakes? When you go to the lake, do you like to relax and enjoy, or play?
Save this to Pinterest!