Guide to Mount Falcon Park, Colorado for Families
Mount Falcon Park is an open space area in Jefferson County, Colorado. It is a great place for families to spend the day hiking and leads to some adventurous, unique landmarks.
Let's Jet, Kids! uses affiliate links.  As an Amazon (and other networks) Associate, I earn from qualifying purchases.  It is no extra cost to you.  
So if you need a fun day of hiking, pack some water and snacks and head to Mount Falcon park with the kids.
Table of Contents
Where is Mount Falcon Park?
Mount Falcon Park is located in Morrison, Colorado. It's an open space area run by Jefferson County and contains over 2,200 acres within its borders and just over 12 miles of trails. It's a great place for fresh air, exploring, and family hiking.
From the north/Denver, you'll take 70 to C-470 and exit in Morrison. It's not far from here.
While Mount Falcon is located really close to Red Rocks Park and Amphitheater, you need to access it a slightly different way if you're coming from the south. Take 470 to 285 south and enter the park from here.
There are 2 entrances to Mount Falcon Park, an east and a west. If you are up for longer hikes, then the east entrance is a good pick.
If you have smaller kids and want shorter hikes and plenty of options, I encourage you to head to the west entrance. Just type "Mount Falcon West Trailhead" into Google maps and it will get you to the right place.
We found the signs pointing you toward Mount Falcon to be very helpful while driving into the west entrance from 285.
View at the east entrance
Mount Falcon East Entrance
We went over to the east entrance first, not knowing which side we wanted to start on.
We unpacked out lunches and ate in the parking lot, admiring Red Rocks in the background.
The east entrance has a two parking lots that aren't small, but also aren't terribly large either. You'll find a few bathrooms and a map at the trailhead here.
If you hike in from the east entrance, you'll have one long trail that eventually connects up with other trails in the park. Again, this is a great option if you really want a longer hike.
Mount Falcon West Entrance
The west entrance is located a little farther down 285. There is a parking area about the same size as the east entrance here.
The west entrance offers many choices of hiking not far from the parking lot. After just a quarter mile, you'll have options for many trails in the area.
Which is why I recommend the west entrance for families. You can get to your desired trail or even your destination a bit quicker.
The west entrance offers bathrooms as well. They are not right at the parking lot, but just a short walk down the start of the trail.
My kids favorite part of this entrance was down the trail a little. There was a garbage can decorated like a monster that "ate" your garbage and had sound effects for when it was "chewing."
Mount Falcon Castle Trail
Length: 1.4 miles r/t to ruins from west entrance parking
Difficulty: easy
We knew our kids would love getting to see some ruins from an old castle (as they had on a recent trip to Missouri), so we took them on the Castle Trail at Mount Falcon Park.
If you come in from the east side, this hike is about 6 miles round trip. You'll gain an elevation of over 2,000 feet, making it a more difficult trail.
If you start from the west entrance, the hike is about 1.5 miles round trip.
We originally started at the east side, but didn't think our kids were up for 6 miles that day. So we drove over to the west entrance to hike the Castle Trail.
The Castle Trail is fairly easy. There are some hills, but the path is wide, packed dirt. You could definitely take a good, off road stroller on this hike.
You'll take the Castle Trail for about .7 miles until you come to the Walker Home Ruins. This is such a fun destination for this short hike.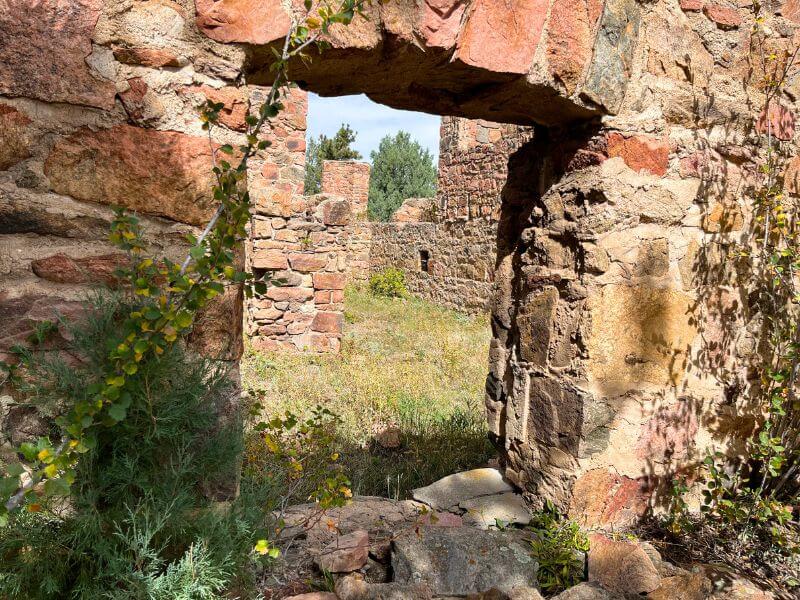 About the Castle at Mount Falcon
The Walker home was owned by John Brisben Walker back in the early 1900's. In 1905, John was a self-made millionaire (worth almost 34 million in today's equivalent). Though a rich businessman, he also cared deeply about the land in the Denver area.
He purchased over 4,000 acres of land, including what is now Mount Falcon Park, and made sure to preserve it well. He also wanted the perfect place to build his home.
In 1909, he began construction on a large stone home. The home was built for him, his wife, and his children. It had 10 bedrooms, a music room, eight fire places, servant's quarters, a library and other areas.
A lightening strike tragically started the Walker home on fire in 1918, burning it down. Two years previously, John had lost his wife.
After such loss, John decided to leave Colorado for good.
However, his influence is still seen today. The land at Mount Falcon is now open for the public to explore, he helped the farming economy around Denver, developed Riverfront Park in downtown Denver, and even owned Cosmopolitan Magazine.
Would you like to get a glimpse of a castle that is still standing and operating? Check out the nearby castle at Lair O' the Bear.
Other Trails at Mount Falcon West Entrance
While I personally think Castle Trail is the coolest trail that families will love at Mount Falcon (my kids spend a while walking around and looking into the home ruins), there are a few other great trails for families.
Summer White House Site
Length: extra .8 (r/t) mile section off of Castle Trail, 3 miles r/t from West Entrance parking
Difficulty: moderate
Summer White House Site is less than a mile beyond the Walker Home Ruins, making it a total of 3 miles round trip from the west parking lot.
The Summer White House was a proposed area that John was going to make a summer home for U.S. Presidents. A cornerstone was laid in 1914 as a beginning, but the site never progressed.
Funding was an issues, and then with the loss of his wife and then the loss of his own home, the project never continued.
Today, you can see the stone with an inscription noting it's plans to be the summer home for presidents.
The home was supposed to be another great castle, hosting 22 rooms and great views.
Meadow Trail
Length: .7 mile section in addition to Castle Trail
Difficulty: Easy
Meadow Trail is another trail that is great for families in Mount Falcon Park. You can access it easiest from the west entrance.
Meadow Trail basically takes you on a slightly longer loop as a means to get to the Walker Home ruins. It's beautiful and has a little more shade that the main Castle Trail.
When you come to the intersection where you would turn left to continue Castle Trail, go straight instead a short ways, and then left onto Meadow Trail. Then you'll take another left and end up at the Walker Home Ruins.
Tower Trail
Length: .4 mile section in addition to Castle Trail or Meadow Trail
Difficulty: Moderate
Tower Trail is a little more challenging that Castle Trail, but not terribly so. Plus, it's not very long.
Tower Trail provides a lookout tower you can get up in to take in the sweeping views of the area. This is really fun for kids to be able to climb up into.
You can access Tower Trail from the west entrance. Hop onto Castle Trail and when it turns, go straight instead. This will end and Tower Trail and eventually meet up with Meadow Trail. You can then loop around to Castle Trail where the Walker Home Ruins are.
The BOB Stroller
We used our BOB stroller through 4 kids and 10 years. And it still was so sturdy after all that. We definitely splurged, but continually talk about how that stroller was one of the best "baby" purchases we made!
Pros: Sturdy, Reliable, Folds up, storage underneath, EASY to maneuver, great for dirt trails and hikes.
Cons: Price is high, but it is such a high quality stroller that will LAST!
The East entrance at Mount Falcon Park
Other Trails at Mount Falcon East Entrance
Castle Trail
Length: 3.6 one way all the way across the park.
Difficulty: Moderate on the east side, easy toward the west.
As I mentioned earlier, the main trail at the east entrance is the Castle Trail, and this cuts all the way over to the west entrance. This trail is longer and has some big inclines (over 2,000 feet in total), but lets you see the majority of the park on one trail.
Turkey Trot Trail
Length: 1.7 miles one-way
Difficulty: moderate
This is the only other trailhead at the east entrance of Mount Falcon park.
Turkey Trot Trail is for hikers and equestrian use only. The trail itself is 1.7 miles one-way, so you'll need to either turn around and return the way you came, or hop onto the Castle Trail at the end of Turkey Trot.
Elevation of Mount Falcon Park
At the east entrance, you'll begin around 6,200 feet in elevation. This is the lowest point within the park.
The Walker Home Ruins is located at over 7,600 feet in elevation, though the west side entrance begins over 7,000 feet.
Map of Mount Falcon Park
We were able to grab a paper map at the east entrance. This came in handy as we navigated our way around the trails and made our way to the castle ruins.
I recommend grabbing a map anytime you hike. But here is a picture so you can visualize your hike a little better!
Frequently Asked Questions about Mount Falcon Park
Is Mount Falcon Park good for Families?
Yes! Mount Falcon is a great place for families. There are a variety of trails that are easy and some parts you can even bring a good stroller on. Kids will especially love seeing the castle ruins.
Can You Mountain Bike at Mount Falcon Park?
Yes, you can mountain bike at Mount Falcon Park. The area has over 12 miles of trails and most of them welcome bikers. Turkey Trot Trail, however, is only open to hikers and horses.
What is the Elevation of Mount Falcon?
While the park varies from 6,000s to 7,000s feet, the elevation of the actual Mount Falcon is 7,841 feet.
Are Dogs Allowed at Mount Falcon Park?
Yes, dogs are welcome at Mount Falcon! They can hike alongside their owners as long as they are on a leash. And you must always pick up after your dog.
How Much is Entrance at Mount Falcon Park?
As part of Jefferson County Open Space, entrance to Mount Falcon Park is free for everyone to enjoy.
Mount Falcon Park Wrap Up
So is Mount Falcon a good place for families?
Yes!
We had so much fun hiking around and especially peeking into the castle ruins at Mount Falcon park. The kids loved learning a little about the history of the castle.
They also loved that it was a pretty easy trail to walk on.
So plan your day out at Mount Falcon Park the next time you are looking for some great hikes near Denver!
Want other cool hiking trails nearby?
The Silverdale Trails in Georgetown (explore a mining area with beautiful trails!)
Roxborough State Park (see why it rivals Garden of the Gods!)