Eldorado Canyon State Park with Kids and Beautiful Trails
Eldorado Canyon State Park is located near Boulder, Colorado and is quite a unique park to visit. It's filled with steep canyon wall, climbers on those walls, and great trails. It's really an incredible place and great to visit Eldorado Canyon State Park with kids. We loved enjoying some of the best Eldorado Canyon hikes with the kids.
Let's Jet, Kids! uses affiliate links.  As an Amazon (and other networks) Associate, I earn from qualifying purchases.  It is no extra cost to you.  
How I Heard about Eldorado Canyon
I hadn't heard much, or really anything, about Eldorado Canyon State Park before, even though we've explored a lot of Colorado. So when I saw that Travel and Leisure listed it as the top state park to visit in Colorado, it went straight to the top of our list.
It's really a beautiful area, and we were able to find some great trails in Eldorado Canyon that were easy enough (and one that was a little more challenging, but doable) for kids. Continue reading for the best kid-friendly trails in Eldorado Canyon State Park, as well as everything you need to know about visiting.
What to Expect at Eldorado Canyon State Park
Eldorado Canyon State Park is filled with beautiful scenery. The South Boulder Creek runs right through, separating two halves. It's filled with climbers scaling the many steep walls of the park, wildlife roaming and flying, and trails leading to majestic views.
There is NO camping available at the park, and mountain biking is only permitted on Rattlesnake Gulch Trail (and the section of Fowler trail that leads to Rattlesnake Gulch). Dogs are welcome, but must be leashed.
Check out my picks for light hiking backpacks. The first one folds into itself all tiny!
Getting to Eldorado Canyon State Park
Getting to Eldorado Canyon State Park from Denver
Eldorado Canyon State Park is about 45 minutes northwest of Denver. It is near Boulder, but actually in a town named Eldorado Springs. The best way from Denver is to take I-25 north and exit on US-36 West. Exit on McCaslin Blvd (170 W), Right on Marshall and left on Eldorado Springs Dr. As you go through Eldorado Springs, the speed limit is 10-15mph in different areas. Take this seriously, as there are plenty of dips in the road, it's unpaved, and there are pedestrians.
When to (and not to) Visit Eldorado Canyon State Park
First and foremost, if you are planning to visit Eldorado Canyon State Park, do everything you can to not go on a weekend. I read this advice and originally chose to ignore it. We planned to go on a Saturday, but it ended up storming that day. Instead, we went on a Monday. As I drove into the park, I was so grateful we hadn't gone on a weekend.
Update: Eldorado Canyon now require reservations to drive into the park on Saturdays and Sundays during peak season. There is limited parking, so this is actually a good thing. HOWEVER, you can catch the free shuttle (with your parks pass bought in advanced) into Eldorado Canyon, eliminating the need for timed entry reservations.
As you enter the park, there is a small parking lot at the bottom. Many people would park here and then walk up the small, main dirt road to reach trailheads. To reach any of the main trailheads, it's about one half-mile up this road. When we arrived, that lot was not completely full, but almost.
We drove up a half-mile to the trailhead of our chosen hike. There is a small, dirt lot along the canyon wall that fits about 10 cars. That was full.
We continued driving just a little further to another little make-shift parking lot of about 8-10 cars. That was full.
A little farther up, there was a dirt lot that was slightly bigger, and we got lucky with a spot there. When you hit this third lot, you can also fork to the left for a few more parking spots. On the weekend, this fills up fast. There really isn't that much parking available. I read that you can pay to enter the park, but even after you're admitted, the lots may be full. Make sure to go on a weekday if at all possible!
Navigating in the Park
When you get to the entrance, there is a small station with a staff member to collect the entrance fee. Cars are $10, or if you enter by walking/bike it is $4 per person. There is a lot just before the entrance that people park in and walk in, but the park ranger said this is very unappreciated by the local residents who live near there. Plus, if you've got kids with you, it's going to probably be cheaper to just pay the car fee anyway.
The road throughout Eldorado Canyon State Park is not quite a two-lane road. It's a dirt road with an edge on one side and a canyon wall on the other. Visitors going up / into the park have the right away, as they are on the edge-side of the road. As you exit the park, make sure to pull over when you can to allow oncoming traffic to pass.
Facilities at Eldorado Canyon State Park
At the first parking area just after the pay station, there is a bathroom facility.
As you get to the parking lot at the fork (mentioned above), if you were to take the farthest left fork, you will find a rough bathroom. There are two restrooms, and I suggest bringing some of your own toilet paper as our bathroom was completely empty, even on a weekday in the morning. It's always better to be prepared!
If you take the middle fork, you will reach the visitor's center, though lately it has been closed. The picnic areas are also unavailable at the moment. However, there is a small spot by the river if you take the middle or far left fork in the road that you can access. We dipped our hands in the cold, refreshing creek after our hike was finished.
Overall: There are bathrooms at the lower parking lot (just after the pay station), up near the parking lot where it forks (fork left), and one at the visitor's center.
---
Before you set out hiking, make sure you have all the right stuff. Read:
Essential Hiking Gear for the Whole Family!
---
Eldorado Canyon Hikes for the Family
There are a few trails at Eldorado Canyon State Park that are great for kids. These are the four main trails, in order of difficulty:
Streamside Trail at Eldorado Canyon State Park (Easy)
Park at the first/lower lot, and then it's not a far walk to the trailhead for Streamside Trail. This trail walks along the South Boulder Creek and gets you closer views of some of the canyon walls. The trail is 1 mile roundtrip (out and back) and the first 300 feet are stroller-friendly. You can get closer with the river, but take caution as the current can be strong!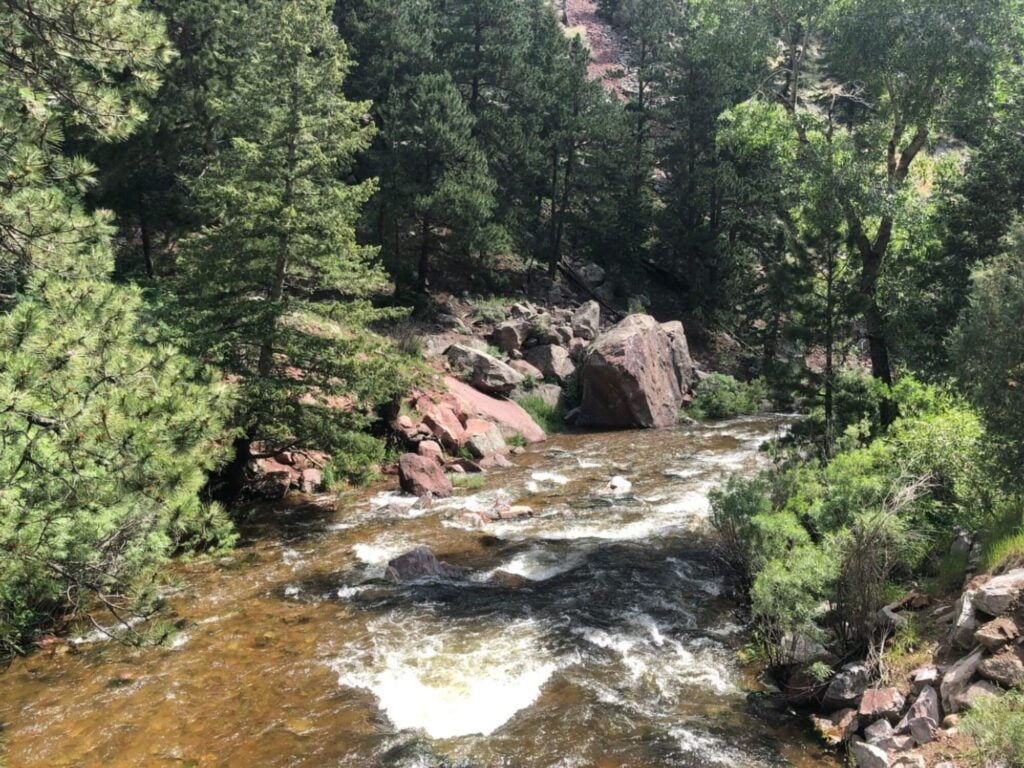 Fowler Trail at Eldorado Canyon State Park (Easy)
To access Fowler Trail trailhead, aim for one of the parking lots further within the State Park. You'll see a sign as you driving, notifying you of the trailhead for Fowler and Rattlesnake Gulch. If you don't see a spot, keep driving. There may be more a little farther up.
Fowler Trail begins as a packed gravel trail, making it stroller-friendly. (As always, I recommend a good, three-wheel type of stroller, not an around-town type for these trails. This one was our favorite and stayed strong with all 4 kids on all sorts of terrain.)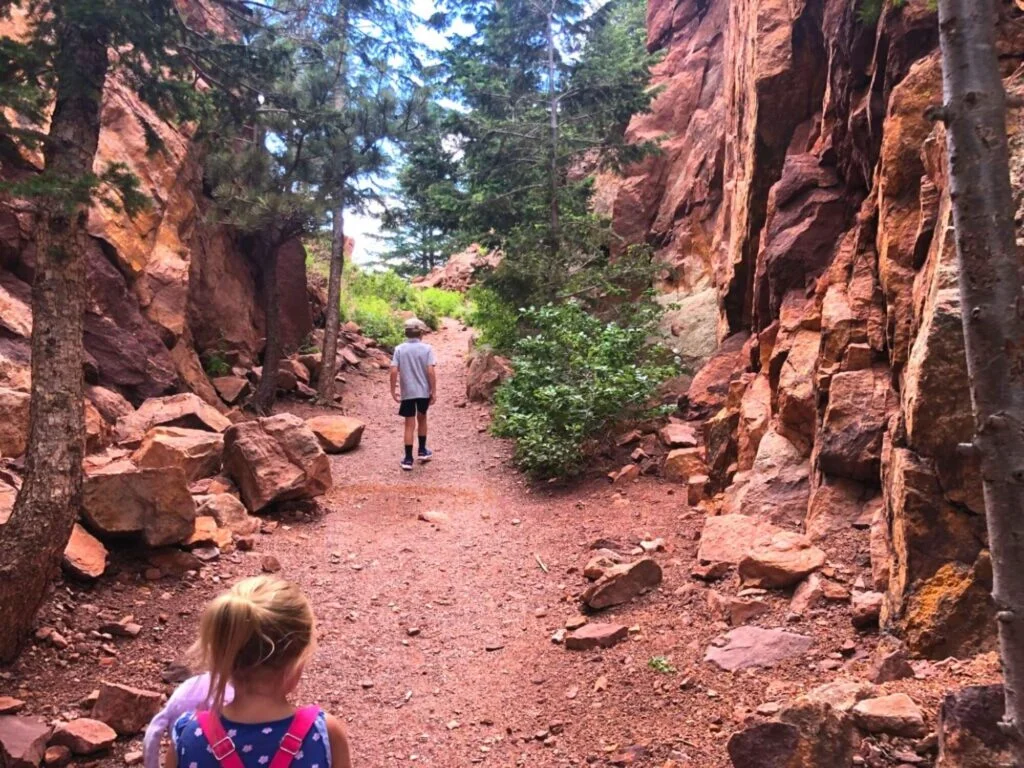 You can make Fowler Trail as long as you'd like, but it only goes .7 miles within the State Park. After that, you are in Boulder Open Space. It's still beautiful and a nice, easy walk at this point, but you no longer have the canyon views. The first half of the trail is packed down gravel, and the second half is less-groomed, though still and easy hike.
Fowler Trail is fun as it has wildlife info along the way, as well as (free) binocular stations you can use. Use the binoculars to search for wildlife and eagles, or, you'll find plenty of climbers on the walls across the river. We enjoyed watching the brave climbers scale up the steep, tall walls across from us. While some are skilled enough to anchor themselves, there are also sections where anchors are pre-anchored. Either way…I don't think I'll be joining them, but it's fun to watch!
Can you spot the climber in the picture below? (Hint: the climber is wearing a white shirt, on the left half)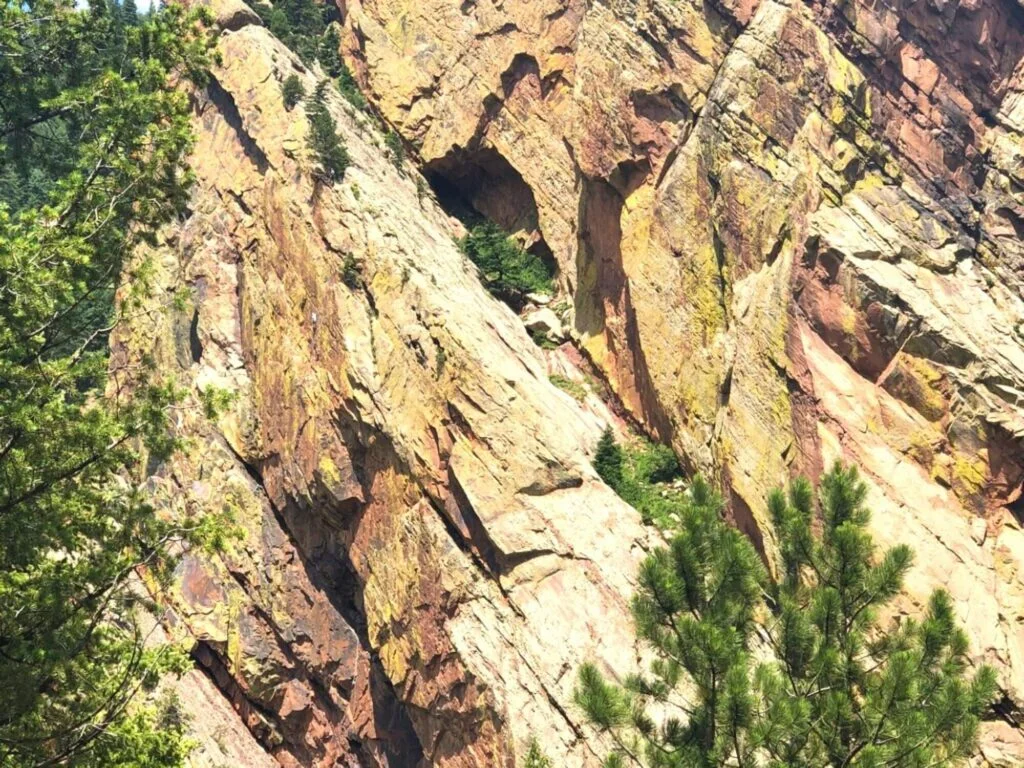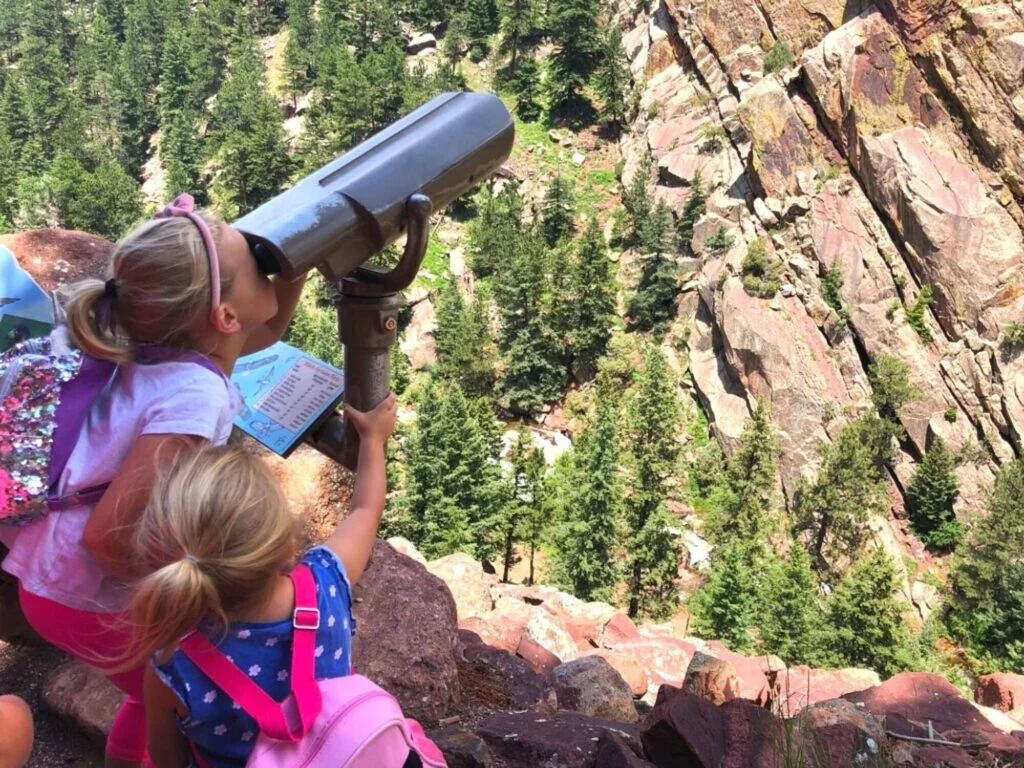 Rattlesnake Gulch at Eldorado Canyon State Park (more difficult)
Rattlesnake Gulch is a little more advanced. To access it, you have to begin on Fowler Trail, and after not long, you turn onto Rattlesnake Gulch (it's well-marked). It begins its ascent quickly and the terrain is noticeably more difficult. Hiking up a rockier terrain can be challenging (and obviously not stroller-friendly at all). It eventually smooths out a little, only to turn rocky again. And it really is a climb.
The trail is 1.4 miles up to the top, where you'll see the remains of the Crags Hotel, which burned down in 1912. At the top, there is an additional .8 mile loop where you can experience some more great views, including the Continental Divide, and be able to see the railroad tracks.
If I haven't mentioned it yet, it's a climb to get to the top. You'll end up 1,200 feet above the trailhead. And some spots are very rocky (like the segment pictured above).
Also, make sure to check ahead or ask at the pay-station when you enter, as the Rattlesnake Gulch trail does have occasional closures. It was closed at the top when we went due to protecting Golden Eagle activity.
Eldorado Canyon Trail at Eldorado Canyon State Park (more difficult, and long)
I wouldn't recommend this for kids unless they are older and/or more experienced hikers. And you have lots of snacks. To access it, go all the way to the end of the dirt road, to the last parking lot near the Visitor's Center. Eldorado Canyon Trail is a long trail, 6.5 miles total (out and back) that also gains over 1,000 feet.
Where to Stay Near Eldorado Canyon State Park
The closest major cities to Eldorado Canyon State Park are Boulder and Broomfield. You can try the Best Western Plus Inn in Boulder, which is a modern-designed hotel. The kids will love the outdoor pool and you will love the option of adjoining rooms, microwave, and refrigerator. Plus there's a workout room.
Read why we LOVE using Hotels.com and all the perks!
This beautiful Marriott in Boulder is perfect for a family. The rooms are designed for a comfortable stay, with sleek designs, a great amount of space, and even a whole kitchen. We love having a kitchen in our hotels, as it helps cut down on costs of eating out.
Going to Eldorado Canyon State Park with Kids
Eldorado Canyon State Park is a beautiful state park tucked away near Boulder. It's a great park for taking kids to to explore and learn and get outside. Whether you go to watch the climbers scale the mountain walls, search for eagles, or get some energy out on one of the great trails, you'll have great views no matter which you choose. Enjoy the beautiful scenes as you hike at Eldorado Canyon State Park!
Save this to Pinterest!