The Best Pizza in Telluride – 3 Top Choices
Are you on the hunt for the best pizza in Telluride? There are a few obvious pizza joints to hit and we were on a mission to try out the most popular ones.
Let's Jet, Kids! uses affiliate links.  As an Amazon (and other networks) Associate, I earn from qualifying purchases.  It is no extra cost to you.  
While there are a lot of places to get pizza in Telluride, we wanted to take the most popular ones and figure out which ones were really worth a visit. We found a few that really just tasted better than the rest, so I've listed them below.
There are obviously plenty of places to order pizza, but we just wanted places that were mainly pizza joints so we could really find the best pizza in Telluride.
We went from downtown Telluride to Mountain Village to test out the highest rated pizza places. Here are our results so that you can go find the best pizza in Telluride on your next visit.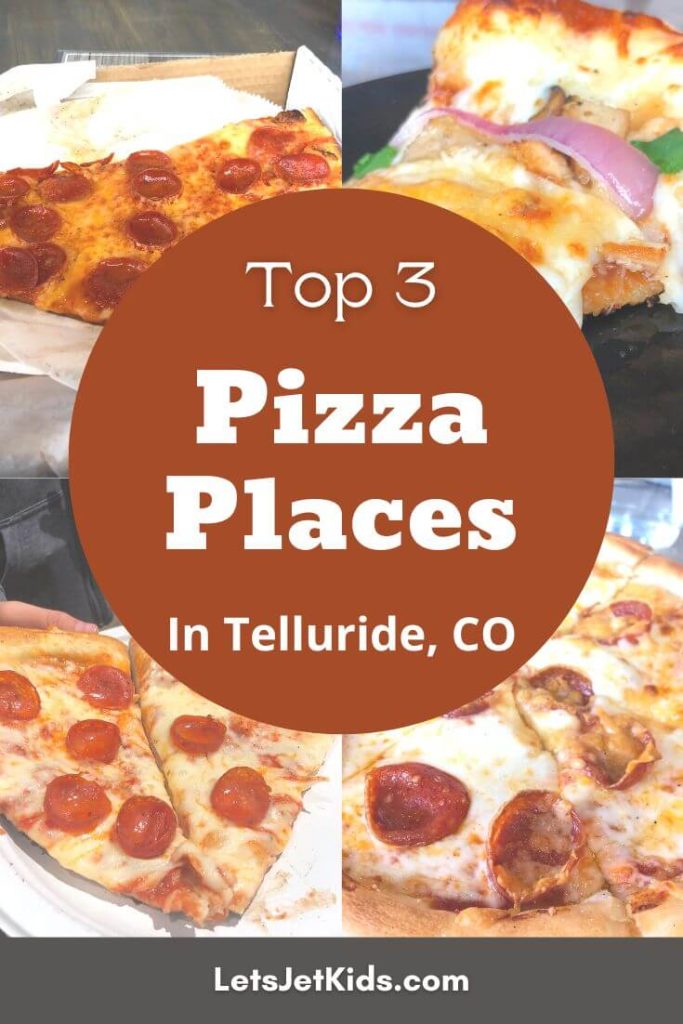 Crazy Elk Pizza in Mountain Village
562 Mountain Village Blvd, Mountain Village
My family thought this was hands-down the absolute best pizza in Telluride! My kids loved this one, especially for the amount of cheese. The adults loved the pizza crust was a little puffy and the overall flavor was just really, really good.
And the slices are huge! In the picture above, we actually had them cut the slice in half so a couple of the kids could share. So that is just one piece of pizza.
Crazy Elk has a pretty casual atmosphere You can order right at the entrance and get pizza as a whole or by the slice.
They also offer salads and sandwiches.
The tricky part? Crazy Elk Pizza is actually located in Mountain Village, not in Telluride. But people often think of the two towns as one in the same (even though they're not).
You can make the drive over to Mountain Village. But I highly recommend taking the gondola instead to add a fun experience to your pizza night.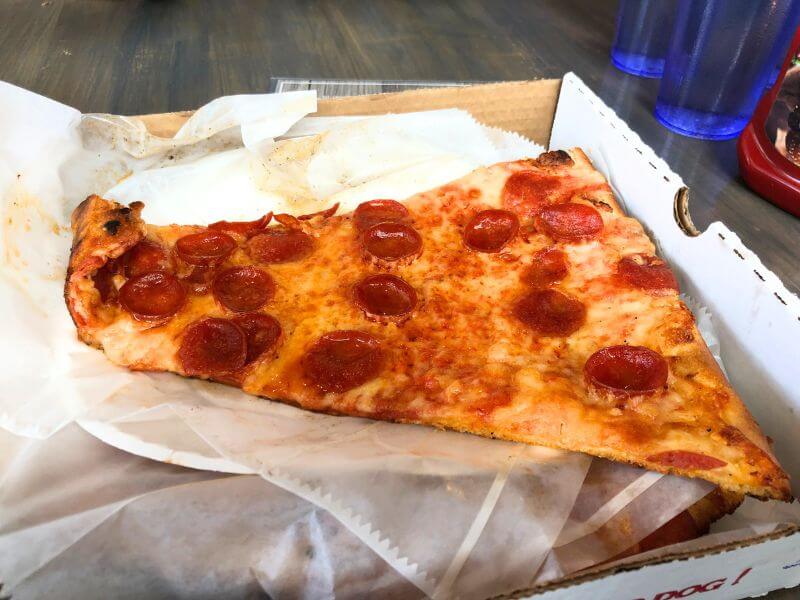 Brown Dog Pizza
110 E Colorado Ave, Telluride
This was the next best pizza in Telluride. Technically, it was the best pizza IN Telluride since Brown Dog is located right on Main St in downtown Telluride.
This place was busy all day (we went just before 2:00) and very popular among locals and tourists.
You can wait for a table, sit at the bar, or (as we did), you can order ahead for pick up. We were able to order at the bar for a to-go order.
If ordering by the slice, you can order pepperoni or cheese.
The slices of pizza are pretty large. We loved the cheese and flavor on it. The pepperoni was good and the crust was good.
Brown Dog Pizza is a Detroit-style pizza place. I looked up what Detroit pizza was and found it uses cheese (usually a specific Wisconsin cheese) right on top of the crust, then layers on the sauce and toppings. The pizza is in a rectangular shape, showing the old motor-city's use of automotive drip pans that the pizza was originally cooked in.
Our individual slices didn't represent Detroit pizza, but Brown Dog also serves up classic pizzas that you'll find more familiar.
See a full menu of Brown Dog Pizza
High Pie Pizza
100 W Colorado Ave, Telluride
High Pie Pizza is located just a few doors down from Brown Dog. It's a bit of a nicer pizza joint than Brown dog while still having an overall casual feel. You could show up in hiking gear and still feel comfortable (as we did).
While Brown Dog was definitely casual and a bit more crowded (both in people and in table placements), High Pie was more spread out and didn't seem as popular.
High Pie Pizza has a large bar island inside with plenty of regular seating as well.
We ordered a few full pizzas from High Pie. While it wasn't as popular here, I still consider it one of the places to get the best pizza in Telluride because we really enjoyed what we got.
One pizza we got was a gluten-free pepperoni. I thought it tasted really good for being gluten free. My only complaint was that it was still a little raw/stretchy inside. But overall the flavor was great and the overall texture was great, especially for a gluten free pizza.
We also got a barbecue pizza (one of my kids' favorite flavors). They absolutely loved this. The texture and flavors were great. But they did like the other pizza places above better overall.
Bonus: in the back of High Pie Pizza you'll find a pinball machine and foosball table.
Baked in Telluride
127 S Fir Street, Telluride
Baked in Telluride is a very popular bakery in town. I'll say right now that we didn't get any pizza here (we came at breakfast time and had breakfast sandwiches), but I'm including it because it is rated highly overall and one of the most popular places to eat in Telluride.
Baked in Telluride serves home baked food all day long, including pizza. It's open for breakfast, lunch, and early dinners (it closes at 6:00 pm). This place is a staple in town, with a long line that moves along with efficiency.
For lunch and dinner, they also serve up sandwiches, soups, salads, Mexican food, and pasta. The perfect combo for families looking for a place to eat where everyone is happy.
The pizza choices have a fun array of flavors (like Greek and Southwest).
The pricing of pizza at Baked in Telluride is pretty close to the same as other pizza places.
More Best Pizza in Telluride
I had a list of more places we wanted to try and didn't make it to (or, they were closed when we arrived).
Upon researching some of the ones we missed, I won't include them here due to less-than-stellar reviews of both food and service.
Of course, there are other places we didn't make it to just because it was a more formal atmosphere (like Rustico Restaurante) and we were usually in hiking apparel and moving. Places like this have high ratings, but aren't necessarily "pizza joints," but rather just have pizza on the menu.
Best Pizza in Telluride
My kids really enjoyed sampling so much pizza. If you can make it up to Mountain Village, you'll be glad you did. Crazy Elk was easily voted the Best Pizza in Telluride by our family. But if you don't make it up the gondola, there are other great pizza places in town as well.
Save to Pinterest!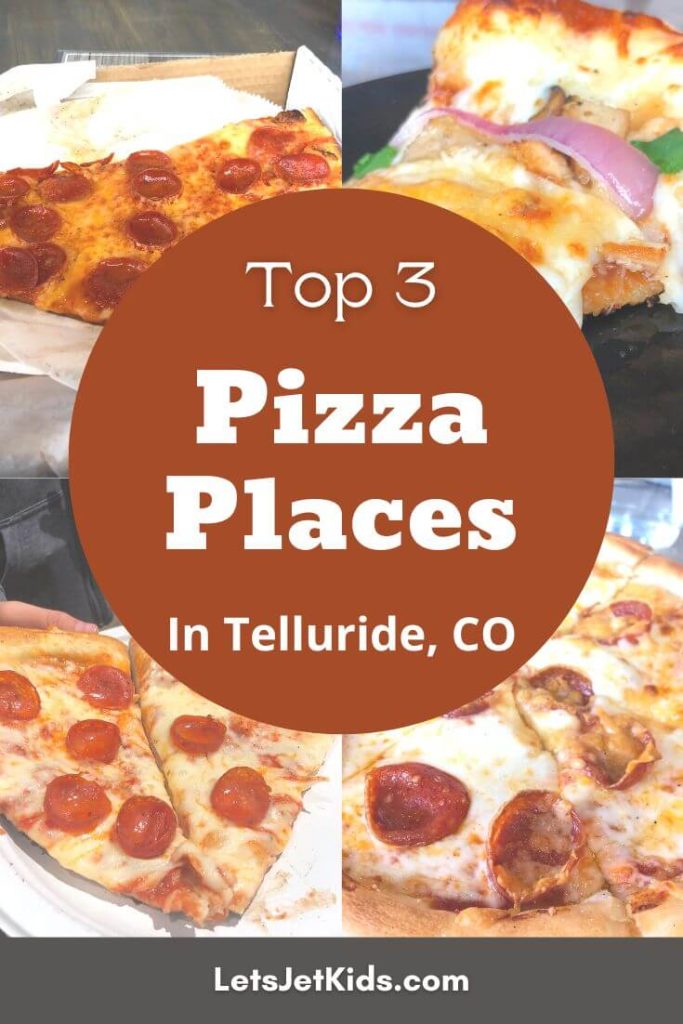 You'll also like: