9 Best Activities in Steamboat Springs in October
Heading to Steamboat Springs in October is a great time to enjoy the outdoors in cooler weather. It's also great as this Colorado mountain town is much less crowded during this off season, giving you less wait time at restaurants and plenty of space while shopping and playing.
Let's Jet, Kids! uses affiliate links.  As an Amazon (and other networks) Associate, I earn from qualifying purchases.  It is no extra cost to you.  
Plan your trip for October in Steamboat Springs for a great family getaway full of outdoor fun, local events, and tasty dishes.
Read on for the best things to do in Steamboat Springs in October for families.
Table of Contents
Is October a good time to visit Steamboat Springs?
We have been to Steamboat many, many times all around the year. While I believe anytime is a good time for Steamboat, I especially enjoy visiting in October.
I love that the weather is mild. It typically hasn't snowed yet (though sometimes it does), but it's not terribly hot during the day like in the summer. It's also not crowded since ski season hasn't begun yet.
The average high in Steamboat Springs in October is a mild 59 degrees, with an average low of 25 at night.
This makes for perfect daytime outdoor adventures with the family.
Here are some of local events and some of the best things to do in Steamboat Springs in October: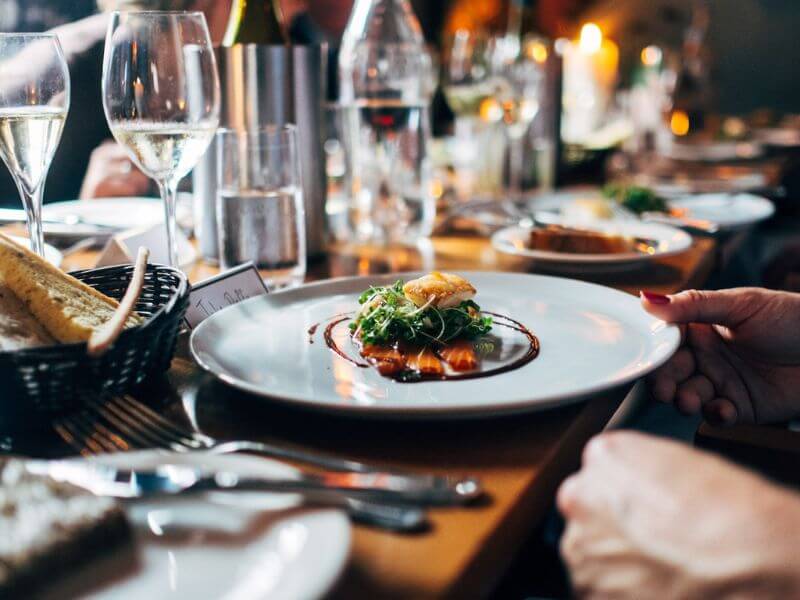 1. Restaurant Week
While the specific week can vary, Restaurant Week usually lands in October. Foodies will love jumping around to many restaurants in the area who create specialized menus just for this special event.
Enjoy breakfast, brunch, lunch, and/or dinner at many tasty places throughout town.
From local cafés to fancy steakhouses, there's a restaurant that's just right for your taste.
2. Drive Though the Colors
The colors in Steamboat Springs are best from mid-September to mid-October. If you visit during late October, you may see the ending of the color change as leave dry up and begin to fall.
But if you can make it earlier, there are a few popular drives that are perfect in Steamboat Springs in October for great leaf peeping.
Buffalo Pass runs north of Steamboat up county road 38 and then 36 to the northeast. Drive out to the Summit Lake campground area for a colorful drive. This will take around an hour to get to if you do the whole drive.
Rabbit Ears Pass is another great road to drive during fall colors. Chances are good that you've driven through the pass on your way into Steamboat. You can still go back and park in designated areas throughout the pass and take a little walk through the colors.
You can also make the drive up to Hahns Peak Village up at Steamboat Lake State Park. This drive takes you to a beautiful area high on the mountain where colors combine with the beautiful lakes in the area.
While you are up here, let the kids stretch out and walk around the park. The water may be too cold to get in, but it's still fun being on the cool beach area.
On the way back from Hahns Peak Village, make a turn onto Seedhouse Rd to follow the trees along the Elk River.
3. Ride a Horse Through the Colors
Steamboat has plenty of Aspen trees in the surrounding areas that are bursting with color in October. Why not experience it all on horseback?
There are many options to choose from for horseback riding. The most popular option is Saddleback Ranch. This popular venue allows children 6+ to participate on rides as you meander around the ranch, hoping for that chance to see some wildlife among the rolling hills.
Silver Creek Outfitters takes you more into Aspen territory than Saddleback, but kids need to be at least 8 years old to ride here. They ride among the valley floor filled with trees and pines.
Spring Creek Trail leads to pond that's colorful in October
4. Take a Fall Hike
As another reminder, the colors in Steamboat Springs are best from mid-September to mid-October.
Rabbit Ears Hiking for families
Rabbit Ears Pass is the road you enter Steamboat Springs from if you drive in from Denver. The colors through this pass are pretty awesome in fall. If you don't want to just sit and drive, then park in a parking area along the pass and get out and hike!
Trails go into the wilderness, leaving you in a sea of color. We have done a trail just off Rabbit Ears in the winter and it was pretty flat and easy, making it a great hike for kids.
The West Summit Loop 1B is just under 2 miles and fairly easy. For something a little longer, head out on the Rabbit Ears 1c Trail, which is just over 3 miles round trip. Whichever you choose, you'll get to experience the magical color of Steamboat Springs in October.
Both trails mentioned can be accessed from the same parking area located just west of Meadows Campground.
Other Fall Trails to Hike
Some of our other favorite trails include the Fiddlehead Trail and Spring Creek trail.
Fiddlehead is located up the mountain a ways, but makes you feel like you are secluded. It's a fairly easy trail and feels refreshing in the middle of a day in October in Steamboat.
Spring Creek has great colors around the pond at the end of a 1 mile, super easy walk. It's a perfect trail for families, even if you have a good off road stroller.
5. Stroll Through the Yampa River Botanic Park
While the Botanic Park is especially great in summer with all the flowers vibrant in color, fall is a great time to see a different kind of color.
The flowers and plants at the park begin to dry up, especially by late October. But the trees in the background of the Yampa Trail behind the park, as well as trees within the park around the park take the stage for color.
The park is one of many free things to do in Steamboat, though donations are encouraged.
Get more details on their webpage.
6. Take a Guided Hike with Yampatika
Yampatika offers many ways to explore, appreciate, and learn about nature. Their goal is to create more responsible environmental stewardship through education.
Participate in a photography hike through fall foliage, a nature journaling hike, or wildlife hike during October.
These are great ways to see parts of the Steamboat wilderness you may not have seen before, and get educated on the surrounding wildlife.
7. Join the Halloween Stroll Down Main Street
Forget going door-to-door for candy.
Instead, join the locals on Lincoln Avenue to collect the goods at local businesses. Dress up in your Halloween costume and head from business to business to trick-or-treat in a tradition that has run over 30 years.
This is a great, fun, safe family activity in Steamboat Springs in October. What better way to enjoy Halloween than all together with the energy of the town in one place. Enjoy live performances in this vibrant setting as you walk around during this time free of car traffic.
The fun typically starts around 5:00pm.
8. Join the Foundry 5k
Breathe in the crisp air of Steamboat Springs in October while you get some exercise in with the family.
The Foundry 5k begins at Soda Creek Elementary. Runners and walkers are welcome and encouraged to dress in costume.
Leashed dogs are welcome as well.
Each participant is entered into a raffle for a chance to win a prize after.
When you're done running, hang out and enjoy some treats and family fun!
9. Walk Along the Yampa River
While it's too cold to float down the river now, you can take a very scenic stroll along it.
The Yampa River Core Trail runs all the way through town and beyond, giving you plenty of miles to walk with the kids and enjoy the colorful trees.
There are benches and beautiful gazebos along the trail if you need a break or a snack.
And if you've walked too far, just hop on the free Steamboat town shuttle to get back to where you started.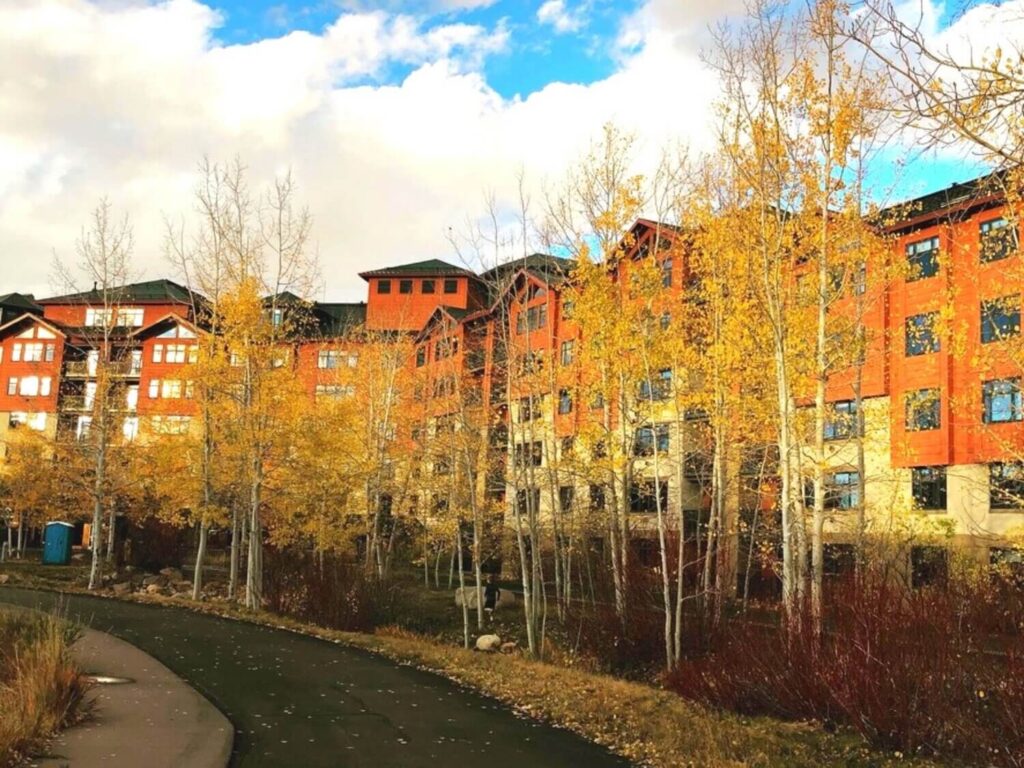 Back side of the Steamboat Grand, taken from the small outdoor track
Best Place to Stay in Steamboat Springs
I highly recommend the Steamboat Grand to stay in. It's especially great for families as it has a nice big, heated, year-round pool outside to play in.
Adults will love the nice fitness facility, coffee shop, and restaurant on site, as well as the spa, sauna, and steam room.
You can book a basic room, or you can book a large, apartment-style room for large groups and a full kitchen.
Steamboat Springs in October
While there are so many different activities to do here, hopefully this has given you some great ideas for what to do in Steamboat Springs in October, specifically. October is such a beautiful month to enjoy the cooler weather and beautiful colors in Steamboat.
Use these last final days before winter to soak in some outdoor adventures and even participate in some local, fun events. Next time you spend October in Steamboat Springs, you can really use every minute to enjoy this wonderful month.
Save to Pinterest!