4 Awesome Ha Ha Tonka Trails for the Whole Family
What may seem as a unique name, Ha Ha Tonka State Park is an incredible place to take the kids on a hike! It is filled with greenery, water, bridges, history, and structures that really keep the kids' attention, hardly noticing that they are hiking along. With so much to do, Ha Ha Tonka State Park with kids is easy to do, and a fun way to spend the day. Read on for some great Ha Ha Tonka trails and easy hikes with kids!
Let's Jet, Kids! uses affiliate links.  As an Amazon (and other networks) Associate, I earn from qualifying purchases.  It is no extra cost to you.  
Ha Ha Tonka State Park is located in the Lake of the Ozarks region in Missouri. Missouri's State Parks are FREE to visit, one of a few states to provide this great benefit. There are plenty of bathroom facilities (outdoor, rugged bathrooms, that is) and plenty to see and do.
There are quite a few Ha Ha Tonka trails within the park. Luckily, there are many that have a unique feature, as well as many that are nice and short, giving the kids a quick victory for completing a trail. Check out our favorite trails from visiting Ha Ha Tonka State Park.
A Little History About Ha Ha Tonka State Park
"Ha Ha Tonka" is believed to be a word from the Osage Indians, meaning "laughing waters." Besides the Osage Indians, it was also a popular ground for trappers and settlers over the years. Eventually a man named Robert McClure Snyder bought land within the present day state park to build his mansion (more on that later…). Ha Ha Tonka is home to the 12th largest spring in the state of Missouri.
On to our favorite Ha Ha Tonka trails…
---
First, make sure you have all the essential hiking gear for the family before you head out for the day!
Also check out fun things to do near Lake of the Ozarks with kids!
---
Castle Trail- Coolest Ha Ha Tonka Trail with Kids
Distance: .8 miles to the Castle
Level: Easy
Stroller Friendly: Yes (but if you continue beyond the castle, no.)
Castle Trail is under a mile roundtrip. There are a couple places you can park to enter Castle Trail and they will all lead to the same place in about the same distance. The trail is paved, making is accessible and stroller-friendly all the way to the castle. If you continue beyond, you'll hit some stairs that take you to Spring Trail.
After what is a short walk, you'll come upon the remains of the Carriage House. Continue walking and you'll find the remains of the castle, or large mansion. The mansion was built by Robert McClure Snyder early in the 1900s. He used local materials to build his dream, European-style mansion.
Unfortunately, in 1906 Robert was killed in an auto accident just a year after construction began. The mansion sat vacant and unattended for years, until his sons picked up the project in 1922 to complete. Misfortune struck again in 1942 when the castle was destroyed by a fire. Only the exterior walls, made of stone, remain today.
We love seeing castle ruins. This one reminds us of one back in Colorado at Mount Falcon Park.
If you return to the trail and continue farther, you will come across the Post Office building as well as the Water Tower remnants. The Water Tower was also destroyed by vandalism in 1976. It was home to servants and used a pump and the advantage of gravity to bring water to the nearby mansion. You can see the Water Tower from a distance, but to get up close you'll have to manage some stairs, making this part NOT stroller friendly.
Colosseum Trail – Kid Friendly Hikes in Ha Ha Tonka State Park
Distance: .8 miles
Level: Medium
Stroller-Friendly: No
Another favorite trail was the Colosseum Trail. Fairly easy at only .7 miles, though incredibly muddy at times in spring, this trail was short and fun. It's a bit rugged at times, but the kids do great. The trail takes you through the trees and alongside a huge bluff. This 500-foot sinkhole was created after the collapse of a cavern.
Along this trail and beside the Colosseum, the kids will love finding the natural land bridge that you walk under, almost with a cave-like feeling underneath, and yet completely open to the outdoors. The natural bridge is about 70 feet wide and 100 feet tall.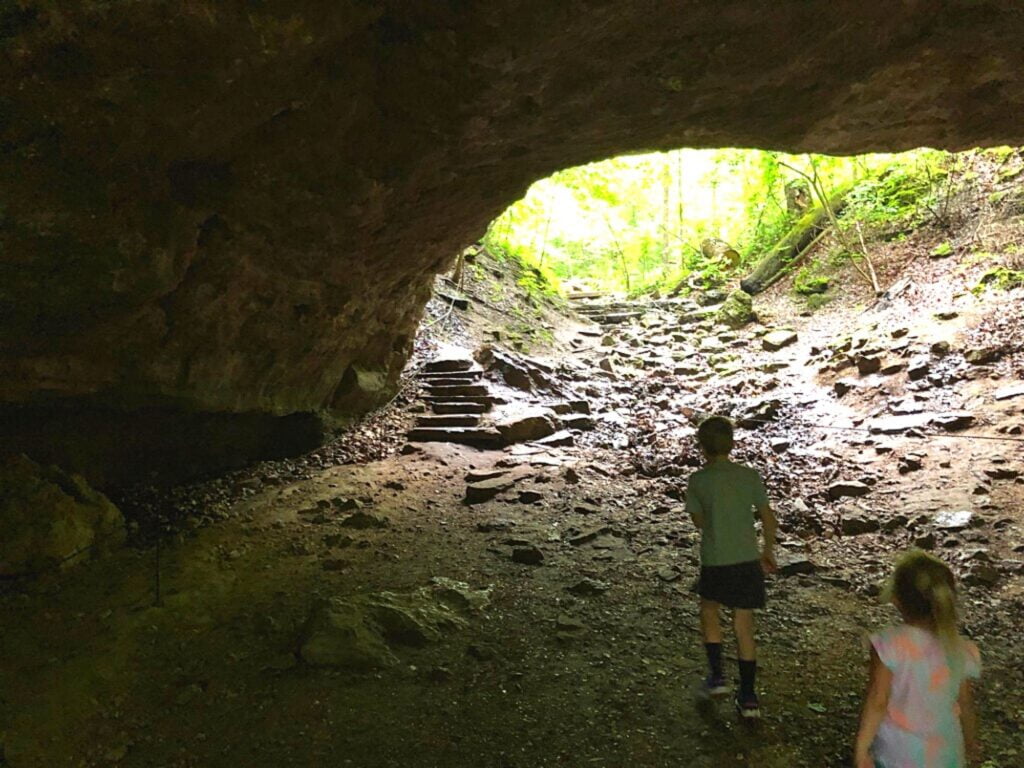 Colosseum Trail is not stroller-friendly. I recommend using a front- or back-pack carry for really young ones, or allowing toddlers to walk. The trail is not too long 🙂
Spring Trail- Most Beautiful Ha Ha Tonka Trails
Dsitance: 1.4 miles
Level: Medium (lots of stairs)
Stroller-Friendly: No
Spring Trail is a longer trail at about 1.5 miles. Half of the trail is really easy and half is more challenging. The half of the trail that is easy is a paved trail that walks along the shoreline of the lake and later, the spring. There are some incredibly gorgeous views here and great learning opportunities as you read about Karst Topography and how the spring affects the area. The second half of the trail is more challenging because you will have to conquer 316 steps in a row to get back to the top. Oddly enough, my kids loved this. We saw the staircase at the beginning of our hike and my son begged to go on it. We went on a different trail, but came back on the Spring Trail which led us to go UP the 316 steps. And they had a blast.
Bring some water, bring some snacks, and your kids will probably also love the stair challenge. The stairs are a wooden staircase with small boardwalk sections. They are beautiful, and the sights and greenery around you are beautiful as well. Stairs have never been so enjoyable.
Obviously, this is not stroller-friendly. But it is one of the Ha Ha Tonka trails my kids though was really fun.
Island Trail – More Beautiful Ha Ha Tonka Trails
Distance: .8 miles (can vary depending on which trails you choose)
Level: Medium
Stroller-Friendly: No
Island Trail is accessed through connecting on Spring Trail. You can go around near the Colosseum Trail side of Spring Trail if you'd like to avoid the giant staircase. Or, you can park near the boat dock at Spring Trail for really easy, quick access to Island Trail.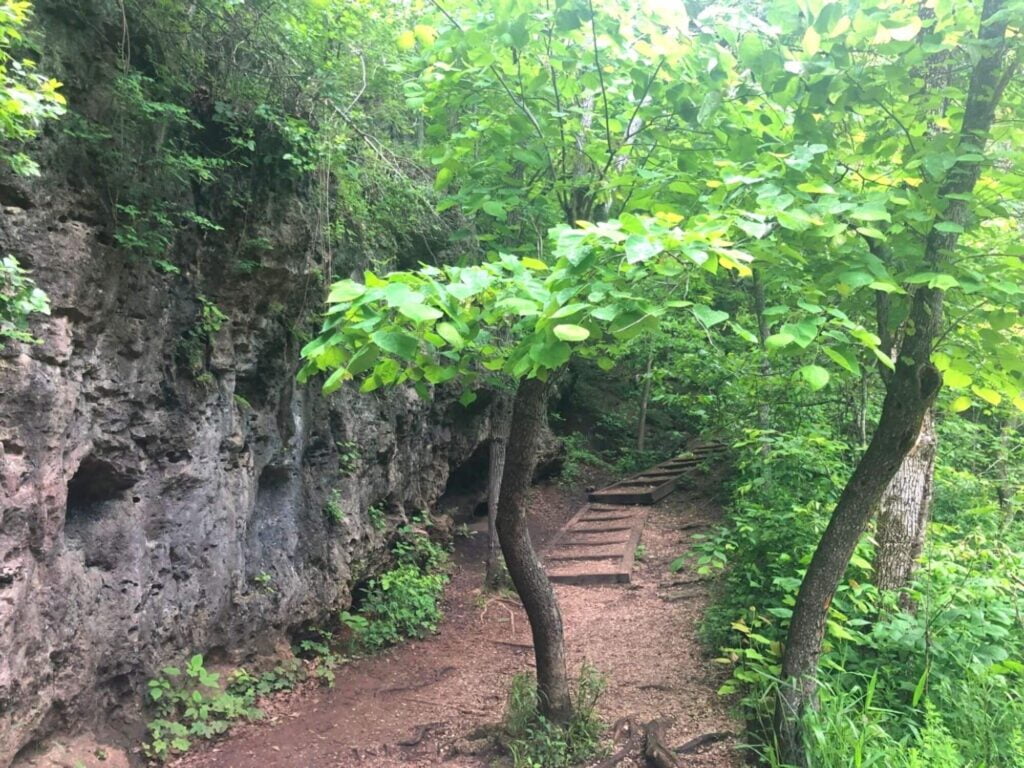 As you cross over the land bridge onto the island, stop and observe the water you are crossing. We saw tons of turtles basking in the sun and swimming around.
Island Trail is basically one big loop on a piece of land that juts into the water. You first head up, up, up to the top, and then slowly descend on the other side. On the other side, there are little spots that are great for stopping and dipping your hands or feet in the water.
Caution: find a calm, safe spot, especially if little ones will be dipping their hands in. There are plenty of little spots, but it may be easy to fall in if you don't have solid ground beneath you.
Near the water, break out a snack and enjoy the running water cascading right in front of you. We stayed here a while to relax, get some great portrait photos, and enjoy a snack.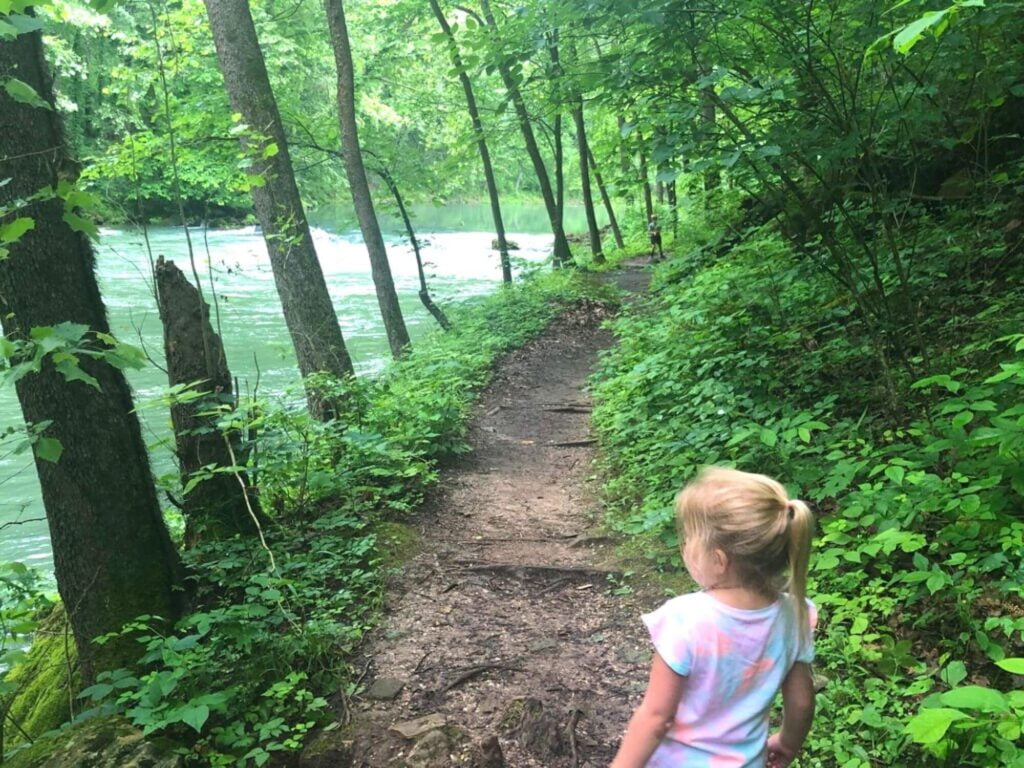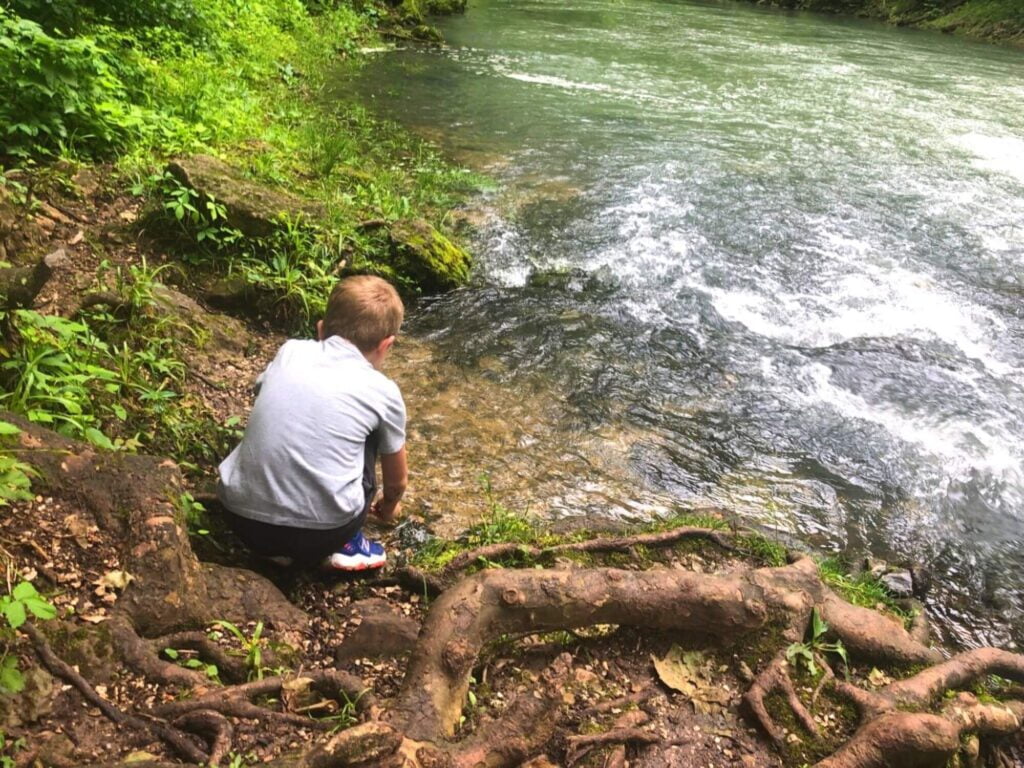 Take a quick tour of some highlights of Ha Ha Tonka Trails
Hiking Around Ha Ha Tonka State Park with Kids
Another note is that you may have to hop on other Ha Ha Tonka trails to connect. For example, if you are going from Castle Trail straight to Colosseum trail, you do have to hop on Del Rim Trail for a short time. All the connecting trails were no harder than the main trails we experienced.
Those were a few awesome kid-friendly trails at Ha Ha Tonka State Park we did. While my kids are pretty decent hikers, we saw lots of other kids all around the same trails, so they truly are great for kids.
Does Ha Ha Tonka State Park sound like a great family oasis or what?! This was a huge highlight of our trip to Lake of the Ozarks. The kids had a great time, there was plenty of variety in all the trails to stay excited, and nothing was too challenging for anyone. From seeing castle remains, walking under a land bridge and next to a huge bluff, spotting turtles, and meandering around on a small island and playing in the water, this was definitely one of the more memorable state parks we've been to.
Next time you are near Ha Ha Tonka with the family, be sure to stop and experience the beauty!
For even more info, visit the Ha Ha Tonka webpage from Missouri State Parks.
Where to Stay Near Ha Ha Tonka State Park
Read Why we ALWAYS use Hotels . com for our bookings.
Save This Post to Pinterest!