Roxborough State Park in Colorado makes a great day trip from Denver. While Garden of the Gods is a beautifully stunning place to discover red rock formations, it might not fit in your itinerary. If that's the case, Roxborough State Park is an excellent choice. Actually, we find it just as stunning as Garden of the Gods, but in different ways. If you're looking for fun, easy hikes to do with kids around Denver, make sure to check out Roxborough State Park, one of many beautiful state parks in Colorado!
Let's Jet, Kids! uses affiliate links.  As an Amazon (and other networks) Associate, I earn from qualifying purchases.  It is no extra cost to you.  
Where is Roxborough State Park Located
How to get to Roxborough State Park from Denver
Roxborough State Park is about 45 minutes south and slightly west of Denver. It sits just beyond Chatfield State Park off of Rampart Range Road. The quickest way to access it from Denver is to take I-25 south to Santa Fe, to C-470, to Wadsworth. That will turn into Waterton, and then go right on Rampart Range.
Entrance and Parking Roxborough
The beauty of Roxborough is that you really can't see the stunning formations without being admitted to the park area, so it's a pretty special site as you don't drive by it in passing everyday. Upon paying admission ($10/car), you drive down a partly dirt- and then later paved road. There is only one area to park it, which is made up of 3 different lots all right next to each other.
Roxborough State Park does reach a maximum capacity. If that happens, cars will have to wait in line at the entrance. As one car exits the park, one will be allowed to enter. Since there are only 3 parking lots, there's really nowhere to go anyway if they are full. If you end up waiting in line forever at the entrance, it's because the park is full and they are waiting until someone leaves. While initially this sounds like a pain, it was actually quite nice to be walking around the park without huge crowds. We felt like we had tons of space to ourselves.
Facilities at Roxborough State Park
After you park, head up the road where you'll see the start of a short trail. This will lead you to the Visitor's Center. At the Visitor's Center, there are indoor bathrooms (including accessible) as well as a drinking fountain with a bottle refill station.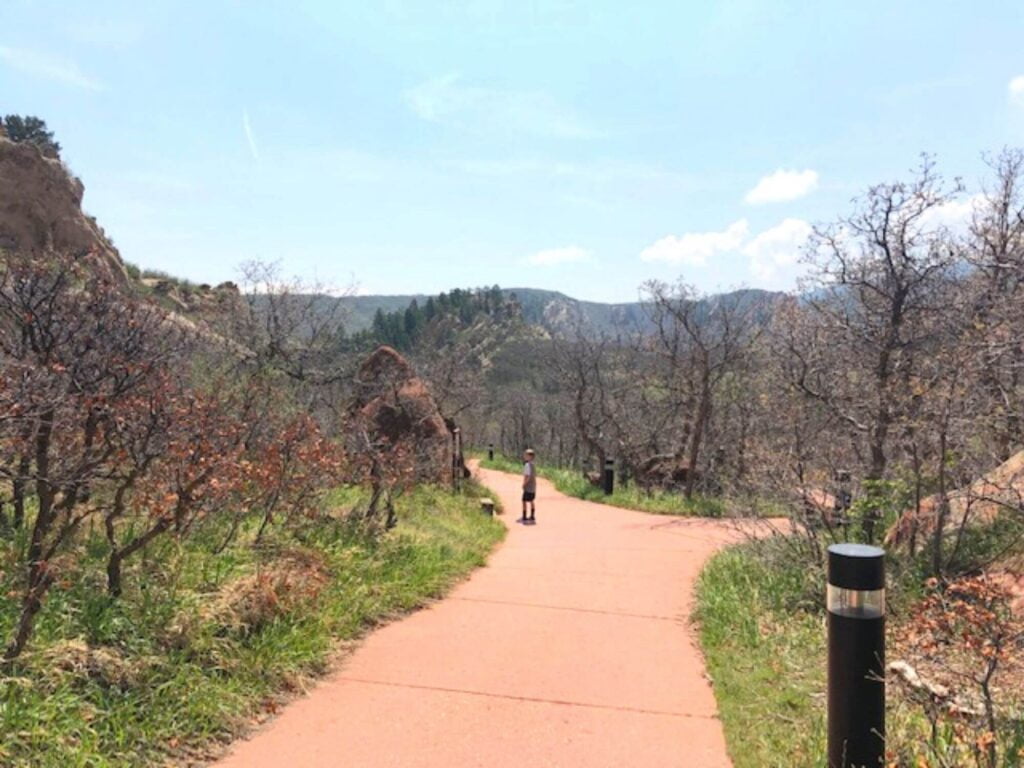 Outside at the Visitor's Center is a great area with a few tables. Next time I visit, I'll be bringing a picnic to eat at the tables, as they are accompanied by incredible views.
The Visitor's Center is the hub and center of where all the trails start.
---
Before you head out, make sure you have all the must-have hiking gear for your family!
---
The Trails at Roxborough State Park
Fountain Valley Loop Trail
There is plenty of trail space for all abilities at Roxborough. We did the Fountain Valley Loop Trail and the kids did great on it. The Fountain Valley Loop Trail is made of some dirt road, but quickly turns into a groomed gravel trail. Strollers can easily participate on this trail (off-road strollers like a Bob will be easier than an around-town type of stroller).
Shortly after you leave the Visitor's Center area, you'll come upon the Fountain Valley Overlook. While stroller can't make it up here easily, it is a very short walk up to the overlook. The views are worth taking the kids up here, as you can really see the whole ridge of formations stretch far and wide.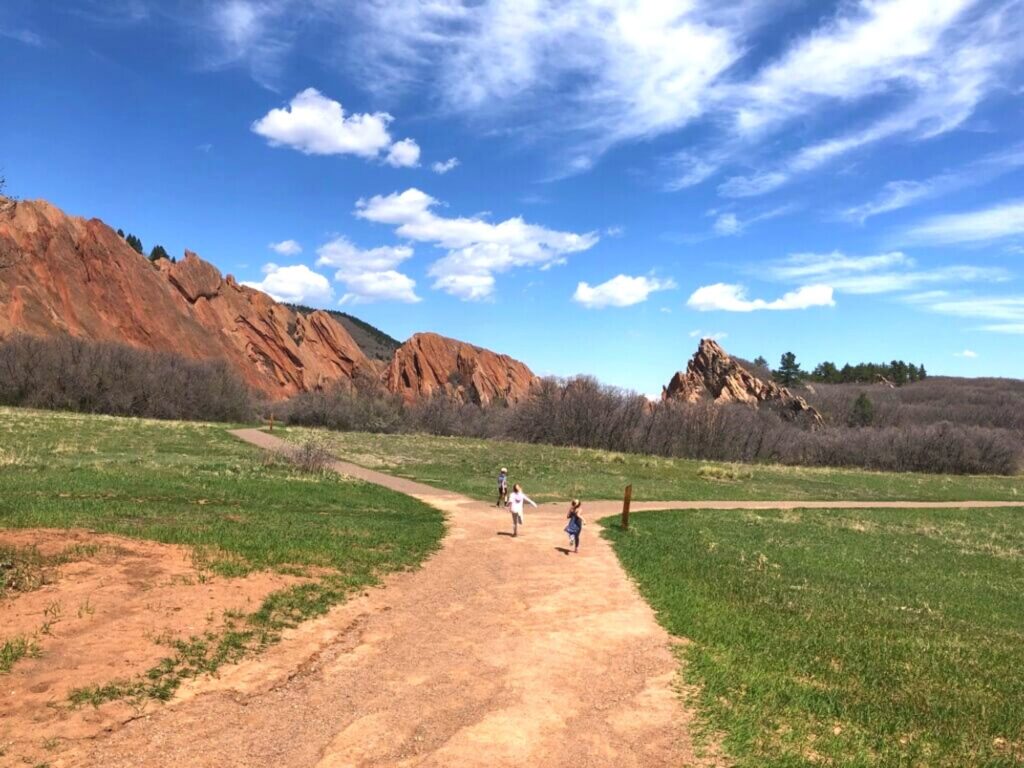 Continuing on the trail, head to the left at the split (You can go either way really, it's a loop). Here you will pass by all the stunning, red rock formations. The green grasses leading up to the red rock make the perfect, colorful backdrop for a few (or lots of) photos. Take your time and really enjoy just how grand these rocks are. One sign pointed out that even though the rocks look strong and durable, they are actually quite fragile. It's amazing that they are strong enough to last and provide beauty for generations, and yet fragile enough to be able to be shaped by the elements. Make sure to stop and look back along the trail for incredible views as well.
The trail goes for nearly a mile along the red rock backgrounds before it begins to loop back to the start. At the point of return, there's a little historical house called Persse Place. You can peek through the windows and find an old fireplace, tools, and a couch to bring it back to its historical glory.
As the trail returns back to the start, you won't be able to see the red rock formations as much, but there are still beautiful views, wildflowers, and great scenes to appreciate. Along the trail back is a lookout point called Lyons Overlook. This detour is a little over a quarter-mile and goes up, up to the top, but provides a great point of view for the red rock formations. And, on the way back it's all downhill. You can also access this overlook by beginning the Fountain Valley Loop in a counter-clockwise direction from the start.
Lyons Overlook trail: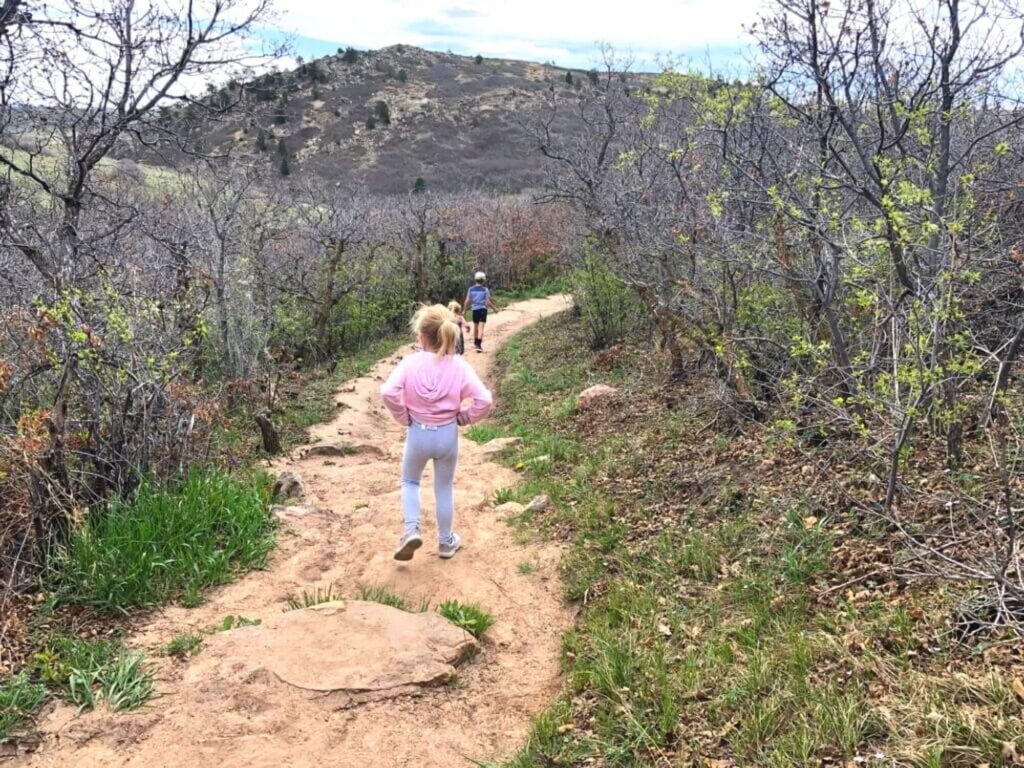 Good to Know:
Overall, the Fountain Valley Loop is a little over 2 miles.
Bring Water! There is not really any shade along this trail and it gets hot.
Kids can totally do this trail. There are plenty of flowers, shiny rocks, and things to look at to keep the kids happy when they aren't busy enjoying the scenery.
The Fountain Valley Loop Trail is pretty walkable for kids or anyone looking for an easier trail. It's not a dirt single-track with rocks sticking up everywhere (exception is if you take the Overlook detours).
The trail along the formations is pretty flat. On the way back (the east side of the loop) it does ascend a little. The really young ones may want a stroller to take breaks in.
South Rim Trail
I would say South Rim is the other main trail at Roxborough that is pretty family-friendly. However, it is not stroller friendly.
South Rim Trail is about 3 miles and creates a loop. Begin the trail near the visitors center. The trail is very well marked, so it's easy to follow the signs to stay on the trail. South Rim provides more great views of the red rock formations, but from afar.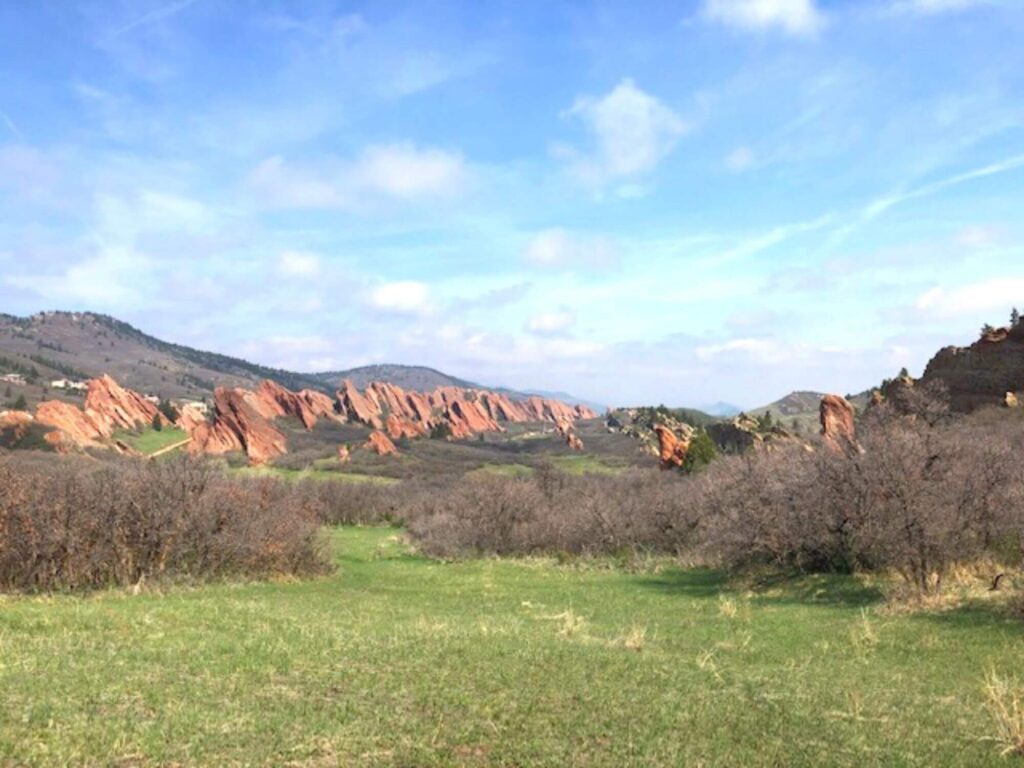 The trail is a dirt trail, often a single-track width. It runs through a bit of foliage and does incline for the first half. It's not terribly steep though. For these reasons, I would make sure that your kids are old enough to walk it or that you have a carry pack / back pack to carry really little ones. My youngest was 4 when we did this trail, and she did just fine on this trail.
There are lots of benches along the trail to take a rest at and enjoy a snack. Plus, it's great motivation to keep the kids going to pull out some food! Just make sure you pack up and carry-out every last thing that you bring.
Willow Creek Trail
The Willow Creek Trail makes a small loop (under 2 miles) at the bottom of the park area. Beginning at the Visitor's Center, follow the signs for Willow Creek. You will wind through a dirt trail covered in scrub oak. While this trail is dirt, it has minimal elevation and is shorter than other trails, making it kid-friendly. You will also be able to walk across a small bridge over the creek. It will be fuller in spring and drier in fall. While this trail is pretty, short, and easy, it doesn't necessarily get you the great views of the other mentioned trails.
Family Friendly Trails at Roxborough State Park
Those are the family-friendly trails at Roxborough State Park in Colorado. It's always nice to find some great hikes for kids before you travel. Which trails will you be trying out at Roxborough? For more about park info and hours, check out Roxborough State Park's webpage.
Save This Post to Pinterest!