Hiking the Beautiful Silverdale Trailhead in Georgetown, CO
When people visit Colorado, they head to the big popular spots and trails. Which are great and beautiful. But sometimes you miss the little hidden gems, such as the chance to hike the trails at the Silverdale trailhead in Georgetown, Colorado.
Let's Jet, Kids! uses affiliate links.  As an Amazon (and other networks) Associate, I earn from qualifying purchases.  It is no extra cost to you.  
We were hoping to catch some fall colors recently and decided Georgetown was a great place without having to drive all day. That's when we discovered the Silverdale Heritage trails and recreation area.
This area is really a network of trails that all criss-cross each other, giving you plenty of opportunity to mix and match trails on your hike.
The best part? The majority of trails are really easy and family-friendly. Plus, you'll get to hike through a past mining town. This ghost town still has evidence of mining and rails, giving the kids something interesting and fun (and unique!) to see as they hike.
So pack up the kids and head to Georgetown for a fun day at the Silverdale Heritage trails.
Note: The town refers to the area both as Silver Dale and Silverdale. They are the same.
Where Is The Silverdale Trailhead?
Georgetown is a cute little mountain town located right off I-70 as you head west from Denver.
You can find the Silverdale trails not far from downtown Georgetown.
Simply go through town following the signs to Guanella Pass (a popular place for leaf peeping in Colorado). Once you start the pass, you'll go up about 2 miles and pass a small reservoir before you see the parking area on the left.
Trails at Silverdale Heritage and Recreation Area
These trails in Georgetown are really fun and easy. They are perfect for bringing kids.
As mentioned, there are a variety of trails in the area. We mixed-and-matched a bunch of trails to get a good feel for the area.
At first it seems confusing as to which was to turn because there are so many intersecting trails. But most of them end up all connecting, so it's hard to get too lost. (I still recommend a map on your phone or trails app.)
We used the AllTrails app to help us navigate, though I'll say that it wasn't always accurate. And the names of the trails didn't always match the signs. But it got us around well enough to know where we were.
Sporting Times Trail
(With options for Highline and Anna Trail)
Length: 1.25 miles, plus a connecting trail to end
Difficulty: Easy to Moderate
Sporting Times Trail was the first trail we ended up on. The board when you arrive rates it as moderate, but we found it to be pretty easy.
There are a few small uphills, but nothing too strenuous.
Sporting Times was a great trail to begin on and get a feel for the area. The path was dirt, wide, and full of other families.
When Sporting Times ends, you have the choice to hop on Highline Trail, which loops back around beneath power lines, or you can make a larger loop on Anna Trail.
Anna Trail is still relatively easy, though it has some inclines as well.
Railbed Trail
With connection onto Clear Branch Trail.
Length: Varies
Difficulty: Easy
Railbed was our favorite trail within the Silverdale trails. It makes the most inner loop of the whole Silverdale area, allowing you to see what's on both sides of the parking lot.
If you head left first (from the parking lot, over the bridge, and to the left), you'll eventually come to an old, run down structure. This was the Colorado Central Mill which was used in the past for mining operations. It's now abandoned and you'll see remnants of what was once a bustling mining area.
Take care as you see scattered metal pieces and cables along the floor. But also enjoy what is now a ghost town of mining.
The right side of the parking area was our favorite stretch of Railbed. Actually, it was our favorite trail segment within the whole Silverdale area.
To the right, you'll end up walking along South Clear Creek. There are a few spots where you can (carefully!) get right next to the clear, flowing water. This was an absolutely gorgeous section of the trail.
On one part, the trail is a little more narrow and right on the edge. It's not too high up, but just exercise extra caution here.
To hike a great loop with the Railbed trail, walk from the parking lot and cross the bridge. Turn left on Sporting Times trail, which will go up and loop back the direction you came from. Take this all the way across the Silver Dale area and go right at the fork for Railbed/Clear Branch. (<– this loops, so it really mdoesn't matter which you take.)
This section will take you down by the river.
Can You Bring a Stroller to the Silverdale Trailhead?
While not everything will be easy with a stroller, there is plenty of trail that will accommodate an off-road stroller just fine.
I recommend something like a BOB stroller that can handle dirt and bumps smoothly.
The BOB Stroller
We used our BOB stroller through 4 kids and 10 years. And it still was so sturdy after all that. We definitely splurged, but continually talk about how that stroller was one of the best "baby" purchases we made!
Pros: Sturdy, Reliable, Folds up, storage underneath, EASY to maneuver, great for dirt trails and hikes.
Cons: Price is high, but it is such a high quality stroller that will LAST!
Extra Bonuses of the Silverdale Area
You can hike all day around the Silverdale trailhead. But depending on what time of year you visit, you may be in for an extra special treat.
During summers, you'll be able to witness wildflowers all over the area, lighting up in colorful hues in the sun.
Fall is a great time to go as well. At the end of September, you'll be able to take in the vibrant yellows of the Aspen trees all around. It's a beautiful mix with the green evergreens along the trail.
We visited about a week late, so many of the trees had lost their leaves already. But we still got a few spots of vibrant colors (as shown above!)
History of the Silverdale Heritage Area
Georgetown was one of the first booming mining towns in the west. While many cities were seeing gold, Georgetown was mining between 1 and 2 million dollars worth of silver each year.
The mines in the Silverdale area were owned proudly by local investors. The three mines were the Colorado Central, Wide West, and Argentine.
Some of the earliest mining began in the 1860's, though the Colorado Central Mill that you see remnants of today was from a 20th century effort to revive mining in the area.
The mining camp was located along the Railbed trail and you can see evidence of the ghost town as you hike.
Silverdale Heritage Hiking Area
Those are the main trails in the Silverdale Heritage and recreation area. They are all great, family-friendly trails that we really enjoyed.
We were able to catch a few colors, though we were a week late and didn't see as many as we hoped for.
I highly recommend the Silverdale trailhead and trails as a great spot for hiking with kids. It's not a popular place for hiking, giving you space (and parking!)
Plus, it's not far from the city. If you are staying in Denver, then this is one of the hiking areas nearby that's pretty easy to access.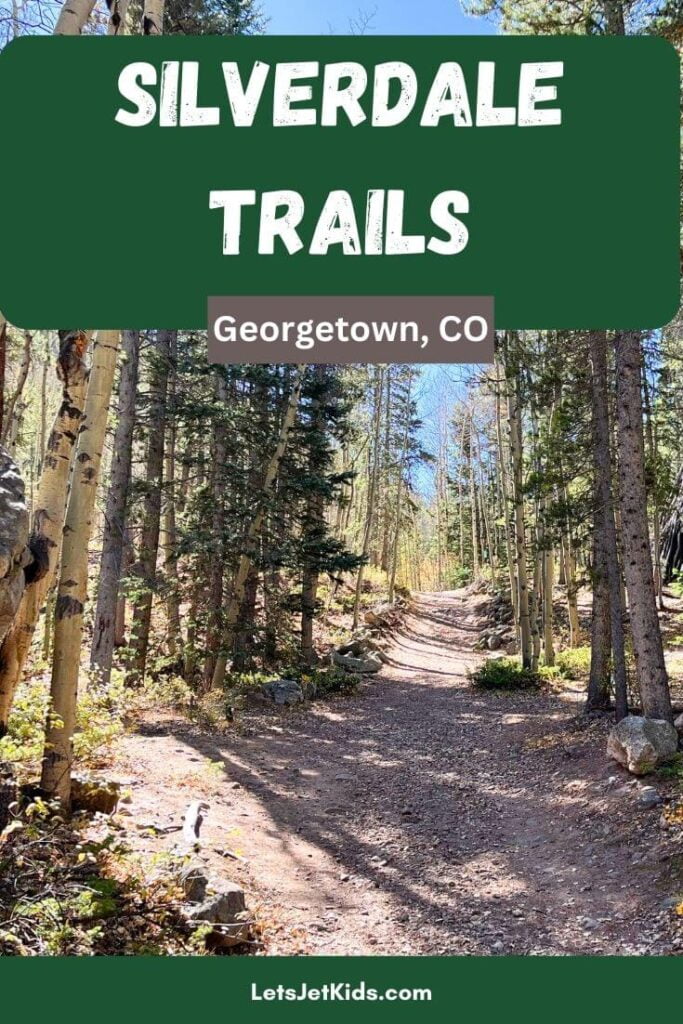 Also Check Out:
The Incredible St. Mary's Glacier (not far from Georgetown!)
Family Hiking at Red Rocks Park and Amphitheater