Visiting Garden of the Gods with Kids in Colorado
I went to Garden of the Gods in Colorado Springs, CO over a decade ago and remembered it being beautiful, but hadn't returned since. Now that we have 4 kids, we thought it would be fun to visit Garden of the Gods with kids. We love the easy, accessible trail through the garden that is ideal for families.
Let's Jet, Kids! uses affiliate links.  As an Amazon (and other networks) Associate, I earn from qualifying purchases.  It is no extra cost to you.  
Garden of the Gods is located in Colorado Springs, Colorado. It proved to be a great, very kid-friendly hike. Actually, it was more of a walk than a hike. Read on for everything you need to know about Garden of the Gods in Colorado Springs.
Flying into Denver? Don't forget a rental car! Compare prices here.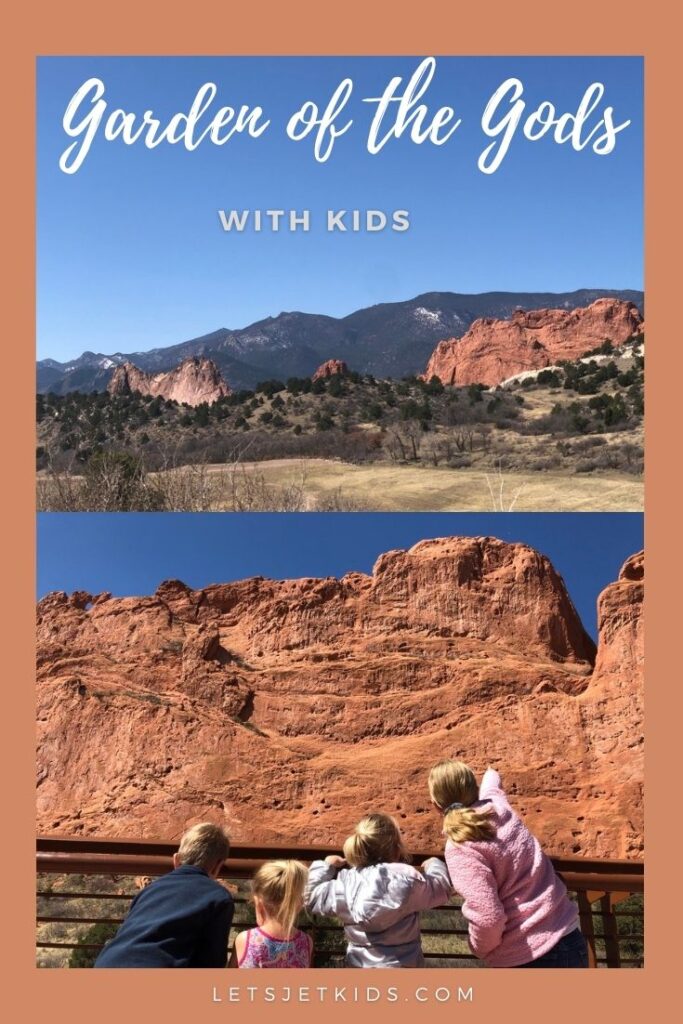 The History of Garden of the Gods Park
In 1879, Charles Elliott Perkins purchased 240 acres in the area to build a summer home. Later he purchased more property, but never ended up building anything on it. The land was so beautiful that he wanted it to remain in its natural state for the public to enjoy. Perkins died in 1907, and in 1909 his children transferred the park to Colorado Springs. The 480 acres remains free for the public to visit, and nothing is permitted to be built on the land, with the exception of any building needed to care for the park.
How to Get to Garden of the Gods in Colorado Springs
Visiting Garden of the Gods is an easy day trip from Denver, if that is where you're staying. From Denver, you'll take I-25 south to Colorado Springs (about an hour). Exit on Garden of the Gods Rd and head west. When that road ends, turn left on 30th Avenue. This street will take you right into the Garden of the Gods area. Almost a mile-and-a-half later you'll see the Visitors Center on the left and the entrance to Garden of the Gods on the Right.
Visitors Center at Garden of the Gods
Visitors Centers often get overlooked, as most travelers want to get to the big attraction. Consider a stop at this visitors center though. When you walk in, you'll have a small museum-like area filled with taxidermy animals native to the area. There are interactive touch screens (must use a stylus during these Covid times; no bare fingers) to learn about the animals and habitat.
Keep walking and you'll find restrooms, an info desk, healthy eats at Bean Sprouts Café, and a gift shop. Downstairs you'll find the Geo-Trekker theater, where you can pay a few dollars for an awesome show filled with aerial views and info on millions of years of geology.
While at the Visitors Center, make sure to pick up a Junior Rangers booklet ($2). This booklet is filled with activities and info. When it is complete, bring it back to claim your Junior Ranger badge and certificate. Ages 7-12.
Visiting Garden of the Gods with kids
About the Roads…
Right across from the visitors center is the entrance to Garden of the Gods. You'll be able to see the stunning red formations, so you'll know where to go.
There is a parking lot right as you enter on the left. You can park here and take one of the many trails in the area for a nice hike. HOWEVER, there are many parking lots through the park, so if you don't want to trek in as far, keep driving.
If you have kids with you, you'll want to keep driving. The road quickly becomes a one way road, making you take a right. It is one-way traffic through the rest of the park until you circle back around.
Continue on the road until you reach the Central Garden Parking lot. The lot is not huge, but it's the biggest one in the park (other than at the entrance). If you can't find a spot, just circle the lot a couple times as parking-spot turnover is relatively quick.
If you LEAVE the lot, you will be forced to continue through the park (remember? It's a one-way road. There's no turning back. You'll have to circle back around the whole park.)
Central Garden Parking at Garden of the Gods
If you go to Garden of the Gods with kids, this the the idea spot to take them.
Since this is the most family-friendly place to get out, I'll include some more details here. This stop has restrooms (including a family restroom) and is wheelchair / stroller accessible. Right when you arrive is a viewing area to take in the large, majestic red rock. They are tall! We visited Garden of the Gods two weekends in a row, and just a week later I was amazed all over again.
Similar photo viewpoint. Second picture is a week later after it snowed.
The trail through the Central Garden is a paved sidewalk (with a couple optional shoot-off trails that are not paved). You can see everything from the sidewalk, making it a great walk for kids. We brought a stroller, but ended up pushing it around vacant because our 4-year-old walked just fine the whole time.
The trail goes straight and then makes a loop around. I'd estimate it to be between 1 and 2 miles roundtrip. At some points in the trail there are red rock formations right where the kids can touch.
Furry friends are welcome. Please make sure to stay on the trail to maintain the park.
Related: Garden of the Gods vs Red Rocks
Other Parking Lots
There are a few other parking spots along the road at Garden of the Gods. Most of them are much smaller than the Central Garden lot. If you're lucky, you'll find a spot. If not, you have to keep driving. After you pass the Central Garden parking lot, the next lot is a great spot for viewing. The next lot after that is smaller, but has access to the Central Garden paved trail as well.
There are numerous other parking lots throughout the park. They are mostly accessing hiking trails and have great views of the red rock formations. But if you want to really experience Garden of the Gods and the largest, reddest formations up close, make sure to get to the Central Garden area.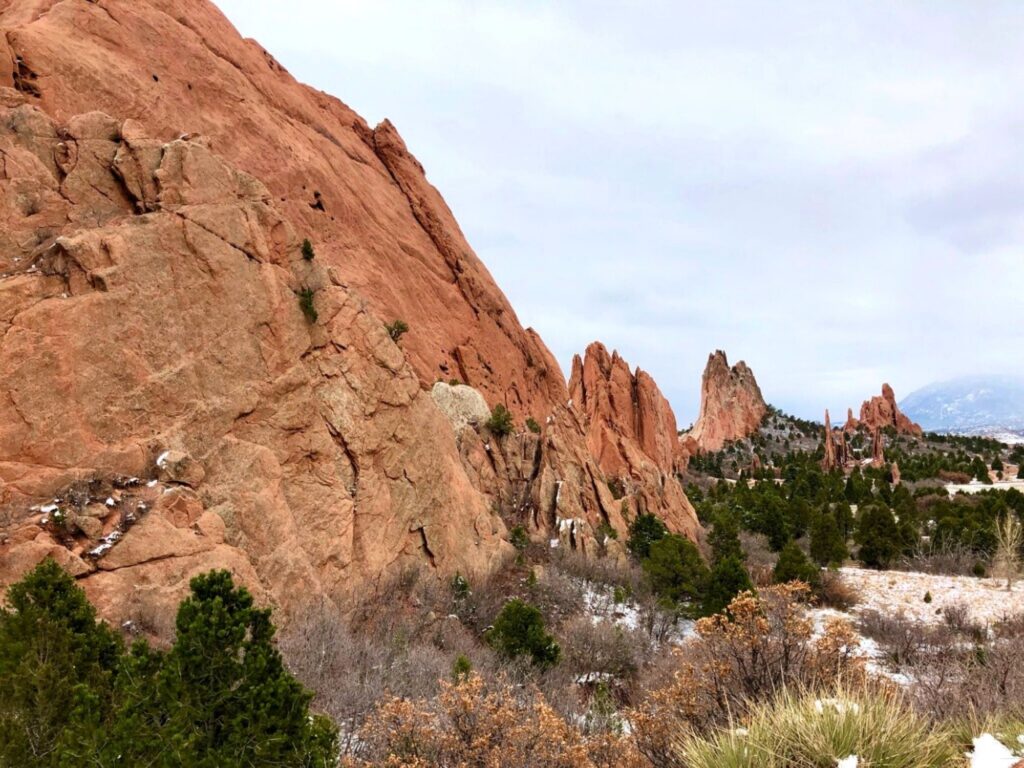 Things to do at Garden of the Gods
There are plenty of opportunities to hike at Garden of the Gods. There are 21 miles of trails everywhere, beginning right at the entrance and also all throughout the park.
Programs Offered- Run, walk, tour, and kids activities
If you stop by the visitors center, you will find plenty of opportunities to learn and experience the park. They offer daily guided Nature Walks, Wednesday Walks, and you can do a 5k (run or walk) on Thursdays through the park. Kids can participate in Kid's Nature Walks or a Reading Rocks program.
There are so many things to do in Garden of the Gods. Make sure to check the calendar for all the current events happening. Then stop by the Visitors Center to sign-up.
Rock Climb
If you are traveling with your family, you probably won't be rock climbing much. But if you do plan to rock climb, you need to be properly trained and have a permit to do so. If you are not a rock climber, you can just enjoy watching others climb through the park.
Take a Guided Bike or E-Bike Tour Through Garden of the Gods
The road through the park has a bike lane. I'd only recommend a bike tour through Garden of the Gods if you're bringing older kids, of course. You can book a guided tour and choose a bicycle or an E-Bike to ride. There are plenty of big hills, so I would recommend the E-Bike 😉. A guide will take you to some of the best viewing areas and share plenty of facts and history about Garden of the Gods.
Where to Stay Near Garden of the Gods
If you are staying in Denver, Garden of the Gods makes a great day-trip and can easily be done. But if you'd like to explore Colorado Springs a little more (there's plenty to do here!) check out some of these awesome hotels and resorts!
With amazing views and high reviews, this 4-star resort sits on a golf course and has plenty of pools for the whole family to enjoy. Kids will enjoy the children's pool, kids club ($), and playground. Staying at this resort is a vacation experience all on its own, but it's a nice bonus that it's just down the road from Garden of the Gods.
The Town Place Suites are perfect for families. Choose a studio or 2 bedroom suite. Both come with a basic kitchen an extra space you don't find in a typical hotel. Plus, it's less than 3 miles from Garden of the Gods!
Garden of the Gods for Families
Visiting Garden of the Gods with kids is pretty easy and really fun. Don't miss the fun visitor center and easy walk through the Central Garden.
This stunning area is well preserved and makes the perfect place for families to visit. The beauty is obvious and the colors are stunning. The paved trails are an easy walk for the kids, and there is plenty to stay entertained with if you check out the programs the Visitors Center offers. When you travel to Colorado Springs, make sure to stop at Garden of the Gods!
Will you be taking your family to Garden of the Gods?
More Fun in Colorado
Check out these posts for more places to see in Colorado
If you liked Garden of the Gods, you'll love Roxborough State Park, too!
Steamboat Springs- a complete guide for the whole family
Great Hikes in Breckenridge that Kids can do
A Road Trip through Colorado- 9 places not to miss!
Fun things to do in Colorado Springs with kids!
Save this Post!