Steamboat Lake State Park is absolutely stunning. We have visited Steamboat Springs many many times before, but for some reason had never made the drive up to this beautiful state park. We quickly realized that we had missing out for many years. Steamboat Lake State Park actually has 2 main lakes, and both are equally beautiful! Read on for all the amazing reasons to visit and things to do at Steamboat Lake State Park with the family.
Let's Jet, Kids! uses affiliate links.  As an Amazon (and other networks) Associate, I earn from qualifying purchases.  It is no extra cost to you.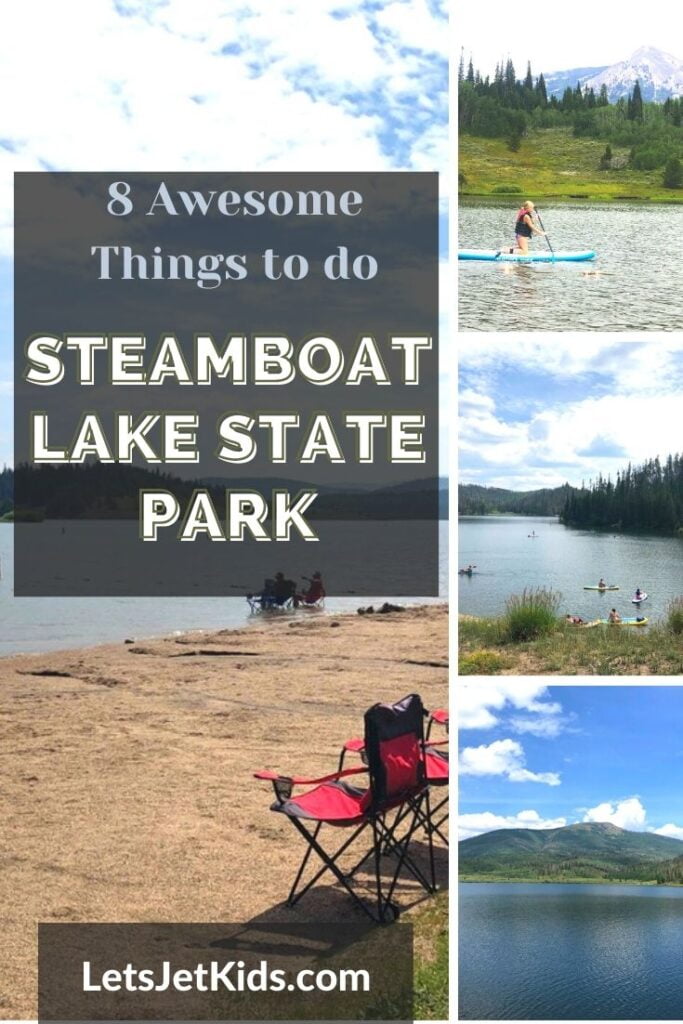 Before I share the incredibly fun things to do at Steamboat Lake State Park, here are some commonly asked questions:
Where is Steamboat Lake? – Steamboat Lake is located within Steamboat Lake State Park in Clark, CO. It is roughly 35 minutes from Steamboat Springs (downtown area) and an easy, paved drive.
Can you swim in Steamboat Lake? Yes! You can and you should! Find the swim beach near the marina.
Can you have a campfire at Steamboat Lake State Park? Yes- campfires are only allowed within the campfire rings at the campsites. Also make sure to be aware of fire restrictions when you go.
What kind of fish are in Steamboat Lake? There are various types of fish, but the most popular fish is the Rainbow Trout. You can find plenty in the coves of Steamboat Lake.
Are dogs allowed at Steamboat Lake State Park? Yes- leashed dogs may join you on your adventure. They cannot, however, come to the swim beach.
Is there an entrance fee at Steamboat Lake State Park?– Yes. Colorado State Parks have an entrance fee. Currently (2021) the fee for a day pass to Steamboat Lake State Park is $9. The entrance fee is subject to a possible increase each year. You can pay at the Visitor's Center on the road to Placer Cove, or you can use one of the pay stations. The pay stations accept cash, check, or credit card, but be warned that the credit card machine runs off of cellular service and may or may not function at the time. Be prepared with cash, just in case.
1- Enjoy The Incredible View of Hahn's Peak at Steamboat Lake
Steamboat Lake State Park is located about 35 minutes from downtown Steamboat Springs. The drive is easy to navigate (you make one turn from Lincoln Ave onto Elk River Rd, and take that same road all the way up) and paved the entire way.
As you approach the top, you'll be an elevation of over 8,000 feet. The rolling green hills expand for miles up here, and yet you come face-to-face with Hahn's Peak above. Named for goldminer Joseph Hahn, Hahn's peak stands at over 10,000 feet. If you look closely, you can see something right at the top: an old watchtower had fallen apart, but was restored a few years ago.
2- Spend the Day Paddle Boarding or Just Playing At Steamboat Lake
I mentioned Steamboat Lake as one of the best lakes to play at in Colorado, and for good reason! Whether you are looking for a fun day boating, jet skiing, and swimming; or a relaxing day of fishing and paddle boarding, you can do it at Steamboat Lake.
There is plenty of calm waters to take your paddle board out into at Steamboat Lake. Head to the swim beach area, get the paddle board ready, and take turns enjoying the beautiful scenery and still waters of Steamboat Lake.
Check out our more-affordable paddle board we use that came with a pump and everything we need! This paddle board has been great, but came at a much lower price.
Or, check out these highly-rated, more popular, but also more-affordable stand-up paddle boards.
Don't forget the life vest! Here's the one we use.
3- Where to Boat at Steamboat Lake
Boat ramps are at both Placer Cove or at the Marina. Make sure to have a boat inspection, then choose a ramp and get to playing. At over 1,000 acres, there's plenty of room to play. Make sure to check the maps to find where the no-wake zones are. For instance, you can launch at Placer Cove, but you must exit the cove to produce a wake.
4- The Swim Beach at Steamboat Lake
The swim beach is located near the marina (look for signs on the road to lead you to it.) There is a great, roped off area as well as a sandy area to build castles on. Search for little minnows and enjoy the shallow waters of the swim area. The swim beach at Steamboat Lake is very convenient, having picnic tables with grills at each, a few large trees to find some shade, and nearby bathrooms. It's the perfect place to launch your paddle board as well as there is a vast area of no-wake zone.
How is the Temperature at Steamboat Lake?
Hanging out at the swim beach was such a fun, relaxing time. I read everywhere that the water at Steamboat lake was freezing. This is probably true for most of the year and as you get in deeper waters. But at the swim beach in late-July / mid-August it was actually quite comfortable! My kids had a blast splashing and paddle boarding and no one felt cold. This is probably because the beach area is shallow and able to warm up; though plenty of older kids were out paddle boarding and jumping off to play in the deeper waters and said it wasn't too cold out there as well.
5- Fishing at Steamboat Lake
Looking for the catch-of-the-day? Enjoy the day fishing at Steamboat Lake. Rainbow Trout have a strong population in the coves of Steamboat Lake.
6- Pitch a Tent or Rent a Cabin at Steamboat Lake
There are plenty of camping areas near Steamboat Lake. The Sunrise Vista Campground has plenty of sites and is just a short distance from the swim beach. Plus, there are trails throughout the area to enjoy a hike.
Dutch Hill campground is also a short distance from the swim beach. It offers some convenient amenities, such as coin-operated showers, flush toilets, and a laundromat. There's also a dump station if you are bringing your RV and need to clean out.
Right near the swim area are 10 adorable tiny little cabins you can rent as well. They are conveniently located near everything mentioned above.
Another convenience of camping at Steamboat Lake is there is a deli and small grocery market. Even though you feel like you are far removed in a peaceful oasis, you have everything you may need while camping. (There's also a restaurant nearby if you don't feel like a campfire dinner.)
See here for reservations for camping / renting a cabin at Steamboat Lake.
---
Not in the mood to camp? Check out our favorite, family-friendly place to stay in Steamboat Springs.
---
7- Play or Relax at Pearl Lake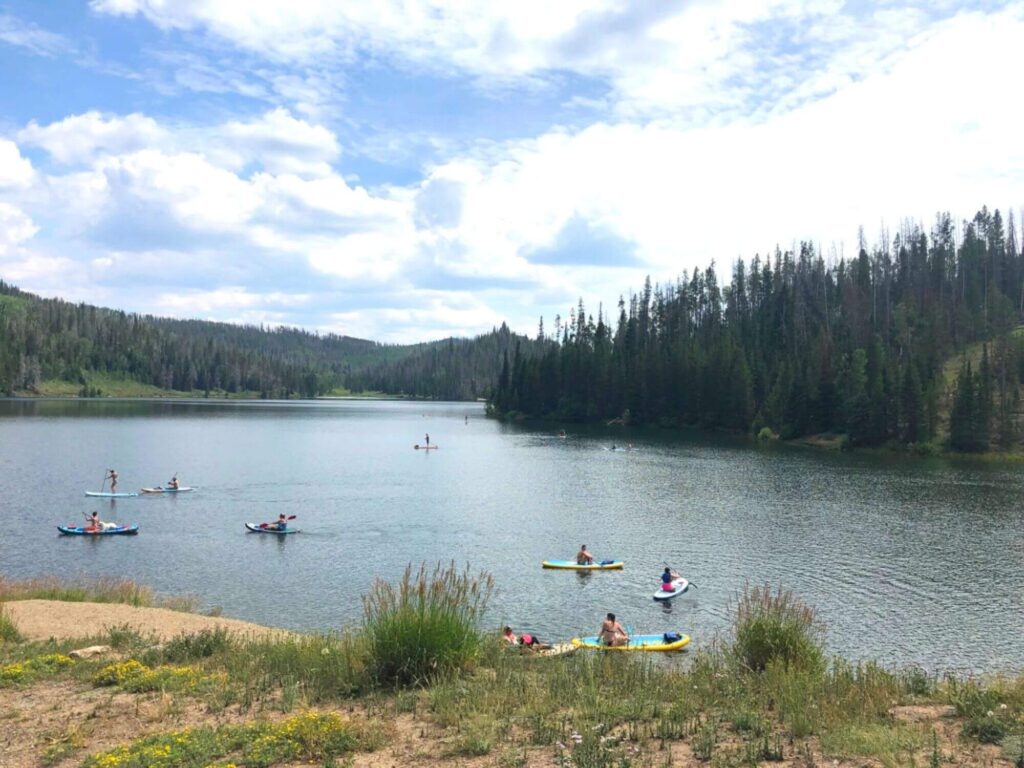 Pearl Lake is part of the state park, though doesn't receive quite as much attention. It is every bit as beautiful, though! From the Main Road (Elk River Rd / CR 129), it's only about two miles down a dirt road to get to Pearl Lake.
Surrounded by thick, evergreen forests, Pearl lake is the perfect place to launch a paddle board, kayak, or canoe. Leave the speedboats and jet skis to Steamboat Lake because at Pearl Lake, motorized boats are not permitted. This makes the entire lake a no-wake zone and a peaceful oasis.
Pearl Lake has plenty of picnic tables throughout and campsites. It even has a couple yurts you can rent for beautiful vacation scenery. It does not have a swim beach, however.
8- Play During Winter at Steamboat Lake State Park
While summer is a beautiful time to visit Steamboat Lake State Park, winter offers plenty of fun as well. The area sees over 300 inches of snow each year, making it a winter playground for outdoor enthusiasts. Cold-weather sports include ice-fishing, cross country skiing, and snowshoeing. Those with snowmobiles will enjoy over 6 miles of groomed trails.
You can even brave the winter with some winter camping. Steamboat Lake State Park offers 8 electrical campsites in the marina. Sites are available first-come first-served.
Steamboat Lake State Park
When we visited Steamboat Lake State Park, it truly was just one of those fun, relaxing, and yet exciting day. The scenery was spectacular and inspiring. There was plenty for the kids to enjoy at Steamboat Lake State Park as well. We look forward to visiting again soon.
Which activity would you be most excited for at Steamboat Lake State Park? Let us know below!
Save This Post!