5 Easy Hikes In Aspen, Colorado for Families
There are a lot of great things to do in Aspen, Colorado. From the iconic Maroon Bells, to family-friendly hikes, there is something for everyone. Here are some of the best easy hikes in Aspen that are each unique and gorgeous. With great view points, photo ops, and fresh air, there are plenty of easy hikes in Aspen to do with the whole family!
Let's Jet, Kids! uses affiliate links.  As an Amazon (and other networks) Associate, I earn from qualifying purchases.  It is no extra cost to you.  
Read on for easy hikes in Aspen, Colorado.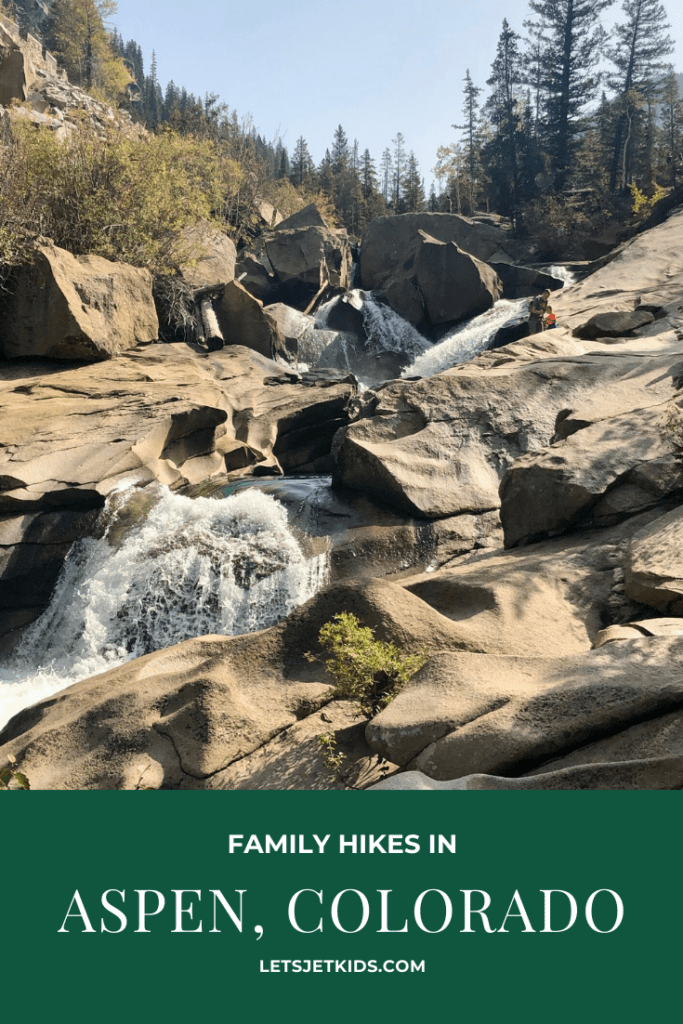 Table of Contents
1. Maroon Bells- Scenic Trail
Maroon Bells in Aspen are some of the most photographed mountains in all of America, and for good reason, making this one of the best hikes in Aspen, or at least the most popular.
Surrounded by trees in the foreground and sharp pointed peaks on top, these mountains are framed just perfectly. As you get off the shuttle, it's a quick and easy walk to the viewing point. A lake at your feet makes this picturesque spot perfect. The walking trail around the viewing area is easy and accessible, making it one of the best easy hikes in Aspen for all ages.
It was a bit overcast the day we went, but still stunning!
What you should know: Right now, there are limited parking reservations at Maroon Bells that you MUST make before going. Alternatively, you can make a shuttle reservation to drop you off at Maroon Bells.
The shuttle will pick you up at Aspen Highlands, where you can pay to park your car. Check in upstairs in the courtyard, and head to the shuttle.
The last shuttle exits Maroon Bells at 5:00pm and depart every 20 minutes, (schedule subject to change; check before you leave!) The shuttle runs around mid/late May through mid/late October.
Maroon Bells is a classic stop on your Aspen Colorado trip, so make sure to get those shuttle reservations so you don't miss one of the easiest and most beautiful family hikes in Aspen.
---
Make sure you have all the necessary hiking gear to stay safe and have fun!
---
2. Crater Lake at Maroon Bells
While you are at Maroon Bells, and IF you have a few extra hours (remember, last shuttle leaves at 5:00!) you can take the trail off to the right of the scenic walking path and head up to Crater Lake.
It's about 1.5 miles one way and there are definitely some rocky parts, so this is great for older kids. (My 5-year-old did it, though there were a couple parts where holding her hand and helping her were necessary).
At the top of this hike, you'll walk up to Crater Lake and feel like you are right at the base of the Maroon Bells! It's definitely worth the hike for a closer look!
The lake isn't as full in fall, but the colors are great!
Don't forget the hiking gear! Grab a day pack and make sure to stay hydrated and safe!
3. The Grottos Trail in Aspen – Best Family Hike in Aspen
This was hands-down my kids favorite.
It's a short, enjoyable hike with great places to stop and explore. Located right off 82 (out of town a bit), you'll drive through a couple narrow points. Vehicles over 35 feet are not permitted to drive through here.
As you drive, you'll see a sign for Grottos Day Use area where there is a small dirt lot to park in. There are also bathrooms and picnic tables. The dirt lot is right next to the river, so it's a nice place to have lunch.
The Grottos Trail is about a half mile or so if you do the loop, but there are a couple options on the trail of where you can go. The trail itself is full of exploration for the kids, including trees, rocks, and large smooth boulders that take up a bit of space on the side.
The BEST part of this was the ice caves! It pretty much what made it one of the best family hikes in Aspen, and maybe ever for my kids.
Signs will lead you to some awesome caves that have great rock movement and shape. If you're able (and careful), you can climb down into the caves and explore. My kids LOVED this and for the rest of the trip in Aspen, they asked if we could go back for the caves.
It is a little tricky getting down (we had to help lift them down and back up), but it's not too tricky. When we were there, there were a couple log stumps to help get up and down. You just have to look around a little to find them.
You do not have to enter the ice caves to get through the trail. It's more of a side-attraction you can climb into.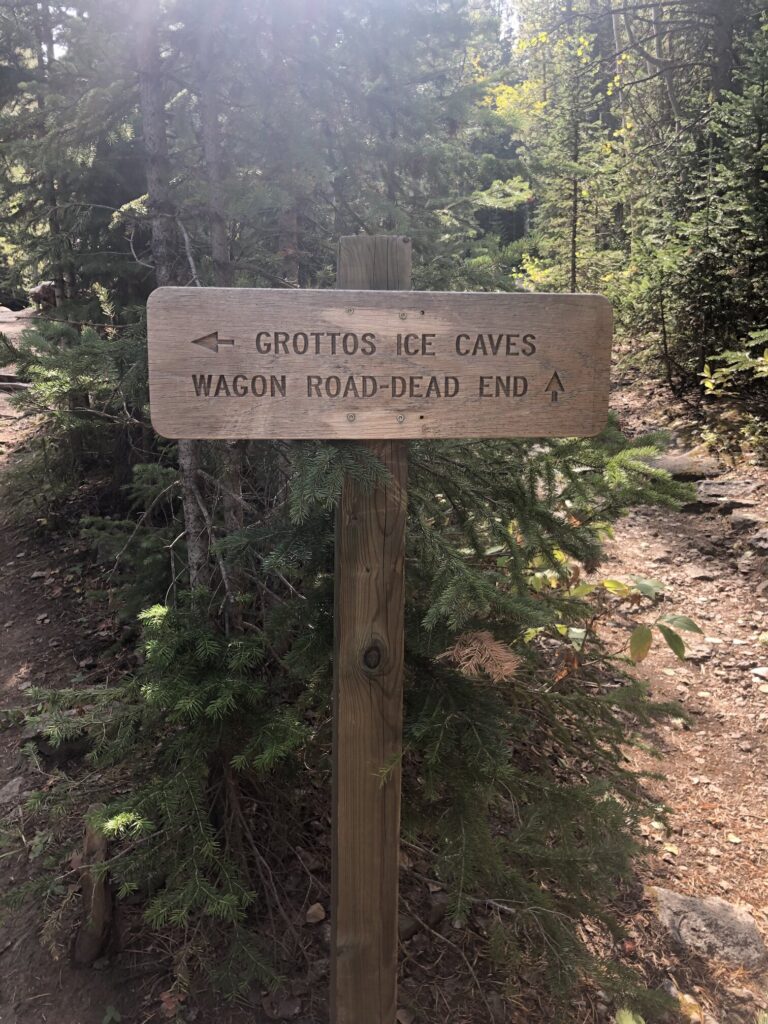 A bit rocky, but the kids actually loved climbing around in here
Next, the Grottos Trail will take you to the Cascades. This was so incredibly beautiful. The water was so powerful, and yet so relaxing. A couple mini waterfalls fall down to the river, and there are plenty of smoothed out rocks to sit on and enjoy.
The water had just a touch of turquoise in it, which was really cool. This was definitely one of the best easy hikes in Aspen.
Check out a quick clip of the cascades:
---
Want a guided, easy hike that explores the outdoors while also learning some history of Aspen? Check out the Aspen East End Light Hike guided tour!
---
4. Hunter Creek Trails – one of the gorgeous family hikes in Aspen
For our next family-friendly hike in Aspen, we went to Hunter Creek. The Hunter Creek Trail is a large trail system. It has many great segments that are great for family hiking in Aspen. From downtown Aspen, take Red Mountain Road for a mile and turn right on Hunter Creek Road. Then you'll take a really really sharp left (2 point turn for us) up the road a little farther to a dirt lot.
Here is what you'll see where you need to make that sharp left:
From the dirt lot, walk down maybe 30-40 yards and in front of a small building you'll see the trailhead.
Hunter Creek Trail is one of the best family hikes in Aspen for a lot of reasons. We felt like it was many hikes all in one. It started on a red mountain, giving incredible views over Aspen. There are gorgeous houses widely spaced along the first part and, depending on the time of year, beautiful colors all over the mountain.
It started out single track, but next as you hike along it turns into a wider trail with different terrain. At the top of the first part (it's a little steep, but not terrible. The kids did fine) you come to a road.
Go to the left and walk up 20 yards and you'll see where the trail picks up again. It will lead you through a wider trail and over the river on a cool bridge.
After you cross the bridge, you can go right and see more of the river, or you can go left and head up the mountain some more to a beautiful meadow and some old mining houses.
We went left.
We stayed on the trail probably just under two miles. Some parts were a tad rocky, some were smooth path, some were flat. Parts of the hike were covered in aspen trees and others were more of a pine forest. It really was awesome to see so many different scenes on the same hike.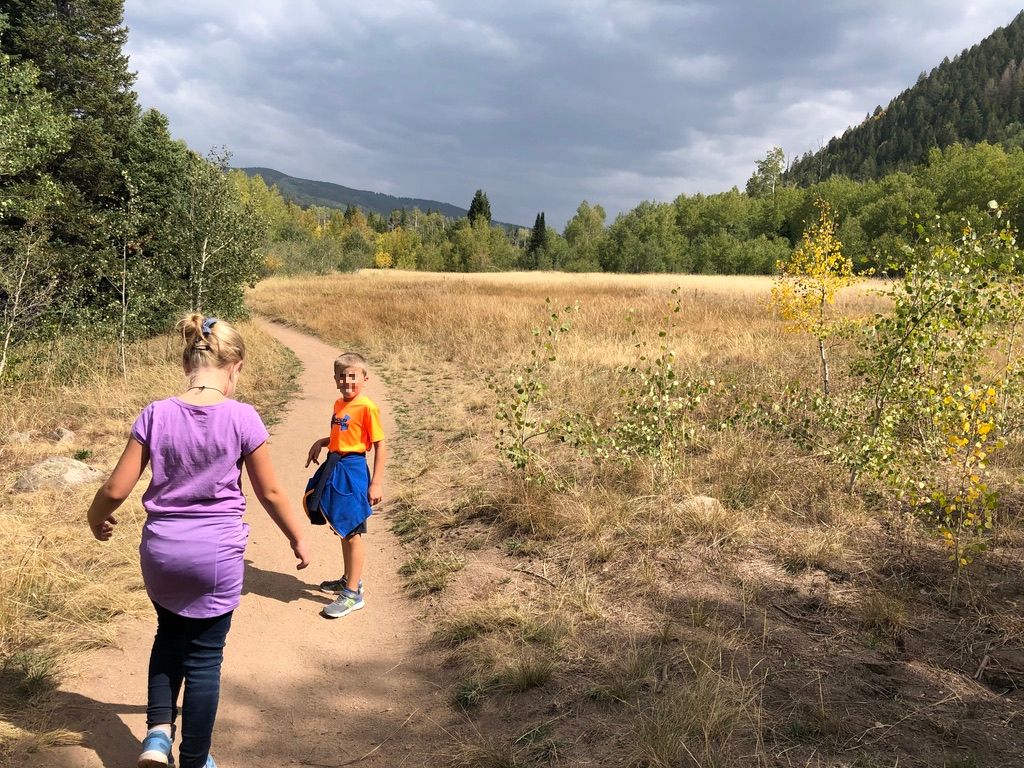 At the top, you'll come to a meadow that's beautiful and gold. Just past the meadow, if you look to the left, you'll see a bridge. Go over this bridge and you'll see some really cool cabins that were used for mining. Some of the cabins are collapsed, but some have been preserved and you can go inside. (Unfortunately, there was some profanity spray painted on the wall inside, which is unfortunate for such a great piece of history.)
The cabins were in such a neat setting and were beautiful photo ops for the family.
---
Looking for more Colorado adventures? Check these out!
Hiking with the kids in Breckenridge
Fun things to do in Steamboat Springs
Rocky Mountain National Park- with the kids!
Awesome Family Cabins You Can Rent in Breckenridge
---
5. Tom Blake Trails in Snowmass
Over in Snowmass Village (just down the road from downtown Aspen), you can take a scenic drive up Owl Creek Rd to the best hikes in Aspen area.
You will eventually hit the sign for the Tom Blake Trail. This trail is also a system of trails, organized in a way that bikers have use of certain trails, hikers some, and horses some. There are posts that signify who can use what.
These trails are beautiful, and we were able to see some beautiful fall colors! The hike can be steep, but again, the kids did fine on it. We took it slow and they had a lot of fun discovering the different trees, leaves, and plants.
The trail goes up and over a ridge for a few miles. It is out and back (unless you want an all-day bike ride), so we just went up a mile and came back down.
This trail had other hikers, bikers, and evidence of equestrian riders, but it was so peaceful and beautiful! The fall colors did not disappoint! Make sure to check out these trails in Snowmass!
Those were some of the best, scenic, easy hikes in Aspen! There is so much more to explore!
Aspen is gorgeous year round, but I highly recommend heading to Aspen in Fall. The colors are stunning!
If you are taking a trip as a family, then make sure to check out these easy hikes in Aspen to fill your days with fresh air and adventure!
Save this to Pinterest!