Guide to Golden Gate Canyon State Park for Families
Looking for the best hikes in Golden Gate Canyon State Park? There are a lot to choose from. As a bonus, if you're looking for fall colors in Colorado, Golden Gate Canyon State Park is the perfect place to go. Check out the best hikes for kids in this beautiful Colorado State Park and everything you need to know about visiting.
Let's Jet, Kids! uses affiliate links.  As an Amazon (and other networks) Associate, I earn from qualifying purchases.  It is no extra cost to you.  
Where is Golden Gate Canyon State Park
Not to be confused with a big, red, iconic bridge, Golden Gate Canyon is located in Colorado in the city of Golden. The park can be accessed in just under an hour from Denver.
>>> You may also enjoy Roxborough State Park <<<
Arriving at Golden Gate Canyon State Park
When you first arrive in the state park, you'll come to a visitor center. It's open everyday from 9am to 4pm. You can purchase your day pass for the park here, which currently costs $10. You can also grab a map of the park and ask any questions.
Note: There are parking lots throughout the park. Do NOT park alongside the road. Everyone we saw parked on the road had a ticket in their window.
Altitude Sickness Preparation
The highest elevation at Golden Gate Canyon State Park gets up to 10,400 feet. Even at its lowest point, it's an impressive 7,400 feet. If you are visiting from a lower elevation state, be sure to adjust and acclimate in a lower Colorado city before hiking at high elevations. Drink plenty of water (and avoid alcohol).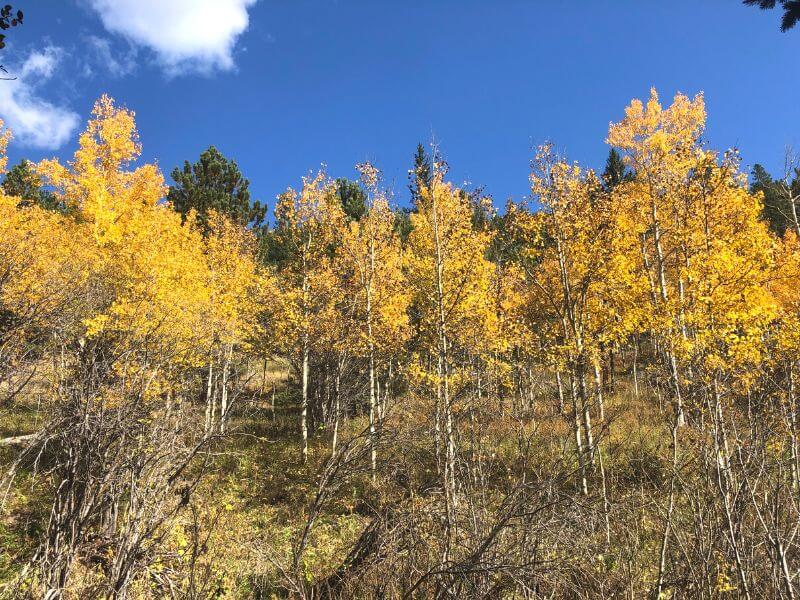 Seeing Colors at Golden Gate Canyon State Park
We visited GGCSP in early October, hoping to catch some great fall colors. There were definitely plenty of colors all around! If you are looking for colors in Golden Gate Canyon, the best time to see them is typically the last week of September or first week of October.
IF you are going to see colors, be prepared to face a crowd.
We went on a Saturday during peak color season and we were told immediately upon entering that the park was full. We could leave, or we could pay the entrance fee and risk being able to find parking.
We decided to take the risk.
We were driving up to Panorama Point (the most popular part of the park) and got to where we needed to turn. Except we weren't even allowed to make the turn because it was so full. There are parking/road attendants everywhere metering each lot and you cannot enter the lot if it is full.
One car out, one car in is how it works.
SO…if you are going during peak color season, know that it is crowded. You may be turned away from your planned hike.
Just keep driving around, go with the flow. We turned into the first lot that had a vacant spot and just hiked there instead.
Tip: during peak color season, try to go on a week day. The weekends are crazy busy.
Have really young ones? Don't forget a baby carrier! A good carry backpack can make for a much smoother hike:
Best Hikes for Families at Golden Gate Canyon State Park
Raccoon Trail
Length: 3.5 miles loop
Difficulty: moderate
Raccoon Trail was the entire reason we went to Golden Gate Canyon State Park. We'd heard the colors are gorgeous on this trail, plus it's a great trail for kids!
Unfortunately it was full and we couldn't even access the parking lot. Again, if you are going for fall colors, try to go on a week day!
It's a 3.5 mile loop that can be accessed from Panorama Point.
This is the trail if you are looking to be surrounded by groves of Aspens in the summer and bright gold in the fall.
Panorama Point will give you picnic tables, a great look out, and a parking lot. If the lot is full, drive around and try again. Do not park along the road as you will be ticketed.
Blue Grouse Trail
Length: 1.4 miles out and back
Difficulty: easy
You can access Blue Grouse Trail at the parking for Kriley Pond. From here, take the trail north until it intersects with Mule Deer trail. You can keep going on Mule Deer if you'd like, or turn around and head back.
Kriley Pond is a great place to enjoy a picnic, watch any fishermen, and take in the view of the cute little pond.
Mule Deer Trail at Golden Gate Canyon State Park
Length: 9+ miles total (choose which section you want)
Difficulty: Easy to Moderate
Mule Deer Trail is quite long. I wouldn't expect to do this entire trail with little kids.
However, there are sections that would make for a good hike. Mule Deer Trail somewhat follows Mountain Base Road as you drive towards Panorama point. There are a few parking areas along the way, so you can catch the trail wherever you find a spot.
Snowshoe Hare Trail
Length: 3 mile loop
Difficulty: moderate
Snowshoe Hare Trail can be accessed from parking in the Aspen Meadow Campground area.
Look for the outhouses; the trail begins right behind them.
The trail mostly makes a loop. It ends at a parking lot just a quick walk up from the outhouses.
Some parts of Snowshoe Hare Trail were moderate, showing inclines, roots, and rock to navigate.
Some parts the trail were very easy.
The trail has markers counting down from 22 to 1, so it makes it fun for the kids (and adults) to keep track of how much longer is left.
Snowshoe Hare Trail is beautiful. It'll take you alongside the Dude's Fishing Hole toward the beginning, which is quite scenic!
Other Things to do at Golden Gate Canyon State Park
Stay at Harmsen Ranch Guest House
Wouldn't it be great to stay IN the state park (without having to camp?) The Harmsen Ranch Guest House offers 4 bedrooms, 2 bathrooms, and a kitchen. It would make a really fun place to stay with the family or some friends.
Plus, then you don't have to deal with parking as you have easy access to many popular trails in Golden Gate Canyon State Park.
2 night stay required.
Stay in a Yurt Inside the Park
Ever stayed in a yurt before? We haven't. But this would be an awesome place to do it!
You can actually choose between a small cabin or a yurt, both of which can sleep up to 6 people.
You can expect a gas heater, beds, table, chairs, counter, and two electrical outlets. However, there is no fridge, so make sure to bring a cooler.
The yurts and cabins are located near Reverend's Ridge campground (just beyond Panorama Point). You'll have access to the bathrooms and seasonal access to the showers at the campground when staying in a yurt.
Have a Family Camping Trip
Camping at Golden Gate Canyon State Park is a wonderful way to build some family bonds. Check out the 132 campsites within two campgrounds: Aspen Meadow and Reverend's Ridge. Aspen Meadow is open seasonally, while Reverend's Ridge is open in winter as well.
Find more info for camping and reservations.
Have a Picnic at Ole Barn Knoll
Right off of Mountain Base Road you'll find Ole Barn Knoll. There are some little trails in the area, but it makes a great spot to pull out and have a picnic or snack. There are a few picnic tables that are easy to access right from the car.
Ole Barn Knoll not the ideal spot? There are 125 picnic sites throughout Golden Gate Canyon State Park. Chances are you can find a picnic table with a view closeby wherever you are.
Dude's Fishing Hole
Go Fishing
There are a few ponds where you can fish in Golden Gate Canyon State Park.
Try out Dude's Fishing Hole, Kriley Pond, or Slough Pond. Dude's Fishing Hole requires a short hike off of Snowshoe Hare trail, while Kriley and Slough Pond can be accessed quickly from the road.
*Colorado Fishing License required
Watch for Wildlife
This is both a fun thing to do, and a word of caution.
From deer and chipmunks to moose, there's a good chance you'll see something fun at Golden Gate Canyon State Park.
Deer and chipmunks are fun to see and pose a low threat.
Moose are really cool to see, but keep your distance and be very cautious. There have been many moose sightings within the park. Just enjoy the view from a safe distance and it can be a cool experience.
Go Snowshoeing
Did you know you can snowshoe in Golden Gate Canyon State Park? Any trail is open to snowshoeing!
Golden Gate Canyon State Park with Kids
Golden Gate Canyon State Park is such a beautiful Colorado state park. Within just a relatively short driving distance from Denver, it makes a great stop if you're visiting or a great day trip if you live in the area.
Try and visit when the leaves turn, but beware of crowds!
And make sure to try one of the fun, kid-friendly trails in Golden Gate Canyon State Park when you visit.
Check out more Colorado State Parks: