Tips for a Great Visit to Colorado National Monument with Kids
Colorado National Monument may not be an official National Park, but it is run by the National Parks Service. It's a dedicated space that is protected for visitors to come see the beautiful views and landscapes of western Colorado. And Bonus: It's easy to visit Colorado National Monument with kids. But is Colorado National Monument Worth it? Let's dig a little deeper in to the landscapes, hikes, camping opportunities, and history of Colorado National Monument.
Let's Jet, Kids! uses affiliate links.  As an Amazon (and other networks) Associate, I earn from qualifying purchases.  It is no extra cost to you.  
History of Colorado National Monument
Is Colorado National Monument worth it? Well, let's take a look at what it took to even be able to appreciate this great land.
Colorado National Monument is full of tall rock walls and isolated monoliths within the canyon. Like many landscapes are formed, these formations are a result of erosion and weather patterns. From a repeated pattern of freezing and thawing, wind blowing, and water running over millions of years, we are gifted the beautiful canyon of rock that you see today.
Hundreds of years ago, the Ute people lived among the Grand Mesa which includes Colorado National Monument. Now, they live in a much smaller area amid northeastern Utah and southwestern Colorado.
In closer history we find a man name John Otto, born in the midwest in Missouri, who discovered the red rock formations in 1906. He lived among the canyons and used a pick and shovel to help carve out trails through the area.
His goal was for more people to be able to see the beautiful canyons. His hard work gave other people the chance to come see the beautiful area. Everyone loved it and eventually many were writing letters to the president about it.
The area was declared Colorado National Monument by President Taft in 1911.
By 1921, John Otto completed the Trail of the Serpent that went to the top of the rim, near what is called Cold Shivers Point. This access was vital in getting support to preserve the area as a monument.
But not many people had really seen the area before as it was only accessible by foot or by exploring on horseback.
By 1933, a plan was made to expand and construct a road into the canyon. During the Great Depression, many men were put to work building a 23 mile road known as Rim Rock Drive.
Over 20 years after beginning the first access, we now have a great road that leads into the area for all to enjoy.
(When visiting Colorado National Monument with kids, make sure to stop by the visitor center where we learned all the info above!)
What is Colorado National Monument known for?
Colorado National Monument is known for its stunning landscapes. You can see the valley floor among the monoliths and carved canyon walls. The colors are gorgeous and the layout of formations are like nothing you've seen before.
It is part of the Grand Mesa, which is argued to be the largest flat top mountain in the world. So it's quite grand, indeed!
Colorado National Monument Visitor Center
As I mentioned above, if you visit Colorado National Monument with kids, you MUST stop at the visitor center.
The Colorado National Monument Visitor Center is a wealth of knowledge on the area. From interactive exhibits (my son loved pushing the pump for the dynamite to explode on TV), taxidermy animals, and exhibits on the natural soils and plants of the area, it's easy for the kids and adults all to enjoy learning for a few moments.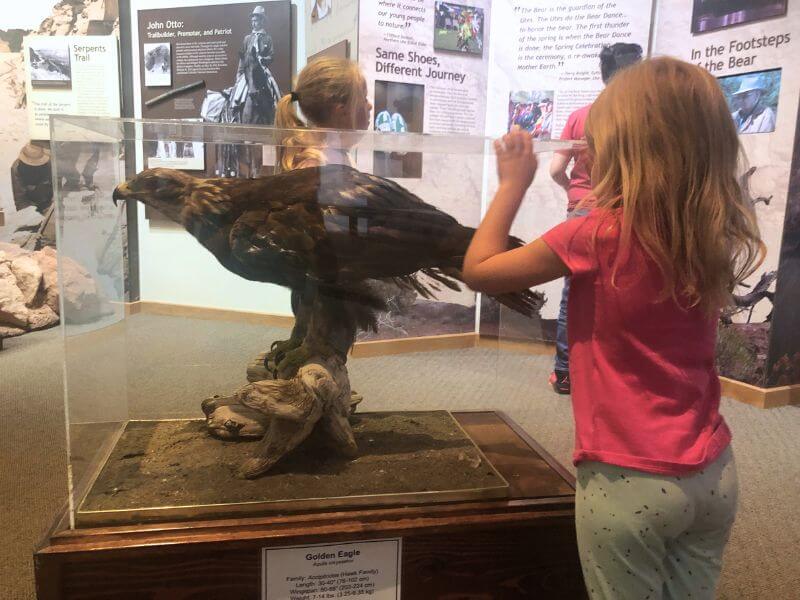 The Visitor Center also has a small gift shop where you can get some souvenirs and locally made candies from your visit.
Outside the Visitor Center you'll find real bathrooms down a little outdoor hallway.
Just beyond that is a great picnic area. We absolutely love finding scenic places to take a picnic. We've picnicked among elk at Rocky Mountain National Park and at the edge of the deep canyon at Black Canyon of the Gunnison National Park. Colorado National Monument did not disappoint, even compared to those.
We loved eating in a covered, shaded picnic area on a hot day. But we loved the views of the canyons right next to us as we got to really sit and savor the moment.
Colorado National Monument Map
I highly suggest taking a look at the Colorado National Monument Map before embarking on your journey. Decided which stops you'd like to make.
Here is the map from the Colorado National Monument brochure pictured below. You can also check out the interactive map which has a little more clarity.
Note: This map is upside down (and then rotated slightly) in direction. So, east is on the left and west is on the right (north is on the bottom, south is on the top). When you enter from the east, it is about 18 miles to the visitor center.
Tips for Visiting Colorado National Monument with kids
Take it slow and enjoy!
Many of the viewpoints can be seen right from the pullout. But many require a short walk to get to. They are all incredible, but there are a lot of them. Choose a few that sound most interesting (I give little summaries of each stop below) and just enjoy walking to the viewpoints.
You'll have access to bathrooms at the visitor center, near trailheads between Highland View and Upper Ute Canyon, and at the Devil's Kitchen area toward the east entrance.
How to Get to Colorado National Monument- 2 Entrances
There are two entrances to Colorado National Monument. One is at the west side and one at the east. They connect, so you can just drive right through the park.
The east entrance enters near the heart of Grand Junction. The west entrance is more toward Fruita.
To enter from the east (from "the mountains" like Vail), head west on I-70. Exit at Clifton on the I-70 business loop. Turn left on Grand Ave (which becomes Broadway). Turn left on Monument Rd, which will put you into the park.
To enter from the west side (from Fruita or Salt Lake City), you'll head east on I-70. Take the exit for Fruita and head south on highway 340 until you get to Monument Road, where you'll go right. This immediately turns into Rim Rock Road and takes you into the park.
How Long to Spend at Colorado National Monument with kids
Before you begin your journey, you should know that Rim Rock Road through Colorado National Monument is 23 miles long and you'll be taking it nice and slow. The road carves around all the curves of the canyon walls, with steep canyon drop offs to the side.
For your enjoyment and very much for your safety, do not rush to drive through.
To just drive through the park from one entrance to the other, it'll take around an hour. But it's hard to appreciate the views (and stay safe) while driving. I highly encourage you to stop at as many viewpoints as you have time for.
If you plan on just driving through and stopping at some viewpoints, then a few hours is all you need. Take in the views and stop at the visitor center for a little history, education, and souvenir. In this case, about 3-4 hours should be enough.
If you plan on hiking, that will obviously take more time and it depends which (and how many) hike you do. If you plan to hike in Colorado National Monument, plan for a full day (or two if you camp) in the park.
Assuming you are visiting Colorado National Monument with kids, 3-5 hours should be plenty to see everything!
Do You Need a Reservation for Colorado National Monument?
No, you do not need a reservation for Colorado National Monument. Feel free to visit anytime you drive through the area. Just be sure to have patience during high season as it can get more crowded and small pull-over parking lots can fill up.
Again, take it easy, have patience, and enjoy the visit.
Driving Precautions at Colorado National Monument
Besides the obvious of taking your time as you wind through the canyon, you also need to stay alert for things in the road. This includes cyclists making their way through the park, as well as animals who call the area home. Bighorn Sheep and deer are often spotted throughout the park.
Safety Precautions at Colorado National Monument with kids
If you have little roaming toddlers, just keep a close eye at the viewpoints. Each has safety barriers, but they may have little gaps on the ends. Make sure your little one doesn't toddle too far from you.
View Points at Colorado National Monument
Is Colorado National Monument Worth It? If you haven't already been convinced with the rich history of grit and sweat of men who though everyone should enjoy these views, then let me share some Colorado National Monument photos to entice you.
Here are a few viewpoints. They are easy to access and short, making Colorado National Monument with kids and ideal place to visit.
It was hard not to stop and each one of them because each provides a different view and often different formations within sight.
Note: We did not stop at all the viewpoints. The Visitor Center was our final destination before turning around. Which is why, above, I suggest looking at a map before you go. We didn't realize there were two entrances and that we were just a couple stops away from the second entrance (exit) by the time we got to the visitor center. So we turned around and drove all the way back through.
Look at a map before you go!!
Driving up the East Entrance
We entered the park through the east entrance and got to enjoy incredible views of the ascending the canyon. We hadn't even reached the heart of the park yet and I was so impressed.
As the passenger, I was able to really enjoy the views. But I did tell my husband he could enjoy my video and pictures later. Going up to the top of the canyon presents a few steep drop offs. Again (and again!), safety first!
Video of Colorado National Monument
Check out this quick video for driving and viewpoints in the park
Viewpoints from the East Entrance up to the Visitor Center
The drive from the entrance of the east side up to the Visitor Center is 18 miles. Here are a few cool viewpoints you'll see along the way.
Cold Shivers Point
Here you can look at a 300 foot steep cliff into the Columbus Canyon. Looking over this edge is said to give travelers cold shivers…
Red Canyon Overlook
Next is the Red Canyon Overlook. Here you can see Red Canyon in all its erosion glory. You'll look right out to see Grand Junction.
Ute Canyon
Ute Canyon Overlook
Ute Canyon Overlook shows a wide floor (with a trail below) within the sandstone cliffs. It's about .2 miles of walking on a red dirt trail to see this beautiful overlook.
Fallen Rock Overlook
Just a short walk on the red dirt will take you to a viewpoint to see erosion happening right in front of your eyes.
The canyon walls are filled with crevices that run vertical from top to bottom. As these crevices are filled with water and then cycle through freezing and thawing, it slowly starts to widen and break off the layer on the exterior.
That's what has happened here as you can see the "fallen rock" has eroded away from hundreds of years of water freezing and thawing in the crack that once connected it to the main canyon wall.
Upper Ute Canyon
To get to the view for Upper Ute Canyon at Colorado National Monument, it's another short walk, but there are also a few stairs. It's still easy enough for kids.
The trail has a fun sign worth reading to make it interesting for kids. It points out looking for the outline of an Egyptian Mummy in the wall.
We couldn't quite spot it, perhaps because of the shadows at the time of day we visited. You'll have to see if you can spot it!
Highland View
As you can see, there are a lot more plants in the way of the canyon view here. Highland view is a great place to read the signs and learn about seed transport and the important animals that make this possible.
Artists Point
Another beautiful viewpoint in Colorado National Monument. You can see the Coke Ovens form here as well (though not in the picture above). Right below is Monument Canyon.
Coke Ovens Viewpoint
Just a short drive from Artists Viewpoint is the Coke Ovens Viewpoint. Back in the 1800's, coke ovens were used to convert coal into water, gas, and tar. The remaining product was "coke", which was used in producing steel.
While the coke ovens of Colorado National Monument weren't actually used for those purposes, they do resemble the structures of coke ovens that were used back in the day.
There is a little walk down to the viewpoint along the side of the cliff. Your safety is kept in mind with a fence and bar that keeps you on the trail.
Monument Canyon
You'll actually come upon another lookout to Monument Canyon before you hit Coke Ovens. This one is the official viewpoint while the other is the start of the Monument Canyon Trail.
At this Monument Canyon viewpoint, you can see another great view of the canyon. The floor of the canyon is incredible and really shows how large and spacious it is here.
Grand View
The next pull over is for Grand View. Named appropriately, this short walk will take you to a view of the canyon with a single, large rock in the middle.
It's named Grand View because you can see the monoliths, the city beyond, and maybe even Golden Eagles (or at least other large bird species) soaring through the air.
You really get a grand view of it all from here.
The picture doesn't do it justice since it can only capture one section at a time.
If you're still wondering "Is Colorado National Monument worth it", this should be a big, convincing factor.
Independence Monument
The last stop before the Visitor Center in Colorado National Monument is Independence Monument.
Here, you can gaze at Independence Monument, the nearly 6,000 pillar standing all alone (or, independently) inside the canyon.
John Otto was the first to summit this pillar. He began making a tradition of climbing it each year at the 4th of July and placing an American flag on top.
This tradition continues each year with a team of climbers placing the flag atop the pillar.
Table of Contents
Distant View
This is a beautiful viewpoint to see much of the Grand Valley and the river below in the distance. The mountains in the distance against the horizon give a gorgeous panorama view. It's closer to the Fruita side and one of the last stops before exiting the park out the west entrance.
Balanced Rock
After Independence Monument you'll come to the visitor center. Again, I highly recommend stopping here, especially if you are visiting Colorado National Monument with kids.
After your stop at the visitor center, you'll keep heading west and come to Balanced Rock. It's just what you expect: a large sandstone boulder appearing to balance on a stand below. You can also see a balanced rock in Arches National Park, and it's similar.
Redlands View
This is the final (or first, if you've entered the west entrance) stop in Colorado National Monument. You'll see a similar landscape as the distant view with the mountains in the back and Colorado River closer now.
---
Colorado National Monument is a great stop when visiting:
Ouray- 21 awesome things to do with kids!
Telluride- 13 great family-friendly activities
Moab – What to see and where to hike with kids
---
Colorado National Monument Hikes with Kids
Now that you've seen all the viewpoints, you'll see that Colorado National Monument is totally worth it.
If you're visiting Colorado National Monument with kids, the viewpoints may be exciting enough.
But if you'd like to add in some hiking, here are some hikes you can do in Colorado National Monument with kids. They are some of the shorter hikes in the area to move around a bit without getting worn out.
Alcove Nature Trail
This is by far the best hike at Colorado National Monument with kids. It's located at the Visitor Center (in the parking area) and is just a short 1 mile (r/t) through some of the great flora of the area. You'll also get to see some sandstone formations along the way.
Make sure to grab a pamphlet at the trail to really get the most out of your hike. The info in the pamphlet will correspond to the numbered posts you pass, so make sure to pay attention.
Otto's Trail
For another opportunity to hike in Colorado National Monument with kids, check out Otto's Trail just east of the visitor center. This trail is about .75 miles roundtrip, making it a very doable distance for kids.
You'll also learn a bit about the parks caretaker John Otto (did you know he was paid $1 a month to be the parks custodian?)
Otto's Trail is named such because you'll be following in the footsteps of where he trod to climb Independence Monument.
Coke Ovens Trail
This is another great trail in Colorado National Monument with kids. It's located near (but not at) the Coke Ovens viewpoint where the Monument Valley Trailhead is. This trail is about 1 mile total roundtrip and will give you closer views of some great formations in the area.
While this trail is easy and short, you will need to watch little ones and make sure they stay on the trail.
Camping at Colorado National Monument
If you'd like to stay the night at Colorado National Monument with the kids, then make a reservation for the Saddlehorn Campground. It's located up near the visitor center.
It's the only campground within Colorado National Monument and hosts 80 sites, though only one of the three loops are open year round.
Hotels Near Colorado National Monument
If you're wanting to stay in a hotel near Colorado National Monument, your best bet is to head to Grand Junction where there will be plenty of options.
Tru by Hilton is just a few miles away from the Grand Junction entrance. Families of 4 can all sleep in one room in this affordable, highly rated option.
Holiday Inn in Grand Junction offers space for up to 6 to sleep (in beds, not sofas!). It comes with free breakfast and a pool, as well. It's only about 7 miles from the entrance to Colorado National Monument.
Visiting Colorado National Monument with Kids
So, is Colorado National Monument worth it? I'd say a resounding YES. It is such a fun and incredibly beautiful place to visit. I loved looking through the carved canyon and learning a little about history, geology, and watching the kids having a great time on the short walks to all the viewpoints.
Visiting Colorado National Monument with kids is really easy. I highly suggest taking some snacks or a packable lunch and eating at the covered tables of the visitor center. See as many viewpoints as you'd like and make the experience FUN and memorable.
Make sure to check out Guides to National Parks in Colorado:
Rocky Mountain National Park (West Entrance)
Great Sand Dunes National Park
Great places to stay near the Sand Dunes
Save This to Pinterest!