Rocky Mountain National Park West Entrance – Great Hikes for Families
Rocky Mountain National Park is one of the top national parks visited in the U.S. and for good reason! Whether you are looking for waterfalls, lakes, great views, or just relaxing scenery, you can find it here. Which entrance to Rocky Mountain National Park should you use? It depends what exactly you're looking for. We've explored the best hikes for kids in Rocky Mountain National Park from the East (Estes Park) entrance previously. Now we'll bring you the best hikes for families from the Rocky Mountain National Park West Entrance.
Let's Jet, Kids! uses affiliate links.  As an Amazon (and other networks) Associate, I earn from qualifying purchases.  It is no extra cost to you.  
First, a few quick, answered questions.
Where is the Main Entrance for Rocky Mountain National Park?
There are a couple main entrances. The most popular entrance is Beaver Meadows Entrance near Estes Park side, on the east side of the park. This will give you quick access to Bear Lake Road and plenty to do and see. Check out post about what to do in RMNP on the east side.
The other main entrance is the Grand Lake Entrance on the west side of the park near the town of Grand Lake. There is a lot to do on this side as well, and it is a bit less crowded. One thing to note is that no matter which side you enter, you can drive through the entire park from one side to another during summer months (Memorial Day to mid-October).
It does take time to drive the entire park, though. So I suggest deciding which sites you'd like to see and start on that side, unless you're just planning a scenic drive with short stops.
>>> Flying into Denver? Don't forget a rental car! <<<
Rocky Mountain National Park Timed Entry
You are required to have a reservation to Rocky Mountain National Park during busy season. This timed-entry process allows you to make a reservation beginning the first day of the month before you visit. If that is sold out, the second option is to get online RIGHT at 5:00 pm (mountain time) the day before you plan to visit. If you're quick, you might get lucky! We've done the day-before a couple times right when the clock struck 5, and sat through a high traffic message. It worked out both times though.
See my full guide to RMNP for full details about the park
Tips:
–Make sure you already have a free account established. This will make the process quicker when you go to reserve a time.
-Decide which sites you'd like to see first. There is a pass that includes Bear Lake Road (and the whole park), and pass that includes everything but Bear Lake Road. There are limited amounts of each pass. And YES, they do check at the entrance of Bear Lake Road to make sure you have the proper pass.
–Reserving a spot is $2, so have your credit card handy. You have 15 minutes to complete your purchase before you lose your spot.
-Take a screenshot of your QR code with your reservation, or print it! Coverage can be spotty in the park to try and pull it up at the entrance station.
-You will also need to pay for a pass into the park once you are there.
Go here to reserve your time for Rocky Mountain National Park.
Is the West Entrance to Rocky Mountain National Park Open?
Yes (as of Sep. 2021). There is a bit of burn area from previous fires and it will be obvious when you first get inside the park. However, it affects just a minimal amount of trails towards the entrance. Within a few miles, the park is vibrant and thriving.
Where is the Best Place to Stay Near the West Entrance of Rocky Mountain National Park?
The closest town is Grand Lake, Colorado. Grand Lake has plenty of lodging options, whether you are looking for camping, hotels, or home rentals.
Grand Lake Lodge has views of the lake, plus options for multiple rooms. Plus, it's just a few minutes drive from Rocky Mountain National Park
Gateway Inn is more budget-friendly, (starting at $125), but still excellent. The Cabin-feel to this hotel also offers units with multiple rooms for larger families.
Read here for more great hotels and awesome rentals in Grand Lake!
Before you Begin Hiking in Rocky Mountain National Park-
If you are hiking with little ones, it's totally worth investing in a backpack carrier. Here are a few highly rated carriers:
*note: yes, it's an investment. We used the same Kelty carrier through 4 kids…and my sister used the same one for her 4. They are sturdy and last forever!
Also, make sure you have everything you need to have a great hiking experience!
Hiking with Kids in Rocky Mountain National Park – West Side
We found plenty of great hikes and stops to do with the kids while visiting the west entrance of Rocky Mountain National Park. Here are a few of our favorite! Mileages are roundtrip.
Coyote Valley River Trail
Distance: 1.3 miles
Level: Easy!
Stroller-friendly? – Yes
Bathrooms- Yes
After entering through the West entrance (Grand Lake), you'll drive a few miles and come to a parking lot for Coyote Valley River Trail on the left. This trail is easy and accessible, so bring the stroller if you'd like! There are bathrooms at the trailhead.
This trail is perfect for kids because it's pretty flat and well groomed. The trail is easily defined and followed. It looks over meadows and runs along a river for much of the way. It's quite pretty for such an easy hike!
Poudre Lake at Milner Pass
Distance: right at parking lot, off Trail Ridge Road
Level: easy
Stroller-Friendly?- no need, just a viewpoint!
Bathrooms? Yes
Poudre Lake is right off the road, so you can't miss it. The parking lot is right before the lake, so watch for signs to Milner Pass. Poudre Lake is really pretty, surrounded by meadow and forest behind. The coolest part of our stop was that there was a moose hanging out near the lake.
Do not ever approach wildlife, (even for a great IG picture.) The moose was here a while (we heard about it from visitors on a prior trail), so park rangers made their way over to make sure no one left the roadside to approach it.
Lake Irene Trail
Distance: .8 miles (depending on what route you do)
Level: Easy
Stroller-Friendly? No
Bathrooms- Yes
This is a great hike for kids from the Rocky Mountain National Park west entrance. The lake itself is not very far of a hike from the car (probably about 1/4 mile). Once you are at the lake, you can find the trail and make a loop around the lake, putting you closer to a mile total. The actual trail goes beyond the lake, but we stuck to the lakeside.
Lakes are always a fun place for kids to throw rocks. There aren't too many great spots to dip your feet in, as there isn't a lot of shoreline. My only word of caution is that the trail to the left of the lake can get a little narrow in small spots, so toddlers might need an extra hand.
There's a few picnic tables at the parking lot where you can rest and enjoy a snack when you're done.
---
Make sure you pack all you need with the essential hiking gear!
And check out these awesome backpacks for hiking:
---
Alpine Ridge Trail- Top of Rocky Mountain National Park
Distance: .7 miles roundtrip
Level: Medium
Stroller-Friendly? No
Bathrooms? Yes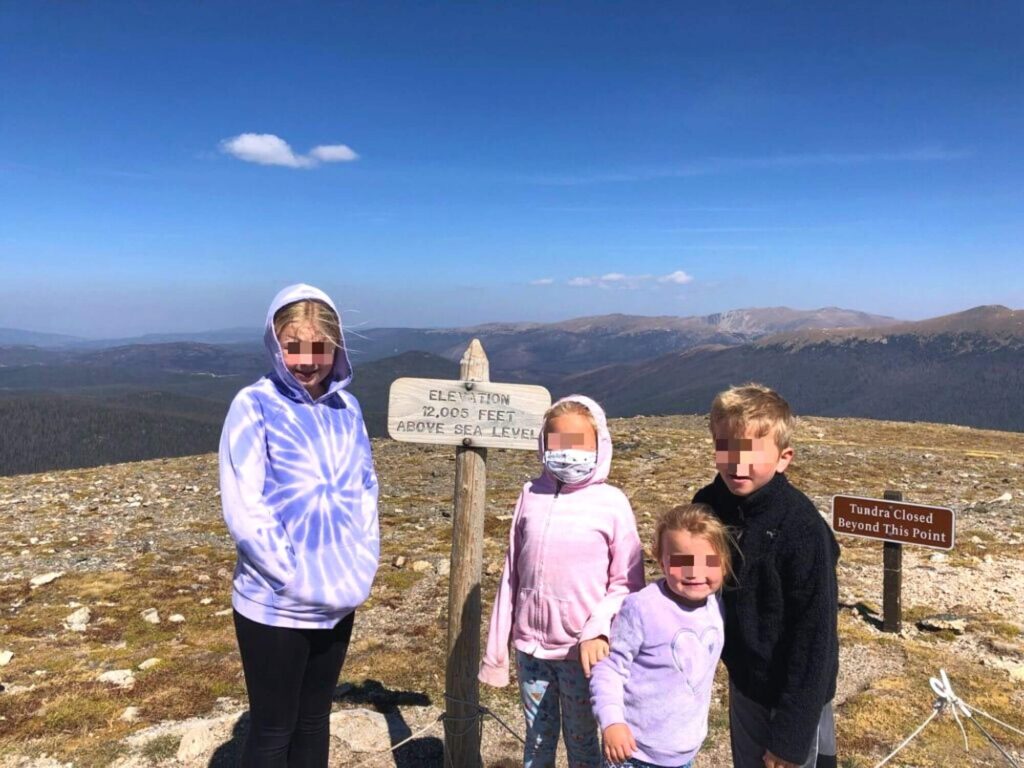 The Alpine Ridge Trail is not very long, but it is a little more challenging. When you pull into the parking lot at the Alpine Visitor's Center, you'll immediately see the stairs to the top of the mountain.
The majority of this trail is stairs, with some sections that are just inclined pavement. You'll climb the stairs to the top of this tundra-mountain. Notice how there are no trees up here…the elevation is too high!
This is a really cool hike for kids in Rocky Mountain National Park. If your child is much younger, bring a carrier. But if you take it nice and slow, even older toddlers can do this.
I offered to carry my 4-year-old a few times, but she loved being able to climb to the top on her own, so she rejected me. My other kids counted the stairs up to the top. One child said there were 222 stairs, another said 212.
Let me know how many stairs you count if you do this trail!
A few tips:
Water Water Water! The elevation at this point of Trail Ridge Road is around 12,000 feet. I live at high elevation, and even my head began to hurt a little.
Layers! It is so windy up here. Even on a warm day, it can get cold when you combine the elevation and the wind.
Take your time– again, you're at a high elevation. For the sake of being able to breathe, but also for the sake of enjoyment, take your time. Take in the amazing views at the top. Let your kids enjoy the climb slowly and safely.
While you're here, stop at the Alpine Visitor Center. There are cool native animals and info. Then make your way to the gift shop in the building next door. They have tons of cool things to pick a souvenir.
Beaver Ponds
Distance: right at parking lot
Level: Easy
Stroller-Friendly? Yes, but no need
Bathrooms: Yes
Can you spot the elk above?
Beaver Ponds is a relaxing spot to take out lunch, grab a picnic table, and enjoy the peaceful meadow and pond ahead.
We spotted a few ducks in the pond, but the best part was hearing the elk bugle at a distance. Eventually the elk ran into view and we got to watch them chase and interact across the pond as we enjoyed out lunch.
Beaver Ponds is a great place for kids (and adults) to take a little break and relax. Enjoy the moment and watch for wildlife at this perfect place for kids in Rocky Mountain National Park!
Adam's Falls
Distance: .8 to 1.3 miles (depending on if you do the loop at the top)
Level: Medium
Stroller-Friendly? No
Bathrooms: Yes
To access Adam's Falls, you'll head to the East Inlet Trailhead. While this is part of Rocky Mountain National Park, it is NOT past the ranger station. Adam's Falls are access just outside of downtown Grand Lake. A pass is technically still required to enter Adam's Falls since is it part of the National Park.
The trail at Adam's falls climbs a little. You'll eventually come to a turn off. If you turn right, the falls are just ahead. If you go straight, it just loops around the top and brings you to the falls from behind. This route can get narrow and has some STEEP drops off the side, so if you're nervous about a little one hiking this, I would take the right turn-off!
Taking the turnoff to the falls and then going back brings the distance to under a mile, whereas if you complete the whole loop at the top, it is a little over a mile total.
The falls are gorgeous! There is a great viewing area with a wall and rail to protect little ones.
Hikes for Families on the West Side of Rocky Mountain National Park
While the East side may get more attention, there are some great, beautiful things to see on the west side of Rocky Mountain National Park. We enjoyed the lakes, the wildlife, and less crowds as we explored the Grand Lake side of Rocky Mountain National Park.
What are you hoping to see when you visit Rocky Mountain National Park? Tell me in the comments!
Make sure to check out:
The Top 10 BEST National Parks for KIDS!
Driving from Colorado Springs to Estes Park